2005 Regionals: London & Southern Counties - Retrospective: Third Section
22-Mar-2005
Peter Bale looks back at the Third Section where Jersey Premier Brass and Gavin Saynor top the top prize and clinched 1 of 3 qualification spots for Harrogate with their assured performance of Tam O'Shanter.
---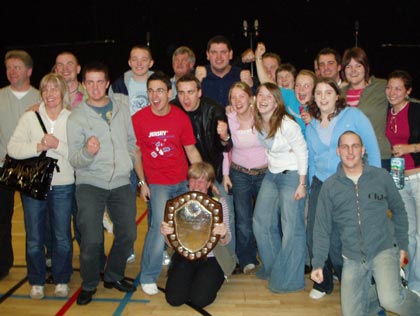 Jersey Premiere Brass: Winners
Adjudicator, Malcolm Brownhill described the Third Section test piece here, 'Tam O'Shanter's Ride' as a great piece of music with a descriptive programme by a master of orchestration, where the tone colours and instrumental characteristics contributed greatly to its success. It called for considerable technical dexterity he said, both from the players and also from the conductor, with 13 changes of tempo in the first 9 pages of the score.
He also had particular words of praise for the soprano players who had coped well with the challenges set, and highlighted the need for the bass runs to be played cleanly. Also, the balance between the flugel and baritone in the closing pages was important, the flugel (as Tam's wife) needing to be the dominant character.
He said the piece had proved difficult, with bands trying hard but being found wanting, although he stressed he had tried to be encouraging in his remarks. He had enjoyed the experience, and felt that four of the performances had been pretty good.
As remarks go, they were pretty good: highlighting the obvious (that the piece was indeed very difficult), congratulating the best (four bands he said were pretty good, and he spot on there) and encouraging the rest (which was being generous). What he didn't say though was the interesting thing about this contest, for given the almost forensic appraisal of the piece he didn't actually point out much of what went wrong with far too many performances, and that perhaps was a pity. Mr Brownbill would be a very good diplomat – lots of rhetoric but little substance here, which is rather unlike him usually.
It wasn't a bad old contest either, and first to play on the Saturday morning was the new combination, joined together for contesting purposes, of Enfield Motor Museum & Potters Bar Contest Band, (which must have now got the longest band name in the UK), and they got proceedings off to a good start with some nice work in particular from soprano, baritone and percussion. Despite the occasional spell of dodgy intonation, and slightly muffled sounds at times, it was a reading that merited their 4th place and was an accout that did try to portray the night out on the titles for poor old Tam and his nag.
Next up was Croydon Brass conducted with real brio by A. Caldon, but with a much depleted cornet bench: their solution to the lack of numbers included the use of the (admitted very good) soprano player to cover much of the solo cornet line as well. As competently as this was done, it did mean there was a lack of tonal contrast, and this listener was left with the impression of a brass ensemble rather than a band performance, and was rather surprised at the resulting 9th place. A couple more cornet players though and they will be contenders here next year perhaps.
Hangleton meanwhile got off to a good start, although theirs was one of several instances where the flutter-tonguing seemed very uncertain (to be fair, it is something of an art to do successfully, especially at a quiet dynamic). Their BBb bass controlled his solo well, and despite the uncertain entries elsewhere 7th place seemed a fair reward for a brave and atmospheric reading by the MD, J. Williams.
Hilgay Silver were another band that started well, (lots of bands played the opening bars with a conviction borne out of rehearsal, only for what to follow being a little under rehearsed in comparison) with incisive trombones and a light touch from the cornets, but untidiness seemed to creep in, with the percussion slightly out of sync with the rest of the band. Having a drunken rider on a horse is one thing, but having a horse that sounds drunk is quite another it seems. Although the full sound of the band was good, the tone suffered in the more sparsely scored sections, as was the case with a number of bands in this section and 12th place was the final outcome.
With Jersey Premier Brass, directed by Gavin Saynor, came a performance full of confidence and assurance. Phrases were played cleanly - the scotch snap being particularly crisp - and the band blended well together. The soprano managed to give the music space, avoiding the tendency to snatch at the notes and squeeze them out which plagued many on the day, whilst the bass rhythm was also very precise, with the quaver/two semiquavers pattern coming across clearly. Changes of tempo were achieved smoothly and confidently and it was clearly the benchmark for the other bands to aim for. In the event no one got close enough, and there seemed to be general agreement as they enjoyed their victory celebrations - fair return for a trip that had cost them £6000, with more to raise in preparation for Harrogate.
Next came Grimsdyke Brass, followed by Epsom & Ewell Silver. Both produced reasonable performances, although there seemed to be balance problems at times with Grimsdyke, with the soprano trills not being heard at all. Epsom's horn section was impressive, as was their overall sound, and they were perhaps unlucky not to have been awarded 5th rather than their eventual 6th place. We had them the other way around from Mr Brownbill in our final assessment.
Meanwhile, Stantonbury Brass's basses and euphoniums made a positive entry to open their account and the BBb bass solo later on in the piece was particularly nicely sustained. Slips across the band though, and a bad day for the top trombone detracted somewhat from a performance that could otherwise have scored higher that the 8th place allocated by the adjudicator. A bit like Tam and his horse, it was one that just got away.
The opening for Bradwell Silver on the other hand seemed a little on the steady side, but their overall band sound was good and broad in character. There appeared to be some unwarranted pedalling from the basses, and solo entries were rather tentative, whilst the Animando saw some rather scrambled quavers. 11th place seemed reasonable enough, but there was a plenty of raw (and at times it was just that) material to work with here for the MD in the future.
Chinnor Silver, took to the stage with five basses and made a good start. However the flutter-tonguing just did not work and although there were some carefully-observed tempo changes, again some of the notes seemed a little snatched and rushed. With some good work from the flugel it was a reading that, on another day, could have been placed a little higher than their 10th place, but it was those little basic errors that may have cost them.
Hungerford Town had a good, steady opening, with well balanced trombones, but it proved to be something of a curate's egg of a performance, with balance problems that included an over-prominent bass trombone at figure 5, but with some neatly handled changes of tempo and a BBb bass with a clear tone. 14th place it was, which seemed about right, but if the balance of the band could be sorted out, then they too have plenty of the right stuff in the right place to feature highly next time around.
They were followed by Woodbridge Excelsior, and this was another performance where there were too many slips around the band to allow them to force their way higher than their eventual 15th place. The MD's words to the band were also clearly audible as well, which was rather off-putting throughout the performance, and we wondered why there was such a need for him to do it, as it certainly didn't bring any improvement and was not called for. Each to our won though, and maybe it has been a strategy that has worked in the past – not here though.
Trumpeter Martin Hurrell led Hitchin to a well-deserved 2nd place with a performance that had a great deal of control and even a hint of sobriety about it: Despite the odd untidy patch, as when the trombone appeared to reach the end of the gliss before the rest of the band, there was plenty of quality both around the band and from the conductor and this was one that did stick in the memory banks when all around them was a bit of a mish mash of mediocrity. .
Hemel Hempstead's were next up, and their trombones were insecure, particularly in terms of their intonation, whilst the basses were rather heavy and the percussion quite erratic. It was a generally therefore an untidy reading, with little successful characterisation, and missing accents. They were placed last, and will hope for better next time out, but this was a piece that didn't it seem suit their approach at all, and will be a performance confined to the back of the CV and the music cupboard in the bandroom we are sure.
Jubilee Brass (Oxford) also did not get off to a good start, with uncertainty in the trombones, and their reading seemingly lacking in vitality. Despite only fielding two basses, they were at times a little loud, possibly over-compensating for absent friends and their eventual 16th place again seemed appropriate.
Great Yarmouth Brass were greatly hampered by the lack of a trombone: its absence was apparent at various points in the score, and may have contributed to the uncertainty and untidiness elsewhere around the band. Their reading had its good points, including some excellent quiet playing from the basses before figure 17, but it was not enough to raise them above 13th place. If they fill the vacancy though they will be a band to listen out for next time we are certain.
Last to play on the day were St Sebastian Wokingham. Seated with the horns and euphoniums in front of the basses, the trombones were given more prominence, and they played impressively. The band's overall tone was full and rounded, with the trombone glisses being the best controlled of the day. Their solo cornet also produced one of the best readings on a day when many struggled to produce a clear, sustained tone, and to bring out the lyricism in the music. There were minor issues of intonation but it was a clean performance, if possibly a little aggressive at times. They could easily have been placed 2nd rather than 3rd, but probably will not worry too much as they still have the opportunity to show what they can do come finals day and it was a nice quality performance to round off what in retrospect was an enjoyable, if variable contest.
All in all, bands found 'Tam O'Shanter's Ride' a tough test, with a clear winner followed by two or three other competent readings. Many bands and individuals seemed to suffer from a lack of confidence, and many of the principal cornets had a bad day at the office that they will want to put behind them, but not so the winners, who will now have the even harder task of raising the funds to get them to the Finals. We wish them and the other two qualifiers well, as we think they will be strong representatives come Harrogate.
Peter Bale