2005 Regionals: London & Southern Counties - Retrospective: Championship Section
22-Mar-2005
Malcolm Wood looks back at the Championship Section where Redbridge and Melvin White made it a fabulous four in a row and gained one of the two places on offer for the Finals in October.
---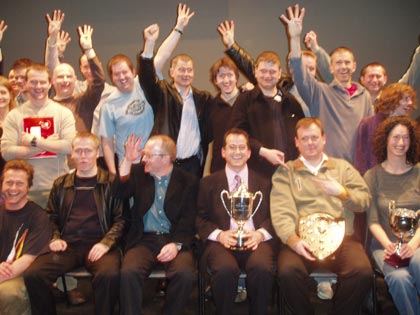 Redbridge: First place
In one sense, you could say it's becoming very boring, whilst in another you just have take your hat off Redbridge Brass and acknowledge that as far as the Championship Section goes in London, they are in a class of their own.
For four years now, Redbridge has been crowned champions and on Sunday evening, the result was a foregone conclusion even before the end of their performance of 'Rienzi'.
Everybody needs a bit of luck, and Redbridge's came at the draw, when they drew number nine from a field of eleven. That though was the only bit of good fortune they needed, as from there, they simply sailed to victory.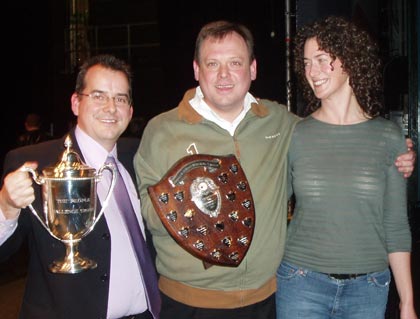 Redbridge: Soloists collecting their prizes
Redbridge's performance had an authoritive feel to it right from the opening cornet calls from Ralph Brill. The quality of sound, so often missing from a number of bands' performance was in evidence and it would have taken some horrendous slips for the band, not just to feature in the frame, but to win as well. Quite frankly, they won on the day with a quite a lot to spare and even though the records will show they beat Aveley & Newham by one point, the gulf in class was far wider.
The quality of the solo work was represented with the addition of Redbridge picking up soloist prizes for the Principal Cornet and Euphonium for their outstanding contributions on the day. The lovely looking horn section (It has to be said) played a big part in the winning performance with some outstanding work as well.
Winning conductor Melvin White was of course a happy man when 4BR caught up with him after the winning band's customary photo-shoot:"I'm very happy. Everything went as well as it could have", and with that he carried on celebrating with his band.
Band Manager Alan Roberts also made some observations to 4BR after the win: "Firstly, going back over the past four years - 24 (including percussion) of our current players have remained unchanged" he said. "Secondly, the band currently has no students in it at present, and Alan also made the point that this is the third year in succession that Ralph Brill has taken the prize for best cornet on the day."
Prior to the announcement of results, adjudicator David Read gave a detailed and at times, humorous summary of the test piece along with his thoughts on the playing. David spoke in praise of the conductors who had done well on the day for their 'thoughtful musical version, based on interpretation and judgement'. In addition, acknowledgement was given to the cornet players for their contributions, and for those who don't like the result, 'there's always the internet' quipped the distinguished adjudicator.
As Mr Read was passing us, we commented (and Mr Read is always interested to learn what those of us who report on these events think of the performances and most importantly, who we have in the frame) - "I don't think we'll disagree today" to which David replied, "Why, what number have you got?'. Our response was, "Nine', and with a smile and the comment, "Let's wait and see", David took his place on the stage.
Before Redbridge, only two bands made an impression on David Read and everybody else listening during the afternoon.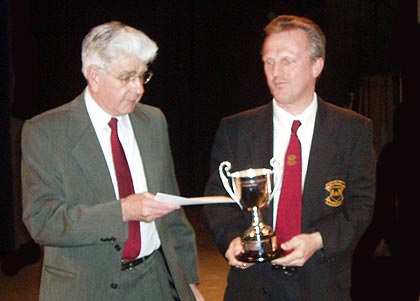 Aveley and Newham: Second place
Aveley & Newham will accompany Redbridge on the short journey to the Royal Albert Hall in October having drawn number four. Once again, the quality of sound was a big factor and with some fine ensemble work from within the middle of the band, Nigel Taken produced an interpretation that won many admirers and that would be hard to move from being in contention to qualify for the National Finals.
The question for both Redbridge and Aveley now is what they can do at the Finals themselves? That answer won't be known until October of course, but 'Rienzi' has thrown up some unexpected results, and these two bands will compete in the hope of ruffling more than one or two feathers on the day.
Alliance Brass misses out this year, after two successive years in qualifying. David Read admitted from the stage that he had some sympathy for the bands placed third and fourth, but his job was to select two qualifiers and that's how it has to be.
John Clark's band drew number two and perhaps the very early draw was its downfall. Once again, the quality of sound, ensemble playing, dynamics and musicality won a huge array of admirers, but it was definitely one of those performances where the door had been left ajar, and if anyone could make an impression, then Mr Read would have something to think about. The band's tenor horn player became the inaugural winner of the Brian Hastings Memorial Cup in what was the most poignant moment of the whole weekend. Brian was a stalwart of the London Championships and sadly he passed away not long after last year's event. The award though guarantees that his memory will never be forgotten at these championships.
Zone One Brass really did make an impression and deserved to be placed as high as fourth. Promoted from the First Section, this talented bunch of players got the favourable draw of eleven and in the process gave David Read food for thought. It wasn't a winning performance of the standard of Redbridge, but it had loads of quality in the overall projection of sound, ensemble playing and they didn't run out of stamina. What was also impressive was the MD, Simon Dobson, never asked anything his band couldn't do. So many times on the day, conductors wanted far more than the players could give, but not Zone One. This is an outfit to keep your eye on as they made a huge impression on the day and are bound to in the future as well.
Welwyn Garden City played just before Zone One at number ten and was the last band of the day really to make an impact and give some thought for David Read as to the running order outside the top two. The overall sound of the band wasn't as powerful as Redbridge, Aveley or Alliance, but at times they produced some nice touches and a musical interpretation worthy of note.
Away from those five, the rest of the bands on show here really struggled at times with 'Rienzi', and were never going to be in contention for the prizes.
So often, the start of the piece had an uneasy feel about it, middle Cs were not always 100% and with some uncomfortable moments in the lower ends, performances never really gained momentum.
Northfleet Brass along with Zone One were making their debut at this level and hopefully will have been pleased to have finished sixth from a performance that as mentioned, struggled to gain momentum. The opening was seemed a touch uncomfortable and they just never managed to get going and by the end of it, seemed mightily relieved.
Soham Comrades drew number one and never really seemed happy. The MD worked his socks off in attempting to get the band to move along, but it was a big blow for them, and they seemed to be running on empty for the final couple of minutes.
Friary Guildford's smart white jackets and red carnations had that look of the classic 1980's Leyland about them, but they struggled to produce a performance that matched their impressive appearance. The quality of sound again was a problem and in the bottom four bands predominantly, it was a real struggle at times to actually hear some of the detail coming through clearly enough.
Kidlington, Ipswich & Norwich and KM Medway will all hope for better times in the future after giving performances here that never lived up to true Championship credentials.
Not since 2001, when they came second, have Kidlington made a big impression on this contest. The sop player looked exhausted at the end having done everything possible to make an impression, but the opening didn't sparkle and it just became hard work all round, with some tired lips at the end.
Meanwhile, Ipswich & Norwich Co-op came up from the First Section in 2003, but has had two difficult years in the top tier. Ninth here last year, tenth this time, will probably see them drop back into Section One again. They tried their hearts out, but it never happened for them at all. From the first note too the last, it was a real struggle and they looked mightily relieved to come off the stage.
The same can also be said for KM Medway. As with Ipswich they came up last year and have struggled in the Championship Section. Again it had moments, but that's all they were. The quality of sound, the stamina needed just wasn't there and it just wasn't meant to be.
At the top end though, you've got some quality bands and it was those who shone through once again on the day and the majority of bands in this section have their work cut out to stop Redbridge monopolising this contest, such is becoming their dominance.
Aveley & Newham will join Redbridge on Saturday 15th October in a bid to become the National Champion Band of Great Britain. You'll probably get long odds on them actually doing that with some exceptional bands competing against them, but if the Welsh Rugby team can win the Grand Slam after twenty seven years (it's a thread you'll be familiar with by now) anything is possible.
Redbridge will really be looking forward to the Finals with high hopes of coming at least in the top 10 and even pushing realistically for a top 6 place, whilst Aveley & Newham might also be placing a few bob on themselves to do the same. Given the line up of the bands for the Finals, this may well be the opportunity for the band to transfer the fine form they showed here onto the biggest stage of all.
Malcolm Wood