2005 Regionals: West of England - Restrospective: All sections
18-Mar-2005
Steve York take a look at the events in Torquay last weekend where the bands making up the West of England region were battling out for a trip to Harrogate or London, later this year.
---
4barsrest would like to apologise that we are unable to bring you our usual detailed section by section retrospectives for the West of England. Due to there being 5 regionals on the same weekend, we were unable to source reporters do cover the whole weekend and listen to every band. We are therefore very grateful to Steve York who has provided us with this short article on the contest.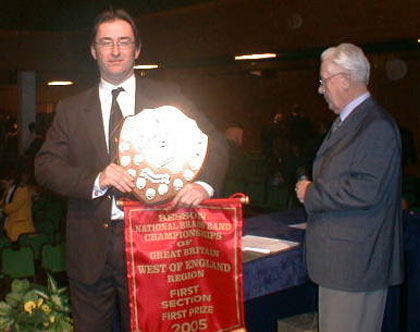 Aldborne Band: Winners - First section
Sometimes I think we're a bunch of masochists! Every year we crowd ourselves into the various contest venues around the country, witness band after band struggling with the test-piece, snatch a sandwich, dash to the loo - and then find our band isn't included in the results top-six 'frame'.
Why do we do it? Well, I suppose we're all a bit mad - but I don't think there's anything wrong with being mad about brass bands.
The crowds at Torquay this year didn't seem to mind the privations and the rather chilly weather and, thanks to Brian Elliott's excellently organised weekend of contesting, everything worked smoothly.
The changeover time between bands was kept to a minimum, thanks to the 'heavies' from Evans Stage who shifted the percussion, as well as the fact that the percussion scoring was relatively basic this year in all sections.
Howard Lorriman's arrangement of the overture to 'Rienzi' by Wagner (Richard, not Robert as announced by contest controller, Brian Elliott in a rare moment of forgetfulness!) proved a good test for the Championship Section and a piece which one could listen to repeatedly with pleasure.
Most bands made a fair attempt at it, although some took the lovely slow melody known as 'Rienzi's Prayer' so slowly, one expected it to grind to a halt.
The best performances came from Bournemouth Concert Brass (under Nigel Taken), Flowers (under Philip Harper), Mount Charles (under Dr. Roy Newsome) and St. Austell (under David Loukes).
By the time the results were ready, most people had either Flowers or Mount Charles in first place, so imagine the surprise when it was announced that Bournemouth had pipped them all at the post and run off with the cup.
To be fair, it was a very good performance, but I certainly didn't have it down to win. St. Austell gave a most impressive reading under David Loukes, who has worked very hard to improve the standard of this band.
He has long experience as a trombonist in the Halle and BBC Northern (now Philharmonic) orchestras and he evidently felt very much at home in this music. His young players made a tremendous effort, aided by the distinguished figure of Steve Sykes among the basses whose presence must have engendered much confidence.
Mount Charles must have been very disappointed to have been left in 4th place after their mature performance under Roy Newsome, which sounded so 'right' in every way. The sound of the band was full and rich (again, there was a guest in the shape of John Maines on 1st trombone) and Dr. Newsome's reading was a joy to listen to - everything in perfect proportion.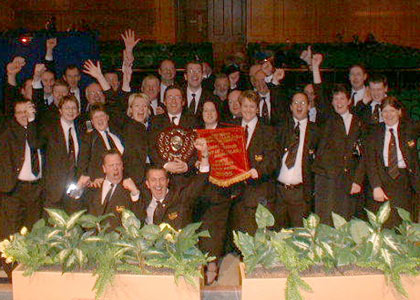 Aldborne Band: Winners - First section
Many in the First Section came to grief right at the start of John Ireland's 'Comedy Overture', which sounded like anything but a comedy in some performances. Indeed, some sounded as if they were grimly fighting the piece. Aldbourne, under the experienced guidance of Melvyn White, managed to come up with the right touch and secured the trophy although there were some pretty impressive accounts from elsewhere.
The Second Section all too often found themselves in over their heads with Vaughan Williams' Variations for Brass Band. A test for the conductor as much as the bands themselves (as adjudicator Roy Roe pointed out), few managed to produce the burnished, sophisticated sound necessary for this most refined of test-pieces. The tempo relationships were also a problem throughout, underlining what a difficult piece this is to bring off satisfactorily.
St. Keverne pull off a decisive wind - especially touching in the light of the recent death of its conductor, Shaun Thomas. The band had played at his funeral on the Friday and must have felt that their performance was a living memorial in sound to him.
The Third Section also found itself on dodgy ground with Denis Wright's Tam O' Shanter's Ride. AS with the John Ireland, few bands managed to enter into the spirit of the piece successfully, many sounding far too 'po-faced' about it.
Portishead Town under Rhodri Griffiths however managed to put in a performance of real merit and found favour with the adjudicator while Shrewton Silver (Michael Dunford) grabbed the second qualification spot with a fine rendition of the work.
The Fourth Section was rather hampered by the reverberant acoustic of the sports hall in which they played. Too many lumbered their way through Brian Kelly's Divertimento and made it sound like a Mahler symphony.
It probably would have been a good idea if some of the conductors had followed Bryan Hurdley's suggestion (in his remarks after the contest) and had a quick look at the hall first.
Verwood gave an outstanding performance to win the section, sounding like anything other than a 4th Section band and one will follow their subsequent progress with great interest.
The were some murmurs of discontent about Mr. Hurdley's placings, but that's contesting for you and, as they say, if you can't stand the heat....well you know the rest.
In his remarks John Maines complemented the 3rd Section on the high standard and, indeed, the level of playing, as well as the number of bands, was encouraging, as it as in all the sections. The north of the country is normally held to be the Mecca of brass banding, but on last weekend's evidence, there's plenty of good stuff to be found 'down south'.
The Riviera Centre is a good venue for contests with plenty of space, a friendly staff and good canteen and bar facilities. I shall certainly look forward to attending further contests in Torquay.
Steve York