2005 Regionals: North West - Retrospective: Fourth Section
20-Mar-2005
John Collins and Oldham (Lees) Band stormed to victory here and will be looking forward to crossing the Pennines to play in Harrogate later this year. Malcolm Wood talks us through the day.
---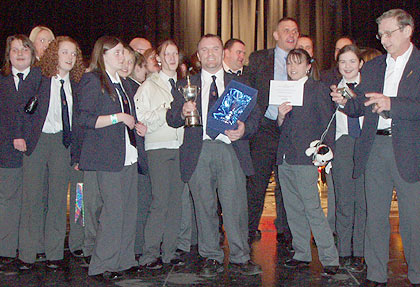 Oldham (Lees): Winners
Should Jose Mourinho claim the Barclays Premiership title in England with Chelsea it will have taken him nine months to achieve his goal. That is nothing though compared to John Collins and Oldham (Lees) Band, as it has taken them just seven months however to claim glory as they did in the Fourth Section on Sunday morning.
The Oldham area is a red hot area for brass bands. The talent in such a relatively small geographical area over the years has seen countless players go on to feature in the top bands in the country, and the production line never stops.
Testament to this is the sterling work that people such as Ted Griffiths at Dobcross has done, whilst names like Ted Tooley, Alan Lawton (rewarded by the Regional Committee at these Championships) and others have mined a very rich seam of talent. These are very special teachers of brass, and you can therefore see why banding in the area is so strong.
Joining Oldham (Lees) in Harrogate will be neighbours Greenfield conducted by Dave Chapman who finished third, whilst sandwiched in between them were Valley Brass Haydock conducted by Bob Wyatt. All three will represent the North West with pride come September, and really fancy their chances of taking the National title back the short disatnce with them over the Pennines.
'Divertimento' by Bryan Kelly is a good test at this level, and once again it proved to be a stern test here. Consistency is the key, with the need to string four good sections together. It may sound a bit obvious to say that, but at this level, it is a pretty difficult thing to do, unless you have a decent band and a decent MD.
Most bands coped admirably here, a few struggled for sure and one or two fell apart completely.
The real delight of this section, was as ever, was seeing all the youngsters coming onto stage and playing. Every band had them, (some in veritable droves) and it is brilliant to see. Ok, they will learn about the basic things and improve, but they were having a go and taking part which is a credit to each and every one of them that did. Some of the bands as well took to the stage without a full compliment of players, but rather than not compete, they came, gave it all they had, and hopefully enjoyed the experience.
Adjudicator Roy Sparkes was in good form at the end of the contest and speaking from the stage was concise in his comments on what he had heard.
'Some good playing and some not so good playing,' was his assessment with comments particularly addressed to MDs on tempos. Indicating that by taking liberties, a lot of bands had lost clarity in their sound, and that's where the points were lost.
Oldham (Lees) and John Collins won quite simply because they were able to put four good movements together and their overall quality of sound stood out. This band was littered with loads of girls (as well as a young bass player whose instrument was actually as big as he was). From an early draw of number four, this was a performance that would always take some moving from being in the frame.
The tuning and intonation was very good overall (a few bits, but nothing serious) and the third movement, the Intermezzo, really stood out. The flugel horn player projected a warm effective sound with her back away from the adjudicator and the audience. Different, but it worked, and John Collins had clearly given this area a lot of thought.
Speaking briefly to 4BR, with the band still jumping for joy at the announcement of their win, John said: 'I'm ecstatic, over the moon. I never imagined that we'd have this success so quickly'. This guy is even good at the old clichés as well as the old music. Well done indeed though – it was an excellent effort.
Runners up were Valley Brass (Haydock) under Bob Wyatt who are beginning to make a name for themselves. They could have won but for a bit of nervousness here and there, but the solid playing in the cornet rank stood out.
Sean Houlton in the principal's chair and Heather Darwin on soprano, with a lovely sound added plenty to the band, whilst David Chadwick the ex-Wingates sop player (who also conducts the band) brought plenty of experience to a performance that stood out, and again would have taken some good performances to move it. Sadly, Dave Chadwick's wife, Amanda missed the performance due to their youngster not being a happy chap, but she was thrilled at the conclusion of the contest and theirs was the other performance on the day that really did have a quality of consistency running right through it.
Greenfield meanwhile clinched third place with an unconventional seating formation that paid dividends. Dave Chapman had the trombones on the left and the cornet rank on the right, and it brought across the quality of sound Roy Sparkes was looking for. Roy stated the three bands going to Harrogate stood out, and that they did, although one or two other bands put performances in that with a bit more of that consistency could have given him something to consider.
Rivington & Adlington followed Valley Brass (Haydock) on stage drawing ten, and were another band that brought just enough quality in all the movements to figure. Mr Bentham never asked anything of the band they couldn't do and it paid dividends for them with 4th place.
Pemberton Old JJB Wigan 'B' under Peter Ashley played number two and set a good marker. This again is a young band with a very young solo cornet who was one of the stars of the day. The sound of the band in particular was impressive and whilst it had snippets of tuning issues around the stand from time to time, last years winners in this section put in a good enough performance that could see them move up into the Third Section.
Dobcross Youth and Ted Griffiths will have been a little disappointed to have finished sixth though. Your correspondent was faced with the dilemma before they came on stage of staying in the hall knowing he was on the verge of a major coughing fit, or just getting out for some water, missing the performance, but coming back for the remainder of the draw. Ted received our apologies, (and it's again here in print) but our sources in the hall told us it was a good account, that like others on the day, wasn't as consistent all the way through as it could have been.
Away from the top six the standard started to tail off a bit (although we thought Uppermill deserved better than tenth), Eaton Farnworth & Walkden had a late draw of thirteen and it didn't quite have the sound of the others, whilst Port Sunlight Lyceum Brass and Golborne never really stood out.
Uppermill and Alan Widdop got the 4BR curse of being tipped to win and put on a decent show that wasn't a winner, but was bordering on a top six berth. It had its moments, but it didn't always happen for them, although any band that Alan Widdop fronts up has a good overall sound, and it was the case here.
Coppull & Standish, Besses' Boys and Tarleton & District Brass all struggled to deliver a performance where all of the four movements gelled together. It was a bit of a bumpy ride for them at times, but these are young players that will learn and benefit from the experience, whilst it was nice to report that not one of the MDs of these three bands tried to make something out of the piece that they knew their band couldn't realistically achieve.
Therefore the opening Prelude was taken at sensible tempo, the March was allowed to grow naturally, and the difficult Intermezzo was left to the basics of trying to get the notes first, the musical interpretation second. The Finale, was a good old blow. The standard may not have been really up to scratch throughout, but it was still a pleasure to hear all of their efforts.
That left Barnton Silver and Carrbrook Brass.
Barnton Silver got the dreaded number one draw and after waiting an age to start whilst the cleaning staff providing a reminder of Victoria Wood and Julie Walters in 'Acorn Antiques' decided whether to have a cup of tea or not, they played the National Anthem. The tuning and balance just was more than a bit way out and to be honest and you always knew they'd struggle, but it was a brave effort nonetheless.
The Northwich outfit battled on though and although the approach seemed a little rigid, you can't but notice the amount of youngsters that are learning to enjoy brass banding here with them. Relegated from the Third Section in 2003 and fourteenth last year in a field of nineteen, they appear to be really going through a tough time at the moment, but if they can keep the enthusiasm and the talented MD they will prosper for sure.
The same can be said about Carrbrook Brass. A mix of youth and experience they struggled without a Bass Trombone player on the day. They have to be commended for taking part though as it would have been easier to bail out, but after finishing next but last, last year, they would have wanted better this time around. Again though, plenty of raw material to work with for the MD and we think they will return the better and the stronger for this brave effort.
With three withdrawals that was your lot. This wasn't a bad contest at all and well done to Peter Bates and his team for giving them the experience of playing in the Opera House.
Oldham (Lees) achieved something they thought unlikely and with Valley Brass Haydock and Greenfield, were worthy qualifiers and will be looking forward to making their mark in the final in September. All three could well feature highly there as well.
Malcolm Wood