2005 Regionals: North West - Retrospective: Second Section
20-Mar-2005
Dave Tinker sits back and reflects on a real set of Variation where Wire Brass and Paul Andrews cam away with first prize and an invitation to Harrogate later in the year.
---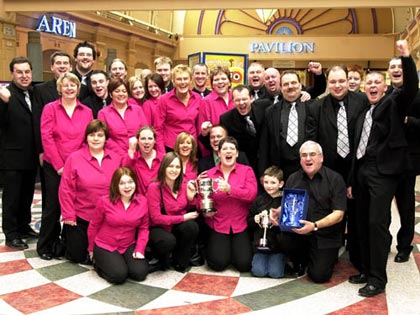 Wire Brass: Winners
Picture: Tony Carter, BBW
When "Variations for Brass Band" was chosen as the Second Section test piece for this year's area it raised more than a few eyebrows. Many people (including some seasoned observers, other than just 4BR) thought it far too difficult for bands at this level to produce true musical performances of, and after listening to the bands in Yorkshire try to tackle it (and where in truth only one band got anywhere it) we looked forward here with some degree of apprehension to hearing how the North West bands tackled this excellent, if difficult music.
At the end of what turned out to be overall, a decent enough contest, it was Wire Brass conducted by Paul Andrews followed closely by Diggle conducted by Norman Law who were chosen to represent the Region at the Finals in Harrogate in September.
Speaking to 4BR after the contest the adjudicator, Brian Buckley said that considering they were Second Section bands the standard had been quite good, although no band had come out unscathed. The first two though had got close to the essence of the music where others just about met the technical demands that the Theme and 11 Variations placed upon them.
Once again though, it was fairly apparent that this was a piece unsuitable for this level, even if a couple of the bands did put in good performances of it. Far too many didn't, because far too many couldn't.
Wire were worthy winners though. You couldn't really argue with that, as it was obvious even to the casual listener that they possessed the personnel as well as the musical ability from the players and the MD to give this piece a fine and responsive performance. It wasn't error free, but it was still a fine attempt.
The opening few bars put a marker down and the music had a nice feel about it, whilst all of the solo lines were very well handled. The basses and horns especially were excellent and they for us were the highlight of their performance. A special mention though to the MD, who gave the music plenty of time and space and was able to make the subtle changes of tempo between the variations tell. It was a classy winner indeed, and one worthy of the piece.

In second place came Diggle, and this was a performance with plenty of detail with a Musical Director who had certainly done his homework. We don't know if Norman played this piece on the famous Black Dyke record, "James Cook" all those years ago, but he did seem very well acquainted with the music and its shape and style.
The music really flowed (there were no too obvious gear changes that blighted many others on the day) and the links into each of the variations were well done. There were some slips in the early moments of the piece and some slight intonation problems could have cost first place, but like the winners they deserved their place in the Finals.

In third and fourth place came Greenalls conducted by John Ludden followed by Hoover (Bolton) directed by Chris Wormald, both of whom had many fine moments, but both at times being guilty of being too heavy and lacking in dynamic contrast to challenge the top two qualifiers. Decent performances nevertheless, and ones that had considerable promise, but that enthusiasm to try and produce a big broad sound, hampered them as it tended to become harsh towards the end when tiredness crept in.
In fifth and sixth places came Silk Brass AstraZeneca Macclesfield conducted by Ken Mackintosh and Manx Concert Brass directed by Ian Clague who gave quite contrasting performances, but who also just failed to meet the technical and musical challenges that have defeated nearly every band at this level around the country.
Both had fine moments, but it was the rather obvious mistakes that we think cost them both. Bar 6 once more raised its rhythmic head, with the two linked triplet quavers, which for all the world sounded like two semi quavers, not just here but later in the piece as well. They were not alone here (all around the country it has been the same), whilst once more the later Fugue sections were again taken at a faster speed than that marked at the beginning of the piece. This was a basic error that MDs failed to realise.
Silk Brass at times got rather hurried (the Fugue especially) and some of the detail was lost, although they did produce a nice rounded band sound and had the best trombone section of the day. Manx Brass, conducted by Ian Clague also produced a very nice compact sound off the number one draw and gave a more reserved show that on the whole was musical but lacked that bit of confidence in places, and once more suffered with those rhythmic inaccuracies to have had a chance of claiming a qualification place.

As for the rest, it became a bit of a mixed bag with plenty of good individual variations mixed in with some poor efforts as well, although Boarshurst Silver for us could consider themselves unlucky not to get in the frame as they gave a very confident, committed show. It lacked a degree of detail and had too many clips, but it was a performance that held your attention right from the word go, and on a day when many others didn't perhaps they could have deserved to come a bit higher up the prize list.
It also had the best 'Arabesque' section (another variation that caused immense problems with its simplicity) where the running semis where placed perfectly with the flowing tune. Theirs was an example to everyone else on how to play it.
The next two places were filled by Blackpool Brass conducted by Steve Simpson and the Delph Band directed by Phil Goodwin, both of whom displayed a spirited approach that was just hampered on far too many occasions by poor production and tuning problems in the ensemble in the quieter moments. Both had the right feel to the style – broad and sonorous, but that wasn't going to be good enough when the tuning in particular grated.
Finally, the last two positions were filled by Hawk Green (Marple) conducted by P. Pavey and the Eagley Band who were directed by S. White. Again, there was much to commend in the approach of both, but the basics of tuning and intonation in both the individuals and the ensemble robbed them of valuable points from the word go, whilst the failure to overcome the differing styles proved costly as well. Both couldn't have too many complaints to find out where they came in Brian's results list.
The North West has a fine tradition of quality bands at this level, and once more they will send representatives to Harrogate with every chance of doing well and even maintaining the Region's excellent record and coming back with a victory banner to their name.
However, many of the other bands here will possibly have to look hard and long with their MDs about the way in which they approached this music. Far too few of the MDs had a real intuitive understanding of Vaughan Williams music (although it must be said, this piece contains but crumbs of the genius), and many of them tried to bring an aggressive approach of over accentuated production and far too obtrusive percussion into their readings.
You can't blame the players when this occurs, as they only follow the lead given from the man in front, but it was a pity to hear.
Not so the two qualifiers though – both had intelligently led readings from their conductors, and both had the players with the skill and musical talent to make the music shine. Brian Buckley was spot on with the result for us, and both should do very well come Harrogate.
David Tinker