2005 Regionals: North West - Retrospective: Championship Section
20-Mar-2005
Malcolm Wood and Mark Bousie talk us throuth the championship section where Russell Gray and the Leyland Band made it a North West double.
---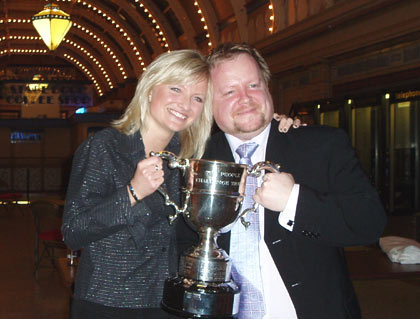 Leyland Band: Winners - Russell Gray and Principal Cornettist Anne Britt Scherrer-Hermansen
Audio interview

Interview with winning MD Russell Gray [WAV 2.56Mb]
---
You wouldn't mind betting that for a large number of Championship Section bands at Blackpool as in every other region, that they might just be wishing that they were Grimley Colliery from the film, "Brassed Off."
Right at the conclusion of the film, Grimley are seen romping to victory with Rossini's "William Tell Overture" (although it is a version unlike any other we have heard), before lifting the famous trophy. Given that what we were given here was just as bad as that – a real old hackneyed romp, the Rossini's overture it seems would have been an easier challenge to sort out the bands.
"Rienzi" was a hopeless choice that left the very best bands here with little hope of showing off their class. Even with a Walt Disney finish, not even Grimely could have made this into a happy ever after ending.

The Opera House was no different to Darlington or Burton on Trent Championship Section contests, with many bands performing 'The Brass Band Grand National' – falling at the first fence or two on the opening middle C, whilst what followed with so many a possible prize winner, was by the time they reached the elbow they found that there was nothing left in the tank as stamina left them for dead.
On Sunday, three bands out of twelve stayed the distance right to the end and were clearly a few furlongs in front of the other nine contenders, but even these three had their wobbly moments at a few fences.
Within those three though, Leyland retained its title for a performance that was solid from start to finish, never found itself any real trouble, but also never quite had the blood coursing through the veins in a Red Rum fashion either. Not one to remain in the memory banks for sure, but one that deservedly had its name engraved on the winners trophy.
Sunday also saw (or should be, heard) a sprinkling of MDs deciding that they would like to audition to become an Opera Babe. Cajoling and encouraging your players is fine, but Rebecca Knight and Karen England of Opera Babe fame these MDs are not - even if they fancy themselves as Pavarotti in the comfort of their bathroom. At times you half expected a couple of them to forget the conducting bit and turn round to give a virtuoso solo, such was the intensity of their vocal chords.
Is singing the new way of inspiring your troops to greater heights? It has crept in almost without a mention before now, but at present there are far too many MDs in full voice when they should be quiet. Hasn't anyone in the bands got the heart, or the guts to tell them it isn't big, clever, funny, or, in tune?
Back to Leyland though, and Russell Gray knew exactly what he was doing (and quietly as well). In Russell's mind, the key to the opening of the performance was to get a perfect start on the middle C's – and this is just what he got. Whilst doing a concert last year, the Scot came across Norwegian Anne Britt Scherrer-Hermansen, a very beautiful (and we mean beautiful) young woman who had a cornet tone that was just in a different class on the day. Looks are something - talent to go with it is something else.
The opening Cs just stood out above anything else on the day (warm and true, with the required dynamic contrast, and perfectly in tune without a hint of waver) and the performance was crafted from that perfect start. It had clips here and there, but Russell's interpretation was solid, secure and held the attention without recourse to histrionics, right the way through from the first note to the last. It might not have had the hairs tingling down the back of the spine, but it made music, and in this 'Rienzi', that was a special gift in itself.
Russell very much put all his eggs in one basket by securing the solid opening, and it paid dividends. Ian Twiss on soprano blended in well, as did Janet Lewis on flugel and Daniel Powell in the horn chair, and when you add to that the experience of Billy Millar and Nicholas Hudson bringing quality to the trombone line, you can see why Geoff Whitham liked what he'd heard (and from what we understand of his remarks, he sat back and enjoyed it, as he didn't write too much). Ok, it perhaps didn't have the tonal resources of what Fodens had done earlier in the contest (of which more later) but it was a fabulous reading from Mr Gray.
Leyland is no different to a number of bands that have gone through tough times recently. Speaking to 4BR afterwards a delighted Russell said: 'They needed that result today. Another nice days work at the office' he quipped with a big grin on his face. Given what he has had to go through of late, one didn't have to wonder why he was so pleased. Some secretary's around the country will not be too pleased with themselves for sure – he is an immensely likeable and talented bloke, and he keeps proving it time and time again.
Prior to the announcement of the results, many people expected Fairey FP Music to be going to London; the decision they wondered about though, was whether that would be as champions?
Faireys were brilliant on the day, directed by a man who is enjoying a heck of a period of red hot form on this piece, even though he hasn't won (three second isn't bad though), and there were times they purred like Chelsea did against Barcelona last Wednesday.
Stephen Wilkinson was sound and secure in the principal's chair and whilst the opening might not have been as tight as Leyland, they soon began to motor.
Rebecca Crawshaw sung (and we mean sung, as opposed to some of the sop playing that has been heard during the regionals) like an angel in the soprano chair, adding touches of beauty that brought so much to the performance, and so much of the reading was down to the inspirational craftsmanship of Peter Parkes. For the third week in a row, the Major took a band through to the finals and once again, this interpretation had his trademark fingerprints of class and refinement all over it.
The ensemble playing from the horn section was top quality, with Lucy Murphy on flugel bringing the class she's done for years to a section made up of Chris Pannell and Rosie Pearce playing blinders on tenor horn - the quality of sound was never lost at all.
The only touch of uncertainty came during Michael Howley's euphonium solo, when it wobbled a touch and you wondered where it was going, but he recovered and it didn't detract too much from the overall performance.
Towards the end, it was so controlled and engineered excitement from the score without recourse to crass overblowing or unnecessary effect. The audience loved it, and whilst many thought it was a winning show from the late draw of number nine, Leyland's opening and rock solid approach on the day, had the edge.
It's not been the greatest twelve months in the history of Fairey's Band but they put on a show here that suggested that those who thought they might struggle were very much mistaken.
With BHK, Desford and Fairey all directed by the Major, it will be interesting to see who he fronts in London, but the gut-instinct would be Faireys. We will wait and see though, although the short odds money will be on the Stockport band as they really did show the form of yesteryear here.
Foden's Richardson on reflection quite possibly drew too early at number two, to cement the qualification place they so wanted after the travails of 12 months ago. The opening was good but there were some intonation problems thereafter and a few more obvious and costly errors later on. Garry Cutt was another MD who crafted out a performance of fine musical shape, but it was marred by those errors.
At times it was Rolls-Royce like, with the inkling that it could take off like a Ferrari. The complete band sound had class all the way through it, with some top draw ensemble work, whilst in the allegro, what we got was a big sound with detail. However, just when they were ready explode and bring the house down, for once uncharacteristic clips appeared in the trombones and these would have appeared to have proved costly.
Mark Wilkinson, Alan Wycherley and Helen Fox were all in great form and at the end, it received a great ovation. Granted, the marker had been set and would be tough to beat, but was it beatable? Well, in the end yes it was, with Faireys interpretation being a touch more polished and Leyland's impeccable start that ensured that they retained their title.
It does seem unthinkable though that one of banding's most famous names won't be challenging for the National title come October, but the relative poor performances from the two bands at London last year meant that only two places were up for grabs here and someone had to miss out. Anywhere else and perhaps Fodens would have gone through (although perhaps not in Yorkshire), but on this occasion, just as last year, they missed out. It will hurt again, but look what it brought last year?
Wingates under Phillip McCann put on a decent show that you knew would always feature, but given the quality of the top three, to finish fourth was an excellent achievement.
The opening was good, just with a hint of nervousness, but the detail and contrast was in evidence - just the odd slip floating around to rob a point off them here and there. The turns again were consistent (as they were with Sellers in Yorkshire), and the ensemble playing was good, although for us, the end just had that tired feel to it, and whilst disappointed not to have finished higher, fourth was richly deserved.
BT and Mike Fowles was another band to put on a pretty good show that had plenty of plus points, but too many blips cost them points. The opening cornet entries were tentative and a touch nervy, but the euph and basses had a nice feel to them, and although the baritones seemed to be a touch wobbly, the MD began to shape a performance that had a really nice feel to it. The horn section did well throughout and again it made an impression on both the man in the box and the neutrals in the hall.
In the allegro the detail and overall sound quality was impressive and towards the end of this, we had the Michael Fowles swagger, as he sensed his band were at last playing to the top of their form. He wasn't wrong, and it was pretty full on approaching the close. Whilst they knew they weren't going to win, they put a very respectable show on that in other 'regions' may well have come higher than the fifth it did here.
Dobcross Silver under Dennis Hadfield is a young band and you'd hope they walked off stage with feeling mightily proud of themselves. Laura Hurst on solo cornet presented a nice sound, and whilst it was a bit of a bumpy ride around the basses and euphoniums, they never once stopped digging in and keeping the listener's attention.
All of the turns were consistent and the band produced a nice full sound. It had clips, but Dennis Hadfield worked his socks off here, to keep them focussed and retain that self belief. It wasn't in the same class as those that finished above them, but it was still a fine effort and 6th place was well deserved.
Pemberton Old JJB Wigan was really the last band to make any impact on the order of placings. The First Section National Champions really worked hard from start to finish and in the end were rewarded for their efforts by claiming 7th place and picked up a few bob in the process.
Hopefully, enough money was left in the contest fund to get everybody a drink, because it was one of those performances where they knew they weren't going to win, but they wanted to show that the could compete in the section, and not finish near the bottom, by taking at least a few scalps. On the day they did that and more, and you have to take your hat off to them (even if you were one of the four bands scalped by them come results time!)
This result will do them the power of good and gives them that little bit more to build on, whilst MD Mark Peacock continues to impress us each time we see him and hear his interpretations. The boy has a touch of class about him for sure.
Longridge and Steven Booth drew twelve and came eighth, which to be honest surprised us, as it was a bottom four performance for us. The overuse of vibrato gave the band terrible intonation, whilst the error count was very high indeed. However, the solo horn produced a lovely sound that struck a chord with us, and by the time the allegro came around, it was big and bold but more than a little overblown. Not one to remain in the memory for us, but one that did find a degree of favour in the box.
Besses o' th' Barn drew number one and this performance will live in the memory for conductor, Jim Cant. What a shame banding photographer Tony Carter didn't have an elevated position to be in behind the band because he'd have captured some fabulous facial expressions.
However, poor Jim's mood changed as the performance moved along, as the band had a real off day. Full credit to him, he worked very hard, pumping loads of energy into it, but then he started to sing along, sing again, and then shout, and at one point you sensed he was going to explode!
Perhaps things didn't quite go as how they had in rehearsal, for Besses are a much better band than this. It was a poor day at the contesting office, and Jim, and we are sure his band, knew it. Next year will come soon enough, and Besses we are sure will return with a performance more fitting of their talents.
That left United Co-op (Crewe), Haydock and Mossley.
United Co-op under Jeff Sparkes is another band that probably will go back into the First Section having finished eleventh last year and ninth this.
Intonation was the issue for us and the splits were costly, as when it did get going, the full band sound was fine, and plenty of evidence to suggest talented players around the stands. Certainly at the end, it had a robust feel to it, and it was a pity that it couldn't have just started like it. This is a band that has found the experience here will have done them a power of good, and a drop down a section may at first hurt, but we think may well be a good thing as they should prosper and return pretty soon.
We had Haydock and Lynda Nicholson in ninth place, but Geoffrey had them eleventh. The cornet salvos were ok, but again it was the bass/euph opening areas that became the Achilles heel.
Linda Nicholson gave it all she's got like she always does – her energy is endless, and the allegro for us was well shaped, but again, clips and the odd bit of loose playing cost them dear. Come the end though, the band looked done in, as they had worked very hard indeed, but the error count was far too high on this occasion and it got what it deserved.
Mossley and Martyn Evans have just come up from the First Section having been relegated the previous year. On this evidence though they appear and sound like a band that is perhaps too good for one section but doesn't quite have it yet to survive in the other? Maybe. This performance from Martyn Evans grew in stature though for us and had a better finish than its opening, whilst the cornet sounded a touch loud for 'pp' and they have never had that impact of sound when the full band arrived.
To be fair to Martyn Evans (as with other MDs) he again worked hard to pull this round and keep it going, and he succeeded in the main. He created some effective dynamics and whilst the technical stuff was edgy, once they got going, they gave it a real go.
The Opera House though belonged to Anne Britt Scherrer-Hermansen, Russell Gray and the Leyland Band. Here was a lady who had a presence and a commanding impact on the band's performance that was the real difference on the day, whilst Russell Gray once more showed that he is a talent that cannot be ignored.
Leyland came here as a bit of an underdog, but left as double champions, and whilst others may rue that they didn't quite play to form, Leyland showed that what you need is class around the stands and class in front of it. If you can get that combination then everything else falls into place, given a touch of musical inspiration and a good looking girl with enviable looks and a talent to play the cornet to match.
Malcolm Wood and Mark Bousie