2005 Regionals: Wales - Retrospective: Fourth Section
15-Mar-2005
Alan Morrison had three mini contests here to judge as the 14 bands split themselves into three little contests, but it was a band making a comeback that took the honours.
---
You have got to hand it to Alan Morrison. He does (as they say in these parts of the world) know his eggs, when it comes to picking out the best bands in a 14 band field in the Fourth Section.
In a contest that really did fall into three mini sections as Alan suggested, he picked out the two best bands on the day as cleanly as a farmer picking up two newly laid golden yolks from the chicken coop. No hassle, no problem.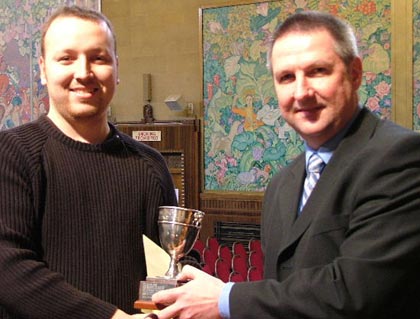 Royal Oakley Band: Winners
Given that he hinted as much in his remarks, it didn't come as much of a surprise when Royal Oakeley Band took the top prize and won their fourth Welsh Regional title since 1996, but amazingly their first for four years, as they had not competed here in Swansea since 2001.
Alan stated that Bryan Kelly's 'Divertimento' was; "A well crafted piece that fits the requirements for this section well, as there was a lot in it to trap the bands." He also added, "Movements 1,2 and 4 were all about the very angular rhythms, which if they were not performed quite right ensured that each of these sections didn't link together."
With that in mind Royal Oakeley's performance couldn't be bettered, as they were perhaps the only band here on the day that had a really strict metre about these movements and the strict rhythmic pulse that Alan was looking for.
In addition Alan also pointed out that the music required disciplined playing, and once more that fell right into the North Walians lap, as theirs was also perhaps the most disciplined performance of the day as well. To be honest, it was a bit of a surprise given all this that they only won by the margin of one point from Llwdcoed in second place.
Alan did feel that the contest naturally split into three main parts, and he was right about that. The first part was made up of the bands that knew they could put in a very good performance of the set work, whilst the second was made up of the bands that hoped they could put in a good performance of the test piece. Finally, the third section contained those bands that were here in essence to enjoy themselves and make the most of their resources. All well and good, and it made for a very enjoyable contest at that.
The winners were very good indeed – consistent and tuneful throughout the four movements and possessing a warm timbre and some fine young soloists as well. Dylan Williams, was also a very delighted young Band Secretary as well, when he received the Welsh Regional Challenge Tribute Trophy from the adjudicator.
"This is an especially great result for the band," he told us. "We have been unable to compete here for the last three years as we lost a great number of players to University or work. As there is nothing like that in the local area where we are from it meant we literally had to start the band from scratch again, and it has taken us until now to ready to come here once more."
That rebuilding owes a great deal to the conductor for the past 13 years, John Jones, and it meant that the winning band on stage contained 4 brand new members all under the age of 14 making their contesting debuts here. Some debut it was too, as they produced a wonderful show to gain them the first prize and book their place at the National Finals in Harrogate.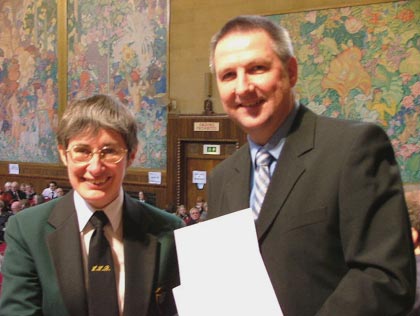 Llwydcoed: Second place
Joining them there later this year will be another band that has been going through an extensive rebuilding programme over the past few years in the form of Llywdcoed who have benefited from the hard work and dedication of a former top level player in the shape of Alan Davies who for many years was seen on the solo cornet bench of bands such as Parc and Dare, Cory and Tredegar.
Last year they returned to the fold for the first time since 1999, and this year they returned to come runners up after producing a lovely neat and tidy account that had much to commend from the direction of the MD to the warm sounds produced by his young charges.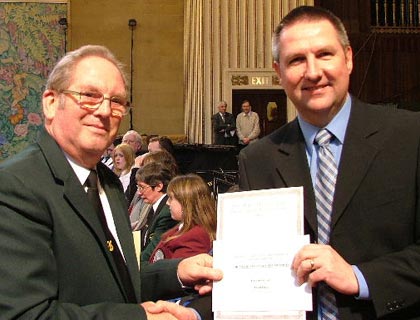 Holywell: Third place
Just missing out on the trip to the Finals was Holywell directed by D. Davies who really did set an excellent marker off the number 1 draw at 11.00 am, which very nearly did enough to win its way through to Harrogate. They too are another band who are new to the scene here and this was only their second year of competing at the contest after coming 5th on their debut 12 months ago.
A couple of the other bands here also caught the ear, and in particular the bands who made up the final two places in Alan Morrison's first mini contest.
Pontypool Brass were directed in fine style by Jonathan Pippen and this talented young trombone virtuoso displayed an equally fine talent in bringing out the best from his young band with an exciting and confident performance that very nearly made it into the frame. Meanwhile one of the famous old names of Welsh banding also produced a fine account of themselves when Gwaun Cae Gurwen and the MD, H. Evan really did pull out a little gem of a show that featured some quite excellent soprano cornet playing from a youngster sitting on the back row.
These five bands were as Alan pointed out a class above the rest on the day, and it came as no surprise that there was a three point margin between the fifth placed band and the band that came 6th, Severn Tunnel.
It was this second mini contest that was much harder for us to predict as the five bands, of Severn Tunnel who came 6th, Aberystywth Youth who were 7th, Goodwick Brass who were 8th, Oakdale who came 9th and Crwbin who were 10th were very much of a muchness in terms of their technical shortcomings and musical plus points.
Each lacked consistency in the approach, which meant that nearly all of them had a good opening movement, followed by a decent enough 'March', but it was the difficult 'Intermezzo' with the flowing solo lines that caught them out and exposed their frailties. A good whack of a blow to end things may have put a smile on the faces of the players and MDs, but it didn't hide the fact that up against the top five bands here they were a class below.
Severn Tunnel tried hard and very nearly accomplished what their MD set out for them, whilst Aberystwyth Youth, were very much a youth band (with possibly the youngest average age on the day) but who resplendent in the white shirts did themselves proud and also unearthed a few young stars for the future in the form of a trio of super players on soprano, flugel and trombone.
Goodwick were also a very young outfit, who produced a well rounded band sound and had some excellent percussion and a nice flugel and super euph, but who faltered in the later two movements after giving the best 'March' of the day. Oakdale meanwhile under the experienced eye of Ron Probyn also had a decent day as well, with some neat playing from the flugel in particular in a show that just wavered a few too many times to have come higher. Finally, Crwbin who were perhaps a bit untidy from start to finish, but who did also have a cracking sop player and who showed real quality in the outer movements.
That left a bottom four of Abergynolwen, Newport Borough, Dyffryn Nantlle and Upper Rhondda, all of whom enjoyed themselves to the full and gave as good as they got. It was of course not the greatest playing you are ever likely to hear, but so what. This was all about gaining experience and enjoying playing on a contest stage. All we hope will return again next year the better, and stronger for the experience.
Abergynolwen bravely went about the task with an energy and commitment that many others lacked on the day, and although the error count was high it didn't stop any of the players from giving it a go. It may have just helped possibly if the middle two movements had been taken at a slightly quicker tempo, but overall it showed a great deal of promise. The same could also be said of Newport Borough as well, whose commitment would have won them first prize, but whose playing got them 12th place. Again, lots of mistakes and errors, but who was worrying as the young band set about a difficult test piece with real gusto and a great deal of raw talent.
It was interesting to hear Alan Morrison describe the bands in the bottom mini section as those who are currently "work in progress" – and that was a lovely phrase to use on bands who were trying their best and developing their skills here. No, it wasn't good, but it will be better the next time they play and by the time they get here next year it will be of a decent solid standard we are sure.
Let's also hope that Dyffryn Nantlle will also be back under their fine conductor Sue Massey, who was a beacon of concentration, and enthusiasm on stage with plenty of smiles and nods of encouragement to her very young band.
This is what Fourth Section banding is all about – a band that had applied for and received a grant for a "cultural trip" to Swansea to compete at the great Brangwyn Hall. That is what they did, and it must have been a fabulous experience for them all. There is plenty of raw talent here and plenty of skill and talent from the MD – lets hope we see them again next year.
That just left Upper Rhondda, and even though they had the honour to play last, they also came last as well, which under the circumstances they should be proud as punch with. Never mind the result, congratulations are due to the fantastic work and commitment of the band, the players, supporters and MD in getting them here and ready to play. This was grass roots banding all right – plenty of young kids playing for the fun of it. We are sure they enjoyed every minute of the experience.
It also rounded off a fine contest – not too great in standard, but a true success in terms of enjoyment and getting young players to perform here. Even William Relton who was due to pop in the tent to judge the Championship Section later on loved it, as he took the time to listen to a handful of the early bands. He said it was all about the future of banding in Wales, a future he said that looked very good indeed.
After hearing and seeing the 14 bands here, you couldn't disagree.
Iwan Fox and Graham Bebb