2005 Regionals: Wales - Retrospective: Third Section
15-Mar-2005
There were two classy bands here showing that Wales cannot just master a Scottish tale in rugby, but also when it comes to horses, women and the Devil as well.
---
With only six bands making it to the stage here in the Third Section, the Welsh Regional Championships appeared to have got off to a bit of a downbeat start, as both Harlech and Llanelli and District failed to make it to the starting tape on Saturday morning.
However, the small but enthusiastic audience were in for a bit of a treat, as the first two performances they heard turned out to be the best by far in the section (and possibly as good as any around the country on this busy weekend) and secured their places at the National Finals at Harrogate without really being pressured at all.
Adjudicator, Alan Morrison must have also thought that he was going to be treated to something quite outstanding, as first the Newtown Band conducted by Steve Edwards, and then the Newbridge Celynen Band directed by Paul Holland produced two accounts of 'Tam O;'Shanter's Ride' that captured the essence of the musical story exceptionally well, but also more than met the major technical obstacles that it also presented.
It was of course the luck of the draw that the two best performances came right at the beginning, as thereafter the standard fell away somewhat and once more showed that for the vast majority of the bands (both here, and we firmly suspect, around the country), that this was a piece that was just too difficult for them to master with any degree of comfort.
Alan was very precise about the standard when he spoke to the audience before the announcement of the results: "There were two very clear and outstanding bands," he said. Afterwards, he told 4BR, "These two were excellent and met nearly all the challenges both musically and technically. They will be strong contenders at the finals, I have no doubt. The difference between the top two was a question of control – the winners really had it from start to finish whilst the runners up just lost it in a couple of places when the dynamic and tempo levels were high. "
On the stage Alan also remarked with a twinkle in his eye, that it was the story of the exploits of the unfortunate Tam and his run in with the mini skirted Maggie that made the piece such a wonderful test. "I hope the bands got a sense of achievement in playing this piece. On paper it appeared to be too difficult for the bands at this level, but today it hasn't really been like that.
Some bands did struggle, as they lost the ability to make the melodic line heard in the sections where the scoring is quite detailed and heavy. Many got the dynamics wrong – it is important to get a band playing dynamically together, rather than having individuals playing dynamics, especially forte fortissimo's as loud as they can play when others cannot match it. Some levels of dynamics went out of the window today."
As always with Alan it was an accurate and very fair assessment of the bands here, and he was not wrong to suggest that the two qualifiers will indeed prove to be strong representatives come the Finals.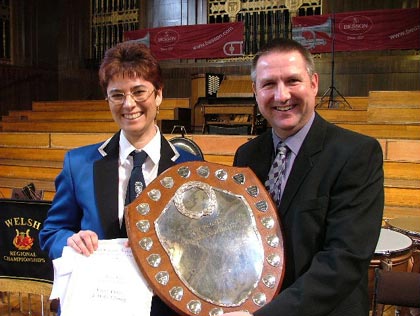 Newtown Band: Winners
Newtown were drawn number 1, and with the talented Steve Edwards at the helm, they retained their Welsh title here with a compact and very detailed performance that although it did have it's little moments of uncertainty held the attention from the word go.
The MD has been brave enough in the past to trust to his musical instincts (at the Finals last year they gave a very different interpretation of the set work that would either have won the contest by a mile or flounder down with the also rans – it was the latter, with the band coming 19th and last) and it says a great deal for Steve Edwards that he was brave enough to trust to those very musical instincts here once more.
There were some lovely little touches of nuance and phrasing (a fine bass trom, sop and baritone were on show), whilst the technical challenges were overcome by sensible choices of tempo and style. The MD also kept a check on the dynamics as well, resulting in a lovely warm tone to the ensemble and no overblowing. It was a very good show indeed, and a great deal of the credit should go to the conductor.
The MD himself was also a delighted man when we finally caught up with him. "I'm obviously pleased with the result," he told us. "Both the band and I thoroughly enjoyed the piece and the story that goes with it. It was a challenge for sure, but we were determined to get back to the Finals this year to show people once more how good a band we are, as we felt more than a little disappointed at last years result."
Steve was also pleased that Alan Morrison had also commented on the bands ability to play with the right style in a piece that owes a great deal of its success to the MDs ability to paint a musical picture.
"I was pleased that Alan made the points that he did both from the stage and in our remarks about our approach to the music, as I feel that an understanding of the story was the secret of playing it well. It was a difficult piece to overcome, but we thoroughly enjoyed it."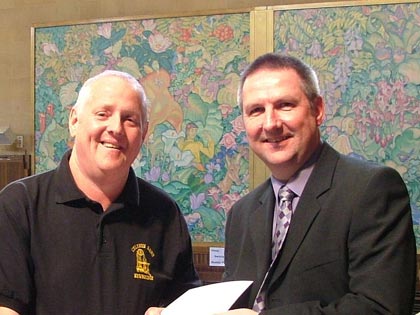 Newbridge Celynen Band: Dai Parker receives second prize
Joining them in the Finals were the Newbridge Celynen Band, who followed the eventual winners onto the stage and produced a more powerful account that also had a great deal to commend both in the way the MD shaped the musical picture and the way in which his experienced band overcame the technical obstacles.
MD, Paul Holland, who had played with the likes of Black Dyke and Tredegar in his short musical career, as well as making great progress with this, his first band was very pleased with the way in which his players had performed, although naturally disappointed with the result. "I couldn't have asked for more from the band," he told us. "It was a difficult piece, but they responded brilliantly and I felt they did everything that I could have asked of them."
That was true indeed, with some super individual playing from the soprano, euphs and troms, whilst the percussion may have just at times been a little too powerful to allow the obvious clarity in the quicker sections to come through as it should have. It was however a very fine reading by the MD – lots of shape and some lovely little touches, but the enthusiasm of his players just at times meant a little bit of overblowing when none was necessary. He is another young talent to look out for in the future.
After the top two, it was a more difficult task to separate the bands out – even in this small a field, and there was very little to choose between Radyr and Morganstown who came in third and Porthaethwy Menai Bridge who came fourth in particular.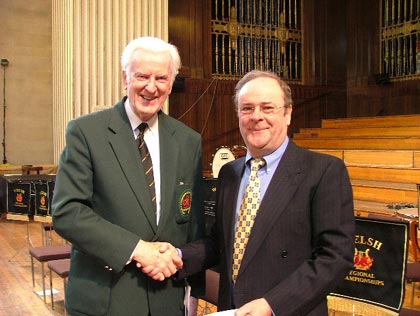 Radyr and Morganstown: Third place
Radyr were conducted by another young and talented tyro of the Welsh banding scene, Gareth Hann (complete with a Napoleonic hairdo), who had a fine confident style about their performance that was just niggled by too many annoying little errors that started to mount up and meant that they couldn't challenge for the qualification places.
This is however, a band that has come a long way in a short space of time, and this was yet another encouraging performance with excellent solo cornet work a feature. The tuning went a bit AWOL in a few too many places, but it was a decent effort nonetheless, enhanced by a very musical reading from an impressive MD.
Fourth placed Menai Bridge were also another band that accumulated too many splits and blobs to really challenge any higher, but they too had moments when things were developing very nicely indeed under the astute baton of C. Williams. The start possible killed off any lasting hopes of coming higher, as a horn made false entry to start the whole piece off, but thereafter it wasn't too bad at all with some neat soprano playing in particular catching the ear and a lovely toned solo cornet. Too many errors though and fourth was bang on the money.
That just left the two bands to fill the bottom two places, and there couldn't be any cause for complaint from either Ogmore in fifth or Trefor in sixth.
Both found it a piece that tested them to the full (and beyond it must be said) with Ogmore under the experienced Ivor Barnett starting slowly and carefully, but lacking a strong enough foundation to impose themselves on the music. They did have the best drunken bass trom player of the day though and a fine baritone, but it was that lack of depth that caused them the greatest problems.
Finally, Trefor, who under G. Jones gave it a good old crack, but who found the technical challenges very difficult to overcome. Some tidy (there's a Welsh word for you) playing was marred by poor tuning and a slightly over dominant bass, whilst the tempos were at times a little on the fast side (the poor horse must have been knackered!). Still, the raw material was there for certain, with a cornet player with a superb true tone, a neat sop and a euph section that grew more confident as things went along. This may have just been a tad beyond the band at present, but overall there was plenty here to be hopeful about.
It rounded off a contest that started so very well, but tailed off as we went along. Newtown and Newbridge are two very competent bands at this level, and will certainly approach the Finals confident of doing well indeed. Newtown have a bit of a score to settle in Harrogate, and with the MD and players on this type of form, do not be surprised that last year's 19th place will be kicked into touch and replaced with a high single figure finish.
Iwan Fox