2005 Regionals: Wales - Retrospective: Second Section
15-Mar-2005
Deiniolen just about overcame the Vaughan Williams here to win the Second Section, but perhaps Oscar Wilde would have been a good judge in the box on a day when a few things went missing.
---
"To lose on parent may be regarded as misfortune; to lose both may seem like carelessness."

Lady Bracknell had it dead right in Oscar Wilde's "Importance of Being Ernest", and in hindsight she may have made a good judge here in the Second Section, where William Relton took the Dame Edith Evans role to a tee and pronounced on the fate of the nine bands that tried vainly to overcome the problems that were so evident in the Vaughan Williams, 'Variations for Brass Band' – a period piece, very much like the play.
Substitute the parents for the twin pillars of sonority and technique and you have the kernel of what was good and bad here. Where some bands played with a nice rounded full sound, they then lost the ability to make the structure of the music speak, whilst others held onto the technique and lost the ability sound like a balanced brass ensemble.
Unlike Ernest, who thought for the world of himself as an orphan, none of the bands here lost both musical parents (although one or two were close to accidentally killing them off), but neither did any of them find like him, that there was a happy ending either.
William Relton is no Lady Bracknell, and we don't know if he is a fan of the works of Oscar Wilde, but he did have a few well chosen and intelligent phrases to offer the bands and the conductors here in his oral remarks off the stage.
"This is one of my favourite halls to come to listen to music." He said. "In fact it is one of my most favourite halls in the world, and it is one where it is possible to hear exactly what is going on."
This was classic Lady Bracknell stuff: full of praise and compliment, with a hidden sting in the tail surely. Now the pithy put down to the bands? – but no.
William was full of praise for the efforts put in front of him. "There was some very accurate playing here today, and I felt the audience really appreciated it. The silence when they were listening is always a sure sign of that, and there was plenty of it today."
Surely now for the slap on the wrists? Not a bit of it.
"There was some lovely sonorous playing on show, whilst there was also some fine accurate technical playing. Perhaps a number of bands didn't quite match the two together, as there is a real need to interweave the variations together. Unlike Brahms, each of variations in this music is integrated, and that wasn't always quite the case."
No quite an ouch! More a small pinch on the arm to remind the conductors in particular that this type of music needs flow from variations to variation, whilst it is still a piece that is a test of musicianship and understanding, even if on paper it appears quite an easy piece to play. On this evidence once more, it was not.
Again, just like in the North and in Yorkshire, the piece proved to be too much for the bands – even the winner and qualifiers here. The overall standard as William said had much to commend, but if you can only either produce a nice sound, or play the notes, but not both, then the music will never be revealed will it? There is a need to be in command of both sound and technique, and the bands here were not. There were too many musical single parent families. Plenty of good efforts, but not one really happy ending.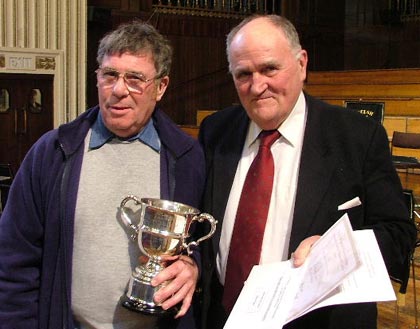 Deiniolen Band: Winners
The closest someone did get to ensuring that their musical parents were alive and kicking were the eventual winners, Deiniolen, conducted without music by the former YBS tuba player Gavin Saynor.
This really was the closest we came to a complete performance, although the technique was the weaker aspect of the two aspects William Relton was looking for here.
Gavin Saynor is a big lad (no stranger to a fish supper we may assume), but he is also one of the most elegant and precise young conductors who is starting to make a real name for himself. He is also a very busy young man, for a well as being a tremendous player his talent with the baton is taking him far and wide. Later this week for instance he will be conducting a band from Jersey at the London and Southern Counties Championships. They have got themselves a bright future star indeed.
Gavin was also a happy man when we spoke to him later on. "It was a very good performance from the band," he said. "It is such a difficult piece to play for bands at this level, but the band has worked so hard in the past few weeks and today it came off for us. I enjoyed working on the piece – it is so subtle, with little changes in style and tempo and the need to make a classic brass band sound."
That was certainly evident with their performance as it was based on a strong foundation, whilst the trombones played with a mellow tone that gave the whole band a broad sonorous feel. There were times when things technically went a bit awry, such as the Arabesque, but they were not alone in this on the day when all the bands struggled to meet the challenge of this 9/8 section where the solo cornet and flugel fluid lines were often way out of synch with the simple melody in the euphs and baritones.
Still, by the time they came to a resounding conclusion as the last band to take to the stage, there was little doubt that we had heard the winners and the one band to very nearly overcome the piece in its entirety.
Behind them it was a bit ore difficult to sort out, although the second placed band did put clear water between themselves and the rest.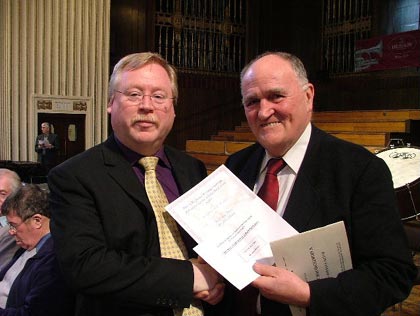 RAF St Athan: MD Alan Bourne - second place
The second qualification place went to RAF St. Athan conducted by Alan Bourne, and the winning of a trip to Harrogate for the Finals wasn't the only thing to celebrate on the weekend. Alan's wife, Claire had given birth to a bouncing baby boy just a few days earlier, so for the happy new father things couldn't get any better.
Unlike Ernest, the young child was not left in a handbag on the Brighton line at Victoria terminus either ("A Handbag!") and the MD will now have countless sleepless nights to look forward to ahead of Harrogate (and that won't be from the rehearsing of the test piece we are sure).
Theirs was also a performance that had real quality in the sonorous sounds they produced, and they kept a fine balance with some neat individual playing right through to the very end. The technical aspects did cause problems (again in the Arabesque especially), but overall it was the one other performance on the day that pushed the eventual winners all the way. Now for Harrogate and the nappies.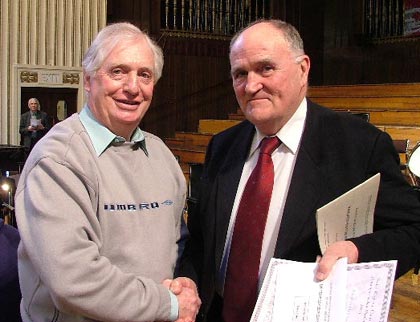 Conwy Town: Third place
Conwy Town were perhaps the only other band to emerge with more plus points than minus ones after a performance directed with great authority by another former YBS man (or should that be current, as Michael Hannan is the MD at YBS Concert Brass).
Unlike the two qualifiers this was a performance that owed more to the technique rather than the sound, which didn't have the depth of quality that they showed. Still, there were plenty of good moments and the Arabesque was one occasion when things fitted nicely together. Third place was bang on the money for us.
Now the trouble.
There was very little to choose between the rest, although we did like much of what Lewis Merthyr tried (and they certainly had a very fine bass trombone player, whom William Relton told us afterwards had perhaps the nicest sound he had heard from the instrument in many a year – and she was a young lady to boot lads!)
Theirs though was a performance that even though it had nice sound quality didn't really meet many of the technical challenges and time and time again there were errors and slips, which we ultimately think cost them valuable points. It was a nice reading though from the MD, Lyndon Price, and one that had subtle changes in tempo and style.
After listening to this piece a number times, it still amazes us that the same problems arise time and time again. Bar 6 once more caught just about everyone out, whilst few understood the need for more time and feel of majesty in the alla polacca – it is not, for the last time, a flipping polka! It is as straight and uptight as an old Duchess in a whale bone corset – too many bands played it like a Rumba! Finally, why didn't many of the MDs look to see that the final fugue was marked as the same speed as the opening? Far too many shot off like a cheating husband after a night with their best friends wife.
All those problems and more surfaced in the remaining performances and would amount to a catalogue of misfortune if we listed them all here.
Briton Ferry under Dr. Christian Jenkins started so well, and then fell away as the sound got tired and the technique begun to fail the individual players. Right up to Variation 9 it was going well, but the Adagio undermined them and they ended all a little untidily and out of tune.
Much the same for Ynyshir as well under Alan MacDonald, who started nicely, with an excellent soprano line and top cornet. Halfway through though and the sound became hard and harsh and the mistakes mounted, but it recovered to end, and we had them just ahead of Briton Ferry.
The bottom three though were poor – although all of them gave it a good go.
Rhyl Silver found it hard going from the word go, although MD, M. Owen tried his hardest to give the music time and space. The sound though lacked quality (although they were a young band in defence) and the technical obstacles proved a bit too much.
Much the same for Royal Buckley as well, although in their defence they only had four rehearsals to get to know Stephen Tighe and in the circumstances (the MD had also been involved in a full right off car smash a few days before the contest) it was as good as they could have hoped for and they will look forward to next year and hopefully a less stressful appearance here.
Finally, Blaenavon Town (home town of 4BR!) who unfortunately found it a piece that was at the present time far too difficult for the band, and with just the two bass players it was always going to be a bit of a struggle – and so it proved. Hopefully they will return the stronger next year. We hope so.
As Oscar Wilde would say, "I can sympathize with everything, except suffering". We wonder if he liked brass bands?
Iwan Fox and Graham Bebb