2005 Regionals: Wales - Retrospective: First Section
15-Mar-2005
The resurgence of the Parc and Dare Band continued in Wales, as they certainly enjoyed the delights of a 'Comedy' to send themselves once more to Harrogate.
---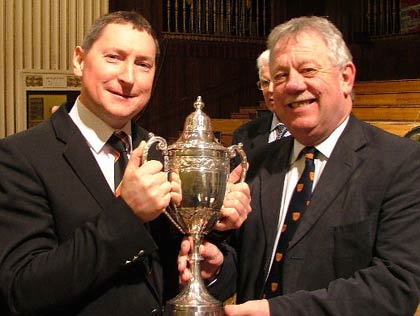 Parc and Dare: Winners
One of the most famous names in the Welsh banding scene is the Parc and Dare Band. They have in fact been Welsh Regional Champions on no less than 15 occasions in their fine history, but the last time they were declared the best band in Wales here in Swansea was a fair while ago in 1989.
Since then, the band has gone through some very hard times, but it has always bravely made it to the stage here at the Brangwyn Hall, even when the results were going very much against them, and in 2003 they were relegated to the First Section where they have competed for the past two years. Sometimes though, relegation can be a good thing, and so it has proved for Parc and Dare.
Craig Roberts, the bands MD has overseen their development from struggling Championship outfit to First Section double champions with a great deal of fortitude and maturity. The early years were tough from 2000 onwards, but in the past two years his talented and committed approach has started to pay rich dividends, and on the evidence displayed here it is starting come together in fine style. They were very clear winners indeed and on this evidence will travel to Harrogate as one of the short priced favourites to go one better than they did 12 months ago, and actually lift the National title.
Craig was a very happy young man when we spoke to him on the stage where he picked up the Welsh Regional Challenge Trophy once more and also became the first recipient of the Mel Jones Trophy as the winning conductor.
"Obviously delighted and pleased," he told us. "The band is developing now along the lines and foundations which I have tried to put in place in the past couple of years. It has been hard work, but we have a great bunch of players here who are committed to the band and who want to see Parc and Dare once more back in the Championship Section in Wales and doing well. I am really enjoying my conducting at present and I must thank the players who are responded to everything that I asked of them. We are really looking forward to the finals."
Chris Eveson, the bands long term and hardworking secretary was also a delighted man when he stepped up to take the trophy. "I hope you write something nice about us!" he joked.
That wasn't going to be a problem at all, as the band were clear winners on a day when adjudicator Alan Morrison was more than a little disappointed at the overall standard he had to judge upon here.
Prior to the announcement of the results, Alan gave a very detailed analysis of the piece (he nearly took as long as some of the performances in fact), that left no stone unturned and left the audience with no doubt about what he had been looking for and how he felt the bands had approached the music – even if it meant he was very forensic in his detail. It was though, an excellent précis and one that should be adopted more often by judges, as it was intelligently and thoughtfully laid out in a clear and easily understood manner.
"The difficulty with this piece is that it is so fragmented, so that the individual lines are so difficult to link together," he said. "The little phrases of three note clusters must be played with consistency so that they lead into each other without breaking the flow of the music – and many bands did not do that today.
There must be dynamic variance, and those dynamics must be shaped, whilst in the hymn tune section there must be a feel that things are moving together. There were too many occasions when the hairpins markings were overdone and the style of the music was not captured. Dropping into the grove of the tempos was also another thing that didn't work too many times, whilst in the sections where the music was more exposed on the page, there was a tendency for the players to 'jump' into phrases where time and the confidence to spread the musical approach was what was required."
Alan was also pointed about the problems that many of the euphonium player on the day gave to their counterparts on the solo cornet bench at the beginning. "The small euph cadenza should be played in time," he said, "…as it gives the solo cornet the right amount of time to play his six bar cadenza in the correct ad lib manner. Not too many did that today, leaving the cornet player without nowhere to go with his cadenza."
You couldn't really fault Alan at all, although we felt he was perhaps a bit harsh on the euph players, who didn't really play as badly as he may have suggested (although as a top class cornet player he must have come across a few unwilling euph players).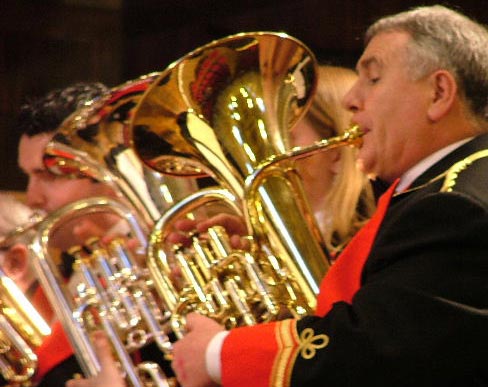 Parc and Dare Band: Bob Burnett leads the euphonium and baritone section
The winners, Parc and Dare were excellent value for their victory and much of the credit must go to a very mature piece of conducting from Craig Roberts, who along with his band has developed into a fine conductor over the past two years – less flamboyant and much more precise with his baton work and with his musical antennae really focused on producing well balanced, musically shaped readings of quality. This was a case in point on "Comedy".
Right from the start the band produced a rich warm sound of Championship Section standard, and it was enhanced by some fine cornet work from Carl Saunders of the Salvation Army on principal cornet and the classic sound of the Methuselah like Rob Burnett on euph. These were class acts indeed and they gave the performance two focal points of quality that never wavered.
Some of the middle of the band work wasn't quite up to scratch though and it did rock a little in places, but overall it was a worthy and clear victor and the MD can be deservedly that his players interpreted his approach in such a fine manner.
For us, it was the performance of Llanrug that impressed us most out of the other bands on show, and we had them down for second place under the direction of Thomas Wyss. Perhaps it was the moments of poor intonation that cost them, especially towards the end, but overall it was for us the only other performance that captured the right musical shape from start to finish and had the quality in the individual lines to compliment a warm and full bodied ensemble sound.
That it didn't capture Alan's fancy is up to him of course, but where as he had them 5th, we had them a clear second especially as it contained some superb solo cornet playing and the best sop of the day in Kevin Donaldson (ex of YBS and now living in Whitby) who answered an emergency call from the band just couple of days before the contest to play as their sop player dropped out at the last moment. He is still a very classy player indeed. Contesting throws up a decision like this now and again and we think Llanrug can count themselves more than a little unfortunate.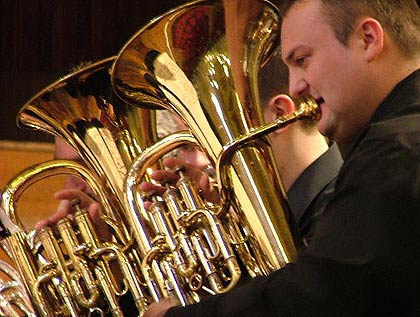 Wrexham Brass: Euphonium section
Second place from Alan, and a place in Harrogate in September, actually went to Wrexham Brass under the direction of Wayne Ruston, and the Pontins Champions certainly put in a strong and purposeful account that made an impression on many in the hall, including the all important judge. We had them 3rd to Alan's 2nd, but guess whose opinion really counted?
It was another well directed performance, full of confident playing that although wasn't as 100% accurate in both the ensemble and individual lines, did have a sense of flow to it (an aspect that Alan made a point of mentioning), especially in the '…dilly…Piccadilly' little motifs which did sound like a cockney bus conductor going about his business and which were some of the only ones on the day which were not impaired by split notes.
Wayne Ruston is another MD who has really put down some strong foundations with his band here, and they too will head for the Finals confident of doing well.
Once more after that, the standard did fall away for us, although that may be a little unfair on the bands that did eventually come third and fourth; Pontardulais and Ammanford. Both had much to commend about their approach, even though the error counts from both (again in the little bus conductor motifs) was high – especially where the dynamic level was on the up.
Ammanford gave a strong performance off the number 1 slot which set the marker that only three others eventually beat, and they possibly missed out on a trip to the finals because of the errors and the fact that the balance was at times lopsided. The band has a fine soprano player and solo cornet, but playing them both on the front bench together meant a focal point of sound that at times left others in their wake, and may have cost points. Still it was another well shaped reading by Colin Hogg, and proof that they are heading in the right direction.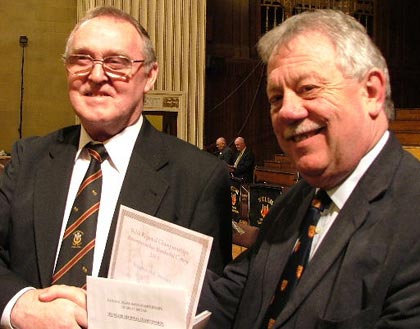 Pontardulais Band: Third place
The same could also be said of Pontardulais who came third. Once more it was the accumulation of points losing little annoying errors that cost them dear, as the shape of the interpretation was very neatly done by MD, Andrew Jones and they displayed a well rounded bass sound couple to some lovely little touches from the flugel and euph. Not quite enough on this day, but plenty there for the future, and a band certainly on their way up.
After these bands it was a question of who possibly made the least number of mistakes and who managed to really capture the style that Alan Morrison was looking for. Most didn't come up to it all.
The final podium place went to Northop under Brett Baker, and how we think both he and the band could have wished to have started the piece again. The opening section was poor to say the least, and by the time they had recovered their chances of making a real impression had disappeared. There were some fine touches here and there, but that early error count was painful and cost too many points.
The same could also be said of Markham under the fit and sprightly Nigel Seaman (wearing the best cut suit we have seen for a long while – he must have splashed out a few bob on that one). This was another performance that started so poorly that all the subsequent good work counted for little and 7th place was about as good as they could have expected. If only they too could have started again, it could have made such a real impression as the reading, just like the suit, was one of the best of the day.
That left a bottom three who didn't quite meet either the musical or technical obstacles of the piece and found it particularly hard going.
Penclawdd under Tony Small gave the most robust performance of the day, which was perhaps the reason why it didn't feature higher up the prize list, as it was fairly clean and tidy. The dynamics though were noticeably high throughout and the aggression that was apparent in too much of the playing we think cost them dearly, as even at times, the MD had to really work hard to keep is powerful cornet section in check.
Rogerstone also fell into the same traps, with too much overblowing and too many clipped phrases (again, something Alan pointed out) that robbed the piece of a feel of flow. The tuning was a bit suss in places too, so 9th place was about right for all concerned.
Finally, Tylorstown Arriva Trains, under the direction of Keri Bowen who didn't quite meet the challenges presented by the score. It was a difficult performance, not helped by too many unforced errors and a rather harsh and overblown sound in the louder passages. It may sound harsh, but it got what it deserved.
Alan Morrison came he said to this contest with "high expectations", and for the most part he left as he said, "slightly disappointed." You had to agree with him, as although the winners did sound like a class act, those behind all had basic errors within their performances that even with the best efforts of some intelligent MD work, couldn't be overcome.
The standard wasn't bad overall, but it wasn't something to write home about either – a bit average in fact, even though the winners were very good value and one or two others met the challenges imposed by a 70 year old musical portrait of London with a sense of humour. Perhaps the Welsh don't travel too well.
Craig Roberts and Parc and Dare certainly did though, and one of the most famous bands in Welsh brass banding can now look forward once more to what appears to be a very rosy and possibly successful future. They deserve it.
Iwan Fox.