2005 Regionals: Midlands - Retrospective: Fourth Section
15-Mar-2005
Matlock proved themselves to be a class above the rest here, even in a field of 21 very good performances on the tricky Divertimento.
---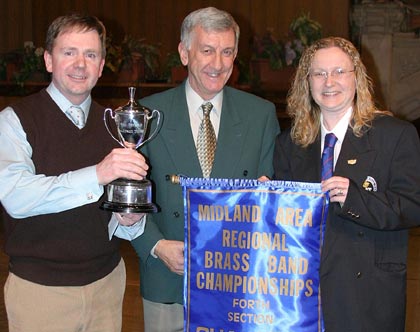 Matlock Band: Winners
[We love the mistake on the banner. We know - pretty rich coming from us!]
No less than 21 bands took to the stage on the Sunday and it proved to be a marathon for bands, audience and adjudicator alike.
Victory went to Matlock, deservedly under the direction of Roger Jepson whom had clearly done his homework. When 4BR spoke to him he said he had attended an open rehearsal with Duncan Beckley and gained some insight into the piece and actually had a chance to conduct the band at the open rehearsal. Roger also added that he had full band rehearsals, which does make a marked difference. Clearly a band on up after coming fifth in the Nationals last year.
Second place went to Wellington Brass under the direction of Steve Curtis although it was a close thing between them and Market Rasen who put in a stirring performance. Malcolm Brownbill said he was happy with the result and to the band that won, as it was a super performance.
Most of the pitfalls were in the Intermezzo where some bands had clearly got the dotted rhythm wrong and turned it into 6/8. Although the Scherzo was probably the easiest to play, some bands took this too quickly to metronome mark 120. Although not strictly rigid to the metronome markings Malcolm said a few notches either side of them would have been acceptable. Some of the lower placed bands should take encouragement from Malcolm's words in that at least they competed and there is always room for improvement.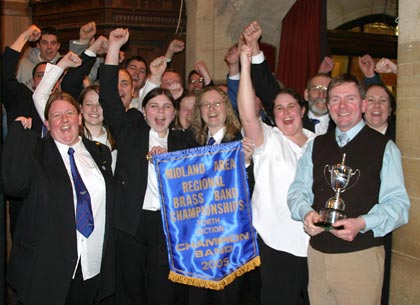 Matlock Band: Celebrating
It was well into the afternoon when Matlock took to the stage here, drawn number 19, and as one of the more fancied bands we waited for what was to unfurl.
They got off to a superb start, with a well balanced fanfare style with tight precision and control and good interplay between cornets and euphonium and bass backed up with interjections from the flugel and solo trombone. The music was dancing and playful and had a sense of style, superbly directed by Roger Jepson. In the March there was a good start, building to a very full sound and good soprano and again, and there was a tremendous sense of style and poise with clarity in all sections of the band closing to the horn diminuendo. A steady flugel start in the Intermezzo and a nice balance between cornet and euphonium led by great encouragement from the director for the soprano solo and theme being taken over with basses gave a haunting air to the music, building to a fine close. Superb!!
The Scherzo had good tempo with intricate detail again with the soprano shining and good interplay between the sections. This was a truly balanced tight performance with much clarity in all the sections of the band, and truly deserving the applause and cheers after the final chord. No question - a winning performance but by how much? They were streets ahead of anyone.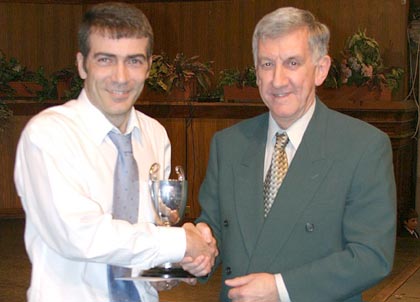 Wellinton (Telford) Brass: Second place

Drawn number 12, Wellington (Telford) Brass proceeded with a good competent start and showed some neat playing between the sections of the band and a deftness which still maintained good clarity. Again the music flowed with a lilting dance style and rich full band sound. In the March a positive opening was followed by a balanced ensemble building to nice discords. Some nice soprano playing well controlled sections and a confident sounding band for sure. In the Intermezzo there was a rather nervy start in the flugel, but it grew in confidence with the cornet and Euph and the soprano confidently eased through his solo. The bass theme then was commanding, building to a full band sound and excellent close. The Scherzo had nice clarity and accents and some detailed intricate work with a marcato style. This was a band full of confidence that produced a solid performance.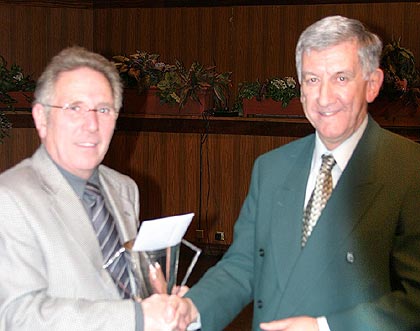 Market Rasen: Third place

Market Rasen, playing off draw number 6 and ably led by Barry Mathews, showed some fine playing in the opening Prelude. Detailed work was prevalent throughout sections of the band embodied in a full rich sound without overdoing it with a good start in the March which had good control before the soprano solo.

Commendable soprano playing with again a full sound and clarity in all sections of the band leading to a nice closing diminuendo ended things very nicely. The Intermezzo started with a steady flugel solo and good balance between cornet and Euph, laced with neat muted playing. Good soprano again and then a commanding euphonium and bass melody in which the conductor really felt the music expressively. The Scherzo had a lilting melodic flow with a good overall band sound without losing clarity. It had some good soprano work with plenty of detail and dynamics and for many it was the band winning for most of the day.
Kirkby, playing off a number fifteen slot, put in a splendid performance with some stylish playing. There was good control of dynamics, and steady intricate soloists whom exuded confidence with attention to detail interlaced with some neat muted playing. To close the Intermezzo the soprano player draped a duster over the bell to dampen the dynamic. Neat! We didn't think they would be placed above Market Rasen and they can be pleased with this performance.
Tideswell, playing number seven under the direction of Barry Thompson, started well but had some split notes here and there and some tuning problems. Things went a little awry in the third movement but they recovered in the scherzo. Just a little more clarity and attention to detail and they would have finished higher, it was however a neat and tidy performance.
Ilkeston Brass, drawn fourth, played really well under the direction of David Jones with a good sound start with brassy fanfare style. They had good soloists and in general nice neat interplay between the sections with good detail. Was it too 'brassy' in the march? The cornets were a little harsh in the louder passages, but there was better dynamics in the scherzo and well controlled ensembles. We thought they were unlucky not to finish higher. Meanwhile, Dronfield well led by Alan Tyler, were full of expectation and were good value on this showing and unlucky not to be in the top six.
Cubbington (Paul Johnson), Alcester (Peter Butler) Bestwood (Brian Draper) and Trentham (Mike Cavaney) all had their moments but found the Intermezzo a little too demanding, as did most of the bands, although we noted that Trentham had probably one of the most confident Flugel players on the day
Corby, Rushden, Banovallum and Dunchurch, all found this heavy going and probably too many scrappy entries and tuning difficulties led to moments of dissonance. To be fair, some bands had young inexperienced players, but isn't it nice to see youngsters having a real good try!
Shipston band can count themselves unlucky to be this far down the order as it seemed fairly well controlled and had good soloists and a lovely flugel solo. There were places where the tuning was awry and, again problems in the Intermezzo, although it recovered in the Scherzo.

Ireland Colliery, Melton Borough, Hathern'B' and Swineshead all suffered with tuning problems and a general approach that was not cohesive. It was tough going especially for Swineshead who had a number of back row cornets missing but give them their due; they turned up and had a real good try.
So to the last band Enderby Youth: no disgrace here as they had some good soloists and highlights and more importantly, they took the time to rehearse and compete. As a Youth band they have time on their side and plenty of opportunity to improve.
In general, this was a cracker of a piece, one which was used for the Second Section National finals way back in 1972, and just as then, the stumbling block was always going to be the Intermezzo with the low register flugel solo.
We felt the first two movements had to be played well to make a real mark as it would be extremely difficult to recover with the third movement being the most challenging. Most flugel players will feel disappointed in that they could have played better certainly with a little more warmth, but we must pay tribute to the percussion sections as Malcolm did, and not forgetting the other soloists, particularly the soprano players.
We bet the entire soprano and flugel players have seen enough of Bryan Kelly for one day! Rather strange the winning banner was titled Forth Section Winners. Had it been won by a Scottish band? There were promises to change it though!
Eric Strodl