2005 Regionals: Midlands - Retrospective: Second Section
15-Mar-2005
Marie Smith and amazing band of talented youngsters did it again here - this time mastering a 50 year piece of music. Who said youngsters couldn't play the old classics?
---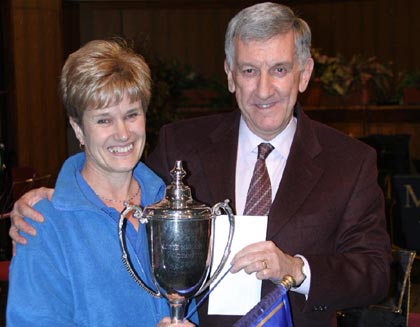 Shirland Welfare Training: Winners
Fourteen bands competed in this Section to see if they could get to grips with the Vaughan Williams test piece set around eleven very tricky variations.
A piece of real quality was on show here, as described by Malcolm Brownbill. He knew the piece as he had rehearsed it with a band from another region, and he knew it was a piece that required musicality and stamina. As the contest progressed, some bands would falter on the tempo particularly on the Polka, whilst some of the Adagio movements were too slow as was the Chorale. However, Malcolm said he as happy with the winning bands, and it was difficult to disagree with him.
A few titters went around the audience during the performances of Darley Dale as balloons floated down from the ceiling, one nestling itself next to the trophies. We wondered if one had the winning bands name on it?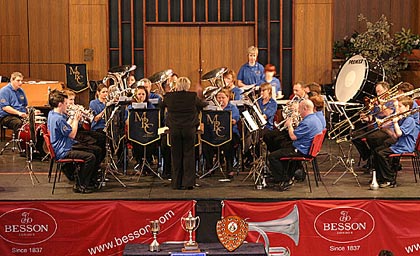 Shirland Welfare Training: On stage
Tipped for success was Marie Smith with Shirland Welfare Training. And success it was with a band that has some incredibly young players. Playing with verve and vitality, ably led by Marie, they set about this work with aplomb and gusto. Although not absolutely impeccable playing there was obviously enough content and variation to convince the adjudicator they were worthy of first prize. They played with an accuracy that belied their tender years with intense accuracy and interplay between the sections.
Good soloists and overall a band sound that seemed rather 'condensed' but this may have been due to the back row cornets being sat in front of the trombones? Well, according to Marie she put them there because the sound had to be integrated with the trombone section. She also informed 4BR that due to a bug going around the band the Thursday rehearsal had to be cancelled and also the Wednesday rehearsal as only two solo cornets were present. We also found out that the young percussionist aged eleven years actually learns the whole piece and memorises it! Priceless. He seemed totally undaunted about the whole affair. It was a good solid performance, but we had them third.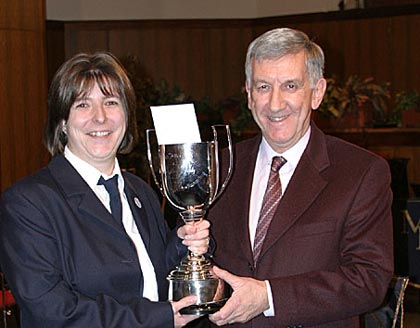 Wigston Band: Second place
Second place went to Wigston under the leadership of Garry Sleath. Overall they produced a wonderful pleasing band sound with good variations in tempo set by the conductor. This again, was not without errors, as there were some 'clipped' notes in certain sections of the band. It was a stylish performance again with good style and ornate playing.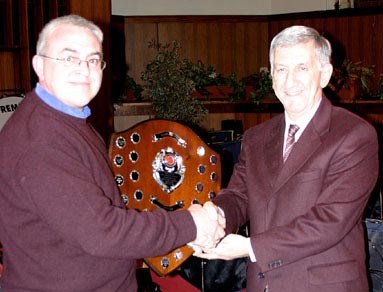 Carlton Brass: Third place
Carlton Brass, under the impeccable direction of Tony Wilson, can count themselves extremely unfortunate as we couldn't place them or Forresters Brass (Peter Collins) apart. These for us were the two winning performances of the day that had 4BR on the edge of our seat.
Both had incredibly controlled performances with total accuracy and command of the piece. We heard superb sectional playing from the cornets and the incredible sound from the bass end of these bands, which obviously laid the foundation on which everything came together. The middle of the bands was tight, not over percussive and every section played with style beautifully. It was honeycomb precision, and very, very unlucky!
Porthwaywaen playing last under the direction of David Thomas put in a creditable performance. A detailed account performed with a good quality of sound that was enhanced by brilliant soprano playing. Some intonation troubles crept in and odd lapses with some entries, but it was still a very good performance.
Snibston made up the sixth place under Huw Thomas and made a super start. It was well balanced with the quicker passages neat and all interweaving sections well heard. Spurred on by the conductor, the soprano player gave her all and there was some super euphonium sounds, but some of the quieter entries were not secure and just the odd blip here and there distracted.
Harborough, Hopkins Solicitors, Stamford Brass and Moulton77, all had their moments with good ensemble and balance but some lapses in concentration may have cost them dear. Just the odd clipped note here and there and some unclean entries cost them all points, and meant that they had to be content with their placings ouside the top six.
Stourport however can count themselves unlucky. This band had a good sound with good clarity and were well rehearsed and well led by their conductor. Overall, the entwining ensembles were well balanced and neatly controlled with good soloists and controlled playing. They also had plenty of encouragement from the conductor who gave them so much time and space to play, and overall it was one that should have come higher for us.
Shirebrook, gave a competent performance, but for us were perhaps too loud. Meanwhile, Darley Dale and Audley all came to grief as they just didn't seem to be inspired with the piece. There seemed a certain degree of unbalance, uncertainty and scrappy entries and the all too familiar tuning problems cropped up in certain areas.
Overall for us, Carlton and Forresters can feel aggrieved that they were out of the frame. The two performances were by far the best, but there again we were not adjudicating, and that is the all-important factor. Take nothing away from Shirland, though, as this was a stirring performance, and one wishes this youthful band every success.
At the end of the event there was a special award to Jean King for 60 years of banding and a real note for the history books as she was the first lady to play in the National Finals at the Albert Hall. Come Harrogate and there will be literally hundreds – that's how far we have come. Well done to everyone.
Eric Strodl