2005 Regionals: Yorkshire - Retrospective: Fourth Section
12-Mar-2005
Lots of talented youngsters and some fine playing saw two worthy bands make the trip to Harrogate.
---
There was excellent news for the organisers of the Yorkshire Championships with the turnout here for the Fourth Section. This year saw no less than 13 bands take to the stage, with at least four of them making their debuts, and it resulted in a most enjoyable contest that saw victory go to Gawthorpe Brass conducted by Derek Hoyle.
Joining them in Harrogate to represent the region will be Garforth Community conducted by Steve Bailey, who were not only making their debut at the contest, but had only just got together and formed a band to come to the contest on the 9th of January this year. What a fantastic effort!
The two bands certainly deserved to make the trip to the Finals after giving two solid performances of Bryan Kelly's tough 'Divertimento' that certainly caught the ears of the two men in the box, John Maines and Derek Southcott.
John was particularly pleased with the standard of playing on show and remarked to the audience: "We have heard some good playing toady. One or two bands did struggle though, but overall each of the bands gave something for us to enjoy in each of their performances."
That was in fact a pretty accurate assessment of what had been heard in the past couple of hours to a well attended hall, and it was a theme that was further picked up by the other judge, Derek Southcott. "There was some very fine playing here today," he said. "However, we would have liked to hear the soloists use more vibrato in their playing as it was good technically, but just needed a bit of warmth – it was very straight at times."
John Maines also made the comment that neither he nor Derek were, 'Metronome men' although they did take into account those performances that ignored the composers intentions and performed in a way that disregarded what could been seen as a formal directive.
It is difficult at this level to be too judgemental, but it was a good point made by John, that sometimes it is better to get the basics dead right and worry about the interpretation of the music afterwards. Some of the MDs here thought that they had Black Dyke under their command at times and tried to make the music bend to their will – whilst it would have been better just to let things flow along at a nice and acceptable tempo with tuning, balance and sound all kept in check and control.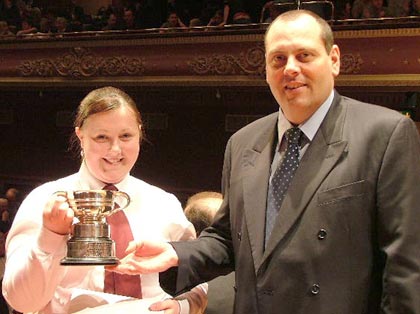 Gawthorpe Brass: Winners. Jemma Leach collects the trophy
The winners, Gawthorpe Brass were good value for their victory under MD Derek Hoyles though and produced a well structured account that had a sense of consistency running through it from start to finish. It had it's moments of unease for sure, but overall it was a commendable effort from a young band on a difficult test piece and they fully deserved to take home with them the People's Challenge Cup and the £200 top prize. In addition their fine soprano player, Andy Lumb who was on top form all day and produced a lovely warm tone in the lower register where much of the sop work on this piece was based, won the best instrumentalist award.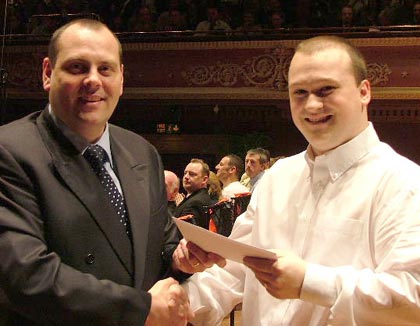 Gawthorpe Brass: Andy Lumb
The cup itself was picked up by young Jemma Leach, the bands second cornet player, who looked rather bemused by the whole winning thing, whilst the Band Secretary came to he rescue just before we asked her too many searching questions.
Chris Clewes told 4BR: "This is a great day for the band. We have never been out of the Fourth Section and although we did qualify for the National Finals last year where we came 6th, this must be our best ever result. It's great for all our players, young and old and great for the conductor Derek Hoyle who puts so much hard work into making sure we were ready for this."
It was fully deserved as well, and they will surely head to Harrogate confident of bettering that 6th place of last year.

Garforth Community: 2nd place
Just as inspiring though were the details concerning the band that came second, Garforth Community. This band didn't even start playing together until the 9th January this year and what with the bad weather of late and trying to organise everything for their debut, it was a result beyond their wildest dreams. It was well deserved to, off an early number 3 draw, and with all the band resplendent in what looked like brand new white shirts, they were expertly led by Steven Bailey.
Here was an MD with a nod and a wink, a smile and even a few 'thumbs up' for his players as they made a fine effort of the difficult test piece. They had perhaps the smallest Bb tuba player in the world pumping it out like a Trojan and an enthusiastic percussion team who very nearly at times threatened to over whelm the band. It was bright and breezy and deserved all that it got, and for such a young band in terms of the age of its players and as an organisation this was a magnificent achievement.
Those really were the two bands that did shine for the adjudicators, although we felt there were at least three more who put in performances of real note.
Emley were one, directed very well by Garry Hallas. Things were going really well here until what appeared to be a potential disaster when the flugel player's valve seemed to have got stuck. In popped the solo cornet player to the rescue in the difficult solo in the slow movement and a near potential disaster was averted by quick thinking and a player with no nerves and appendages the size of a pawnbrokers shop. Well done to everyone – especially the MD who encouraged his band from then on to really make a mark. 4th place was well deserved and about right.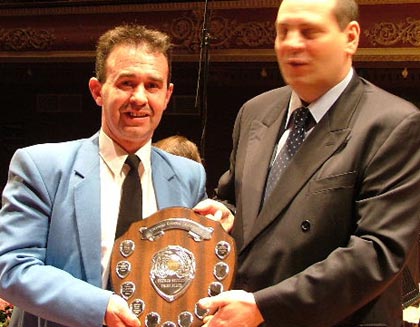 Dodworth MW Phoenix: 3rd place
Third place went to Dodworth MW Phoenix conducted by the talented young Principal Cornet player of the Ransome Ban, Elliott Darwin, who sports the trendiest haircut of any MD in the country. His conducting was just as good as well, and he is a young man to look out for in the future as he encouraged his band to give a performance of real stature.
As is the case at this level though, something sticks in the mind with just about every performance, and for this one it was the sight of the solo euph (minus uniform) playing for about two minutes and then finally realising that it would be better for all concerned if he played with his glasses on, rather than off. The pressures of banding can do the funniest things to people on stage.
Fifth place was taken by Lofthouse 2000, who were a real mixture of young and old off the number 1 slot and who were very well directed by Andrew Whitaker. This was the first of the performances that lacked the consistency throughout the four movements that those above them had, but it was a decent show nonetheless and perhaps could have sneaked into the prizes if they had played a little later on. It was also a performance notable for the quality of the cornet playing, and for those of us with an eye for such a thing, the young lady percussionist was wearing the kinkiest pair of black shiny boots you could ever have hoped to see at a brass band contest. Nice.
The final top six place was taken by Crofton Silver conducted by Malcolm Simpson who really did give as good as could to try and force their way higher up the prize, and who produced a couple of real moments of classy playing in the opening and closing sections that were perhaps the best of the day whilst just behind them came Linthwaite, who we liked and who put together a neat and tidy account that just lacked quality in the ensemble. They were very well led by a precise Owen Wedgewood, who may have just overbeat things at times, which resulted in the flow of the music being lost.
Behind them, it became difficult to separate the bands out – although the bottom few found their level quite quickly after starting.
Both the Friendly Band (Sowerby Bridge) conducted by Carol Caton and Barnsley Metropolitan led by the experienced John Grinnell had their moments, but didn't have enough consistency throughout enough of the four movements to really make an impression, whilst Dearne Valley started well for us but thereafter fell away.
One of the biggest problems was the flugel solo in the slow third movement which was never quite mastered all day. It is though a very difficult solo for players at this level, as it starts in such a low register. Playing a low first line of the stave Eb to D means that the air column had to be supported to make the instrument speak and too many player simply didn't put enough air in the instrument. The other problem was that it then falls to a bottom Bb, which invariably on a flugel is a flat note. Link that to an octave leap and then a settling Ab, which is also one of the flattest notes on the instrument and the problems were all too apparent.
Tuning was therefore at time very wayward, whilst the modern flugel horns are simply at times too large in bore size for younger players to fill with a nice sound. A bit of thinking perhaps by the MDs on the tuning front would have helped more, whilst a bit of thought by those responsible for buying instruments for young players may result in them purchasing a smaller bore flugel for youngsters. It may all help.
Tuning was perhaps one of the main problems of the bands that finished in the lower placings.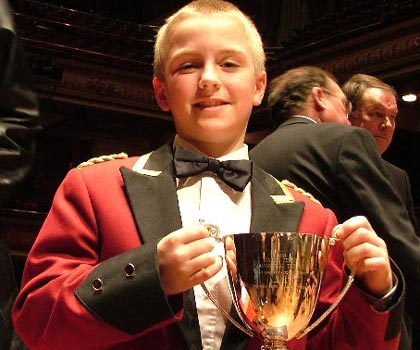 Golcar: Tom Haigh
Golcar made a promising debut under the astute direction of John Clay and featured one of the youngest bands here on the day. Great to see them enjoy it as well and in 9-year-old Tom Haigh, they had the youngest player on show in the entire section.
He collected his prize with all the nonchalance of a Championship Section superstar, and was a modest young chap when we spoke to him after the results surrounded by his mam and dad, brothers and cousins. "I enjoyed it," he said as he clutched the cup that was very nearly as big as him. "I like playing in the band and I liked the piece." Watch out for him in the future, and mam and dad were very proud indeed – and so they should. Fish and chips all round and a couple of celebratory cans of Top Deck shandy were on the cards.
That just left the bottom few bands in Thurcroft Welfare, who were dressed in Brighouse and Rastrick purple and gold and tried their hardest to overcome the real difficulties of the piece, whilst the section was propped up by Innovate Skelmanthorpe B, directed by Robert Broadhead who were making their debuts here.
There is no disgrace in coming last at a brass band contest, and these last few bands did themselves proud. The average age was certainly below that of the legal age to have a fag and a beer, and for them to make it to the stage and play their hearts out was a great credit to them. They will come back next year, stronger and more experienced. The only way is up – and these bands will we are certain do just that.
It rounded off a fine contest and one that was most enjoyable. The standard was pretty good, and the sight of so many young players on stage must have gladdened the heart of Peggy Tomlinson and the good folk who listened. There is real hope for the future here.
Iwan Fox.