2005 Regionals: Yorkshire - Retrospective: Third Section
11-Mar-2005
The Third Section here had something for everyone here - some great playing, some manic conducting and a hero of a percussionist as Grange Moor topped it all with cracking winning performance.
---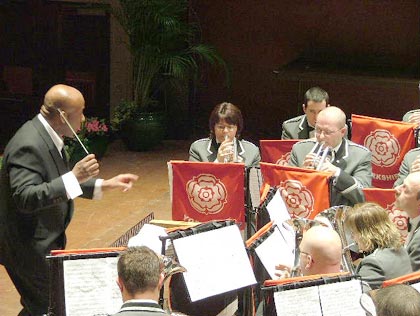 Grange Moor with MD Duncan Beckley
Where as the Second Section was strictly X certificate stuff – something to keep impressionable young eyes and ears away from, the Third Section, although it did vary greatly in quality was perhaps more Parental Guidance fare.
True, there was a fair bit that would have made you blush and more than enough moments where it was a bit uncomfortable to explain to others less world weary than your average 4BR Editor what was going on. But, there were also moments of comedic genius and abject slapstick and a fair sprinkling of quality brass band playing as well.
The quality really did come from the Grange Moor band conducted by Duncan Beckley who gave a performance of the set work, 'Tam O'Shanter's Ride' which we think may well be the best anyone is likely to hear anywhere in the country this year at this level.
It was super playing, intelligently and sympathetically directed from the MD, with a real sense of the narrative line and the abilities of the performers to bring it all to life. Duncan was a very happy man of course when he spoke to 4BR after the announcement of the results and after he had time (he was also adjudicating in one of the sections and taking a band in the Championship section) to catch his breath.
"I thoroughly enjoyed this piece," he told us. "There was so much to look into and explore, and whilst it was very difficult for bands at this level, with good quality players and a good work ethic I felt it could be overcome."
He wasn't wrong, and Grange Moor were clear and deserved winners of the top prize – their second successive victory here in the past three years. The band has been going for over 150 years, but it wasn't until 2003 that they were able to come back to compete after many years when they struggled to get a band together for weekly rehearsals. They are now enjoying the fruits of hard work, good management and engaging a conductor who is one of the most experienced there is at bringing the best out of bands at this level. They will go to Harrogate as one of the favourites to claim the National title for sure, as they sounded on this day like a decent First Section band in the making.
Their performance had all the hallmarks of what the judges, Stan Lippeatt and Derek Broadbent were looking for by the bucketful.
Stan remarked in his short speech to the audience at the conclusion of the contests that: "This is a piece all about telling an amusing story. Maggie jumps up and shows a bit too much of what she shouldn't and reveals much of what we shouldn't see! The music does exactly the same."
Stan also pointed out that in their opinion the two judges felt that there were two 'absolutely cracking performances', with one being "very special indeed", and you couldn't argue with him. Grange Moor was quite outstanding and made the job of selecting a winner here quite an easy task for the two experienced judges.
That said, Derek once more gave an object lesson in the adjudicator's art of explaining to the players, conductors and supporters alike, exactly what he had been hoping to listen out for, and where in his opinion the bands had come unstuck. It is refreshing to hear this, and once more Derek pinpointed the problems.
"I think it was very apparent that even though this is a classic test piece form yesteryear, it is also a very difficult one that most of you have forgotten how to play", he said. Harsh but very fair words indeed, as he was quite accurate in his assumption that many bands simply approached the piece in the wrong way. One band he suggested played it as if they were being ridden home on the back of 'Arkle' (with Gold Cup Day coming up soon, a very topical allegory), whilst others he pointed out failed to see that music can tell either one of two things – a picture or a story.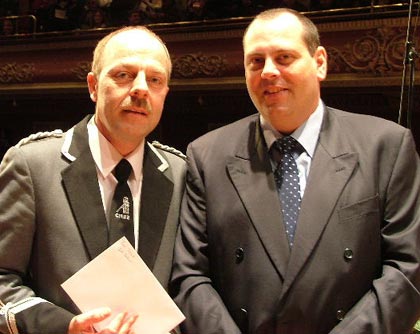 Grange Moor: Best Instrumentalist - Robert Boyle
That certainly wasn't the case with Grange Moor who produced a thoroughly convincing performance that held the imagination and related brilliantly to the story line all the way through, with drunken troms, skipping soprano and some lovely flugel horn playing from Robert Boyles that deservedly won the best soloist prize. As we have said, it will take a corker of a show this weekend to better this winning performance.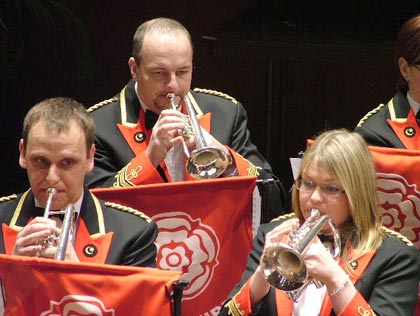 Slaithwaite Band: Cornet section
Joining them in the Finals in Harrogate will be Slaithwaite directed by Barry Hudson who were the only other band really on the day to come fully to grips with the piece, as they overcame just about all the technical difficulties and produced a fine warm and deep brass sound into the bargain. The band also had two great young percussion players who really added to the performance whilst the solo cornet playing was perhaps the best of the day from both the top man and the second woman down. Second place was very well deserved indeed and it was a performance that should set them up for Harrogate with a real boost to the confidence levels.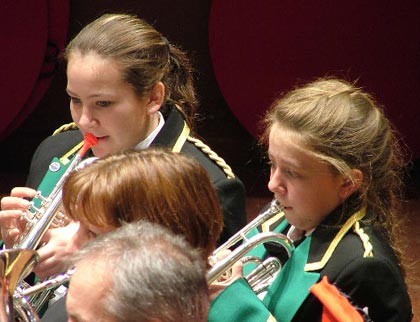 Dinnington Colliery: : Youthful cornet section
Meanwhile third place was taken by Toby Bannan and Dinnington Colliery who produced a performance that had a lot to commend it – especially from the intelligent direction from the man in the middle. Toby knows his way around pieces like these in his role as YBS Bass trombone over the years, but it was the way in which he kept an eye on what was going on in front of him that was so impressive here. So much so infact that his score remained open on page 1 from start to finish. It didn't quite have the quality of the two bands that beat them to the qualification places, but nonetheless it was still a very fine effort.
Behind these top three bands the standard fell away a bit, and a bit more when it came to the bottom three or four shows. Here came performances that didn't meet the technical challenges of the hard set work, whilst many failed to realise that the music was telling a story – some MDs were a bit dyslexic when it came to reading the synopsis on the pages of the score!
Clifton and Lightcliffe took fourth spot under Rob Collinson with a performance that had its moments to please the white jacketed MD, but also had too many moments when the percussion in particular very nearly obliterated what was going on. The experience of the second man down was put to good effect in 'shadowing' his young protégé on top man, but overall the execution didn't quite meet the picture that was trying to be created by the MD.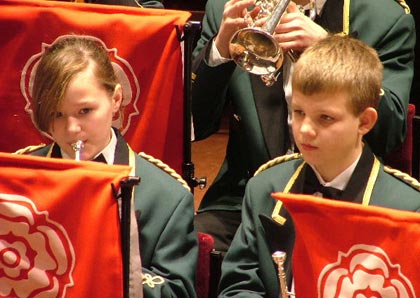 Huddersfield Brass: Youthful cornet section
Much the same could be said of Huddersfield Brass, although this was inadvertently perhaps the comedic performance of the whole weekend from the MD. Alan Holdsworth certainly put heart and soul into leading his band (as well as fine tenor voice). His stick work was ten to the dozen even in the slow sections and although he did bring out moments of very nice playing from his band, the over enthusiastic approach possibly cost them points as well.
As for his baton flying from the back of his hand, into the audience and nearly making a kebab out of an elderly woman in row 14 of the stalls the less said the better, but it did bring a smile to both his, and our faces. Nice to see a conductor obviously enjoying what he does, and long may it continue.
Armthopre Elmfield and Hayden Griffiths produced a real out of sorts performance that had us puzzled. Some of the tempos were very odd indeed – the first 8/8 section sounded as if the poor old horse was due for the knackers yard, and didn't want to be caught whilst the pulse rate when the Devil himself was chasing him later on went through the roof! However, come the baritone solo which heralds Tam's vain attempts to sooth his wife's nasty tempo and it seemed that the poor lad was ready and willing to race up the stairs bolt the door and hid under pillows – it was that fast!
Each to our own, but it was a strange musical picture Hayden painted for sure.
Gawthorpe Brass '85 could count themselves a little unlucky perhaps not to have come a little higher up the prize table with a performance that had lots in it to commend. The MD, John Edward (resplendent in a blood red jacket) directed things very nicely and they certainly had the best pick ups to the difficult 8/8 sections of all the bands on the day except the winners (most found it impossible to change gear without slipping the clutch so to speak here). We enjoyed it, and were a surprised therefore when it came home in 7th place.
Oughtibridge and Philip Chapman were another band that brought a very strange interpretation to the work, and one that would have cost them points for sure. The 8/8 sections here were as slow as a shire horse pulling a plough, whilst the baritone solo was another that sounded as if poor Tam was going to be hit on the head by the rolling pin and was heading sharpish up the stairs to miss the blow! One to confine to the history books we feel for all involved.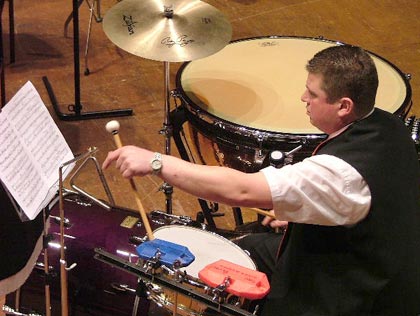 Maltby Miners: Hero percussionist
Finally, Maltby Miners, conducted by Terry Clifford, and the case of the hero percussionist.
Just as the poor lad was setting up his stall to try and make sure that he was able to play everything required by himself, the band started playing as the MD hadn't looked over to see if he was ready. 10 bars into the piece and our hero was playing the snare drum and cymbal with his fingers, rummaging around for sticks and looking for his music, which at this point was stuck under his seat!
This carried on for a full two minutes or more as our brave lad managed somehow miraculously to ensure that everything was played either by the use of the reverse side of timp sticks or by hitting the triangle with a part of his body that should never ever be used to hit a triangle in your life. If there would have been the need to hit something else at the same time, he child rearing days may have come to an end, pronto!
Finally, though he managed to get things all together and played right through to the end. His face after the final note was played though was a picture, but he was a Trojan.
The band didn't play that well – not helped by the manic start, but it will be a lesson learnt for all concerned to ensure that the next time the MD checks on his percussionist.
It rounded off an entertaining contest – one where we had a bit of everything – and who can ask for more than that.
Iwan Fox