2005 Regionals: North of England - Retrospective: Second Section
1-Mar-2005
4BR looks back at a classic performance - from the adjudciator at least at the Second Section contest here, as Lockwood Brass claimed a hat trick of titles in three years and three different sections.
---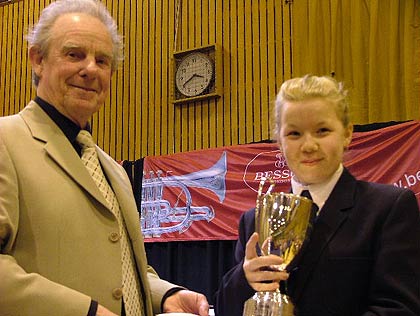 Lockwood: Sarah Jackson
It is a very long time indeed since 4BR has heard as good a performance as we were privileged to witness here at the Dolphin Centre in Darlington on Sunday 27th February.
It was a complete and definitive bit of work – full of common sense, insight, intelligence, good manners and was direct and to the point. It was set out in a logical and clear minded way and left no musical stone unturned. It was an absolute pleasure to listen to it.
It may come to a surprise to many, but what we are talking about was the performance from the adjudicator Derek Broadbent at the conclusion of the Second Section and not one of the seven bands who tried to get to grips with Vaughan Williams' set work, 'Variations for Brass Band'.
For the past couple of hours he had sat in the box with what must have been an ever increasing amount of frustration as band after band came onto the stage and produced performances of the very difficult set work that bore little or no resemblance to the musical intentions of the composer.
It was not a very high quality contest in anybodies book, and although the winners, Lockwood were very much the exception with a performance that very nearly mastered the 1958 Nationals test piece, but even they (and their admirable MD John Roberts) were not immune to interpreting the work in a manner that left Mr Broadbent rather perplexed.
His remarks were therefore a concise masterclass in the adjudicators role as a not just a judge but also as voice of musical reason.
"This is a 'classic' test piece," he said. "I have also said that it is also a true musical test and horrendously difficult – and today you proved me right.
"This may not be a technical tour de force, but it is certainly a musical tour de force and it is a piece in which the conductors must go and search for the music. It is there, absolutely, but it must be looked for, and today not one band or conductor did that fully. It is also a piece that has very precise markings of style and although not all variations are marked with metronome speeds they are clear indications to tempo on the score, which were invariably missed by the conductors."
Derek then described in detail examples of this, such as the 'Tempo di valse' at Variation VI which should be played around the dotted minim = 60 mark, whilst the indication for this was to be found in the very next variation, the 'Arabesque' where the metronome marking was laid out.
Derek was also disappointed that not one band played the next variation correctly at all – the Variation VIII marked 'Alla Polacca', which is meant to be played in a stately polonaise style rather than that of an up tempo 'Polka', which in fact what all the bands did.
Finally he remarked to 4BR afterwards that he was more than a little disappointed that even at the very beginning of the piece the conductors had misinterpreted the markings of 'maestoso' and 'marcato' whilst every band played bar 6 incorrectly – playing two semi quavers instead of two triplet quavers in the moving lines.
It all left him rather perplexed at the inability of the conductors to recognise these points fully, although he did add that the winning performance was one that clearly stood out for him as it had in general a fine approach, had mastered the basics to a great extent and had left room for the MD to use discretion on his interpretation. It was also a performance that met the adjudicators criteria of having control right through to the very end, whilst the variations themselves were in this case 'joined' by a strain of musical thought that was lacking elsewhere.
With that all said though, Derek also made the telling point that even if the players and conductors did find this a difficult piece to rehearse, there was little doubt in his mind that by performing it they were all the better as players and musicians for doing so. You couldn't disagree.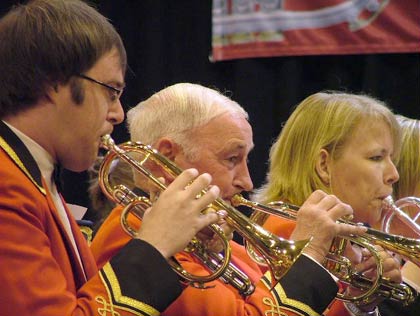 Lockwood: Cornet section
The winners, Lockwood Brass were indeed a class above the rest of the field – even though they did not give a performance that was musically or technically unscathed. John Roberts led from the rostrum with an eye for the dynamics and with a respect for the tempi, whilst in their euphonium player, David Shawcross who won the 'Best Euphonium Player' award they certainly had a class act to lead the bass end. It all added up to a decent show – nothing more or less, but one that was a clear and deserved winner and it was nice to see the band being represented by perhaps the youngest 'official' in the banding world here in the North when a young lady called Sarah Jackson stepped up to accept the top prize from Derek Broadbent with a lovely smile.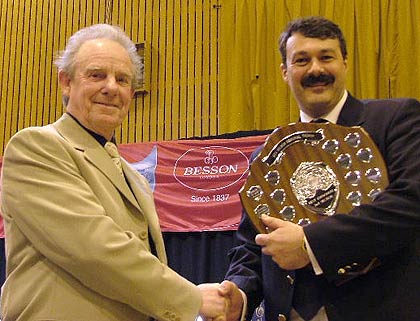 Lockwood Brass: David Shawcross - Best soloist
Lockwood has now won a Regional title here in each of the past three years – the Fourth section in 2003, the Third in 2004 and now the Second section. They are a good quality band who will do well come the National Finals and won't find life too tough in the First Section. In John Roberts they are being directed by a quality musician who knows what it takes to be successful. Look out for them this year.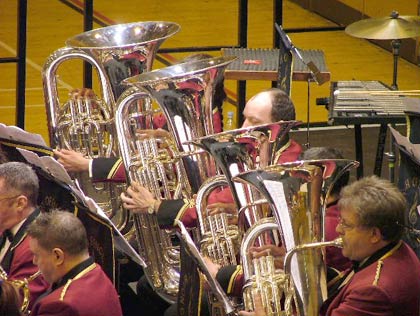 GT Group Peterlee: Basses
Joining them at Harrogate were GT Group Peterlee under the baton of B. Holden who were perhaps the only other band on the day to get to grips with the musical canvas set out before them. It wasn't a performance that will live long in the memory banks for certain – there were far too many errors and nasty clips for that, but it was one that also had a degree of control from start to finish and the MD observed the dynamic variances so that they had something in the stamina banks as they approached the very difficult (and long) final section in the Chorale. They will be a better band for tackling this piece and it will give them a great deal of confidence that they will be able to do well come Harrogate time.
After the top two, it really was a question of placing the bands in an order, which just about reflected their differing levels of competence in playing the piece. That perhaps may sound a little unfair as this was a piece that with the exception of the winners, was too hard for the competing bands here, and they should be congratulated for being brave enough to give it as good a go as they did - but at times it was awful – and that is no exaggeration.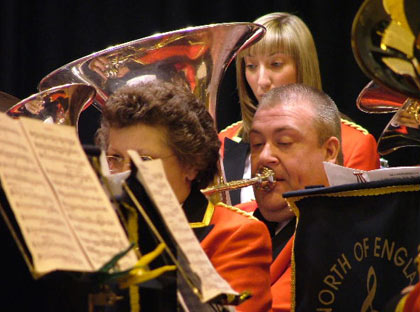 Wansbeck's Ashington
Third place went to Wansbeck's Ashington directed by N. Stedman who were the last band to take to the stage and who produced a fairly decent account but which lacked for style and tempo in too many places, but did have a solid enough foundation from the bass end through to the horns. The top end though found it tough going, but third place was about right.
In fact the standard of cornet and soprano playing was the thing that spoilt so many of the performances of the remaining bands here – hard and harsh with a lack of warmth to the timbre. One wonders if people are being taught nowadays to produce a nice sound first and play the notes second, or is it now the other way around, as come the florid stuff there was little to challenge the players abilities and most coped admirably. Playing minims quietly with a soft production though was a nightmare.
Those problems were also very evident in the performances of the remaining bands. Spennymoor Town under John Bell started poorly, but improved as they went along, before tiredness and harsh sounds crept in and it all ended on a slightly overblown and untuneful chorale. 4th place was just right position wise.
Meanwhile there was little to choose between the bands that came 5th, 6th and 7th – all were poor.
Cockerton took to the stage with an 81 year old Charlie Harrison in the band as well as a female dragon racing gold medallist in the ranks, whilst the MD took to the stage without the benefit of a score. At this level that is a very dangerous thing to do as the need for reference points for the players is essential, and whilst Mr Catherall must be congratulated for his efforts, there were too many occasions when there was little connection between what was going on at the sharp end with the baton and what was coming out of the bells of the instruments.
The same problems arose with East Riding of Yorkshire under A. Shipman where the band and MD were at times at conflict with one another especially in the fugue sections at Variation X although they did have a nice young cornet player on the end who played very well, but overall it was a piece that was perhaps just too far ahead of their abilities at present. They will, as Derek said though, have become better players and musicians for performing it.
That just left Flimby Saxhorn directed by G. Evans who took to the stage as the first band on, and who were a very young group of players indeed. There were a heck of a lot of teenagers here and they really tried their best to make something of a piece that at present was also too difficult for them. A special mention to the little girl on soprano who was excellent right the way through and the MD who kept things going with nods and winks and smiles of encouragement to his players. It wasn't a good performance at all, but it was one of character and will prove immensely beneficial to these young players for the future.
This was in terms of quality not a very good contest – although we don't think it will be the last one over the next few weeks. The piece proved too hard a test both musically and technically for nearly every band here, whilst for the MDs in particular it sent a message out that you have to do your homework on style if you think you are going to master it. Well done to the qualifiers, and well done to all the bands for their efforts on an exceptionally difficult work. And finally, well done to Mr Broadbent – he did everyone a favour here.
Iwan Fox and Malcolm Wood