2005 Regionals: North of England - Retrospective: First Section
1-Mar-2005
4BR was there to listen to the bands that did battle with the serious business of comedy, and it was Easington Colliery who had the last laugh.
---
Whereas the overall standard of performances in the Fourth Section later in the day at the Dolphin Centre was not particularly good, the bands who kicked off the 2005 Regional Championships of Great Britain on Saturday morning more than came up to the mark on John Ireland's 'Comedy Overture'.
It was no laughing matter though for the 11 bands that took to the stage, as this is, some 70 years after it was written, still a pretty severe test for performers at this level.
Adjudicator, Geoffrey Whitham was quick to point this out in his well received remarks before the announcement of the results. 'It may be a nostalgic piece,' he said. '…but it is still a very difficult one even today and has certainly tested the bands here to the full.' You couldn't disagree with that, and you couldn't disagree with his findings from the well positioned tent at the front of the hall close to the stage, that there were two very good performances that fully deserved to take the qualification places for Harrogate, whilst some other bands put in the equivalent of some North Eastern curate's eggs – Reverend Bede's possibly?
He also made the telling, but humorous remark that at least one performance was spoilt by some over enthusiastic percussion playing, which Geoff quipped may have been heard in Bradford, it was so loud. Again though, it was a very accurate observation as although the acoustics in the Dolphin Centre were perhaps the best we have heard at a sports hall venue (there was plenty of carpeting on the floor, and lots of wooden slats around the walls) it was still a place that percussion rang loud and clear – or in the case of one band, very loud and very, very clear.
It therefore robbed the chances of a couple of bands of challenging for the qualification places as a lot of the good work that was going on from the cornets and middle of the band in particular was swamped. The percussion were not the only culprits though as a few bass ends certainly enjoyed their chance to make a name for themselves. Geoff Whitham being an old warrior leader of the lads on the big stuff wasn't going to miss them being a touch over enthusiastic either and made the point that couple of bands lost points by having a poorly balanced ensemble.
For a man who certainly knew this piece inside out (he played on it with Black Dyke as well as conducting it with Hammonds Sauce) he knew exactly how it should be approached – and for him, both Easington Colliery who won and Langbaurgh Brass who came second, were the bands who approached it the right way as well. He wasn't wrong.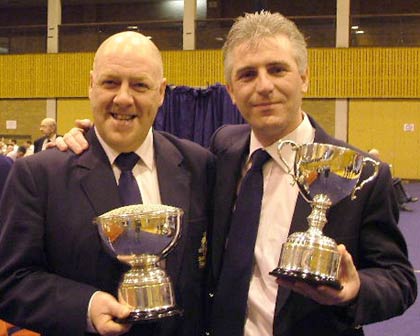 Easington: Happy lads...
Easington produced a well balanced account under the experienced direction of David Hirst that had just the right hallmarks of control and shades of colour and deftness that the score demanded. The lightness of touch on the famous 'Piccadilly' shouts never had the aggression that others tended to show, and as the piece progressed it was clear it was going to be a real marker to beat. David Hirst kept things on a tight rein, but still allowed his soloists in particular the chance to play with licence. It was a thoroughly good show and deserved the top prize of £200 and the Les Easton Memorial Trophy. In addition the bass end gained just rewards for their efforts by taking the prize as the best basses on the day.
It was a bit of an emotional win as well for the band which was formed in 1915 and for most of its life has been a Championship Section band. Band Manager, Peter Lawson informed us that the band dedicated the victory to the memory of Keith Watson who was a real stalwart of the band, and who was their Secretary from 1964 to 1989, as well as being a playing member from 1954. He had died in early February and it had been a great blow to them, so on this day it was right that it was a victory in memory of a great servant.
'Keith was a fine man', said Peter. 'Everyone at Easington would like to dedicate the win to his memory; if it wasn't for the work he put in over the years the band at times wouldn't have survived.' Peter was also full of praise for the MD, David Hirst who he believed had instilled a great amount of confidence in the players. 'David has worked so hard with us not only on this piece but each time he has been with us. He knew exactly what was required and it certainly paid off. We are thrilled at the result and the chance to represent the region at the Finals in Harrogate.'
Easington should be strong representatives as well, and if David Hirst is again at the helm they could feature highly in Harrogate, as his finely judged approach certainly enhanced this winning performance.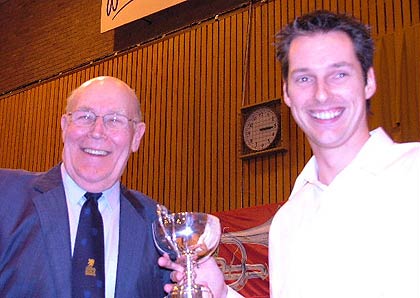 Langbaurgh: second prize
Second placed Langbaurgh were certainly well pleased with their efforts in coming runners up, and not for the first time under the direction of Tim Oldroyd they showed that they are a band on the rise. This was a well paced performance that was greatly enhanced by some excellent solo cornet work in the opening thinly scored sections. This seemed to inject the whole band with confidence and as they progressed the band ensemble grew more assured. The MD kept things light and breezy and the percussion were excellent – not obtrusive at all, and deserved to pick up the prize as the best percussion section on the day. They too, will head to Harrogate confident of making a mark.
The actual honour of kicking off the 2005 Regional Championships went to Houghton Brass conducted by Tom Gibson, who produced a rather error strewn account that never really got going from the opening tentative entries. It did improve though and by the end it was going well, but those early errors certainly cost them - although we thought last place was more than a touch unlucky.
They were followed on by York Railway Institute directed by Derek Warley and they too produced the curate's egg. Great in places – especially in the well constructed first section, but it fell away thereafter and although there were shafts of musical light here and there, there were some dark spots too, and 9th place was about right overall.
Easington then produced their winning performance before Gateshead Brass went for perhaps the most romantic approach to the set work of all the bands on the day. We don't know if MD Mike Fowles has had a few elicit weekends away in the capital but he was certainly pulling the heart strings here and the amount rubato in places perhaps made the work a little too static. It was certainly different though and on another day it may have featured more highly, but Geoffrey Whitham is perhaps a bit too long in the tooth to be easily swayed by the wine and roses approach. A bit of a pity really.
We felt Ellington and Tony Swainson could count themselves a touch unlucky to come 7th with a performance that didn't really have too much wrong with it – perhaps it was a little bland, but nothing too drastic went wrong. Not to the judges liking but one we felt may have just nudged into the top three.
Langbaurgh then produced their fine account before RMT Silksworth under John Bell took to the stage and gave a fairly uncomfortable airing of the overture that lacked some basics of tuning and balance. It had little moments here and there, but overall it wasn't a good one and 10th place was a fair return for their efforts.
Felling followed directed by Graeme Tindall and put in a decent effort which just lacked a bit of care and attention to the dynamics in places and had a bass end that at times spoilt the balance. You felt it had the makings of a very good show if they had perhaps a couple of more rehearsals on it, so 6th place wasn't a bad result. Just a little under cooked this curates egg.
That just left the final three bands of Westoe (STHCT), Kirbymoorside and Gregg's Bakery, who we had tipped to win the contest. In the end all three put in solid accounts of 'Comedy' without ever quite suggesting they were going to do enough to break into the qualification places.
We had tipped Gregg's for the title in our pre match predictions, and for the first third of the piece they seemed to be on track to do us proud. Come the euph solo though and things started to go awry and the confidence levels dipped in a few too many places thereafter. 5th place was the deserved return on a day when it could and possible should have been a bit better.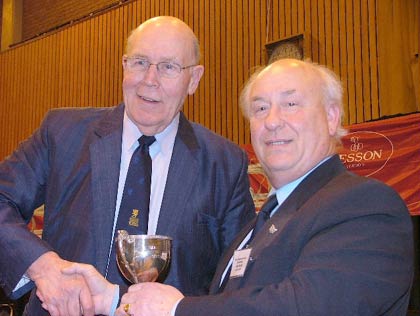 Kirbymoorside: Third place
Kirbymoorside and John Woodward may be kicking themselves a touch though for missing out on a place at Harrogate after a performance that not to put too fine a point on it was very nearly obliterated by the bass drum player. Over enthusiastic doesn't quite capture it – it was if a small nuclear device had exploded in bass end. It would be possible unfair to mark out a single player, but if a more intelligent approach had been used by both MD and the player perhaps a few valuable points may not have been lost. A lesson learnt for the next time perhaps for they eventually came third, when something better could well have been obtained.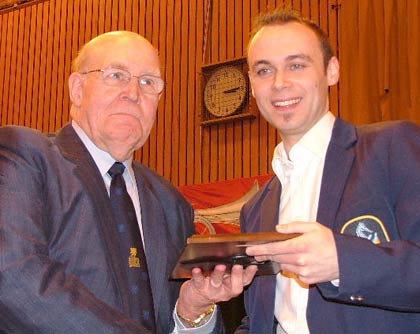 Westoe: fourth prize

Finally, Westoe under Raymond Tennant produced a well constructed performance that just lacked quality in the ensemble and a little roughness around the edges when the dynamic levels were put up a notch. There was some excellent solo work though, but the ensemble didn't quite match it and 4th place was just about right. They seemed delighted with it though when the results were announced, so well done.
That was it then, and Geoffey Whitham is too clever and too experienced to be hoodwinked into making a poor decision. His remarks were bang on the money and made in such a way that even the humour had a realistic edge to it. Bands can't get away with poor basics when a chap who was brought up in the school of hard brass banding knocks under the likes of the great band trainer A.O. Pearce of Black Dyke is in the box. And so it proved.
Easington were deserved winners because they got the basics right first and then produced the music, whilst Langbaurgh did the same thing. It sounds simple, but it really does work.
Iwan Fox and Malcolm Wood.