2005 Regionals: North of England - Retrospective: Championship Section
1-Mar-2005
4BR looks back at the Championship Section here in Darlington on a day when Ray Farr had a bit of a funny turn to take Reg Vardy's 28th Regional title.
---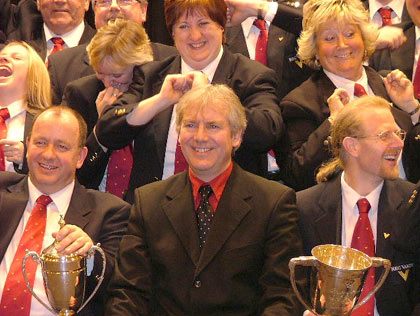 Reg Vardy: Celebrating their win
Audio interview

Interview with winning MD Ray Farr [WAV 1.68Mb]
---
In the late Arthur Miller's play 'Death of a Salesman', the wife of the protagonist anti hero, Willy Loman shouts at her sons, "Attention must be paid."
It may sound strange to relate that great play about the failure of American capitalism directly to a pretty tame and moribund brass band arrangement of a non descript Wagner overture, but nevertheless the thought, and the line crossed the mind when the Reg Vardy Band left the stage after playing off the number 1 draw at the North of England Regional Championships.
With all the hullabaloo surrounding the authenticity of inverted or conventional turns being used in the test piece, people seemed to have taken their eyes off the musical ball and invested far too much time and attention over what in all respects was a completely minor and non descript decoration.
Did it really matter that Black Dyke and Nicholas Childs chose to play conventional turns on their recording of the piece on the Regional CD, or whether or not Reg Vardy and Ray Farr had decided to play conventional turns here in their winning performance? No one halfpenny.
If attention is to be paid it should surely be over the fact of why on earth a group of intelligent men chose such an awful, monochrome, tardy arrangement of an overture and thought it would prove a worthwhile test of the merits of top class brass bands at the Regional Championships.
Forget the turns – whether or not MDs decide to play them inverted, conventional, on the beat, off the beat, slowly, quickly or even with an added flourish of a Bobby Crush hand gesture is a matter for musical interpretation. Whether it is tasteful or successful is entirely up to the listener.
However, at the Dolphin Centre there were rumours abounding that the Reg Vardy Band were in fact in danger of being disqualified because Ray Farr had decided off his own back to play the turns in a conventional manner (whatever that really means). Further petrol was added to the flames when the MD himself spoke to both 4BR and the rest of the banding press in the hall (as well as giving an audio interview with 4BR) where he suggested that he was in fact under the impression that by doing so he risked disqualification as a 'directive' had been issued to inform the bands and their MDs that the turns 'had to be performed' in an inverted manner or face being penalised.
You were left with the feeling, just like Willy Loman in fact, that the system you had so come to cherish and feel was right was now in fact starting to crumble and look patently stupid. Had we really come to the time when attention and directives had to be paid to the way in which a series four notes were played in a test piece, instead of worrying why we were having to perform the awful arrangement in the first place. If we were then the brass band movement was in even greater trouble than even we thought.
Thankfully common sense from all quarters prevailed; and given that the adjudicator was Geoffrey Whitham you couldn't believe any other option was going to be given credence let along take place could you. You knew what Geoff thought of its importance by the opening quip of his intelligent oral remarks before the announcement of the results. Without a hint of a smile, but with his tongue firmly placed in the Yorkshire cheek he announced, "This has been a bit of a turning point this piece." Enough said. As clichés go it was as cheesy as a piece of Wensleydale, but it told you everything that you needed to know.
Reg Vardy won their 28th Regional title with some degree of comfort because on a day when just about every other band in the field played below form, they were a good head and shoulders above every one else in terms of quality of sound, technique, balance, tone and stamina. It was nothing at all to do with the turns – they just played a pretty awful brass band arrangement of a mediocre overture with a sense of style and competence that left the others in their wake.
Ray Farr was obviously delighted (and relieved) when we spoke to him after the announcement of the results, and revealed that he had been doing a bit of research himself into the turning question. "I felt it was a matter for musical interpretation – not for organisational directive", he said. "I have been doing my own research at Durham University and was drawn to that of Dr Philip Wilby and felt that the turns were needed to be played in a conventional manner." You couldn't really put a counter argument to that at all.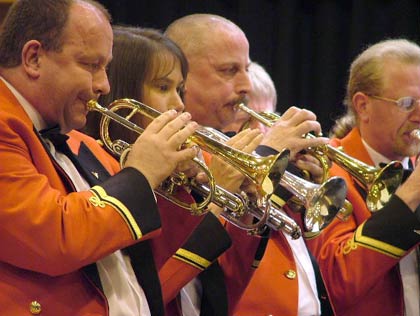 Reg Vardy: Cornet section
And as for the attention matter. Well, Reg Vardy were certainly not on the type of form they showed towards the end of 2004, and during this performance they certainly had their fair share of errors and blips and blobs. It wasn't enough to deny them the title, but it did show that even though some of the pressure was off the band to qualify (they were already booked a place at the Royal Albert Hall due to their 3rd place last year) they were still playing a little under strain and the attention of the audience, the judge and the MD himself was drawn to the fact that it was a beatable performance.
The opening was good (although there was a distinct hint of a bass taking it down an octave) and the broad style was very well delivered. Ray Farr risked a few noticeable rubato's, but it all worked. It was scrappy though in places in the loud stuff thereafter, but it retained a hint of class that others didn't quite have.
Still, on the day, and with another eight bands after them, it wasn't to be beaten and they ran out worthy winners once more of the North of England Champions Cup and the £200 top prize. In addition, they also won the awards for the best basses (although only two came up for the award), best percussion (all five of them) and the best principal cornet, which went to the excellent (and singular) Bryan Tait for his exemplary playing of a series of middle Cs using a slight vibrato, dynamic variance and the ability not to go out of tune.
That may seem a bit flippant, but by heck, with the exception of Fishburn's top man, the rest of the Principal Cornets (and a few 3rd or 4th men down) just couldn't either pitch a middle C to start or couldn't manage to stop it bending like a banana or over vibrating like a Hoover automatic on extra spin mode. Is playing a middle C, even on a contest stage really that difficult; and is there really a need to start its production by sticking the tongue further down the mouthpiece than you would if your were French kissing your girlfriend. Some of the opening notes were disastrous affairs.
Geoffrey Whitham also made the point that he felt that he was not overwhelmed by the quality of the performances, and that perhaps what set the winners apart was their ability to last the pace all the way to the very last note of the piece. Others he felt, just ran out of collective steam way before the end, and emphasised his belief that physically rather than musically it was a harder piece than perhaps many had given thought to.
That was right of course, but has it come to pass that we are now testing the best bands on their stamina rather than their musical ability?
Still, neither Chester le-Street directed by Ian Robinson or BHK (UK) Ltd Horden conducted by Peter Parkes will complain that it was one heck of a blow, as both displayed the stamina of Welsh prop forwards against France (sorry, but we had to put a least one mention of the rugby in) in claiming the two other qualification places that were up for grabs on the day.
Both were not particularly fancied before the contest do feature as highly as this, but both stuck two fingers up at the so called 'experts' (4BR included) and gained two brilliant results which will mean for the first time in living memory the North will have three bands at the Finals come October. That it wasn't either the traditional heavyweights of Fishburn and EYMS though was a bit of a shock.
Fishburn in particular under Ian McElligott could count themselves more than a little unlucky. We had them a very close second to Reg Vardy after giving perhaps the most controlled performance of the day which benefited from some elegant and precise baton work from the MD (without music) and which also featured some excellent solo cornet and soprano work (two of the most important individual parts) from the Gill brothers.
It didn't tickle Geoff's fancy though, which for us was a pity as it had a classy swagger about it at times that not even Reg Vardy managed.
You couldn't for us though say the same about EYMS directed with real passion and intensity from the usually cool and urbane Gareth Pritchard. He informed us afterwards that he was very disappointed with the final result of them coming 6th, as he felt that the band hadn't played better than that for many a year at the contest. However, we felt they were somewhat disappointing, and we had certainly heard them better then this in the past couple of years.
It was rather insipid to open and had some poor intonation in the opening section, whilst the decision to have the soprano cornet player take up the solo line at letter G sounded a bit too obvious, as did an errant (or possibly deliberate) glock coming in at letter I. It had excitement (the five on percussion enjoyed themselves) and plenty to spare come the end, but it also had too many errors. We had them 4th.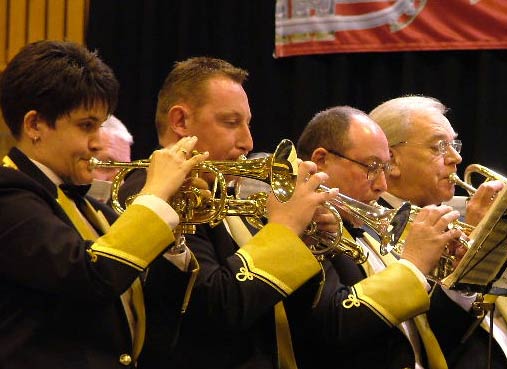 BHK (UK) Ltd Horden: Cornet section
Peter Parkes and BHK (UK) Ltd Horden we had down for third place after they gave a performance that certainly benefited from a wonderfully shaped account from the Major. It wasn't going to ever be enough to win him his 31st Regional title, but it had real glimpses of his particular brand of brass band genius running through it.
The opening quarter possibly just cost them a point or two from coming second in the ears of Geoffrey Whitham, but thereafter they settled down and displayed an admirable sense of restrained commitment to the direction of the man who has won this title ten times here before. The band will not be too concerned though that they didn't quite win, as the trip to London will more than make up for that, and it was well deserved. We had them 3rd and so did Mr Whitham and it means that in the past five years they have gone from playing Second Section to claiming a place at the Albert Hall. That is something to be very proud of indeed.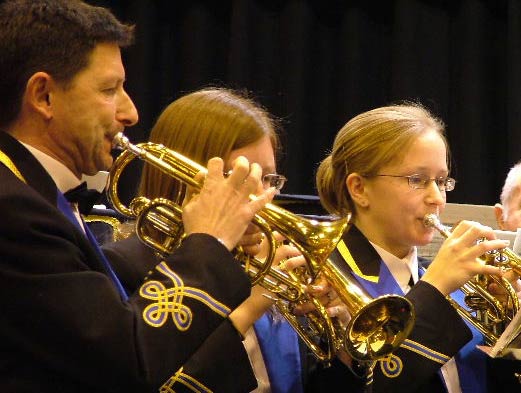 Chester-le-Street Riverside: Cornet section
We had Chester-le-Street and Ian Robinson in fifth place after they gave a solid if rather unspectacular account that in hindsight may have indeed been the strength of their performance all along. The opening was safe rather than sorry, whilst the dynamics weren't quite edge of your seat stuff, but neither armchair comfortable either. It was a bit bland for us, but as many other literally 'blew' away their chances, Ian's sensible approach paid dividends. The soprano player certainly enjoyed himself though and was in danger of losing connection with his 'Jacobs' on more than one occasion. He didn't miss a thing though.
It was just what Geoffrey Whitham was looking for and you couldn't begrudge them their delight in beating much more fancied bands (and proving that by not tipping them to come in the top six we had done them a great favour) and we are sure they celebrated long and hard into the night drinking many a bottle of their former sponsors brown ale. Well done to them.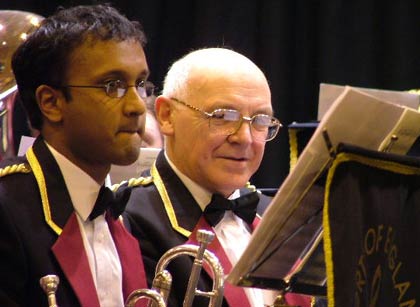 Harrogate Band: Jim Shepherd
The eventual fifth place at the contest went to the Harrogate Band directed in rather flamboyant fashion by David Lancaster (who on more than one occasion knocked the music off the stands of the solo cornet players with his intensity). The legend that is Jim Shepherd was sat in on fourth man and his added experience and class certainly showed itself in a top cornet end that was neat and tidy from start to finish.
Not so the rest of the band in too many places, where it became a bit overblown and lost balance, but the MD had moulded a well shaped performance out of the score and it was one that had a considerable amount of merit.
Why the need for the side drum player to play on the disabled gantry to the side of the stage though was a bit of a mystery, whilst the timp player was a pretty young lady who certainly made the most of her contribution. It was a decent effort this.
Seventh place went to he the Shepherd Building Group directed by John Hudson (not the John Hudson of CWS Glasgow fame) off the number 8 draw, and after an unfortunate opening note the piece really took a while to get going. The soprano player had to overcome a squeaky chair as well, so by the time things did get off the ground just about everyone had to deal with some form of discomfort.
It did recover, but it started to sound hard and harsh the further the piece progressed and by the time the percussion section nearly obliterated the rest of the band at rehearsal letter N things were overblown, overhit and very nearly over the limit. 7th place was a bit fortunate if truth be told.
That left the final two bands and Broughtons' and Brian Grant (minus score) off the number 5 draw were a little unfortunate to have to wait what seemed an eternity as the green light in front of the judges tent seemed to short circuit itself for over five minutes before it came back on. Perhaps Geoff just forgot to press the button, but it was a long time nevertheless to wait to start playing, especially for the solo cornet player.
As a result the first note was a disaster, and it took a while for the band to settle into things. It was a stately tempo as well to begin (as stately as a galleon as Joyce Grenfell used to sing) and to be truthful some of the inverted turns took as much time as a galleon to turn as the music lacked real flow. By the time they upped the tempo it was all but lost, and it wasn't helped by a real blast from there to the end.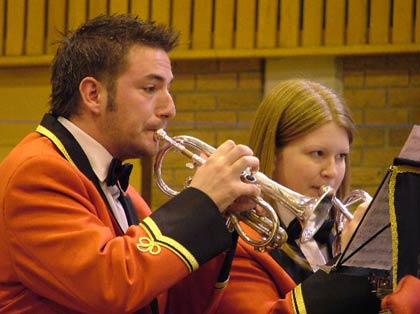 Broughtons' Brass: Keith Irvine
The bands soprano player, Keith Irvine though certainly enjoyed himself and was excellent value for this efforts in picking up the best soprano award on the day even if he went completely wonky four bars before letter N with four notes that were supposed to be top Gs but came out as one top D, one top C, one miss and one squeak! The rest of the time though he was top notch.
That finally left the Cottingham Band to take last place, and in the event they couldn't have much to complain about with a performance that never got going from the number 2 draw immediately after the eventual winners. A tentative opening section didn't help whilst the tuning went AWOL too often and some of the ensemble work (especially after letter K) was way out of sync. Not a great one at all, and plenty for the band to work on for next year.
That was that then, and with Geoffrey making his few well chosen remarks (he was excellent all weekend, as were both Derek Broadbent and Alan Morrison) there was the announcement of the results and the tension as it soon became clear that a non fancied band were going to make it to the finals. So it proved as both BHK Horden and Chester-le-Street made it through ahead of the two more fancied bands of Fishburn and EYMS.
Things are changing so they say up here, what with the new Sage Centre, Newcastle finally winning some games and now two new bands making it through to London. Some things don't though, and Reg Vardy (although they were playing this year under their new identity) picked up their 28th regional title. It was all about attention being paid. Ray Farr did and so did his band, and that was why they became champions again.
Iwan Fox and Malcolm Wood