2005 BBC Radio 2 Young Brass Soloist - Preview of the Final
18-Feb-2005
Katrina Marzella - herself a former winner, takes a look at the contenders for this years prestigious BBC prize, which takes place on Saturday in Manchester.
---
BBC Radio 2 weblink:
http://www.bbc.co.uk/radio2/events/brasssoloistcomp/
The Grand Final of this year's BBC Radio 2 Young Brass Soloist competition will commence on Saturday evening in the Royal Northern College of Music in Manchester. I managed to catch up with the four finalists to discuss their thoughts on the competition - each of them were kind enough to share with me their hopes and anticipations for the 'Final', where they will be accompanied by the legendary Black Dyke Band.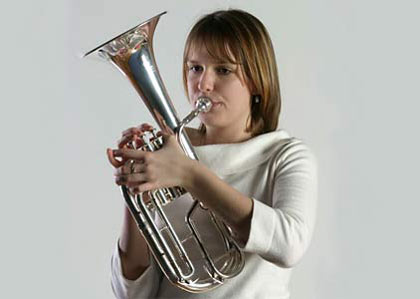 Vicki Reynolds
The first of the four finalists is 14 year old Vicki Reynolds from Leicestershire. At this age, Vicki is the youngest player to make it through to any of the final stages of the competition since its inception. Even though she has defeated several full-time music students to reach this stage, Vicki remains incredibly humble and warmly unassuming about her successes to date. She began playing Tenor Horn at 'nine and a half', and is currently a member of the Hathern Band and the National Youth Brass Band of Great Britain. She quickly proved her potential as a soloist, and more recently gained the title of 'Intermediate Slow Melody Champion' at the 2004 British Open Solo and Quartet Championships. Vicki has periodically received tuition from musical personalities such as Philip McCann and Owen Farr (who 'taught her a few cool tricks') however she was introduced to the Radio 2 competition by Betty Anderson, her main tutor for nearly four years. 'Betty also taught Danny Powell, who reached the semi-finals of last year's Young Brass Soloist competition, and winner of BBC Fame Academy – Next Generation. She encouraged me to enter this year's event, so I sent off a tape as I thought it would be good to get involved.'
On discovering that she was selected as one of the eight semi-finalists, Vicki perceived the chance to play with the Fodens (Richardson) Band as 'her prize' for her efforts. Vicki selected the traditional melody, 'The Lark in the Clear Air' and Bellini's 'Concerto for Horn' as her repertory for this preliminary round of the competition. She remembers being incredibly nervous on the day, but was at pains to thank Fodens for being so friendly, as this helped settle her nerves. 'I came away really happy after the recording, but now reaching the Final is a dream come true for me! I just can't wait to get up there and do it - I'm so excited and have been for about a month!' Vicki will be performing the classic tenor horn showpiece 'Variations on a Welsh Theme' by Peter Kneale because it is her 'favourite piece in the world, ever!' Vicki noted: 'I've never played it with band before so I guess I'm lucky that the first time I do this will be with Black Dyke!' Vicki simply abounds with enthusiasm and energy about Saturday's Grand Final, and this will no doubt reflect in her performance on the night.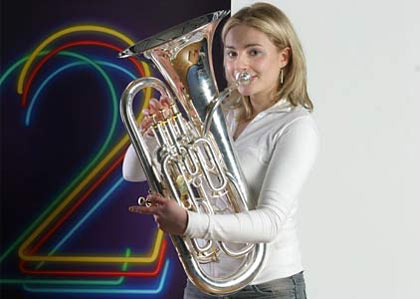 Sophie Rhodes
The other female finalist is 19 year old Sophie Rhodes from Harrogate in Yorkshire, who is currently studying Medicine at Pembroke College, University of Cambridge. Sophie was one of four Euphoniumists who made it through to the semi-finals, and is 'absolutely delighted' to proceed into the Final round. Sophie had a successful spell on Baritone at Rothwell Temperance Band and the National Youth Brass Band of Great Britain, before joining the Soham Comrades Band on Principal Euphonium since her move 'down south'.

'I love playing with Soham and I'm really excited about my time ahead with the band. At university, I was really pleased to be invited to play 'tenor tuba' in a number of items at a symphonic brass concert in the beautiful Trinity College chapel. Although the transposition was a bit of a brainteaser, the whole thing was a new and exciting experience for me! Musically speaking, there's plenty going on in Cambridge. A variety of concerts are performed almost every evening, so it's good to be able to go along and listen, and appreciate as many different types of music as possible. This is something which I've always believed to be really important as it eventually helps you become a more rounded musician.'
Sophie's diverse musical experiences were encouraged in her family since a young age. Indeed, Sophie's younger sister, Lucy, won the Radio 2 Young Chorister of the Year in 2002. Since Sophie's progression to the Young Brass Soloist Final, the local media have shown interest in documenting on her musical family. The TV channel 'Look North' is even broadcasting an interview on Friday 17th February – much to Sophie's evident embarrassment!
Sophie's semi-final programme encompassed two works from the pen of Peter Graham, namely 'Whirlwind' and 'The Holy Well'. For the Final, she has selected to perform the first movement of Joseph Horovitz's Euphonium Concerto. Sophie commented: 'It's such a great piece of writing for Euphonium, so full of drive and energy - even within the space of a couple of bars, you have enormous contrasts which are really exciting both to play and listen to. I'm also going to play Alan Catherall's arrangement of 'Softly as I Leave You', in which I hope to demonstrate the lyrical side of my playing.'
Sophie considered it to be a real honour to be playing alongside the other three finalists, and although she admitted that it was hard to envisage performing with Black Dyke to a capacity crowd at the RNCM, she hopes to deliver a natural, musical and expressive performance. She wanted to take this opportunity to thank all those who have been involved in this competition so far, including Richard Evans and the Fodens band, and the Radio 2 personnel who have efficiently co-ordinated the event. 'All I can say is that I don't believe that there is another competition that could surpass it. It provides such amazing opportunities for young people and I hope it continues well into the future!'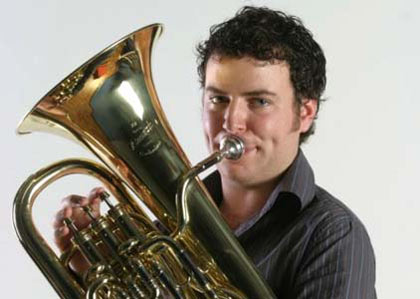 Brenden Wheeler

The second Euphonium player to succeed in reaching the Grand Final is Brenden Wheeler, an Australian who is currently studying music at the University of Salford in Manchester. Since his arrival in the UK just over eight months ago, Brenden has been under the watchful eye of David King, Head of Instrumental Studies at Salford, and conductor of the YBS band. 20 year old Brenden is somewhat astonished at his achievements in the UK so far, which include the attainment of the Best Instrumentalist prize at the Scottish Open Brass Band Championships last November. 'Eight months ago when in I was still in Australia, I never thought I would have these sorts of opportunities – so naturally I'm delighted to be participating in Saturday's Final.'
When asked to recall his experiences of the Young Brass Soloist competition to date, Brenden simply answered in an archetypal 'Aussie' expression: 'It's been A-A-A-W-ESOME!!'
'At the semis, Richards Evans was great – it was really nerve racking waiting around before hand, but when I went in, he made me really relaxed so the whole occasion was quite chilled out!'
'Jenny Jones' (William Rimmer) and Ray Farr's arrangement of 'Be My Love' (Brodszky/Cann) were Brenden's chosen pieces in the previous round, and he hopes that his 'Final programme' will reflect his desire to execute the most entertaining of performances. 'I've chosen to play 'Flight to Sparta' from 'Three Worlds' by Peter Meechan and 'The Holy Well' by Peter Graham. I want these pieces to show off my technique on one hand, and my musicality on the other. I'm hoping that these choices will appeal to the particular adjudicators' tastes.'

Brenden also reflected: 'I think it's great what Radio 2 do – the chances we have been presented with are just fantastic. It definitely encourages you to work hard - I don't think I've ever practised as much in my life! Now I just can't wait to get on my feet to play a solo with Black Dyke!'
'I'm so pleased that members from my band, Hepworth (Persimmon Homes), and many of my newly made friends are coming to support me. I'm also excited that one of my uncles from Australia is able to attend too! However my parents and close family obviously won't be coming. It'll be strange not having them there, as it would have been great to share this occasion with my family.' Nevertheless, Brenden remains positive, saying that his support from elsewhere will help assuage the situation. He reiterated how pleased he was to be participating, joking 'I think I may even get a special haircut for the event!'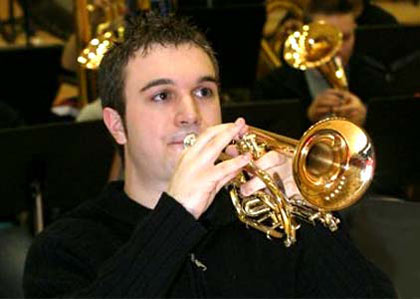 Nick Walkley

Nick Walkley completes the quartet of Finalists for the 2005 competition. Nick hails from Gloucestershire, but presently studies Architecture in Manchester. Like the rest of the Finalists, Nick is similarly regarded as one of the country's up and coming talents. Since moving to the North West, he has played Principal Cornet with the Fairey FP (Music) Band and produced satisfying solo performances at the British Open and National Championships last year. He states that he has had various experiences in a soloistic capacity; however he holds the BBC Radio 2 competition in the highest regard.
'So far this has been the best-organised and well thought out competition I have ever been involved in. The concept of judging a recording rather than a live performance strikes me as a very good idea, as does using adjudicators who are currently involved in the brass scene, and at the top of their game in their respective fields.' In the qualifying round, Nick must have impressed the two judges, Andrew Berryman, the Principal Trombonist of the Halle Orchestra and Sheona White, principal horn player with the Yorkshire Building Society band, with his performance of 'Jubilance' by William Himes.
Whilst admitting to intensively increasing his preparation for the Final, Nick remains confident and relaxed about performing 'Slavische Fantasie' by Carl Hohne, which he believes to be 'a great piece of music with lots of technical passages but at the same time good to listen to.' Nick clarified that he will be performing on Bb Cornet in Saturday's Final, despite his recent progression onto Soprano Cornet in anticipation of his well-documented transfer to the YBS Band.

'I'm currently trying to practice two instruments at the moment. It's a bit of a balancing act I suppose. Constantly swapping between pitches is not easy! I'll be glad when it's all over and I can put 'the Bb' away for a good while.' Nonetheless Nick is hopeful that Saturday's Grand Final will be a thrilling affair.
'Personally, I'm looking forward to the chance to play as a soloist in such a fine auditorium, with a capacity crowd (I nearly had problems getting tickets for my own friends and family!) and of course with such a fine band. It should be a great occasion which I'm sure myself and the other three finalists will enjoy, win or lose.'
There you have it - the four young musicians who will contend to become BBC Radio 2 Young Brass Soloist 2005. As well as being afforded the prestigious title of 'BBC Radio 2 Young Brass Soloist 2005', the eventual winner will be invited to perform as Guest Soloist as part of Radio 2's Live Music festival later in the year. Nevertheless, whilst this is a competition in the strictest sense, it seems evident that each of the performers is equally thrilled by their participation in the event itself as they are by the prospect of winning. Indeed, the four finalists (and undoubtedly the other four semi-finalists) cannot speak highly enough of their experiences gained in the competition so far. Each of them was genuine in their thanks to Fodens and the Radio 2 team, and abundant in their excitement and enthusiasm for the Final. From their comments above, the diversity of the backgrounds, experiences and personalities of the four finalists is clear.

Hopefully this should inject an appealing sense of variety into the Saturday's event, which will undoubtedly prove to be a wonderful night of music making. This competition embraces youth music in such a proactive and enthusiastic way, and with so much to be gained, there can be no 'losers'. In reaching the Grand Final, Vicki, Sophie, Brenden and Nick are 'winners' already - good luck to them all!
Katrina Marzella