2005 Norwegian Brass Band Championships - Retrospective: First Division
16-Feb-2005
The First Division proved to an interesting contest - with technique rather than musical insight sometimes coming out on top too often. Not so for the winners though...
---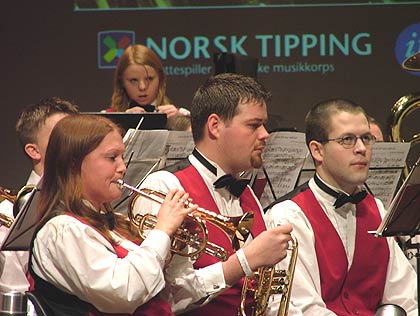 Tertnes Brass: Cornet setion
If there were major problems with the adjudication process in the Elite Section then thankfully the little occasional blips with the two men in the box in the First Section were minor by comparison. That said, there were still a few odd little bon-mots to report come results time here as well.
For instance, Radoy Brass conducted by Gareth Pritchard gave a very convincing performance of Philip Sparke's, 'A London Overture' (not that on this occasion either adjudicator reported a dislike for Mr Sparke's music), which for the accustomed British ear had a great deal of dynamic contrast, good balance and colour. It wasn't a winner by any means, but it certainly did deserve more than the eventual 8th place it was given by Jan Roger Oren and Knut Riser in the box. In fact it was a performance though that stood out for the care taken by the MD with the dynamics in particular, but in the written remarks, the band was heavily criticised for making such a variance with their dynamics and balance.
It highlighted for us the main difference between brass band performances in Norway to that of the UK. The vast majority of bands here, right up to the Elite Section tend to perform as brass ensembles, rather than as what we would consider traditional brass bands and this is highlighted by a rather more technical approach to the music chosen to perform and explains why perhaps bands here tend to make what we would consider to be ambitious choices of test pieces to play.
'A London Overture' was not perhaps the most difficult of pieces we heard in this section, and as a result it may have been seen as an 'easy' test piece to play by a band at this level: technically, yes – musically, no. Final result in Norway 8th – our feeling 3rd.
The other main difference stems from this more technical approach and manifests itself most clearly when bands and their MDs attempt to overcome what could be described as 'classic' brass band repertoire.
Vennesla Kristne Brass performed Eric Ball's, 'Journey Into Freedom' in a manner that was technically competent, but which musically bore little or no resemblance to Eric Ball's music. This is not to completely disparage the approach of the MD and band, but there was no sense of musical coherence about the way in which the music developed – it was just a series of notes, played in blocks. The sense of phrasing (something it must be said can only at times be felt, rather than seen in Ball's music) was completely absent. They were placed 10th by the judges, which was right, but you wondered whether they will learn anything from playing the music in this manner, or will they chose another piece just like it next year and approach it in the same way?

Alexander Brass Band: Cornet section
On the other hand, Alexander Brass Band performed 'The Holy War' by Ray Steadman- Allen under the direction of Morten E Hansen, who has a complete understanding of the 'British' approach to this type of dark and emotional music. The result was a suitably dark and sombre performance of a work that had very little technical obstacles to overcome – it was all about the intensity of the music. It was a fine performance for us and we had them fourth – the judges placed them 9th and remarked that in fact the playing was too dark and sombre for them.
It left you scratching your head a bit when the results where announced. Technique is important in a brass band performance, but it is not the all-encompassing virtue. The Norwegians it seem tend to place it above the ability to provide warmth, balance and dynamic contrast though by a large margin and tend to reward those who try to make their performance technically perfect rather than musically satisfying.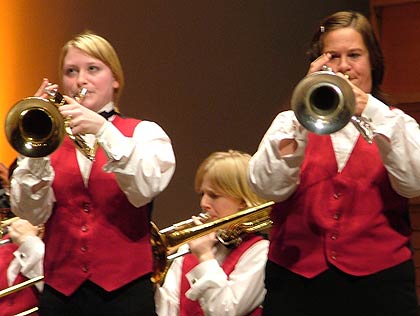 Tertnes Brass: Flugel duet
That said, the one band who certainly did combine both virtues to the full were Tertnes Brass conducted by Bjorn Breistein. Last year we had seen this conductor make a dramatic impression with the band in the Elite Section, and we do mean dramatic, as he possess a fantastically stylish approach to conducting (and without music). On 'Dances and Arias' he really dragged out some super playing from his young band, with the two flugel players in particular playing their hearts out, standing together facing out to the audience (and again without music). It was an energy filled performance that only dipped a bit when the dynamic level was at its lowest, but it was a class show and deserved the first prize.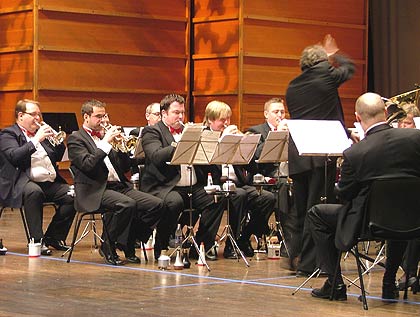 Tomra Brass Band
The same could also be said of the band who came in second – Tomra Brass Band conducted with his usual impeccable approach by Frans Violet on 'Whitsun Wakes'. The band obviously rose to the direction of the Belgian, and the performance was further enhanced by the playing of Raf Van Looveren on cornet (who will next be seen at the Yorkshire Regional Championships with Sellers International), and although it did have a couple of uneasy moments it was still a class apart from the bands below it in the overall prize list.
Askoy Brass Band under Egil Magnussen took the eventual third place on offer after playing off the number 1 slot with a firm and at times a little robust 'Tallis Variations'. This did though set a fair old standard to beat for the rest of the bands that followed, and they did very well to come third on a day when others did opt for pieces with the requisite 'big finish' on the last chord.
One such band were Oslo under Sverre Olsrud who chose, 'Blitz' as their own choice and gave it one heck of a leathering. It certainly had its moments, and the band certainly enjoyed themselves in the louder passages – but it is also a piece that has a great deal of reflective quality about it as well - and on this occasion that reflection was missing and as a result it was a performance that lacked any lyrical impression. Sometimes the title doesn't tell you all you need to know about how to approach a piece.
The same could also be said of the approaches of Brottum on 'Montage' – some great efforts on the technical stuff in the outer movements, but a real lack of elegance and passion in the fiendishly difficult middle movement, whilst Oster Brass perhaps based their performance too much around the fine technical qualities of their principal cornet on 'English Heritage'. Having one superb technician on this piece is not enough, and so it proved.
Kleppe Musikklag never quite captured the light and breezy feeling of 'Chivalry' for us (do they have Saturday morning pictures in Norway showing old Errol Flynn epics of men in tights? – we doubt it), whilst Sorum tried hard with 'Spectrum' but never quite showed the differences in colour (the technique was fine) that the piece is all about.
Finally, that left Orskog Brass under Michael Antrobus (looking more like the actor Richard E Grant by the year) on 'Five Blooms in a Welsh Garden' which featured John Hudson (a former principal cornet of Fodens and a man who has won a National in the UK in the none too distant past) on soprano – or to be more accurate, playing soprano on a cornet. He did a great old job, but it couldn't stop the band from coming last. It was a performance of merit, that in a way summed up all you needed to know why it didn't feature higher up the prize list – it wasn't hard enough, even though it was well played.
The First Division here is very much like the First Section back in the UK – full of very competent bands who at times believe they can play the type of pieces that the bands above them even struggle on. Now and again they certainly can – the top two proved this, but there is perhaps a need here to look closely at the choices being made by the bands themselves. Perhaps a set work in this section may well be the answer, as too many bands had their ambition cruelly exposed by their inability to play the music that wasn't written rather than the technicalities that were.
Iwan Fox