2005 Norwegian Brass Band Championships - Retrospective: Elite division
14-Feb-2005
4BR looks back at the Elite bands in Norway and how a contest of brilliance was nearly undermined by adjudicating of near incompetence.
---

Winning MD: Dr Nicholas Childs
Audio interviews

Interview with NMF President - Ulf E. Rosenberg [WAV 769kb]


Interview with Winning MD - Nicholas Childs [WAV 1.2Mb]


Interview with Sandefjord MD - Robert Childs [WAV 1.2Mb]


Interview with composer - Torstein Aagaard-Nilsen [WAV 1Mb]
---
If you thought controversy was just something that was confined to brass band contests in the UK, then think again, as the climax to the 2005 Norwegian Brass Band Championships here in Bergen were completely overshadowed by the result of the Elite Section.
Eikanger Bjorsvik Musikklag directed by Dr Nicholas Childs were declared a most deserved and clear cut winner of the two legged contest, but the Stavanger Band and Professor David King found themselves relegated into sixth place in the final classifications amid a welter of criticism of the judging panel chosen to adjudicate the contest.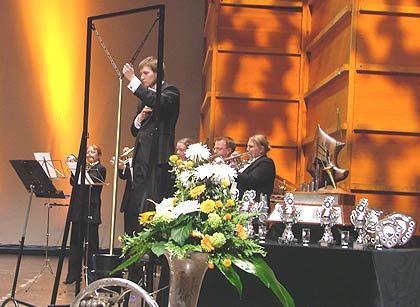 Eikanger-Bjorsvik Musikklag: Cornets and tubular bell scaffold
There was however no doubt whatsoever that Eikanger were on nigh on unbeatable form over the two days here, and that the pair of performances they produced were of an exceptionally high standard – the delivery of the set work, Torstein Aagaard-Nilsen's atmospheric and challenging 'Riffs and Interludes' in particular was a thing of the rarest sheer technical brilliance and ethereal beauty, whilst Derek Bourgeios' 'Concerto Grosso' was rivetingly good.
It gave them the title by a clear margin from the rest of the field, and they were well worth every penny of their win, for they produced two stunning contest performances under the baton of the Black Dyke man.
However, they were pushed hard all the way for the title by Stavanger – although looking at the final placings you wouldn't have thought so. The problem was not that Stavanger didn't perform totally as they could (they were a good length behind Eikanger on the set work), but even if they had, they didn't stand much of a chance of coming within touching distance of winning. They would not have beaten Eikanger on the weekend – they were a class apart, but Stavanger were also a class apart from the rest of the field – and you didn't have to be the equivalent of a Norwegian rocket scientist to have worked that one out.
When an adjudicator writes in his remarks that they felt that a piece (in this case the set work) was too hard for both the MD and the band, and that they should take it home with them to rehearse it better in preparation for a contest, you wonder if the actual performance of the work was really that bad – from any band come to that. When it was written in relation to a thoroughly top quality performance from one of the best bands in Europe, conducted by possibly the finest brass band conductor in the world, then you have to start to worry about what planet the people in the box were from.
Of course, any judge or judges are free to air their opinion as they feel fit, but you do get an uneasy feeling about their ability to recognise a performance of real musical merit, when one of them (in this case Bengt Eklund, the MD of the Gothenburg Band from Sweden) then compounds things in the own choice contest by informing the press, and others it must be said, that the reason they only gave an average mark for what was in the opinions of many seasoned observers here, a thoroughly thrilling account of Philip Sparke's 'Music of the Spheres' was because – "I don't like Philip Sparke's music – it sounds all the same to me."
The Norwegians have taken the brave step of introducing new faces to their adjudication panels in recent years, but until now it has been done in a constructive way – a mix of usually a well respected brass band judge, a younger renowned brass performer and a musician from an outside field. It has worked very well because a balance has been struck between diverse musical opinions and thought processes, yet all linked through their knowledge of the repertoire put in front of them to listen to and study in the scores.
This year, one of the other judges, Mogens Andresen, actually informed 4BR (and others) that he in fact did not know many of the pieces that were put in front of him for the own choice selections, whilst he had only heard a recording of the set work. We didn't have the chance to ask the third member of the judging panel (the trombonist Aline Nistad) what her thoughts were, because by that time we were relatively speechless.
You didn't have to by a musical genius to have acknowledged that Eikanger were clear cut winners – their immense quality of sound, precision of ensemble, superb technique and balanced band structure was self evident – but so were these qualities in Stavanger. That they couldn't put their perceived lack of respect in one case, and lack of knowledge in another to one side really did make you feel as if the contest was cheapened. Not just because of the final placing of Stavanger, but also a couple of the other placings as well.
Still, what is a contest without a dig at the judges eh?
Back to the actual playing in the Elite Section though. Overall the standard was very high indeed with Eikanger performing to a level that would be hard pressed to have been equalled, let alone bettered by the likes of Black Dyke, YBS and BAYV to name but three of the very best bands in the UK.
There is a brilliance to their timbre that makes them at times sound like a huge brass ensemble rather than brass band, but it is also a sound that has a great amount of warmth, depth and a darkness of hue – all the traditional classic brass band traits. They are a band full of world class brass band performers such as the likes of Tormod Flaten on euphonium, and even one Martin Winter playing 'third man down' on the solo cornet bench, whilst they display a musical intelligence in their playing that is at times frightening.
There is a bit 'of an air' about them – a subconscious conceit that they know they are good, very good in fact, but that is an essential ingredient that is a hallmark of the very, very best bands in the world, and something that the likes of YBS, BAYV and Black Dyke carry with them wherever they go. On this weekend, they totally justified it with their playing (both their cornet section and their flugel horn won awards), and which was enhanced by the superb direction of Nicholas Childs.
The Black Dyke MD has been a man possessed of artistic and athletic energy since he has lost weight, and he has been on irresistible form of late - almost a conductor reborn in fact. Here he was in complete control of his performers; maintaining the tightest of grips on the ensemble, yet allowing exquisite moments of lyricism to float away in the set work that was just amazing to listen to. Eikanger is a band that is sometimes more concerned with the artistic qualities of their playing rather than the more practical ones that lead to winning contests, but when they have a man in front of them who knows how to combine them both to such devastating effect, it makes the overall result something of rare beauty and unbeatable brilliance. This was such an occasion, and if there is better playing than this anywhere this year, we hope we are there to hear it.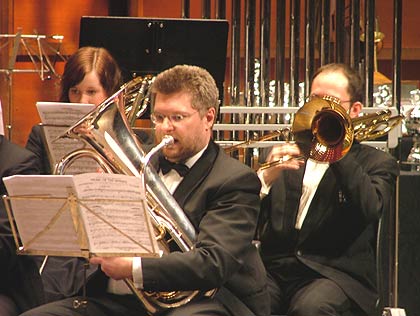 Stavanger Brass Band: Euphoniums and trombones
Stavanger should have been placed second – but the unbelievable actions of the judging panel put paid to that. They were very good on the set work, although not scintillatingly brilliant, as we know they can be. A reason for that may well have been with the main kit player Morten Tonnesen, having to drop sticks a hour before the band took to the stage to rush to the hospital bedside of his wife, the bands usual flugel player (and a member of the 4BR Band of the Year) Margrethe, who was due to have her baby some two weeks after it was due!
Thankfully the new arrival came on the Friday night, but it also meant that a replacement had to be found at the last moment. Luckily the rules allow for such happenings, so Stain Villanger, a top class percussionist was drafted in (still in his jeans and tee shirt on stage) to play, whilst the band also fielded a new flugel horn player in the form of Elizabeth Aarrestad. It didn't make any difference if truth be told to the performance – the kit man knew the part and played liked a natural, whilst the flugel playing was excellent, but David King did direct with an almost unbelievable sense of commitment from the middle.
The same could also be said of their playing on "Music of the Spheres", which although it didn't quite match the wow factor of YBS at the Europeans, still made the hairs on the back of your neck stand on end in a number of places. The soprano playing of Espen Myserth in particular was outstanding, whilst the sense of excitement was tangible. It was playing of the highest class – not quite impeccable, but still playing that even the very best bands would be hard pressed to have equalled.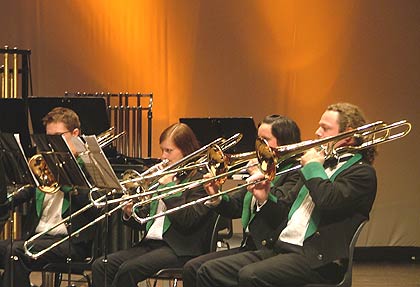 Manger Musikklag: Trombone section
In the end it was the former champions of 2002, Manger Musikklag who were placed as runners up. They were very good on the Friday for us on the set work; it was a performance of real stature, full of confidence and positive direction, and it was all mapped out in clear precise fashion. There was some unease in places but overall the sense of style and elegance, especially in the middle movement was excellent and it seemed that this could well be the start of a determined effort to regain their title.
Come the Saturday and 'Harrison's Dream' though and it was something else indeed. To put it bluntly, we have never heard a performance of the Peter Graham work quite like it before (or again perhaps) – it was either way too fast or way to slow and seemed to be one of the most self indulgent pieces of direction we have ever seen or heard. The judges liked it and we didn't, but as we have said a thousand times before, it was their opinion that counted. It didn't rob them of second place though and they will be a very pleased band (and MD) for that we are sure.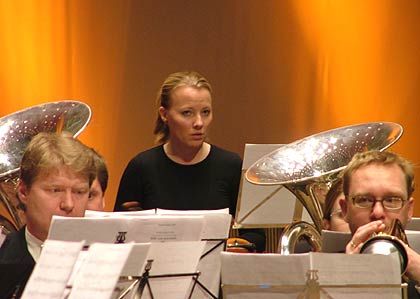 Sandefjord Brass Symposium
Another very pleased band would have to be Sandefjord Brass Symposium directed by Dr Robert Childs. They produced two very fine accounts of themselves to come a well deserved third overall with a tight and precise set work that featured some excellent euphonium playing from Margaret Antrobus, and some equally fine lower bass sounds. As they performed they grew in confidence and by the end their tails were certainly up, with their smiling faces as they took the applause a sure sign that they were well pleased with their efforts.
They also carried this on to the own choice selection of 'St. Magnus' which MD knew so very well. This was another excellent rendition, full of those hallmarks of precision and detail whilst it also benefited from some excellent individual contributions from the soprano, euphoniuma and the flugel horn. Just a few little blips and blobs robbed them of a few points, but it was another excellent show and when we spoke to their players in the bar afterwards they seemed just as delighted with their result as did the MD.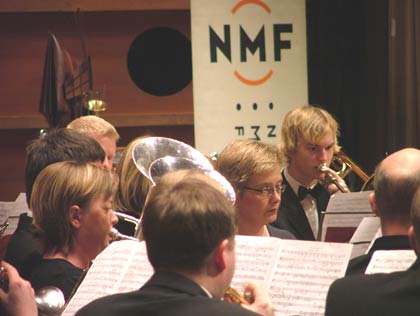 Jaren Hornmusikkforening
With Stavanger out for the way in the judges' opinion, fourth place was awarded with a great deal of surprise to Jaren Hornmusikkforening under the very elegant direction of Helge Haukas. This for us was the result of two performances of great artistic merit from the MD, but which was more style than substance from his band.
That may sound harsh, but both on the set work and the own choice selection of 'Ballet for Band' the obvious clarity of the musical picture that was trying to be created with such space and time from the MD was continually let down by poor intonation, costly individual errors and imprecise ensemble work. There was a lovely lightness of touch to much of what the MD was trying to portray, especially in the own choice work where the bass duet had a real ballet feel and the ensemble sound was kept controlled, but you couldn't ignore the continual series of basic errors that were made. The same could also be said of the set work where the style was right (a true funky feel in fact) but the delivery was a touch 'funked up' in places as well.
We think Helge Haukas is a truly great brass conductor, who deserves even greater recognition that he gets, but on this occasion he got an early Christmas, Birthday and St. Valentines present rolled into one for sure.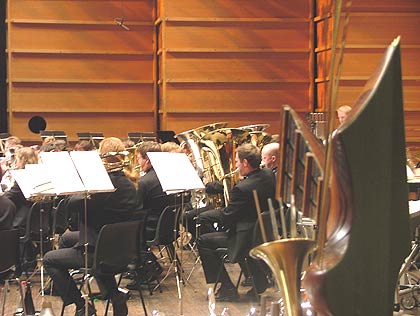 Krohnengen Brass Band
That result meant that Krohnengen conducted by Ray Farr had to be content with fifth place after they delivered two powerful and very persuasive accounts of the set work and of their own choice selection, '…Dove Descending' – the latter being a very good effort indeed. Ray Farr gave everything time and space and his players responded in kind – although there was a sense that they were blowing their Norwegian Jacobs off in a few too many places in the 'Riffs and Interludes'.
Come the own choice and once more Ray Farr let the music unfold in splendid fashion. It all resulted in a very fine account (enhanced by an excellent bit of euph playing in the bird song section) and he and his band could well feel a little bit disappointed that overall it only resulted in fifth place and not a little higher. A huge finish very nearly brought the house down and the standing ovation from many parts of the hall was well deserved indeed.
That left the bands who occupied the midfield places – Molde, and Ila, and both had a great deal to commend about their performances over the two days.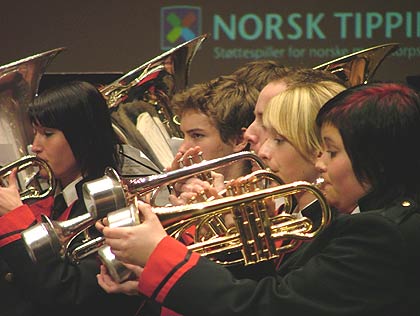 Molde Brass Band: Cornet section
Molde were directed with a great deal of authority by Nigel Boddice, who produced two well shaped accounts of the set work and the own choice selection of 'Contest Music'. The latter selection may have in fact been a bit introspective a choice, as the Aagaard-Nilsen work itself derives a great deal of inspiration from the Heaton masterwork and the familiar opening statements from the timpani and cornets.
On the Friday Molde were neat and tidy – all things in the right place, and although they lacked the depth of sound of some of the bigger more mature bands, they still produced a warm and well balanced tone throughout the dynamic range. They were also helped by some fine individual playing as well, with Martin Armstrong of Fodens Richardson playing in his very best Norwegian style on solo horn. The result was a quality workmanlike performance that set them up for the Saturday in fine style.
Here 'Contest Music' very nearly came off, but the lack of sheer depth to the sound of the band just meant in comparison it was a middleweight up against a few big old heavyweight brusiers. There was some fine individual playing on show again (the solo cornet produced a wonderful top C# and slur down after the pause), whilst the intricacies of the detail in the final movement were very evident. Nigel Boddice had certainly done his homework for the weekend and he was rewarded with 7th place overall – just about right.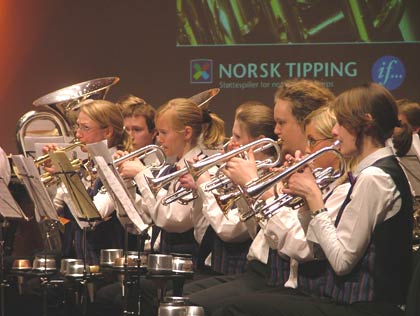 Ila Brass Band: Cornet section
Talking of making a fine impression, Cathrine Winnes certainly did that with Ila Brass Band over the two days. She was in fact the first ever woman to conduct in the Elite Section since the contest begun in 1979, which was something of a surprise give that in most of the bands here there percentage of female players is as high as 60 or 70%. Cathrine was therefore breaking new ground as a conductor, and apart from her looking fantastically good (not even a slim line Nicholas Childs was in the same league looks wise), she also displayed a fine conducting technique (left handed as well).
This was very precise baton work indeed – fluent and clear and it made her very young band grow in confidence on the set work in particular. Her background is in wind bands not brass and she evidently felt at home with a modern score as she made sure every little entry was earmarked and responded to. The playing from Ila never quite reached the levels of the best band here, but it was still good nonetheless, and this was further enhanced by the performance of their own choice selection, 'Montreux Wind Dances'.
It was great to hear this fine work again and to see a conductor with such control over the intricate beat patterns it contains. The band responded as well and it all built with a real sense of style and menace to the huge climaxes in the third movement. The youthfulness of the band however didn't mean that their enthusiasm overtook their musicianship and the result was a performance of merit and stature.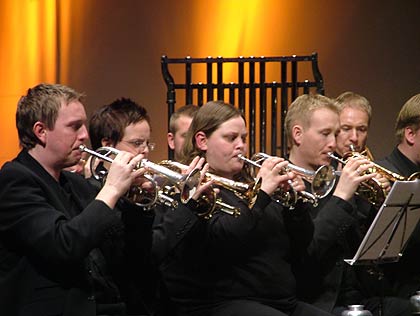 Oslofjord Brass: Cornet section
That just left the two bands in ninth and tenth places here, with Oslofjord and Garry Cutt occupying the penultimate placing after two varying performances over the two days. Oslo never quite felt at home on the set work, it was variable on quality throughout, but whatever the Norwegian for Curate's egg is, then this was it, as every time things seemed to be going very well, there were too many little errors that were to prove costly. The judges thought so as well and placed them last on the opening day (although that was a little harsh for us), and it left them much to do 24 hours or so later.
Their choice of 'Paganini Variations' may have seemed a little dated compared to others, but Garry Cutt knows this score very well indeed and he brought out some wonderful playing from the band. Some of the individual playing though was perhaps a touch over enthusiastic in places (a Bb tuba in particular must have been on a red meat only diet for the week before the contest) and it robbed the overall quality from a typical Garry Cutt reading of a score – full of classy touches and sensible approaches.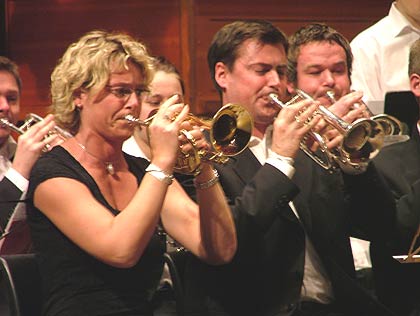 Sola Brass Band: Cornet section
The final placing went to Sola Brass who over the two days didn't quite do enough to impress the judges as they certainly impressed many others around the hall.
The opening set work saw them produce a very clear and deliberate approach to the technical challenges, which meant that the Heaton elements of the music were clearly defined, but also meant that the 'funk' element never got going. The middle movement was very well handled, with perhaps the best bell effect of the day (when others went for everything from bells suspended on contraptions that look like the scaffold at Pentonville Gaol to bells semi submerged in anti freeze or oil). It was a slightly different approach for sure, but on this occasion it very nearly worked.
That left them with their own choice of Philip Sparke's rather under-rated 'Between the Moon and Mexico' which deserves a few more airings we think. Sola just about captured the hugely differing styles that the composers painted in his score, but little errors robbed them once more (as did a soprano player who spent the whole piece chastising himself for missing a just a couple of notes). It meant that it didn't quite register as it should have, although we once more thought that it may have deserved a little bit higher in the overall standings.
That was that though for the Elite Section here – a section that contained some of the very best brass playing you are likely to hear all year, but also some that wasn't quite up to the mark.
Eikanger were immense – and took the title in a fashion that was every bit as good as it could have been. Over the two days their performances were close to the epic on ambition and delivery and there was no one in the hall who would have disagreed with the announcement of them in first place. David King took time to tell a number of the Eikanger players of his opinion that he felt they were clear and deserved winners, whilst he himself was rather more philosophical about his result – 'That's contesting' he told 4BR.
Contesting indeed, and Eikanger have proved once more that when they get all the ingredients right – approach, delivery and direction then they are nigh on impossible to beat on the contest stage. They owe Dr Childs a great deal this weekend for showing them that winning contests is more than just playing difficult music very well. His was the missing link from 2004, but when he came and showed them what they were missing they just literally stormed to victory.
Iwan Fox