2005 Norwegian Championships - Postcard from Bergen
15-Feb-2005
We take a bit of a sideways look at the 2005 Norwegian Championships, when bells were played and bodies pushed into all shapes and sizes of jumpers and uniforms to try and win the titles on offer.
---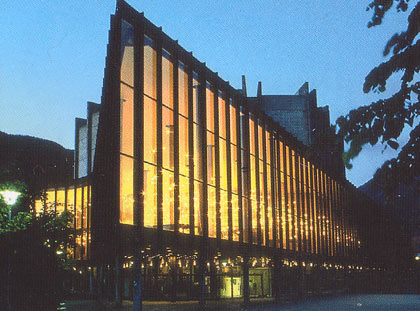 Contest venue: Grieghallen, Bergen
Norway is one of those places that you can't but help but like. It has a rugged beauty that has a familiarity about it that reminds you of home – all mountains and damp weather, whilst the natives speak a form of the English language that even those of us with strange accents can readily understand.
The Norwegians enjoy football (although for some strange reason there is a very big following for Stoke City), enjoy in partaking of a few beers (although it is prohibitively expensive by UK standards) and enjoy their brass banding: All three of these loves come together once a year in the port city of Bergen when the brass band community of the country descends on the superb Grieg Hall to battle it out at the Norwegian National Championships.
This year a record 64 bands took part, with over 2200 players of all ages, sizes and abilities making the trip to see if they and their bands could claim one of the five National titles that were up for grabs.
The familiarity of the brass banding scene here is such that they have copied many of the best virtues of the British system, but they have also taken the very sensible step of chucking away the antiquated and amateur to leave a very well run, highly professional organisation that has the benefit of leadership that is forward looking in its approach to not only contesting, but also in developing future generations of brass band players.
Ulf E. Rosenberg is the President of the Norwegian Band Federation, and he informed 4BR that the organisation now has over 1700 member bands and 70,000 individual members which are looked after by 40 full time members of staff, many of whom work in areas throughout the country in developing community based brass bands. It all has to be paid for of course, but why not? Players pay a membership fee to the National organisation, who in turn look after not only their interests, but those of the bands they belong to. It is brass banding in the 21st century in a country that has 21st ideas of how to project itself to the wider world.
All that is well and good, but what about the weekend of contesting then?
As always, the Championships were excellently run; the bands are well managed, the facilities are excellent, the two halls are as good as any and 'the press' are fed and watered. The standard of playing?
Very good in the Elite Section for sure – although the top three or four bands could very easily make a mark in a contest such as the British Open, the rest wouldn't be too far behind. Below the top standard it got a little more variable, with the most telling problem being that ambition rather outstretched ability in the selection of own choice works many bands played.
Eikanger of course had no such problems and remain the 'Black Dyke' of the fjords – except they don't wear anything as good as the Dyke uniform. There is a bit of an air about them for sure, but you don't become the best by being a shrinking violet do you? They are supremely well run (they have a committee structure that would put the Welsh Rugby Union to shame), have the pick of the very best players in the land all queuing up to play for them (Martin Winter is third man down for goodness sake) and when they hit top form are as good as any brass band in the world.
They are also a band that has more than a few characters in it, although it was quite alarming to see two look-alikes from 'Little Britain' making an appearance in the percussion section. Just have a look and see what you think?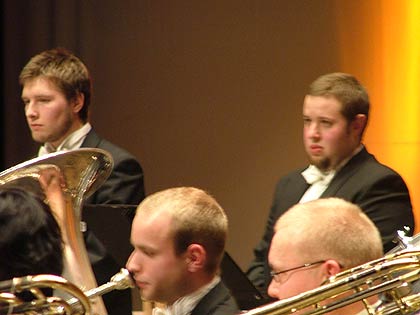 Eikanger Percussionists: Little Britain look-alikes
The Norwegian banding public do love them though and they could have remained on stage for an hour after they had played on the Friday and Saturday taking the applause from the packed hall.
Even the MD had time to run off stage (Dr Childs has now got into the habit of shooting off stage right after a performance – perhaps he feels he needs to do a bit more exercise), do a three mile run around the harbour and still return to milk the clapping. They did deserve it.
Perhaps it was the way in which they more than any other band made the most of the tubular bells that were played in the second movement of the set work, Torstein Aagaard- Nilsen's 'Riffs and Interludes'. This is a corker of a piece, which incorporated synthesized echoes of the playing in the middle movement to portray the distant echoes from far flung fjords who are holding a pop concert featuring an American funk group that perhaps no one as ever heard of called, 'The Tower of Power' (nice eh?).
Some went for bells dipped in water buckets (a bit like 'Harrison's Dream') whilst others opted for bigger buckets filled with oil with the bells hit with rubber mallets. Eikanger topped the lot with two specially constructed scaffolds (which looked like the hanging gibbets in old prisons) that held the singular tubular bells on elasticised rubber ropes. The bells were then hit by the percussionist standing on a chair and simultaneously dipped into a very large bucket of car anti freeze. It was mightily impressive to look at, although to tell you the truth you couldn't hear any difference ten yards from the stage.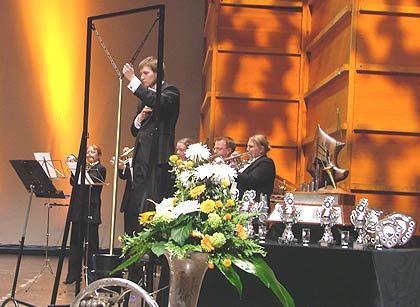 Eikanger: The Scaffold
Making an impression conducting wise was certainly Helge Haukas who is perhaps the most elegantly relaxed MD we have ever seen in front of a band – he even wiggled his backside in the funky sections of the test piece in a non embarrassing way. Not bad for a bloke we think is perhaps a touch past 45.
Also, Cathrine Winnes certainly won many admirers with her undoubted style with the baton and with her fashion sense. Her looks didn't harm her either, but that would be shallow of us to say that was the only thing that impressed us about her. But we are shallow – even though she did conduct in a quite thrilling fashion and got her very young band to play two very difficult pieces very well.
Elsewhere things got a bit more variable – what with the decision to use three not particularly inspired (or well thought out for that matter) judges with backgrounds that wouldn't have instilled a great deal of confidence in performers in the UK for instance. The Norwegians should be applauded for their forward thinking in the adjudication stakes (there was open judging in the Third and Fourth Sections this year), but this year they got it wrong in the Elite Section – big style.
Talking of style though, the Norwegians are a bit of a funny lot when it comes to what to wear on stage. The closest we came to seeing a band in what we would term 'traditional' brass band jackets was with Manger, whilst the rest verged between the sublime and the not so sublime.
There is a penchant for wearing black in Norway it seems, but not always by itself. Sola Brass took to the stage with their female players in perhaps the most elegant dresses you could imagine you could play a brass instrument in, but others went of a bit of a wacky look with added splashes of colour.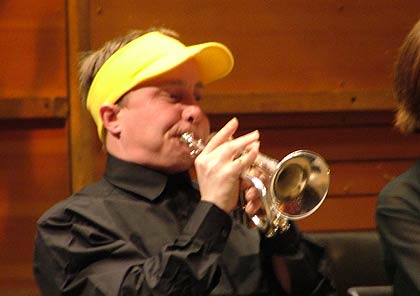 Tromso Band: Soprano player in yellow cap
One band wore yellow (including a soprano player with a peaked yellow tennis cap), whilst another a quite shocking red and black check and a couple of female players from another band wore the type of red shoes my granny used to say only women of the night would be comfortable in. The champions (a nameless band in the Fourth Section) though wore the type of sweaters only their mothers could have knitted for them.
This may be frowned upon by the traditionalists in the UK, but to tell you the truth is brings a smile to face and for a much more relaxed atmosphere at a contest. You don't have to worry about your uniform holder or whether or not to keep your dickey-bow on all day, do you now?
The Fourth Section itself was a real hoot. The bands had been asked to prepare a short three minute introduction about themselves so that the compere could tell the audience a little about the band and its players during the time it took them to set up on stage. It was a fantastic idea as the compere (who seemed to be a bit of an entertainer himself) then did his best Norwegian Jimmy Tarbuck impression and got the audience literally rolling in the isles as he read from the prepared text. The band started to laugh, the audience laughed their socks off, and even the judges broke into a chuckle. Everyone was then suitably relaxed and off the bands went with their performances. Great stuff. Don't think it would happen here, but it was a fantastic idea in Bergen.
With the contesting all over the Norwegians also love to have a party and on Saturday night it was all hands to the pumps as things got into full swing. Just the one complaint though. Is pushing past people as if it were a game of ice hockey some sort of National sport here?
Doesn't matter if it is a crowded room full of people, people just barge through like an All Blacks prop forward – no sorry, no excuse me, no nothing. It must be a cultural thing, even Professor King had beer knocked all over him at the party without even a blink of an eye from his assailant! It is very strange behaviour from normally so cultured a people.
We had a great time though despite all this, and it is nice to report that the pioneering spirit of 4BR has also reached other European countries, with a trio of delightful Danes joining 4BR all weekend to give live updated reports on their brass band website [www.brassforum.dk]. Bo, Lars and Lizbeth were great company and were great ambassadors from Denmark – they even brought their own beer to drink and share with us! Champion.
It rounded off a great weekend of banding, and who can ask for more. We will definitely be back in 2006.