2005 Yeovil Entertainment Contest - Retrospective
7-Feb-2005
4BR was there all day (and missed the great Welsh rugby win!) at Yeovil and casts its eye back over the 13 performances to see which ones caught our fancy and which ones caught Colin Hardy's.
---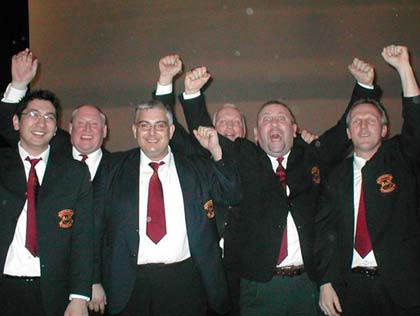 Aveley & Newham: Celebrating their win
Will the result of the 2005 Yeovil Entertainment Contest held at the Octagon Theatre in rural Somerset this weekend have any great significance come the end of year? Maybe not, but at the start of February and just a few weeks from the beginning of the Regional Championships, there are a few bands who will have taken a great deal from their performances here, whilst others will have left here knowing that the next few weeks could well mean that a great deal of hard work and even harder thinking is in order.
Aveley and Newham it seems will line up in Stevenage in a few weeks time with their confidence at bursting point after their win here, but will it mean an end to their recent Regionals misery? One thing is for sure – it couldn't have done them any harm.
Nigel Taken and his band won here, primarily because on a day when no one band really caught the contest by the scruff of the neck and shook a clear cut victory from it, they put in a steady, no nonsense consistent show that gave them the £2000 top prize, by something approaching musical stealth. It was impressively unimpressive in a strange way as there was very little indeed to fault in their 25-minute concert programme, yet it was one that wouldn't have given you any greater idea about how well this band will do in the next month let alone the next year ahead.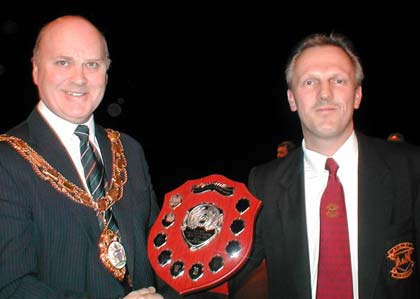 Aveley & Newham: Collecting their first prize
That said, you can only beat the bands that you come up against, although on this evidence those that were not here this year may well not be shaking too much in their contest boots. Aveley were good, but not outstanding value for their win – but good enough is good enough, and you had the sense that there was plenty of room for further significant improvement ahead of Stevenage and 'Rienzi' for them. There seems to be an impressive momentum about them though at present which could well flourish come the Areas and beyond.
Adjudicator Colin Hardy summed up what many seasoned observers felt at the end of the contest when he told us; "It was an enjoyable day for me, and I was pleased with the standard of playing from all the bands. The quality did vary in some performances, but overall it was good with the winners in particular producing a balanced and consistent high quality programme. The other prize winners also gave very good performances, but the winners never let their standard fall away, and that gave them the edge for me."
Not quite an absolute humdinger of an appraisal but a realistic one nonetheless and one that just about hit the nail on the head. Perhaps Colin was being a bit diplomatic with reference to some performances, but he wasn't wrong when it came to his assessment of the winners – steady, consistent, nothing really to fault. Just the right ingredients to win a contest like this in fact.
Their winning programme highlighted the fact even more. A neatly controlled 'Salsa Pa'Gosa' opened things brightly with a controlled precision (and some neat dancing from the percussion team in particular), which was at least a couple of notches up from the same opening in Butlins a few weeks ago, when their presentation skills far exceeded their performance output. Andrew Bannister then showed his undoubted quality in a powerful rendition of 'Gethsemane' from 'Jesus Christ Superstar' which was just a bit pedantic tempo wise and suffered with some slight tuning problems to start, before they produced a very slick and enjoyable comedy slot with a reprise of their percussion ensemble 'Xylophonia'. This was very well delivered, played up to the hilt and backed with a cracking bit of solo playing on the wood sticks.
'Doyle's Lament' from 'Call of the Cossacks' then followed (and was once more a substantial improvement on Skegness) before a substantive finisher in the form of James Curnow's 'A Psalm of Praise', which unlike their choice of the finale from 'Dances and Arias' at Butlins, had a true beginning, middle and end. The final result; a solid no nonsense 25 minutes of entertainment, not quite inspired maybe, but well rehearsed, intelligently chosen and delivered with a sense of confidence. If only others could have done the same.
Band Chairman and flugel player, Dave Thomas told 4BR that the decision to make amendments to their Butlins programme was perhaps the key to their success this year. "We were a little disappointed by the standard of our playing at Butlins, which didn't really match our presentation," he said. "Nigel felt we needed something a little more substantial to finish things off and so he opted for 'Psalm of Praise', which was just what was needed. Everyone is delighted that we have started the year off so well and it gives us a massive boost of confidence ahead of the Area Championships where we hope to regain the Regional title for the first time in four years." If they carry on like this, Stevenage could well see the band enjoying themselves once more.
Behind Aveley came the rest in varying degrees of competence and at this point it would be better for 4BR to quite clearly state what our finishing order was after listening to all 13 bands on the day.
We thought the winners by a very short head were Flowers under the direction of Philip Harper, with Camborne a point behind and with Aveley and Newham just a short neck behind them both in third. Cwmaman we had down for fourth, and for us, these were the small group of bands who we thought were a good distance ahead of the rest.
After that we went for Staffordshire in fifth, Tongwynlais in sixth, Bournemouth in seventh, Bodmin in eighth, SWT Woodfalls in ninth and St. Austell in tenth, with this group were very much of a muchness and which could have been placed in just about any order according to personal preference. They were though a good degree behind that top tier. Finally, Harrogate in eleventh, City of Bristol in twelfth and Kidlington in thirteenth, with these three bands not quite coming up to scratch on the day.
It was of course, substantially different to the view of Colin Hardy, and his was the only opinion that counted, but that's the entertainment contests for you. One man poison is another mans…. you get the meaning.
Flowers themselves though were not on the type of form that immediately had you marking them down as unbeatable. They are of course very good at the entertainment thing, but on this occasion they certainly didn't play to expectations, although when they did play to form in parts it was a class above anything else heard on the day. The problem was that it was also interspersed with too many individual and ensemble errors that started to grate the more you heard them. Their penchant for the salsa inspired numbers is also starting to grate a bit as well – however well they do it, as is the rather over obvious trick of producing a quick 'lets get an extra clap' number that invariably ends their programmes.
It wasn't vintage Flowers – too many mistakes and little blips even in the Barry Manilow inspired 'Copa Cabana' which old big nose himself would have been proud of. By the time the programme ended with the Fluff Freeman inspired 'Pop Pickers' 'Sound of the Swinging Cymbal' you sensed they just had enough class about them to hang on – but only just. To misquote old Bazza, 'Music and Passion was not always the fashion" on this occasion.
Still it was enough to beat Camborne, who we thought were well worth second place on the day with a very robust performance off the number 1 draw for the second year running. Perhaps it was because the hall was not full, or because Colin Hardy perhaps forgotten their contribution come the end of a long day, but 6th place was certainly not deserved for us.
It was a strong and powerfully constructed programme that featured perhaps the one outstanding soloist of the day in the form of Mark Letcher on tenor horn performing fabulously well the old Barbara Striesand thumper, "Evergreen." It was an immensely classy performance, although the soloist should have faced the audience rather than play shoulder to shoulder with the solo cornet. Presentation counts in this game, and on this occasion it certainly didn't match some flawless playing. He was unlucky not to have won the soloist award though. That was the centrepiece of a very good account from the band, which perhaps only lacked a real piece of quiet playing for us to have pushed them to our top spot. Coin Hardy stated that he felt that many bands didn't have enough dynamic contrast for him, but even with that in mind, we couldn't quite see how they came so low.
With Aveley already out of the way, the next band to feature highly was the Welsh contingent from Cwmaman Institute who produced a well constructed 25 minutes of entertainment that caught the ear of the judge and many in the hall. Steve Howells on trombone won the 'Best Soloist' prize for his effective account of 'Georgia on My Mind' that had hallmarks of control and understated style, whilst the bands MD, Jonathan Corry produced a fine bit of Mexican trumpet playing on 'The Man from La Mancha'.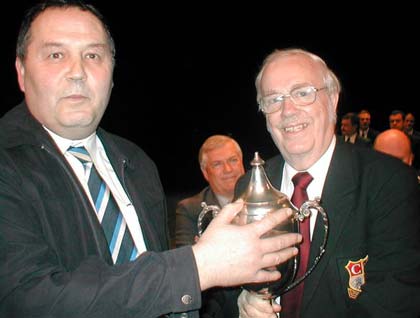 Cwmaman: Third prize
Having you own MD to perform a solo spot may seem a bit conceited to some, but if it was good enough for James Watson at Black Dyke why not young Johnny Boy at Cwmaman. No problems with the rules either, as he was also signed as a player and the band took to the stage with 24 brass players, although we would question why he had to don a sombrero and a ghastly rather feminine poncho. With an inspired finisher in the form of 'Glorifico Aeternum' by Dean Jones it rounded off a good bit of playing from the band which saw them take home the eventual third prize of £700 and give them a huge confidence boost ahead of the Welsh Regionals in Swansea later next month.
That was the top four for us, but not for Colin Hardy in the box, who surprisingly for us at least plumbed for a very muscular account from SWT Woodfalls to take the runners up spot – we had them down as 9th.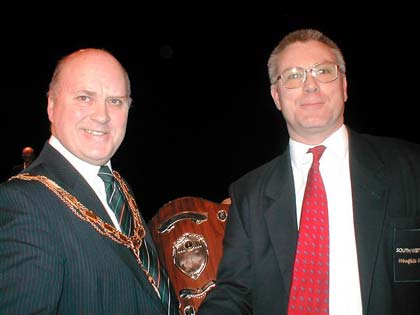 SWT Woodfalls: Second prize
Why the difference of opinion? Personal preference of course, and as we have said, Colin's was the opinion that counted, but for the life of us here, we couldn't understand why. SWT Woodfalls are a good band for sure (they showed that splendidly at the Masters last year) but on this occasion they blew, and blew and blew some more until it started to hurt your ears.
The theme to their programme centred around the antics of "George" their errant percussionist who was stranded aboard the 'Aurora' luxury cruise ship marooned in Southampton docks (topical at least, but in reality not very funny) and from the start it was if they decided to make sure that anyone left in Southampton was not going to miss a note of what they played. The opening 'Arnhem' march could have been heard in Belgium (especially the soprano player, who is a very fine player, but on this occasion just blew his Jacobs off), whilst the euphonium solo, the usually serene 'Meditation' from 'Thais' was loud enough to induce a migraine. An even louder whip through an 'Armenian Fire Dance' and a rendition of ''mid all the traffic' which certainly caught the band out dynamic wise was then followed by 'Galaxies' by Carl Davies which rounded things off just as they started – very loudly.
We thought it a particularly unintelligent performance – but then, that was just our opinion, and ours didn't count did it. £1000 and two fingers up to 4BR then - SWT Woodfalls won't be too worried by what we think will they.
The bands that made up the eventual middle of the field all gave performances that varied in quality between the very good and the rather under whelming.
Staffordshire gave as good as they could (even with just the three on the top end) and it was certainly a well played programme of a fairly exotic choice from the MD, David Morgan. The opening march was well handled, but a not too secure solo spot from the usually very good Mark Glover was then followed by a real old pearler in the form of 'El Relicario' – an 'Amparito Roca' cast off of a Paso Doble in ¾ time no less which sounded a touch like a bloke with a wooden leg dancing on a formica table top.

Still, by the time they produced a clever bit of playing in their finale from the pen of Richard Philips entitled, 'Joy, Peace and Happiness' (and the best bit of kit playing all day) they showed that the form of 2004 was certainly still there and ready to prosper come the Areas.
Much the same could be said of Tongwynlais Temperance as well, with an eclectic choice of programme that was let down by too many individual errors and a couple of strange decisions from performers and MD alike. Martyn Patterson on euphonium chose to play the old standard 'Endearing Young Charms' in a manner that would have had the great Stanley Boddington spinning in his grave faster than a 40 degree wool wash in a Zanussi. Why the need to try and update it in this manner was beyond us and the awful attempt at humour (players taking out a couple of newspapers to read as the soloist held onto an overlong note) made the teeth curl. Fine player Mr Patterson – awful comic though.
Add to that the rather illogical reasoning behind wearing sombreros for the Duke Ellington, North African inspired 'Caravan' and you wondered if this was an attempt at ironic humour from the MD and band. Whatever it was, it didn't work and as a result a good band rather wasted its opportunity to impress.
Much the same can also be said of Bournemouth Concert directed by the irrepressible Dave Hayward, who conducted with an energy that made you wonder at times what he had drunk in his tea. Still it opened well with the 'Goldcrest' march and maintained the brio and tempo levels right through to the end of the rather over ambitious 'Finale' from Dvorak's '8th Symphony'. In between there wee a few flat moments though, with a rather disappointing soprano solo from the usually impeccable James Cooper and an over long 'All that Jazz' from 'Chicago'. 'Im Krapfenwald'l' though worked a treat – complete with shooting of the solo cuckoo player and overall this was a well drilled band just a bit too heavy on the dynamics from start to finish. 5th place from Colin and 7th from us was about right.
That left Bodmin from that middle pack and there was almost a feeling of 'Last Night of the Proms' about their performance that started for yet another year with the march 'The Waltonian'. Next up was 'Ol' Man River', so after five minutes it was as if you had been transported back in time, and this was further enhanced by the choice of the final movement of 'Suite Gothique' no less to round off their programme. Ian McElligott though had worked out his cunning plan well, and with the feature of David Johnson on good form on the demanding euph solo, 'Zigeunerweizen' it meant that the band performed well within their limited ambitions. Bodmin have been through the mill of late, so it was a clever ploy but one that was rewarded with 11th place – we had them 8th.
St. Austell are certainly moving in the right direction, and once again they showed that if they can hold onto their talented players they will certainly make more of a mark here each year. Keeping hold of young talented players though is hard.
This year David Loukes put together a rather traditional programme that featured everything from Elgar to Percy Fletcher and even a bit of Beethoven thrown in for good measure. By and large it worked well – Colin put them down for 12th, we had them 10th, but it perhaps needed a bit more zip to make a mark. Rachel Whittaker once again showed her potential as a fine soprano player with the best of the three accounts of 'Demelza' from the soprano players on the day, whilst the bands best ensemble playing certainly came of the Beethoven 'Pathetique' Piano Sonata which was quite excellent from the quartet of horns and once more the little gem on sop. It just failed to sparkle though at the end with the old war horse that is the 'Heroic March' from 'Epic Symphony' showing its age rather. Still plenty to admire and next year they will surely return stronger again for sure.
The final three bands to come in the bottom three for us, but not for Colin Hardy were Harrogate, Kidlington and City of Bristol, all of whom weren't really up to scratch on the day.
Kidlington under Catherine Underwood produced a very individual 25 minutes of music that featured a bit of Arturo Sandoval in his 'Latin Train' suite of three jazz numbers to open and which ended with the final two movements of 'Year of The Dragon'. In between came a fine bluffers account of Monti's 'Czardas' on the Eb tuba and a bit more jazz on 'Opus 1'. Different to say the least, as was the sight of the bass trombone player picking up the mallets to play the tubular bells in the last movement of the Sparke only for him not once, but twice, to forget to put his foot to release the dampeners on the bells so that it sounded as if he was hitting the bumper of a 1966 Ford Cortina with a bit of lead piping. Still, Colin quite liked it and placed them 8th, we had them 13th.
Harrogate under David Lancaster tried hard, but chose a rather introspective programme that didn't quite capture the attention of the audience. After a neat 'Africa' start complete with all the bells and whistles and a nice bit of cornet playing on 'Hello Dolly' from Robert Islley they then went on a long (and we mean long) trip on the 'Orient Express' which was so long in fact that you had time to fit in Agatha Christie's murder in it in full. It was a rather strange choice. A nice bit of hymn playing then led into their finale, 'Hallelujah Parade' by Kevin Norbury which was certainly different and brought things to a close. Different indeed. 9th from Colin 11th from us.
That just left City of Bristol, who propped up the table after a performance that didn't quite get going from the word go. It was a well chosen programme from the MD, Andrew Jones, but his players rather went into their shells and sounded nervous and as a result rather lack lustre from start to finish. The opener from 'La Perie' was fine but thereafter it all fell away somewhat, and even a wholesome attempt at 'Shine As the Light' couldn't hide the fact that they had under performed. We had them 12th, Colin 13th and last.
That was it then for another year, with Flowers denied their hat trick of wins, and Aveley and Newham denied the chance to show off the Chris Palmer Shield after the holders forgot to bring it back to the contest with them. That was a real shame, as the organisers of this excellent contest certainly deserved a bit better from the holders. It was a very enjoyable day though overall, even if the playing wasn't uniformly in the highest class throughout. Philip Hunt was a quite excellent compere, whilst the organisation from Christine Buckley was first rate and couldn't be faulted. The auditorium was full all day just about and even the overpriced baguettes were well worth the money.
Aveley and Newhan though made the long journey back to London (144 miles according to the programme) happy and contented with another first prize and a huge boost to their confidence. This could well be the start of a very important and hopefully successful year for the Londoners and they may be able to look back in December and say it all started here.
Iwan Fox