Keeping Brass Alive in 2005 - National Brass Band Week: 20-29 May 2005
4-Feb-2005
The Scottish Brass Band Association's influential President, ALAN MCLAREN, invites us to look outward as he introduces the concept of National Brass Band Week.
---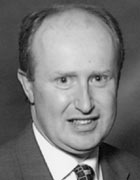 As we enter a new year, the focus in bandrooms up and down the country is firmly on one thing, the forthcoming series of Regional qualifying events in the National Brass Band Championships. Whilst administrators finalise their arrangements for the contests, the registries experience their busiest time of the year. The band media is, as always, full of news regarding star players moving from band to band and the appointments and departures of conductors.
Soon this will be followed by reports and results from the contests themselves. Bands will mull over the results and then turn their collective attention to the next contest. And so it goes on, the seemingly never ending cycle of the world of contesting brass bands. Meanwhile the world outside knows little or nothing of our triumphs and disasters and cares even less.
Those of us within the world of brass bands know all about their important position in the cultural and musical heritage of the United Kingdom, the almost unbelievably high technical and artistic standards of our top bands, the fact that bands are active in hundreds of communities up and down the country with many thousands of players, the contribution bands make in the field of music education and the important role that our bands play in the lives of their own local communities.
Those outside our little private world have no knowledge of any of this. The arts establishment doesn't treat us too seriously. Television regards us as only suitable for the occasional appearance on Songs of Praise, or as the band playing in the background at the local fête in the latest episode of Midsomer Murders. No doubt as a direct result of the lack of media interest, commercial sponsors see little in the way of exposure as likely to come their way from an involvement with bands and band events. All of this means that we are essentially invisible as far as the general public is concerned.
Being in brass bands is a bit like being part of a secret society. Those of us on the inside know all about the bands, the players, the conductors, the adjudicators, the repertoire, the composers and the contest results, but for everyone else they may as well not exist. Little wonder our audiences are dwindling away and that even our major events are now struggling to fill seats. Band contests are fast becoming a self-indulgent pastime, of interest only to those directly involved and with the majority of even those participants having little interest in forming part of the audience to listen to anyone else.
The question we must now all ask ourselves is what, if anything, are we going to do about it? Are we prepared to allow the band movement we all claim to hold so dear to dwindle away, both in terms of numbers of participants and in our cultural and musical relevance? If the answer to that last question is no, then the entire brass band movement needs to focus upon what its two main aims must be in the years ahead – firstly to get more people playing in brass bands and, secondly, to get more people listening to brass bands.
This, inevitably, means less focus on contesting activities. Hopefully, however, everyone will recognise that, for band contesting to flourish in the future, it is essential to maximise the number of players available to bands and the general level of interest in brass bands and their music. If we can increase the number of people with an interest in listening to brass bands, then that must make contests and the concerts that are often run alongside to become rather more viable propositions for promoters and also rather more attractive events for potential sponsors. In essence, if band contesting is to have any hope of a bright future, it is essential for us all to divert some of our time and effort towards generating greater interest in our movement from those currently outside the banding community.
There is no time to be lost. For far too long we have all been guilty of talking about the need to do something to arrest the decline of the brass band movement, whilst waiting for someone else to take the necessary action. Fortunately, there is now recognition, in some quarters at least, of the need for action. A major effort is to begin immediately with the launch of a campaign, to run throughout 2005, to bring our bands and our music to the attention of a much wider cross-section of the British public. The aim is to increase audiences and achieve an appreciation of brass bands and their role in society, art and culture.
This is something that every band across the country, whatever its status, size or standard, can and should be involved in. Whilst we all wish to see the famous names play a part in this initiative, what is really required here is mass participation, with contesting bands of every section, unregistered non-contesting bands, school and youth bands all having an equal part to play. Our aim will only be achieved with participation at all levels and in all parts of the country. For once, we all need to work together because only with that strength of common purpose will our goals be achieved.
The campaign, to be known as "Brass Alive in 2005", will be fronted by the two principal elements of the band media, British Bandsman, which is at the forefront of the published media, and 4barsrest.com, representing the electronic media.
Throughout the year, both British Bandsman and 4barsrest.com will seek to give this initiative prominence and, by keeping the campaign uppermost in the minds of band members over a prolonged period, hopefully every band will be encouraged to recognise the importance of the issue and do something to contribute.
The centrepiece of the campaign will be a National Brass Band Week, which will take place from 20-29 May 2005. The period is being stretched out to ten days to incorporate two full weekends. The Brass Band Week seeks to build upon the earlier initiative of the Scottish Association, which has operated such a week in Scotland throughout each of the last two years. As previously announced, following discussions with the Scottish Association, the British Federation of Brass Bands has already endorsed this concept being extended to the whole of the UK.
The idea of the National Brass Band Week is extremely simple. Every band throughout the country is requested to arrange at least one public event to take place at some point between 20 and 29 May. The event could be a concert, a performance in a public place such as a shopping centre or a park, a Songs of Praise evening in a local church, an open rehearsal, a workshop or a school visit. The event could involve just one band or could see two or more bands joining forces. Static displays or small exhibitions in local libraries or even a shop window in a local high street could also form part of the overall programme. The choice of what to do is entirely a matter for each individual band.
The beginning of the National Brass Band Week will coincide with this year's Whit Friday March contests. This is one of the few occasions when the brass band movement does already engage with the general public on a large scale and so what better way to kick off the week and our efforts to get our message across to the public at large.
Once each band has agreed the details of its event, they should post them FREE OF CHARGE using the 4barsrest.com classified facility.
All events, where details have been lodged by 1 May, will be included in a full programme to be incorporated in a special issue of British Bandsman on 14 May. Every event in National Brass Band Week will therefore receive free publicity on 4barsrest.com and in British Bandsman.
Once details of, hopefully, many hundreds of events have been received, appropriate information and press releases will be issued to the national media. Each participating band will be provided with a style press release providing general information on the band movement and the National Brass Band Week. Participating bands will then be able to add their own press release to this, together with details of their own event and pass it to appropriate local newspapers and local radio stations.
Co-operation between bands can obviously increase the potential impact of events in a particular local area. An example would be a number of neighbouring bands joining forces to promote their brass band week events in a particular area, perhaps with a joint press release or by sharing the cost of press advertising. Only too often the competitive nature of brass banding prevents co-operation with a typical reaction being "we don't talk to them because they signed a player from us in 1967".
If bands could accept the need to work together for the greater good and the benefits this could bring, our potential for achievement becomes much greater. An excellent example of what can be achieved is the local association formed only a few years ago in the Scottish Borders. A small group of bands realised what could be achieved on a joint basis and the results have been quite startling, with a well supported annual local contest, twice yearly regional youth workshops and an annual festival of brass across the region all now well established. It is surely no coincidence that two of the member bands, who not that long ago were unable to contest, have now both risen to 2nd Section level, each with thriving youth development programmes and one with a youth band that is now a 4th Section contesting band in its own right.
It is hoped that county and area associations will also become involved in helping to co-ordinate the promotion of events in their own areas and perhaps even in arranging 'flagship' events in larger centres of population. The Scottish Association, with the experience of two previous Scottish Brass Band weeks behind it, has already agreed to provide all Scottish bands taking part in National Brass Band Week with supplies of promotional flyers and promotional posters, and to provide each participating Scottish band with a £50 grant towards the cost of staging or promoting an event.
As an incentive to bands to participate in National Brass Band Week, British Bandsman is providing an award of £2,000, which will be presented to the band making, in the opinion of the judges, the most significant overall contribution to the week of events.
Bands will be invited to submit a report of their event after it takes place, with details of how the event was promoted, local press and media coverage obtained, the event itself and how the event has been used for the longer term benefit of the band. The only condition on the winning band receiving the prize is that it should be used to enhance its youth development work.
The National Brass Band Week is, however, only part of the overall campaign. We need every band to turn its attention, throughout the entire year, to attracting a much greater degree of local interest and, where possible, participation. Please forward details of suitable events during the remainder of the year and these will be publicised in BB and on 4BR. We all need to hear about events and initiatives being tried in other areas of the country, to share ideas and to learn from the experiences and successes of others.
We would particularly like to hear from people within our movement with professional expertise in areas such as advertising, marketing and presentation, who might be willing to provide advice in the form of an article or a set of guidance notes for publication. How often have we all witnessed the musical efforts of bands in concerts being undermined as a result of poor promotion or presentation of the event?
If you can help to advise bands in this area, please contact Kenneth Crookston, the editor of British Bandsman.
Lastly, although almost every band in the country has an urgent need to raise funds for its own survival, consider the benefits to be obtained from supporting charitable causes. Like almost every other area of British society, brass bands have responded magnificently to the need to raise funds for victims of the Asian tsunami disaster. This in turn has generated positive publicity for bands. For example, the series of BrassAid concerts organised by three brass band conductors in Scotland was featured on BBC Scotland's evening news programme.
Many bands regularly support charitable causes and it would do no harm to draw these efforts to the attention of a wider audience. Accordingly, in addition to recommending that each band or group of bands in any particular area adopts a particular charity to support during 2005, bands are requested to submit, via BB and 4barsrest.com, details of all sums raised for good causes during the year (including sums already raised for tsunami relief) with a view to publicising the total raised by the brass band movement as a whole. The end result, both in terms of the amount raised and the goodwill and exposure that might generate for our movement, could prove to be quite startling.
British Bandsman and 4barsrest.com are putting their resources into National Brass Band Week, which will provide potential benefits for every band that gets on board. With a concentrated effort for just over one week, multiplied by the hundreds of active bands throughout the country, we have the potential to put the brass band movement back in what we know is its rightful place in the public perception. We just need to let them all know about us and show them what we can achieve together.
Kenneth Crookston, Editor British Bandsman