2005 Butlins Mineworkers Championships - Retrospective: Third Section
26-Jan-2005
We look back at the Third Section where seven bands put on fine shows to try and win the £1200 top prize, and which also showed what others were missing.
---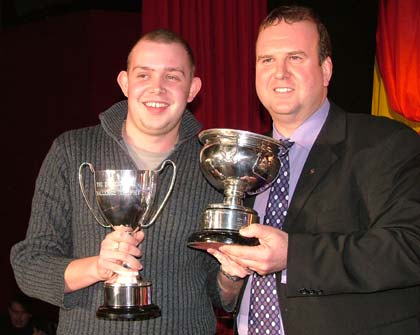 Whitwell Brass: Receiving the trophy
The Third Section bands who didn't make it to Skegness this year really missed out on the chance to make a name for themselves, certainly missed out in putting some hard earned cash into the coffers ahead of the forthcoming Regional Championships and certainly missed out on giving themselves a huge confidence boost into the bargain.
And if there are bands out there who still think it was a contest not worth making the effort to attend then they should take note of what Paul Wood, the Chairman of the winning band, Whitwell Brass had to say to us after the results were announced and after they had not only picked up a cheque for £1200, but also the DOSCO Challenge Trophy and the opportunity to come back next year to defend their title at the same prices they paid this year to stay on the camp.
"This is like a message from Heaven," he told 4BR in the doorway of the souvenir shop of the Reds Ballroom. "Butlins offers bands such as us the opportunity to come and compete in a great atmosphere, at a place where we can afford the prices of the accommodation and gives the families that we bring along lots of different entertainment to enjoy as well as the band competition itself. I cannot recommend it highly enough."
He certainly knew that his band had made the right decision, and in a contest that although only had just the seven competitors, still had enough quality about it to impress the adjudicator David Horsfield. He was taken by the standard, and although he felt the test piece certainly extended the bands, he also felt it gave them the opportunity to enjoy themselves in making the most out of one of the more descriptive scores for lower section bands around.
He was right as well, with all seven bands producing performances of merit that did vary in style and quality to an extent, never failed to make music. 'The Shipbuilders' is a great little mini suite that lasts just on nine minutes in length, but packed into that nine minutes are all the ingredients to test the bands to the full. Right from the opening bars when a fortissimo trombone reprise answers a full band forte entry there were little moments of detail and effect that tested players and conductors alike. One such moment comes in the third movement when there is a quite surreal section of about four bars when the band plays what seems to be a brass band version of Stevie Wonder's homage to Duke Ellington in "Sir Duke". When it was played together and with balance and precision of articulation it was a joy to behold, and on more than one occasion the bands did just that.
All four movements have real character and the vast majority of the bands really captured the essence of what was required, with the winners Whitwell conducted by Ken Vernon and second placed BMP Europe Ltd. Goodshaw in particular giving performances of real merit and style.
BMP Europe Ltd Goodshaw opened proceedings under the baton of David Ashworth, and after a sterling rendition of the Queen (she wasn't there again though) produced a well contrasted account that just had a few little intonation errors at times and a penchant for over accenting some of the more lively sections of writing. Still, it was a fine marker for the rest to follow and it contained some excellent cornet playing from the young lady on the end chair who unfortunately had to receive a hug and kiss from the MD for her efforts after the last note!
They were followed on to the stage by Phoenix West Midlands Brass conducted by David Bishop- Rowe, and they can count themselves more than a little unlucky not to have come higher up the prize list with a strong performance that opened well but just fell away towards the end. They had a very strong bass led sound, which sometimes over powered things, but 7th place was a little harsh.
Woodbridge Excelsior followed on and under Evan Howells gave a neat and very precise account of themselves and the score which benefited from some fine cornet work and a middle of the band sound that balanced the cornets and trombones well. They had a few too many unforced errors as they went along and the last movement just faltered a tad, but third place was a well deserved return.
I'm afraid we missed Hetton Silver who came on as band number 5 under Ken Wheatley, but our spy in the hall said that it was a decent performance that also just contained a few too many errors to make a mark higher up the prize list. Apologies to them though for not being able to make it to two places at the same time to listen to them.
Whitwell Brass were full value for their win though, and under Ken Vernon who has been working small miracles with them over the past few years they gave a performance that really did capture the essence of the score to a tee. They were a young band as well, with lots of talented youngsters on show, and the MD kept a tight rein on both tempo and dynamics that made them sound in control from start to finish. In the end there was little doubt that they were deserved winners, and congratulations to them for putting up such a good performance.
That left the final two bands on the shortened day (the contest started at 10.00am and was over by 12.30am) and both Dinnington Colliery and Murton Colliery put in performances that had more plus points than minus points to them.

Dinnington would be the more disappointed of the two though as under the baton of Toby Bannan we have heard them play so much better than this. They sounded a little nervous on this occasion and didn't quite get to grips with the different approached required in the four movements, and allied to little unforced errors it added up to lost points and they came home in fourth place. Disappointed but plenty to work on.
The same could also be true of Murton Colliery who under the baton of Dennis Noble struggled a little to get to grips with the technical aspects of the music but nonetheless put on a performance that had plenty of merit and some neat individual efforts as well. Another one with the foundations in place to go places and they should take heart from their efforts here ahead of the Regional Championships.
That was that then and Whitwell were declared the winners at the special awards ceremony in the Reds Ballroom later on Saturday night amid scenes that were quite brilliant – lots of glitter and music, showers of confetti and smiling faces – what more can a band contest want.
And just to show that it meant so much to winners, Chairman Paul Wood of Whitwell Brass again: "We are off to tour Germany later in July and the money we have won here will ensure that we can make it a trip to remember, as it means we will not have to worry about any last minute financial considerations. About 15 years ago we were really struggling, but we invested in our youngsters and today it has all come to fruition. Nearly half the band playing today started with our beginner's class, and for a band like us that has meant working hard and hoping that one-day we may win a contest like this. Today it came true and we are thrilled to bits. Butlins is a fantastic place to come!"
All other Third Section bands should take note.