2005 Butlins Mineworkers Championships - A Skegness Postcard
26-Jan-2005
4BR spent the weekend sampling the delights of Skegness and the Bultins Mineworkers Open Festival. This is what we thought of the experience.
---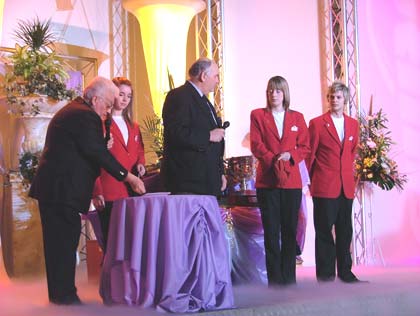 The Draw: Complete with dry ice
This could very well be the blueprint for brass band festivals in the UK in the future. Butlins have come to brass banding after a long period away, and have returned with a fresh eye and even more importantly, fresh ideas on how to make a major event a success. At Skegness on the weekend they showed that they have done their homework and as a result they should deservedly reap the rewards and the plaudits.
They have of course not been alone in doing this; the active help and assistance of Stan Lippeatt and the North East Midlands Brass Band Association has played an integral part, but it is Butlins and especially their Music Director, Steve Walker who should take a well deserved bow and soak in the acclaim from the grateful and entertained brass band audience that filled the Skegness venue.
There are of course commercial considerations behind the decision to put on an event such as this at this time of year, but at a time when investment in the brass band movement is not exactly flooding in, Butlins should be congratulated for their foresight and more importantly their commitment to putting on an event that was not just about fleecing bandsmen and women of their hard earned cash. It was interesting to see a senior representative from their rivals Pontins at Skegness on the weekend, and that is also a very encouraging sign as well.
Throughout the weekend the quality of the food, accommodation and most importantly, the entertainment provided was impressive and drew complimentary comments from players, supporters and general band lovers alike. Butlins were of course delighted that so many of those people spent a great deal of money in the bars, restaurants, take away food outlets and amusements that were on offer, but they did so because what they were getting was of a quality that they appreciated and felt was value for their cash.
The rumours were that next year could very well see an increase in the investment to attract even more bands to Skegness, and that should make it an even more attractive place to visit.
To be fair, Skegness itself isn't the Riviera – the adjective 'bracing' isn't misplaced on a January evening there, but once you get to the outpost on the east coast of the country (and it is a long drive from just about anywhere in the country) it rewards you with an experience that will certainly put a smile on your face.

A word of warning though to those driving to Skegness – the Police force in the area must have had a windfall of tax payers money to squander on speed camera of every size, colour and variety in the Western world. Keep an eye put and you should be OK, for every village has more CCTV than can be found on an episode of CrimeWatch UK.
Once you are safely in the camp, you can book in without too many problems and the first thing to impress you is the standard of the accommodation, which has been spruced up a great deal to levels that would many a bandsmens home to shame. We at 4BR were to be fair put up in the Gold VIP Block (but you would expect that wouldn't you!?), but the reports we garnered from fellow players and supporters was of clean and tidy chalets that were warm and cheerful and had nice little touches about them to make you feel that you were in a place of safety and welcome, and not like council flats on the Gurnos Estate in Merthyr Tydfil.
The food was also something of a revelation as well, with an eclectic choice on offer for those who wanted something a bit more formal to those who just wanted to stuff their chops with a cheeseburger and chips. We tried out the Yacht Club (which despite the misnomer of a name and lack of 60 foot shiny sailing vessels on the North Sea outside) was a very nice restaurant that served good quality food and benefited from welcoming service (and you could get free seconds if you asked nicely too!).
After being well fed and watered (although we did imbibe a little) we sampled the nightlife on offer and the entertainment that was to be found in the main halls of Reds and the Centre Stage.
This was impressive indeed, with Don Lusher in spic and span form with a curvaceous red dressed chanteuse of a singer who wouldn't have gone a miss out of the Roger Rabbit film on one stage, and Kenny Ball and his jazzmen just over the road. The following night there was Tony Fisher blasting it out in brilliant style, 'The Foundations' crooning away to remind everyone that the best music was and still remains the 1960s and even the surreal double act of Keith Harris and Orville the Duck on the type of form that turned the air a little on the blue side. All this and more, with leisure facilities, snooker, pool, cinemas and all sorts of high tech stuff to keep kids to grandmas happy and contented between the band contests. Even Frank Renton was on the top of his form!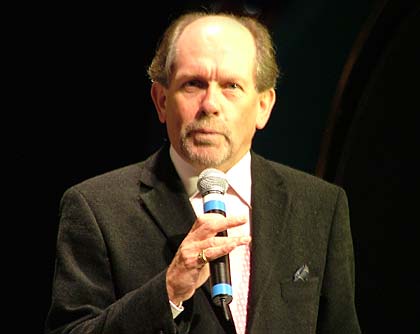 My Way: Frank Sinatra trying to be Frank Renton
And what about the band contests themselves. The organisers were well pleased by the numbers of heads on beds, but still felt a little disappointed with the turnout in the Third Section in particular. Why the bands who did enter and then decided to pull out will remain a matter for them, but they certainly missed out on the opportunity to put some hard earned cash into the coffers and to get an early season boost to the confidence in time for the forthcoming Regional Championships.
The headline event was of course the Championship Section where the top prize was a whooping great £5000, and if the rumours are to be believed (and we understand they could well be more than just rumours) then that headline event could well see bands competing next year for a top prize of £10,000. If that isn't enough to get the mouths watering in some of our top, top class bands then we don't know what will.
However, that isn't the main draw card for us. What is, is the commitment to the lower sections that the organisers have made. Here they have made a real effort to find a formula that appeals to bands who find the social side of band contesting every bit as appealing as the contesting itself, and we think they have come up with a winner. The prize money is of course very good - £1200 top prize in each section with further prizes of £800, £500 and £375, isn't to be sniffed, but that is not all. The rules used allow for borrowed players and the pieces chosen are sensible and enjoyable to performers and audiences alike. Bands who didn't come this year should seriously think about coming next, and if you read the review of the Third Section you will have a taster to what it means to a band winning here.
There may be a case to choose the Regional test pieces in years to come, and give the bands the opportunity to do a dry run ahead of the Areas, and we think that may be a draw card. However, what is more important is that when the bands come here they are treated very well indeed, and for lower section bands who know the value of money more than perhaps those in the glory sections at the top, that means a great, great deal.
Finally a word about the innovations that were put in place: They were all great – from the televised draw right through to the 'Price is Right' inspired awards ceremony that was played out to a pack hall with over 1600 yelling and cheering like a pack of demented wolverines. It made for a great atmosphere, and the faces of the award winners when they raced across the dance floor, up the stairs and up to get their trophies from the organisers was worth their weight in gold. All that and they then set off those glitter bombs that cover everyone in silver dandruff - it was inspired stuff.
So what did 4BR think of the Butlins experience then?
Great, and we mean great with a big smile. Steve Walker is a man on a mission here, and is a clever man on a mission come to that. He has excellent support from the lovely Judith Owen at his side and a team of red coat helpers who were smiley happy people even though they didn't understand a thing that was going on with a brass band contest! It all added up to a great weekend (even the full results were given out by the NEMBBA) and we think it could be a contest that will grow and grow.
Skegness may not be the prettiest venue to hold a contest, and it may not be the warmest or most fashionable, but by heck, it could well be the one every band should try and make it to next year.