2005 Butlins Mineworkers Championships - Preview: Third Section
19-Jan-2005
We have a look at the seven bands who will be trying to get to grips with their sea legs and master the old classic, 'The Shipbuilders'. Who will be celebrating a maiden voyage come Saturday night.
---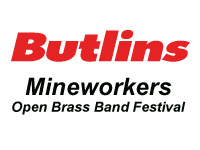 Third Section:
22nd January
Venue: Lucky Numbers
Adjudicator: David Horsfield
Draw Time: 8.15am
Start Time: 10.00am

Test Piece: The Shipbuilders Suite -Peter Yorke
The only disappointment of the whole weekend is the turn out for the Third Section, where five bands from the initial list of contenders have dropped out in recent weeks. This is a great pity as there are not too many occasions when bands at this level get the chance to compete for a top prize of £1,200. Even the band coming fourth will pick up a very healthy cheque for £375, so why so many decide not to come is a bit of a mystery.
It is also a bit of a mystery as they will be playing a great old classic of a set work, Peter Yorke's 'The Shipbuilders' which this reviewer first heard on an old Black Dyke record many a year ago and loved it for its descriptive musical language that captured the essence of the building and maiden sailing of a great ocean going ship. They don't write them like this any more – mores the pity.
It is a still a piece that has a great amount to offer as well, with plenty of tricky little technical passages and some wonderful flowing lines to get conductors and players tugging the heart strings. The bands who really find their sea legs will do well, but those who get a bit queasy at the thought of leaving terra firma will find it hard work. Just as it should be really.
The seven bands will therefore all be in with a great shout, with Dinnington Colliery from Yorkshire coming back this year after gaining the runners up spot last time around, and going on to come 3rd at the Regional Championships in Bradford and getting a 12th spot at Pontins. Hetton Silver will also be keen to make a further mark here after coming 5th here last time around, whilst Murton Colliery came 4th at lat years Regional Championships and will be looking for a good early season boost ahead of the forthcoming North of England Championships.
Whitwell Brass had a great time here last time out when they gained a well earned 3rd place, but will be looking to boost their confidence ahead of the forthcoming Regional Championships where they came a disappointing 16th in the Midlands last year. BMP Europe Goodshaw meanwhile will also be looking for a good early season boost after they could only manage 16th place in their Regional Championships, whilst Woodbridge Excelsior will be hoping to gain some confidence boosting form to help them in a few weeks time to improve on last years 6th place at Stevenage.
Finally, one of the favourites for the title in the shape of Phoenix West Midlands who came 15th at Pontins and 5th at their Area and who on their day can certainly produce the goods to help them come close to the top of the prize winning tree.
4BR Prediction:
With only the seven bands on view, it will be easy enough to put them in order, but as Eric Morecombe used to say – "Not necessarily in the right order". Still, we will do our Andre Previn impression and try our best and we think it could well be Phoenix rising from the flames to take the top prize back to the Midlands, whilst it will be a close run thing behind them with for us, Dinnington our choice for the runners up spot, BMP Europe Goodshaw to come on the podium and the rest to fall in as Woodbridge Excelsior, Whitwell Brass, Murton Colliery and Hetton Silver as the dark horse.
1. Phoenix West Midlands
2. Dinnington Colliery
3. BMP Europe Goodshaw
4. Woodbridge Excelsior
5. Whitwell Brass
6. Murton Colliery
Dark Horse: Hetton Silver