2005 Butlins Mineworkers Championships - Preview: Second Section
19-Jan-2005
We cast our beady little eyes over what should be a keenly contested contest as 14 bands get to grips with Bruce Fraser's fine 'Verona Lights'. Someone will have their life lit up a bit come Staurday if they win the £1,200 top prize.
---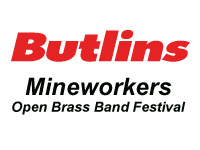 Second Section:
January 22nd
Venue: Crazy Horse
Adjudicator: John Maines
Draw Time: 8.30am
Start Time: 10.00am

Test Piece: Verona Lights - Bruce Fraser

Another section full of good quality bands who will be looking forward to getting their teeth into Bruce Fraser's very atmospheric 'Verona Lights'. John Maines is the man in the box for this one, and he has a keen ear and plenty of experience to delve into the complexities of the score that is full of neat and precise rhythmic patterns.
There is lot of prize money at stake as well, with £1,200 to the winners down to £375 for fourth place, so the bands who have put the hard early season work in should be well rewarded.
Betteshanger Welfare will be looking to kick of their season with a fine result here in preparation for the forthcoming Regional Championships, whilst Frickley South Elmshall from Yorkshire came 5th here last year and will be looking to improve on that and set themselves up for Bradford where they came 9th.
GT Group Peterlee came 6th here last time and 4th in the Regional Championships, just missing out on a trip to Harrogate, so they will be looking for a boost, whilst Hopkins Solicitors Blidworth came runners up here last time around and will surely be looking to go one better.
There is also a big incentive for the Welsh representatives Lewis Merthyr as they came 9th here last time and 9th at the Welsh Regional Championships, whilst the inform Shirland Welfare Training should be considered as one of the favourites following their success of 2004 when they won their Regional title and went on to come 8th at the Finals as well 4th at Pontins and runners up at this contest.
Stanley Newmarket Colliery were winners of the Regional Championship and went on to come 13th at Harrogate, whilst Wansbeck Ashington will be looking to come in the prizes and boost their chances of improving on their 6th place at the Regionals last year. Welsh representatives Ynyshir (Stack of Tiles) came 6th here last time out and will be looking to boost their chances of success in Swansea where they were 6th also.
Londoners Sandhurst had a good year in 2004 when they won the Third Section and went on to come 7th in Harrogate, whilst Wigston will be hoping 2005 will be better than 12 months ago when they lost their position in the higher section after coming 15th at the Area.
Finally the three bands of Carlton, Yiewsley and West Drayton and Stamford Brass will be looking for a decent return here. Carlton, after a few years of real rapid improvement found life a bit tougher last year, whilst Yiewsley came 3rd at the Regionals in London and will looking to go at least one better if they can get a boost here, and Stamford who were runners up at the Midlands Championships then went on to come 5th at Harrogate and will be hoping to boost their confidence here with a prize winning result.
4BR Prediction:
A difficult one this and there are any number of bands here who have more than enough talent around the stands and good MDs who could win it. Still, we have to put or necks on the block and we opt for Shirland Welfare Training who see to be maturing into a cracking little band, whilst we also think that Hopkins Solicitors Blidworth will once again put up a very strong challenge for the top prize. Behind them it is going to be a real dog fight, but we opt for Sandhurst Silver to make up the top three and maybe come even higher and the final top six places to be made up of Carlton Brass, GT Group Peterlee and Stanley Newmarket Colliery. Our dark horse is Frickley South Elmshall.
1 . Shirland Welfare Training
2. Hopkins Solicitors Blidworth
3. Sandhurst Silver
4. Carlton Brass
5. GT Group Peterlee
6. Stanley Newmarket Colliery
Dark Horse: Frickley South Elmshall