2004 4BR Band of the Year - The 25 players and 4 percussionists
22-Dec-2004
Who are the players (and conductor) who we have chosen as the 4BR Band of the Year for 2004? Some great performers from all around the world have made it into our band for us, but do you agree with our choices?
---
We have toyed with this a few times over the past few years, but we now think the time has come to make a definitive line up of the players who we think made the greatest impression on us throughout the past year with their performances on the contest and concert stage, radio and CD recordings.
The criteria for inclusion is simple – just read the above paragraph; so it is not a question of who are simply the best players in the world (that would be a bit of a pointless cherry picking exercise), it is a question of those who have performed at the very top of their form during the past twelve months and have made a real lasting impression on us by doing so.
We think we have made a pretty good selection of players from all around the world (we have been to contests in the UK, Europe, North America and New Zealand this year) and although not everyone will agree with our choices (that's for sure) we believe they make a pretty formidable line up and we hope they give a bit of festive cheer to those included, although it was an immensely difficult task in picking just 25 players and four percussionists – we could have made up two or three bands without any problems.
After we made our choices we had the problem of what to do with the band we chose, and we came up with the idea of an entertainment concert so that just about every player could showcase their talents and show the world why they were chosen.
And to conduct them? None other than the best in business of course – Richard Evans. What a concert that would be!
These are the choices:
---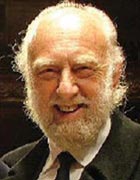 Conductor: Richard Evans
No other choice for an entertainment concert is there? He would be the ideal front man; plenty of jokes, lots of stories and information, a great sense of the dramatic and a real understanding of what this band could do and how they could do it. All the players would have respect for him, so there would be no one throwing their toys out of their prams either.

He has been on tip top form of late as well - invigorated and with a renewed sense of hunger and enjoyment with the Grimethorpe Colliery (UK) Coal Band, and his direction of them at Spennymoor was a masterclass in the art of concert conducting. If you want someone to be the leader, then currently there is no one better.
---
Cornet Section:
Perhaps the most difficult decision of all, as there have been countless fine performances from players at all levels this year that would have been worthy of consideration and inclusion. Still, we picked our nine with the proviso that the front and back rows could be interchangeable, so that all of them could showcase their talents at some time in our concert. All are principal cornet players because in reality they are the main players and the ones who put themselves on the line each time they take to the stage.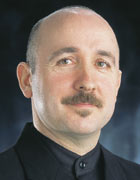 Principal Cornet:
Roger Webster – Black Dyke
Still the 'Daddy'. Sublime playing from the start to the end of the year and still way ahead of his contemporaries and the new breed of up and coming stars. His performance at the British Open in the second movement of 'Montage' was quite masterful, whilst his contributions to both the Regional and London performances reeked of class. All this and he had time to pick up a Doctorate and release an excellent solo CD entitled 'Passport'. He remains the definitive article and a player of true world class ability.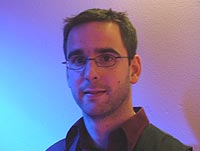 Raf Van Looveren – Brass Band Willebroek
What a year for the young man – European Solo Champion and 'Best Instrumentalist' at the British Open were the highlights in a magnificent 12 months for him as he proved his undoubted class at the highest level. He has been around a lot longer than people may imagine but in the past year he has projected himself onto the international stage. Those performances at Glasgow (also with Willebroek) showed his undoubted talent to the full.


Kirsty Abbotts – Carlton Main Frickley Colliery
There are simply not too many better players around than this lady, and without being disrespectful, she has continually shown her class amidst a struggling band. A real star and her performances were of the highest quality all year from the demands of the Regional test piece through to the British Open and then to Spennymoor Brass in Concert, where she was simply outstanding.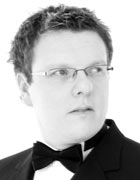 Richard Marshall – Grimethorpe Colliery (UK Coal)
The heir apparent to Mr Webster? Richard Marshall once more showed that he is maturing into a quite phenomenal player during 2004 and his performances all year were outstanding. The solo spot at Spennymoor though was something else and confirmed that he is a very special talent with the ability to change styles (and instruments) with an ease that hallmarks only the very best. If he carries on like this he will be a permenant fixture in the 4BR line up for sure.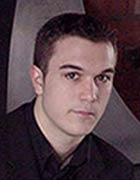 Nick Walkley – Fairey FP (Music)
A real golden nugget of a find for Fairey and for the movement which is in need of a new breed of top quality principal cornet players. He took over a high profile position with an assuredness and style that earmarked him out as a special talent and his performance at the Nationals when the pressure was really on was as good as any on the day. A future star for sure, unless he becomes a bit of a Norman Foster and makes a world mark with his architecture.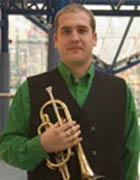 Stuart Lingard – Yorkshire Building Society
Now becoming the most consistent solo cornet player on the circuit, Stuart Lingard had another memorable year of achievement and performance in 2004. He led YBS with huge style and confidence at all the major contests of the year, right from the epic performance of 'Tristan Encounters' where he was personally outstanding right through to the Europeans where he led from the front and didn't put a foot wrong in both memorable shows. He never fails to impress with his playing on the contest, concert or recording platforms where the very highest standards are demanded by the YBS MD, David King.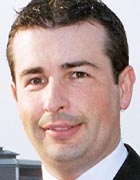 Mark Wilkinson – Fodens Richardson
Mr Consistent and as solid as a rock. For the past decade or more, this player has performed with such class every time he has appeared on a concert or contest stage and in 2004 he once more did the business. His performance at the British Open in particular on the notorious cornet solo in 'Contest Music' just about rubber stamped the bands win first since 1964, whilst his contribution to maintaining Fodens at the top most level cannot be underestimated. When he players well, the band plays well, and when he is outstanding, they usually end up winning.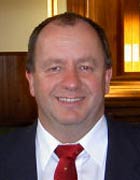 Brian Tait – Reg Vardy (Ever Ready)
A quality player who has been around plying his high class trade for many a year - he won the 'Best Soloist' Prize at Spennymoor as far back as 1982. In 2004 he literally rolled those years back with solo playing and principal leadership that were major factors in the band having the fantastic year that they did, and his playing at the Masters, British Open and finally at London where he led the line in excellent fashion showed that age has certainly not wearied him.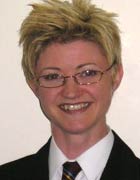 Eleanor Ferguson – Whitburn
An outstanding year of performing for this lady saw her lead the revival of Whitburn with such classy playing as a soloist and section leader. Concert, contest and CD recordings highlighted her style and musicianship to the full and every time we heard here we were deeply impressed. Her performances on the Whitburn CD release 'Reflections of Freedom' and subsequently at Birmingham, London, Spennymoor and Glasgow were of a very high class indeed.
---
Soprano Cornet:
There are so many brilliant practitioners of the dark art at the moment that this was one heck of a choice to make. Still there can only be room for one, so some brilliant players had to miss out to our choice. Unlucky.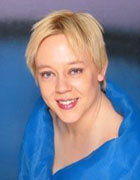 Alexandra Kerwin - Black Dyke and The 'Trusts' Waitakere Brass
The outstanding exponent of the soprano during the past twelve months. As a soloist and as a band performer she has been quite brilliant both in the UK and abroad and more than deserves to be our choice for this year. Her CD release 'The Kerwin Sound' was excellent, whilst her playing for both Black Dyke (at the Open and London she was superb) and for Waitakere (where she stunned the New Zealanders) showed that is a player of rare talent indeed. All this and she has time to look after a husband and two children as well. How does she do it?

---
Flugel Horn:
Another position in which there are any number of worthy players who could have easily filled the position based on the performances they have given during the past twelve months. Only one can get it though (until that is the brass band's traditional format is changed), so no place for some brilliant performers.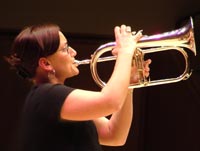 Margrethe Tønnesen - Stavanger
We heard Margrethe play on a number of occasions during the past year both live and on recordings, and her performances have been sublime. A beautiful pure tone, secure technique and an innate sense of musicality stand her out against some pretty impressive rivals. Throughout the year she displayed her quality on the contest, concert and recording stage and she made the flugel sound exactly as it should - fabulous.
---
Tenor Horns:
There was a time when the tenor horn was seen rather than heard in a brass band, but today the movement possesses some tremendously talented players who can mix it with the best euphonium and cornet stars. There are some pretty impressive talents around to listen to as well, and we were hard pressed to make our choices. Still we had to make a choice, and these were the three:
Sheona White – Yorkshire Building Society
The leader of the tenor horn pack - and she demonstrated why in 2004 once more. We literally didn't hear her play a wrong note all year, and her ability to produce a wonderful true horn sound that could fill Wembley Stadium is simply amazing. Her band playing at the Regionals, Masters and especially the Europeans where she opened 'Music of the Spheres' was quite something - as was her solo playing at these venues and World of Brass Gala Concert too. The term world class sums her playing contribution up perfectly.
George Thackray – The Ransome Band
A superb player who has performed to a new level during the past twelve months. Some great performances, especially at the Senior Cup and the All England Masters where he was without doubt the best tenor horn player on the day highlighted his undoubted class, but our spies have told us that he has been playing like this for some considerable time now. We listened this year and were duly impressed.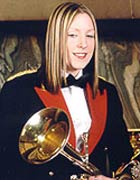 Lesley Howie – Black Dyke
A much underrated player who has performed with much distinction with Black Dyke since taking up the position of solo horn at Black Dyke in 1999. This year though she has performed with an amazing maturity and confidence as both a soloist and band player right from the start of the year at the Regionals through to the British Open and London. In addition she has performed with such class at demanding Black Dyke concerts (against some pretty hot rivals) and on CD recordings.
---
Euphoniums:
You could fill a whole band with all the brilliant euphonium players around, so to pick just the two is slightly cruel. That said, we didn't really have to think too deeply about the two players who for us were head and shoulders above their contemporaries during the past twelve months.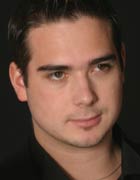 David Childs – Buy As You View
On simply irresistible form throughout the past twelve months and a player who has put himself on the line and in the spotlight at the highest level all year from the Proms to the British Open. Those performances have never been anything below the most brilliant. He was awarded the 'Best Soloist' prize at the European Championships as well as the prestigious 'Euphonium Player of the Year' (only the second person to win it twice) and is now our most marketable asset in showing the world what the euphonium has to offer as a true virtuoso instrument.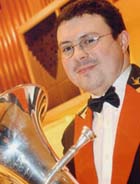 David Thornton – Black Dyke
Just like his name sake, this is a player who puts his reputation on the line every time he plays, and who enhanced it further on each occasion we heard him during the past year. His playing on the contest platform was exceptional (especially at the British Open in the second movement of 'Montage' with Roger Webster) whilst his concert performances are a tour de force of brilliance. All this and he released a very fine solo CD entitled, 'Three Worlds' which once more confirmed his status as one of the very best euphonium players in the world.
---
Baritones:
The bridesmaid instrument? Not any more is it, what with a whole host of wonderfully talented performers now giving it the profile it deserves. The repertoire for the instrument is expanding, whilst the performers themselves are really starting to project it as a solo instrument. Just the two can get into the 4BR Band, so these were our choices.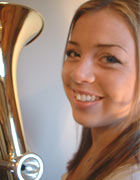 Katrina Marzella – Whitburn
Just look at what she has done in the past twelve months and you can see why she has to be an automatic choice to fill one of the baritone seats in the band. A great talent and one who has a fantastic future ahead of her. The biggest reward was winning the Radio 2 'Young Brass Soloist' competition, but what impressed the most seasoned observers was her solo playing at high profile events such as the European Championships Gala Concert. All this and she took time to show Australians how it was done as well.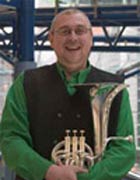 Bob Blackburn – Yorkshire Building Society
A magnificent performer during the past twelve months and a player who has the technique and sound that can rival the best euphonium players in the land. He has been around a bit in terms of the bands he has played for, but he has never sounded so much at home as he has done with YBS in the past couple of years. He made the baritone cadenza in 'Tristan Encounters ' sound like a 'Tune a Day' problem, whilst he was on epic form at the other majors and on the YBS recordings throughout the year.
---
Trombones:
There is no shortage of brilliant trombone players on the brass band circuit at present, and any number of them could perform with the very best orchestra in the world. Some do in fact, and we are now wonderfully blessed with a plethora of truly world-class players. Just two tenors and one bass trombone to choose though and so some quite brilliant performers had to miss out. These are our three then: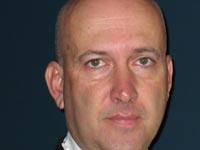 David Chaulk - Pelorus Trust Wellington Brass
We heard this performer in New Zealand at the beginning of the year where he was simply breathtaking in retaining his New Zealand 'Open Champion of Champions' solo title. He is a professional of course, but we didn't hear a trombone player thrill us more all year, and the way in which he just looked the part when he took to the stage was just the prelude to him playing like the pro he is. It was an object lesson to everyone else there - if you look top class, you play top class - as long as you know you are top class. And he was.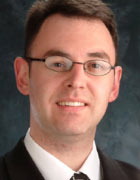 Brett Baker – Black Dyke
Brett Baker continues to perform at the very highest level year in year out, but in the past twelve months we felt he upped the ante further and was on many occasions on the contest, concert and recording stages quite awesome. He is perhaps the most complete trombone player in the brass band movement at the present time - he has a comprehensive command of all trombone playing aspects and he showed that to the full this year. On the contest, concert and recording stage he was never anything else but of the highest quality.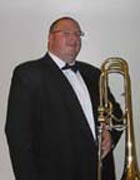 Mark Frost – Grimethorpe Colliery (UK Coal)
Just like Roger Webster – 'Frosty' remains the 'Daddy' on the bass trombone. Where others just make a noise, this bloke makes sound that warms the cockles of the heart and can lead, blend or just put that 'edge' to any bass end sound as he and the music demands. In 2004 he remained a class apart - you just sat back and enjoyed what he was doing - a craftsman doing a craftsman's job. From the confines of the test pieces to the splendour of the entertainment programme he once more showed everyone else how to go about the strange business of bass trombone playing.
---
Bass Section:
The lads and lasses who provide the foundation to any top class band can be cruelly overlooked at times, but once again the banding word is blessed with some performers of the tuba who have techniques every bit as good as any top notch cornet player and sounds that can not only wake the dead, but can also lullaby a new born baby to sleep. Lots of 'big' players to choose from (although there is a worrying trend for more slim line versions) in certain quarters and we had to take quite a bit of specialist advice before we came up with our quartet.
Eb Basses: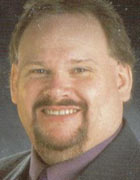 Steve Sykes – Flowers
On the face of it, perhaps a little unfair as he is now primarily a brass band conductor rather than brass band player, but anyone who heard him this year would have to say that there is still no one around quite like him. At the Masters in particular he was simply mind blowing. 'Harrison's Dream' has a most demanding solo line, but with the aid of circular breathing he played it as if it was a warm up exercise. No one else got near to him, and it showed that he remains the very best in the business.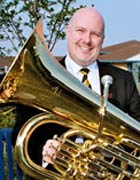 Phil Green – Fodens Richardson
An exceptional tuba player – a fine soloist and perhaps the best bass section leader in the business. His performances with Fodens were of the highest quality all year, from his playing at the Regional Championships, through the Masters and then to the triumph of the British Open where he led the bass line with a mastery born of experience and undoubted quality. He has been around a while now, but that quality which he has shown for so long shows no sign of diminishing.
Bb Basses:
Philip Johnston – New Zealand Community Trusts Woolston Brass
Quite simply the best Bb bass player in the world at the moment. Those who were lucky enough to hear him in Christchurch earlier this year at both the New Zealand Nationals and Solo Championships would agree. An awesome performer who produced a quite brilliant account of a Bach 'Andante and Rondo' that had the ease and facility the very best euphonium players would have been hard pressed to match. All this and he pumped it out like a steam engine on the band parts and still had the ability to sink more pints than George Best on a bender.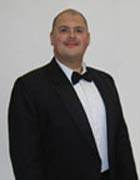 Dean Morley – Grimethorpe Colliery (UK Coal)
He pumped it out like a Trojan all year in the bass end boiler room and must have had the lung capacity of a of an Ox to give the foundation to a band like Grimey that is nigh on indestructible. All this and he still plays like a frustrated euphonium virtuoso - although the basics are there in spades. Those in the know say he is playing better than ever (and travelling more round the world than Alan Whicker)and has found a new lease of life. All this and this year he was half the man he used to be – although not half the player.
---
Percussion:
Oh heck! To be perfectly truthful about this we could have picked four from four thousand, but after some careful consideration and picking the brains of a few people in the know, these are the four who we think would do the 4BR Band proud and would uphold the honour of the 'percussion guild' pressure group who seek greater recognition for their efforts.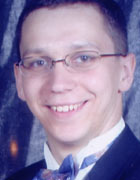 Gavin Pritchard – Grimethorpe Colliery (UK Coal)
Every percussion section needs a top notch organiser and all rounder to make sure all the parts go in and in the right place, and this player has been doing it to such fine effect all year, first with YBS and now with Grimethorpe – both outfits that rely heavily on a percussion unit of versatility and brilliance. It is the two virtues that stand him out, and that is why he gets the nod for our band this year.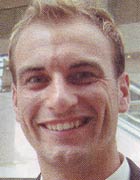 Paul Lovatt Cooper – Black Dyke
The other great all rounder of the year. He has given the Dyke percussion team an extra dimension in the past twelve months and has added an impressive sense of rhythmic pulse to the National Champions that has tightened up the ensemble balance and precision. He is another who can play it all and play it brilliantly, so little doubt about his inclusion.
Roanna Cooper - New Zealand Community Trusts Woolston Brass
Heard this performer in New Zealand where she was an outstanding tuned soloist and percussionist with the Woolston Band and who was unlucky not to have won the overall solo title at the National Championships as well when Dr Robert Childs marked her contribution out as being as good as he had heard anywhere on his extensive travels. Her leadership of the fine 'Pandemonium' percussion ensemble that entertained the audience at the 'Band of the Year' contest was also a delight.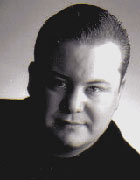 David Griffiths – Buy As You View
None other than Rodney Newton (who knows a thing or two about the art) rates this performer as the best timpanist in the banding world and every bit as good as anyone in the orchestral world as well. His performances with the Welshmen bore this out to fine effect in 2004 and not only added an extra colour and timbre to performances, but also gave them an added soloistic instrument to feature as well.
---
Well, what do you think? Have we made the right choices or do you think you can come up with a much better selection. If you think you can, then why not drop us a line.