Thanks for the Memory No 11 - The Oughton Family (Part 1 of 3)
21-Dec-2004
Legends in Brass:
Chris Helme looks at the first part [of 3] of the remarkable story of one of the movements greatest ever brass banding families - the Oughtons who can claim over a century of brass players in their ranks.
---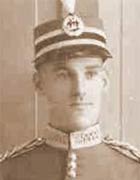 PART ONE – In the beginning…
It was one Saturday afternoon in July, nine years ago, a glorious summer's day according to Hugh Johnstone, a familiar name in Scotland's world of brass bands. A day when the small church at Dalmellington - a picturesque town at the upper end of the Doon Valley and a place often described as the gateway to the Scottish Highlands - saw the coming together of people both young and old alike. But what was it that brought such a gathering together to this small community church on such a fine day?
They had all come to pay their last respects to a man who in the words of Ken Johnson -the highly respected Soprano Cornet player from the early post war years of the Ransome and Marles Works Band and Grimethorpe Colliery Band - was a man he'd had the privilege of sharing both contest platforms and concert stages and considered and rated him to be '…a genius of a cornet player and a man he was pleased to have called his friend…'.
Hugh Johnstone conducted what could only be really described as a scratch Dalmellington Band that day. A combination of musicians made up from members of both the present and those who had been previously associated with the band over the years.
The gathered crowd were not just the older end of the band world either but there were many young mourners present as well – school children all paying their respects to a man who probably none of them would have been old enough to have heard as a cornet player whose performances were often described as breathtaking. But still, these children had taken time off school to pay their last respects to one of the finest virtuoso cornet players of his generation – Robert (Bobby) Oughton.
To just tell the story of Robert Oughton in isolation would be unfair on the rest of what can only be described as a brass band dynasty. So we will begin this story back in the days of his father William Oughton, Snr – a time when Queen Victoria still reigned supreme and the last days of the nineteenth century were drawing to a close, the days when it was said there were over 20,000 brass bands throughout the country.
William Oughton was born on the 6th of April 1882 at 7 Park Street, Thornley, Easington in County Durham, a street that has long since been demolished and was the son of Robert and Anne Hardy Oughton.
Even in those far off days music was in the family with William's father Robert being a semi-professional trombonist and played regularly in a pit orchestra at the one of Sunderland's biggest theatres. As well as being a fine trombone player he has also been described as a professional gambler and by all accounts this was an occupation he was quite good at and was someone to be seen regularly at the race tracks throughout the North of England.
Young William was like many other youngsters in the brass band world he was initially taught to play the cornet by his father – the question in the Oughton family was not are you going to play but what are you going to play – playing a brass instrument was expected.
From the beginning young William showed some promise, so much so that he soon out grew his father as a teacher. Rather than holding him back Robert found his son another teacher – non other than the legendary Alexander Owen.
I have no doubt that many younger readers may not be that familiar with the name of Alexander Owen one of Manchester's famous sons and one that few Mancunians beyond the world of brass bands will have heard of but he was a giant in the brass band world. The story of Alexander Owen is not a unique one - the hardships of the Victorian era developed many industrial success stories however, Owen turned his talents to the world of music and the relative new form of music making 'the brass band'.
As a teenager young William travelled down from his home in Easington to Alexander Owen's home in Swinton for his cornet lesson. This was a trip that took place every weekend for two years. Inevitability under the tutelage of Alexander Owen William's skills as a cornet player developed very quickly – travelling down from Easington on the Saturday he had a lesson that evening and then stayed overnight with a second lesson on the Sunday morning and then returned home again on the train. In 1900 at the age of 18 he was appointed the Principal Cornet player of Spencer's Steel Works Band in Newcastle.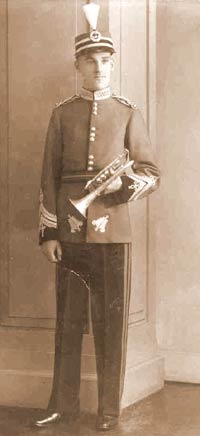 Right: William Oughton proudly wearing his Spencer's Steel Works Band uniform shortly after his the plumed hat which indicated to audiences that he was the band's Principal Cornet
Spencer's Steel works Band was one of those bands who took part in the Crystal Palace National Championships in the pre-First World War years. Their first occasion was in 1905 under the baton of William Rimmer; 1907, this time with William Halliwell and then again in 1911 when they achieved their highest position of 6th place and were one of four bands in the first six conducted by William Halliwell on that day. Then finally as the dark clouds of war were looming they were unplaced in 1913 – this time under the baton of Alf Gray and that appears to have been their short lived years of flirtation with the top end of the brass band ladder.
The slump after World War 1 had a shattering effect on areas dependent on heavy industry and the North East community of Newburn never really recovered from the closure of Spencer's steel works between 1924 and 1926.
William entered many competitions as a soloist and had a wide repertoire which included: Auld Lang Syne; On the Banks of Alan Water and the Mermaids Song from Oberon and he went on to win many first prizes. For example in 1898 he won at Penshaw; East Hetton where he completed the double winning in both 1899 and then 1900; Hexham 1907; Bishop Auckland 1909; Brandon 1918 and then Belle Vue in 1922.
Every Thursday evening the owner of Spencer's Steel Works Band always came to listen to the band and without fail on his way out he always gave William a guinea (which to the uninitiated was money valued at 21/- shillings or in modern money £1.10p). William always took the money to the Post Office and bought himself a National Savings Certificate which at the time of his death in 1961 had increased in value quite significantly.
On the 28th November 1904 he married Violetta Thomson at Sedgefield Registrar's Office and made their first home at 55, Sunderland Street, Brandon in County Durham. During his First World War service he was awarded the Military Medal in 1915, this medal now is in the possession of Hugh Johnstone MBE.
His conducting career began with the Hetton Band at Hetton-le-Hole in January 1923 which resulted in him and his young family having to move to a new home at 27 William Street, Hetton-le-Hole. Within three years however, his relationship with the band took a distinct turn for the worst when in 1926 he allowed his son William, Jnr who at this time was the Principal Cornet at the Hetton Band to leave and join the legendary St Hilda Colliery Band at South Shields.
The Union Lodge officials at Hetton were absolutely furious and as his position became more untenable as the pressure was mounting that he should leave. The strain he was under was compounded following the death of his wife whilst in childbirth in November 1927.
On the 23rd of December 1927 having seen an advertisement for a new Bandmaster at the Dalmellington Band in Ayrshire, Scotland he applied for the job and was offered the position which he was very pleased to accept. With this new post came a rent free house and a small remuneration. Two days before Christmas he and his two young sons Robert aged seven and Cecil aged four and half moved into their new home. The impact and success he brought to his new band was almost instant and with the occasional visit from his eldest son William, jnr who by this time was the Principal Cornet player at St Hilda's and the band was riding high.
His initial arrival in Dalmellington kicked off on the wrong foot – he was due to start work on Christmas Day, Ben Yates, Committee member, was delegated to call on Mr Oughton at 6.00am to take him to his new place of work at Dunaskin. Ben Yates called on the new Bandmaster at 6.00am as instructed to be met with Mr Oughton's retort "I'm an Englishman and I don't work on Christmas Day" (Christmas day was not a holiday in Scotland at that time).
The band committee having gone cap in hand seeking a job for their new Bandmaster, dispatched President Tom Blackwood and Secretary Bob Mathieson hurriedly to Dunaskin and explained the situation to William Dalrymple, General Manager of the Dalmellington Iron Company, who understandably accepted the problem - William Oughton was employed as a surface joiner and actually started work on 27th December 1927.
At this time a range of quality players were in the Band with a dynamic secretary Bob Mathieson who was also the Principal Euphonium player. Rehearsals were held in the old Church Hall but when Church activities prevailed, the band had to stand aside. This did not please Mr Oughton who expected two rehearsals weekly and extra ones ahead of major events. By chance an Ex-Servicemen's hut which had stood empty for sometime became available for sale. It was of wooden construction with a corrugated iron roof and was purchased by the Band committee for £70.00 and was promptly dismantled and rebuilt nearby.
Having made such progress under the baton of William in 1930 the band was offered a radio broadcast on the BBC at Radio Scotland. This prestigious event had been arranged by Hubert Bath who as well as being the well known brass band composer he was also the Musical Director of St Hilda's which by this time had become a professional brass band. On the programme was a new solo by Percy Code which he had titled 'Zelda' and was to be performed by William Oughton, jnr who was then the Principal Cornet for the professional St Hilda's. This created a serious problem because of St Hilda's now being a professional band they were barred from taking part in any of the BBC's brass band radio broadcasts.

During the early 1930's the band did really well under the baton of William Oughton but as the years slipped by the mid 1930's brought despondency throughout the Doon Valley coal fields which had a serious impact in Dalmellington with some of their band members who were miners finding themselves on short time working.

The effects of the depression and austere working conditions also meant that William himself was down to a two day working week and with the band not now being able to pay his remuneration he decided it was time to leave. With all three of his sons now making successful musical careers for themselves he decided to leave Dalmellington and move south which saw him accept an offer to become the Bandmaster of the Kendal Borough Band, Cumberland in the North of England - a band that has long since disappeared into the annals of Kendal local history.

In 1935 William Oughton's second son Robert left Dalmellington to join Munn and Felton's, Kettering based band. Cecil the youngest son was also a keen musician and played the trumpet – he turned his back on the world of brass bands and made a successful career in the world of big dance bands.
In 1947 having retired from work William returned to Dalmellington to find the band struggling in the 4th section - once again he took hold of the baton and set about dragging them back to those halcyon days of the 1930's. Having taken the band to successful contests at the Daily Herald 2nd section finals at Belle Vue in 1949 and 1952, the 1953 contest season saw the band promoted when once again they were flying the flag in the championship section. Throughout the 1950's the band under William Oughton's direction were heard regularly on BBC Radio in the west of Scotland.
William Oughton, snr, died on the 1st of September 1961 and was interred in Dalmellington cemetery.
© Chris Helme
chrishelme@brighouse.fsnet.co.uk
---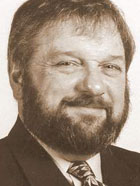 Previous 'Thanks for the Memory' articles:
• No. 10: Arthur Laycock
• No. 9: Arthur Oakes Pearce
• No. 8: James Scott
• No. 7: Sounds of the 70's - Yorkshire Imps
• No. 6: David Read
• No. 5: Derek Southcott
• No. 4: Rowland Jones
• No. 3: Louis Allison
• No. 2: Willie Barr
• No. 1: Derek Garside