2004 4BR Awards - Conductor of the Year
13-Dec-2004
Who do you think should gain the accolade as the best stickman (or woman) for 2004. There have been some pretty exciting talents on show on the podium in the past 12 months.
---
Another desperately difficult choice for you to make here for whom you thought was the top conductor of the year in 2004. We have taken into account not only contest performances (not just those who directed winners), but also concert performances, radio and CD releases. The bottom line for conductors will always be whether not they are seen a winners, but there is more to the art and craft of stick work than that.
Once more the usual names come readily to mind, but there has also been a great number of others worthy of closer inspection. We have gone for David King, Garry Cutt, Nicholas Childs, Steve Bastable and Ray Farr as our nominations this year, but the list surely could have included the likes of Philip McCann, Mark Bentham, Jin Tanaka, Robert Childs, Sarah Groarke, Christopher Wormald, Nigel Weeks, Roy Curran, Mark Peacock and Lynda Nicholson. The list could go on and on.
---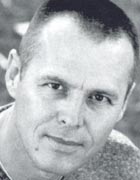 Professor David King
The current holder of the title once more set the standard for all the other Musical Directors to try and emulate during 2004.
Not only did he add another Regionals, Masters and European title to his CV, he also managed to gain another Norwegian crown (his sixth) and a SIDDIS title as well. In between he pulled off the masterstroke of 'Music of the Spheres' at the European, was the driving force that produced the stunning British Open Gala Concert, managed to get a couple of cracking CDs released and oversaw the further development of the brass band courses at Salford University. All that and you don't think he's finished yet.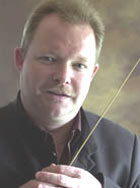 Garry Cutt
This is the third time Garry Cutt has been nominated by 4BR for this award - and the reason why is simple. He is one heck of a class act. This year he has done it again, because once more he has proved that he belongs in the very highest echelons of our movements' conductors.
2004 has seen him reinvigorate the Leyland Band to win the North West Regional title, whilst he also took the time to make a trip to New Zealand to pass on his experience to Waitakere Brass. He did have the disappointment of the Grand Shield and the Nationals, but these pale into insignificance when he took up a late call from the Foden's Richardson Band and promptly won them their first Open title for 40 years and his third in three different decades. You have got to be a special talent to do that – and he is.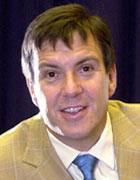 Dr. Nicholas Childs
If you think you are under pressure with your job, spare a thought for this man. This is the most high profile and most demanding conducting job in the brass band movement and success is demanded rather than just merely expected.
2004 though saw Nicholas Childs respond to his, and his bands critics in brilliant fashion – topped of course by that famous 20th victory at the National Finals on the eve of the bands 150th birthday celebrations. Add to that a scorching performance at the Open where their 6th place was greeted by the type of booing that shook the movement to its core and the release of a brilliant CD in addition to their other numerous concert and recording commitments, and you can see why many people are now predicting the start of a new 'Golden Period' for the band and its conductor.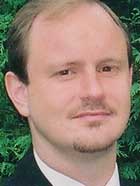 Steve Bastable
The most exciting conducting talent around? Steve Bastable has of course been making a very good name for himself for the past few years, but in 2004 that undoubted promise started to be confirmed.
It started with a First Section title in Norway with the Sola Brass Band before getting the unfancied Staffordshire Band through to the National Finals. He showed his relative inexperience at the Europeans when he couldn't inspire the Stavanger Band, but then certainly inspired Fodens on the Whit Friday circuit and SWT Woodfalls at the Masters. Staffordshire then benefited again at London and certainly at Pontins, whilst Kirkintilloch had their best ever result at the Open when he directed them into 4th place. It may have just fallen away towards the end of the year, but he must have been exhausted by then.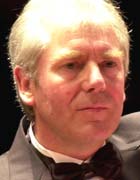 Ray Farr
The return of Ray Farr to British banding on a full time basis has certainly reminded us of how much we have missed his talent in the past few years. He is now firmly ensconced at Durham University and doing things there that are certainly making people sit up and take note, whilst he has revitalised the former Ever Ready Band.
This year has seen him direct them to high placings at the Regionals, Masters, Open, Nationals and Spennymoor, whilst he also had time to direct the Danish Lyngby – Taarbaek Band into a highly acclaimed 5th place at the Europeans, return back to Norway with Krohnengen and lend a supporting hand to a couple up and coming Scots as well. He is back all right and doing what he has always done best – being successful.
Past Winners:

2003: David King
2002: Russell Gray
2001: David King