2004 Scottish Open Championships - Retrospective
30-Nov-2004
4BR looks back at Hepworth (Persimmon Homes) triumph in Glasgow, as a well organised event still needs support - both financial and human if it is to flourish.
---
Audio interview

Interview with Winning MD - Mark Bentham [WAV 1.03Mb]


Interview with 4barsrest Best soloist - Brendon Wheeler [WAV 667kb]


Interview with adjudicator - David Read [WAV 1.3Mb]
---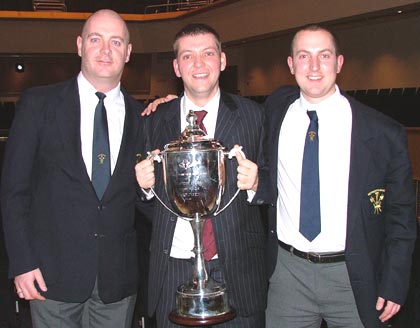 Mark Bentham [centre] with members of the Hepworth Band
A brass band conductor at the highest level must have a plethora of virtues; and although you may not think it, bravery is certainly one of the most important of them. The usual attributes of a slightly inflated ego, self belief, musicianship and talent readily come to mind, but bravery above all else is the one that sets apart a good conductor from a real top class conductor.
Less than a month ago, Mark Bentham and his Hepworth (Persimmon Homes) Band made the trip to the Harry and Margaret Mortimer Pontins Championships as possibly the clear favourites to take the title playing Edward Gregson's, 'Dances and Arias', at a contest that was to be adjudicated in part, by our most experienced judge, David Read. They left Prestatyn in sixth place after giving an account that failed to live up to pre contest expectation, and more importantly failed to sufficiently impress the judges either technically or musically. It was a disappointing performance.
It was now that Mark Bentham showed why he so highly regarded by both his band and by the critics (4BR included at Pontins it must be said), for he could have gone back and dismissed that result as a rogue placing for his band; one that could be written off by ignoring the axioms that were in fact clearly implied by coming sixth in a field they should have dominated.
That he didn't, and that he took on board the need to make structural as well as musical changes on the same test piece which was to be used here at Glasgow showed that those inherent virtues are not only evident in his personality, but are superbly marshalled in his conducting of his band.
Hepworth (Persimmon Homes) won the second Scottish Open in no small part because the MD had the courage of his convictions and the bravery to carry them out in full. It had been, as he honestly informed 4BR from the stage after the announcement of the results, a very difficult couple of weeks for himself, but he made the decision to look at his own preparation and that of his band knowing that he would have to carry the can if it went wrong again.
That courage was to be rewarded in full though, as after giving a thrilling performance of 'Dances and Arias' that left the trio of judges that once more included David Read in no doubt that they were clear winners, he could reflect that making exceptionally difficult musical decisions is perhaps the hardest part of becoming a top class MD. Mark Bentham has without doubt got all those virtues in place, and now he could add bravery to the list as well.
The winning performance at Glasgow was a completely different league to the one we had so disappointingly heard at Pontins; this was top quality playing with a robust and bright ensemble sound allied to an impressive technique from all sections around the stand. The MD in particular communicated his intentions with clarity of purpose that found his willing players ready and more than capable of delivering his intentions, and it added up to the most compelling and accurate overall performance of the day.
Robert Westacott once more delivered a superb piece of principal solo cornet work, whilst the trombone and percussion teams in particular impressed with their compact sound and ability to blend rather than dominate the overall band timbre. Lastly though, there was the playing of the Australian Brendon Wheeler on solo euphonium.
Hepworth are very lucky indeed to have one of the best young euphonium prospects in the land in the shape of Emma Farrow. Emma has a fantastic future ahead of her, and one that is being expertly overseen by none other than David Thornton (who incidentally put in a decent bit of work himself with Besses at the contest). She will undoubtedly become a leading exponent of her instrument in time, but the road to that fulfilment must sometimes necessarily encounter a degree of disappointment. On this occasion it was the decision of the MD to ask the Australian, who was playing second euphonium to take over the solo responsibilities and principal chair for this contest – a brave decision indeed, but one that was rewarded by a superb piece of playing in the extended solo section in the piece that fully justified the switch and gave the young man the 4barsrest.com Solo Prize and £100.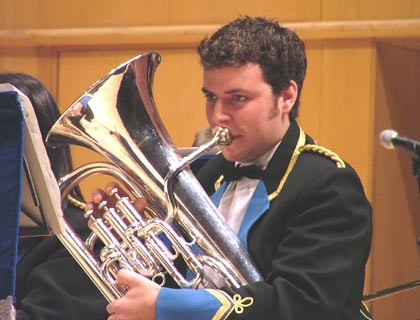 Euphonium player Brendon Wheeler
A rather bemused Brendon was modest about his personal achievement and paid full tribute to Emma, her abilities, character and support, which helped him to produce his performance. He is a delightful young man and one with a very responsible attitude that can only be good for him and the band, and it was refreshing to hear him speak in such a way. The MD has now got to have the wisdom of Solomon to help and encourage both players, but we think both should listen to what Mark Bentham has to say and it take it on board – he has shown he knows what he is talking about.
Hepworth's performance was one of four that took the fancy of the majority of the disappointingly small audience, but one of just three that took the general fancy of the adjudicators, David Read, Dr. Roy Newsome and Chris Wormald.
Dr. Newsome gave an entertaining address to the audience prior to the results in which he clearly outlined the thinking of the judges to what they had been looking for in Edward Gregson's work, and which on the day proved a decent enough test – although it is a piece that on this outing has lost a great deal of its innovative appeal over time. Dr. Roy made the point that many of the bands and their MDs had missed the more subtle nuances of the score, with many ignoring the above stave markings and composers written intentions, whilst the more "enthusiastic" percussionists came in for a light hearted but accurate enough booting for their innate ability to too often obliterate their bands chances by hitting things harder than Stan Collymore could manage with Ulrika Johnson. "Bonkers" was his word to describe it.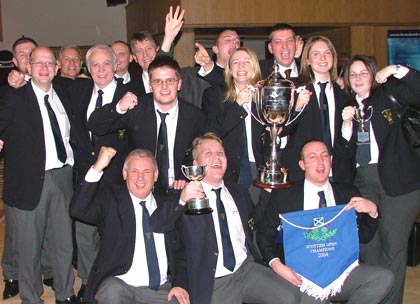 Members of the Hepworth band celebrate their victory
The combined thought processes in the tent gave the top prize to Hepworth, with second place going to Scottish Co-op, third place to Whitburn, fourth to Freckleton, fifth to Tredegar and sixth to Wingates. For us, four of the top six were quite clear, but two were results that certainly raised an eyebrow or two.
Eventual runners up, Scottish Co-op seemed to be producing a performance of the highest merit in defence of their title, but just as things were going so well under the eloquent direction of Frank Renton the wheels came off for about 30 seconds or more. Solo euphonium Alison Bonner was quite outstanding, but around her the cornet section and horn went AWOL and had another relapse a little later on when the soprano seemed to come in two bars early in one of the connecting sections. It was enough to bring a grimace to Frank Renton's face and enough to rob them of those precious couple of points that meant they had to be content with second place.
Much the same could also be said of Whitburn in third place, who had perhaps the best set of soloists all day in the shape of Eleanor Ferguson and Evelyn Bradley, but whose ensemble had too many ragged moments that detracted from the overall picture that Andrew Duncan was skilfully creating.
It also meant that Whitburn missed out on a share of the prize pot as well, as only two money prizes were awarded (and only that after discussion with the band representatives at the draw) with £2,000 going to the winners and £1,000 to the runners up. If the contest is to survive for another year, there will be a need for the organisers to attract a major sponsor (Yamaha by all accounts dropped out at the last moment), but also some major bums on seats, as for the second year in a row there was an embarrassing number of empty rows of seats on view from the stage.
News that the Concert also failed to attract a full hall will raise a few alarm bells for SBBA. For all their excellent organisational skills (and once more on the weekend these were outstanding – from the way bands were marshalled to the amount and quality of the sandwiches on offer for the press boys!) the failure to get the Scottish banding public to fill the hall could well mean next years Scottish Open may face some tough decisions based on pure economics.
Back to the contest though and out of the top three, the first surprise of the results list came with the announcement of the Freckleton Band on fourth place. They played off the number 2 draw with a great deal of confidence under Paul Dalton and their soloists were on excellent form, but it all lacked a bit of warmth and was too forceful at times especially in the percussion, so given what David Read had said a few weeks ago about rewarding bands who produce round, warm full sounds without a strident tone, we were a bit bemused at them coming so high. Still, it was a very consistent account (something that many others certainly didn't achieve) and so they picked up some highly ranked scalps and found favour with the all important men in the box.
Behind them came Tredegar under Russell Gray who on the day could count themselves unlucky not to have come much higher (and before you ask, we are not saying this because the editor of 4BR was making his last, and I mean, last appearance with them). This was perhaps the most controlled and compact performance of the day, but they too suffered with inconsistencies especially in and around the euph solo and with a dominant percussion, and they were penalised for it – a little harshly if the pre result views of the audience was anything to go by – but not by the men in the box; and it was their views that count.
The final top six placing went to a delighted Wingates under Roy Curran who rounded off a fine year with another good result. They will be delighted as well, as the first third of the piece was something of a catalogue of individual errors that seemed for the most part to have scupperred any chances they had of making an impression, but some fine cornet and euph work allied to some neat flugel playing enhanced things and that was enough to make the judges sit up and award them the points.
After the top six, the standard fell away somewhat, with Roy Newsome and David Read expressing to us their disappointment at the standard of playing achieved by the bands in the lower third of the prize list.
Kingdom Brass won't be disappointed though with 7th place, as Ray Farr produced an elegant reading that very nearly came off for his charges. An open V formation may have cost them points as the cornets tended to sound a little strident at times, but overall it was a well delivered performance that should give them lots of confidence for the next twelve months when both Ray and Thomas Wyss work with them on the contest stage.
Kirkintilloch will be hugely disappointed though with 8th place after a performance that never got going from the start. Steve Bastable's reading with the Staffordshire Band had greatly appealed to David Read at Pontins, but here it never got out of second gear and after a rather precise and controlled start things just didn't come off with the over use of rubato and the lack of ensemble precision robbing them of points. A calamitous end to the euph solo section and beginning of the final section didn't help, but by then they knew it wasn't going to be their day – and so it proved.
That was it in terms of real quality playing, and if it seems harsh, then you should have listened to some of the performances that eventually filled the bottom half of the points table.
BTM under David Hirst started well, but fell away badly, and the individual error was as high as we have heard from them for many a contest, whilst Besses o' th' Barn benefited from a sensible approach from Steve Sykes in the middle and two exceptional soloists in the form of Alex Thomas and David Thornton (both deps, but still who can really complain?). If only the rest of the band could have played up to their standard they may well have come in the top three.
Tertnes from Norway failed to impress as well, with a light and rather harsh ensemble sound and more than a few nerves showing in the opening third of the piece. They did have the best looking trombone section in the world and the two flugel players excelled as they stood in front of the band to perform the tricky duet, but overall it wasn't a good day for them.
The same could also be said of the other long haul travellers, Aveley and Newham under Nigel Taken, who produced a performance that lacked warmth in the ensemble sound in the first third of the piece but improved at it went on. The solo euphonium, Russell Davies was quite excellent though, but even his efforts couldn't detract from a band that was nowhere near on the form that they showed at the Masters.
That left the bottom quartet who on the day just didn't play up to championship standard on this piece.
Unison Kinneil are certainly a better band than this for sure, but Allan Ramsey couldn't get them to gell at all and the ensemble playing lacked precision and control from the word go. Bon Accord were much the same under Tony Swainson, who directed with a great deal of care and compassion for the abilities of his players, but saw then tire as they entered the final third of the piece. 13th and 14th was the end result, and on the days evidence they didn't have much to complain about.
Last but one came Newtongrange under Archie Hutchison who bravely came in at the last moment when Sellers International dropped out and drew the shortest of short straws off number 1. The three brothers Phillip (Alex, Neil and John) all played very well indeed, but the overall show lacked the feel and warmth required in the Arias in particular.
Finally, Fishburn under Major Graham Jones, who must have wished they never made the trip up from the North East. A terrible night before saw them turfed out of bed when the fire alarms went off in the early hours, and they seemed ill at ease from the word go. Some 15 minutes later the horror was over, and they are certainly a band who can perform so much better than this. However, this was certainly a bad Scottish experience and they will be keen to put it behind them.
That was it then for the Scottish Open 2004 in contest terms in the Championship Section. A small crowd had enjoyed themselves and certainly had their views to who had won, whilst we at 4BR opted for a top six of Scottish Co-op, Tredegar, Hepworth, Whitburn, Kirkintilloch and Freckleton. What do we know eh?
That just left time to enjoy some wonderful Youth Band playing (and especially from Richard Kidd on euphonium), before the announcement of the results.
It ended very nearly like a twelve month ago, but on this occasion it was Hepworth and Mark Bentham who took home with them the £2,000 top prize, a huge big silver cup and the prestige of winning the Scottish Open against some very highly ranked bands. It was also a major triumph for a very talented young conductor and his equally talented young band. Here was a Musical Director who decided to change things to try and gain a victory he knew he had the ability and the talent to achieve.
Mark Bentham made a number of very brave and courageous choices after Pontins, and they paid off in fine and deserving style. It says a lot about a man and a conductor who can see when he needs to reappraise his efforts for the good of others, and it says a lot that he was able to carry it out with the support and commitment of a very fine band. Look out for Hepworth in 2005, we may be seeing a band who could be making a big impression as they strive to gain a place at the Open and the Nationals – on this form they certainly deserve to be there.
Iwan Fox.