2004 Scottish Open Championships - The adjudicators
23-Nov-2004
David Read, Dr. Roy Newsome and Christopher Wormald are the three men in the box this year. We have their details.
---
Royal Concert Hall
Glasgow
Sunday, 28 November 2004
---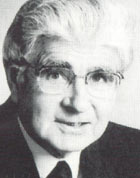 David Read

David Read was born in Wales and did his Military service with the Regimental Band of the Welsh Guards. His playing career came to fruition with the Askern Colliery Band, followed by a spell with Carlton Main Frickley Colliery. He later joined the Munn and Feltons Band (later named GUS) later becoming Principal Cornet. During his time with the band, GUS became National Champions on four occasions and World Champions once.

He was also assistant principal cornet for the Virtuosi Band of Great Britain and Kings of Brass and was three times Champion Cornet Player of Great Britain and once outright Solo Champion. He was also a member of the famous GUS quartet that with John Berryman, John Cobley and Trevor Groom who on a number of occasions were British Quartet Champions.

He has been an educationalist as Senior Instrumental Teacher for Cambridge Area Education Authority, and in 1983 was honoured by the Worshipful Company of Musicians and in 1996 by receiving the English Masters Dedicated Service Award.
He is a most highly respected judge, who's written comments are constructive and detailed and who has an acute ear for musical shape as well as technical clarity. More importantly he is seen as a "safe" adjudicator in the eyes of the bandsmen themselves, in that he invariably gets the vast majority of decisions concerning the prize-winners correct.
He has adjudicated at every major brass band event and is universally regarded as the most expeirecnced and best brass band contest adjudicator in the movement. This year alone he has adjudicated at the Regional Championships, The Masters and recently the Pontins Championships on this test piece, "Dances and Arias".
---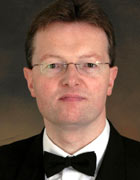 Chris Wormald

Chris Wormald became Director of Arts College at Smithills School and Bolton Sixth Form College in September 2003 and prior to that had been the Head of Music there since 1990. In December 2003 he also made his debut in the horn section of the Philharmonia Orchestra at the Barbican Hall in London.
As a teenager Chris was a member of the National Youth Brass Band of Great Britain under Harry Mortimer. On successfully achieving a degree as a French Horn player and completing his postgraduate teacher training at the University of Hull, Chris was appointed Head of Brass Instrumental Teaching for Bolton LEA from 1983 to 1990, the year he also joined the World famous James Shepherd Versatile Brass. He has been presented with the Mortimer Medal from the Worshipful Company of Musicians.
Chris is a member of the National Association of Brass Band Conductors and Association of Brass Band Adjudicators and in 2003 was elected onto the British Federation of Brass Bands Official List of Adjudicators for all major national contests. Chris is a regular adjudicator at the Rhyl Festival of Brass in North Wales and will once again preside over the Championship Section in 2004.
Chris was Classic FM Music Teacher of The Year in 2001 and remains a judge for the Classical 'Brit Awards' televised annually on ITV1 from the Royal Albert Hall in London. In 2002 was presented with both the Gerald Taylor Vocational Award and the Brian Hicks Memorial Award for his continued success and dedication to music education. His brass band arrangements continue to be published by both Wright & Round and Studio Music (London) and having worked on the Associated Board Brass Instrumental Examination Syllabus over fifteen years ago, Chris recently completed work on the new 2004-2005 Trinity College Brass Instrumental Examination Syllabus. In January 2004 he was the principal guest speaker at the International Conference of Trinity College Music Examiners held in Hinckley, Leicestershire.
He was most recently an adjudicator at the Pontins Championships.
---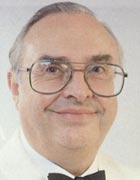 Dr. Roy Newsome
Dr Roy Newsome is well known throughout the brass band world as conductor, adjudicator, teacher and composer and was, for several years, the Presenter of "Listen to the Band" on Radio 2. He has had long associations with several of the country's leading bands, including Black Dyke, Williams Fairey, Besses o' th' Barn and Sunlife. He was Musical Director of the National Youth Brass Band of Great Britain from 1984 to 2000 and regularly directed the 20 yearly courses, as well as inviting leading conductors from the orchestral world to work with the band. He was also instrumental in commissioning new music which the band premiered, and in doing so has introduced a number of new composers to the banding world. He has conducted wining bands at both the British Open Championship and the National Finals.
He has adjudicated at virtually every major contest in the world and has over 100 published compositions to his name. He was for many years, Head of Band Studies on the BA and Graduate Diploma courses in Band Musicianship at the former University College, Salford and in 1989 was the recipient of the college's Honorary Graduate Diploma, having in 1976 been awarded the Silver Medal of the Worshipful Company of Musicians. In 1993 Roy Newsome succeeded the late Harry Mortimer CBE as President of the National Association of Brass Band Conductors.
Following retirement he was appointed Conductor Laureate, and regularly visits what has now become the Faculty of Music of the University of Salford as lecturer and researcher. In July 1999 he graduated as Doctor of Philosophy, becoming the first recipient of this award for research into brass band history at the University of Salford.
This year he was an adjudicator at the Grand Shield and All England Masters Championships.