2004 Scottish Open Championships - Introduction and dodgy predictions
23-Nov-2004
Royal Concert Hall
Glasgow
Sunday, 28 November 2004
---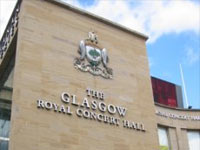 Scottish banding is experiencing a bit of a renaissance at the moment. The top bands themselves are doing better than ever in the major contests, whilst in the lower sections there appears to be significant improvements in the overall standard of performance.
It shouldn't come as a surprise really, as there is a rich heritage north of the border that for too long was held back by a conservative approach born of prudent Presbyterianism by an old guard that had control of the Scottish Brass Band Association. With the arrival of Alan McLaren as President and a new more dynamic and outwardly looking executive committee under his guidance, Scotland has proved itself to be something of a hot bed of progressive thinking and organisation.
Those lucky enough to have enjoyed the European Championships this year can attest to that, whilst the inaugural Scottish Open that took place twelve months ago proved its worth as both a "dry run" for the Europeans and a blueprint for what is hoped to be the beginning of a new and vibrant contest. It is not without its problems though, and this second running is a very important contest both musically and financially for the Scottish banding movement.
The music side should look after itself; there is a good quality line up of bands from as far afield as Norway, Wales and London to take on the home grown challengers, whilst the choice of test piece should prove popular to both the bands and the potential audience. We say potential with a degree of reticence though, as last year the event certainly lacked any atmosphere due in a major part to the lack of bums on seats.
We could go down the old stereotypical road and suggest that the Scottish banding public were too mean to put their hands in their pockets and pay to come to the fantastic Royal Concert Hall in Glasgow to support the event, but that would be unfair. The problem arose because the organisers took it upon themselves to try and promote too many individual events on the same day at different venues, thus diluting the potential audience for the main feature contest.
Besses o' th' Barn for instance played to a near empty hall at 9.30am, whilst other fancied bands also had to perform to the proverbial one man and a Scots terrier. It wasn't until later in the day that the auditorium filled up somewhat (and then it was never more than half full) and it left many of the competitors, as well as the organisers very disappointed that there was not a great deal of support for what was a well funded and well organised contest.
That has hopefully been rectified this year, and with other improvements such as getting rid of the pre draw it is hoped that each of the 16 bands can play "Dances and Arias" to a knowledgeable and fairly full hall.
The three men who will decide who will take home with them the top prize of £3000 (unfortunately we understand, this is the only prize money on offer this year after a major sponsor dropped out) are the very experienced duo of David Read and Dr. Roy Newsome and the welcome addition of Christopher Wormald. All are very knowledgeable about the score, with David Read fresh from an 8-hour stint listening to this piece at Pontins.
It promises to be a fine contest, and there will be a Gala Concert held on the Sunday night under the banner entitled, "Celtic Brass and Voices", which will feature Whitburn and Newtongrange bands with contributions from the Inverclyde Schools Choir and the BBC Radio 2, Scottish Youth and Open Solo Champion, Katrina Marzella, who will perform the Andrew Duncan's "Concerto for Baritone and Band". There is also the very homegrown folk group entitled "The Whistlebinkies".
As to who will win then?
There is certainly enough quality here to suggest it will be high-class competition. The Scottish contingent is particularly strong, with Whitburn fresh from their fine 3rd place at Spennymoor and 7th place at London; Scottish Co-op on the up after their 3rd place at the British Open and Kirkintilloch still on a high after their 4th place at Birmingham as well. That is as strong a Scottish defensive line up since Celtic won the European Cup - and they are not alone either.
Unison Kinneil are in good shape after their recent Land O' Burns and Whitburn contest wins, the improving Bon Accord and ambitious Kingdom Brass could well feature and the late entrants following the withdrawal of Sellers International, Newtongrange add more substance. That makes seven home grown contenders all in good shape.
The Welsh send up Tredegar, who returned to form with their 5th place at the National Finals and BTM who will always put in a strong and committed show wherever they go. Yorkshire is represented by Hepworth (Persimmon Homes) who should be very strong contenders here, whilst Lancashire sends their red rose representatives in the shape of the solid performers Freckleton, the improving Besses o' th' Barn and the resurgent Wingates who recently enjoyed their outing at the National Finals.
Fishburn make the trip up from the North East under the baton of Major Graham Jones fresh from a run of some recent good form, whilst Aveley and Newham make the even longer trip North from London to make their debuts north of the border and reinforce their most recent form which saw them do so well at the Masters.
Finally, to give the Scottish Open a true "European" feel, the Tertnes Band from Norway make the trip across the North Sea (although they have been enjoying themselves recently on a bit of a mini "tour" here) and should prove worthy contenders.
Out of all that then who will come top? It's Scottish Co-op for us if they can repeat the form of twelve months ago and forget about London. Frank Renton should provide a classy reading of the score, and if they play to form they should have enough about them to repeat last year's victory. Whitburn should be there or thereabouts as well - they are currently enjoying the best form of their lives and played outstandingly well at both London and Spennymoor and will be a short price at the bookies. Kirkintilloch should also be the other strong contenders here, what with Steve Bastable at the helm, fresh from leading Staffordshire to an excellent win at Pontins with a most musical reading of the score. If it clicks here for them they could well walk away with the top prize.
So it looks like an all Scottish top three for us, but Hepworth (Persimmon Homes) should not be discounted as they are a very fine band in the making and can play to a very high class indeed - just like last year. They didn't play to anywhere near their potential at Pontins, but Mark Bentham is too good a conductor to let that happen again, and we think they will push as hard as anyone for the top prize.
After that we opt for Tredegar to show enough quality to push once more into the frame here, whilst Aveley and Newham should have enough class about them to make it into the top six at least. Dark horses for us could well be BTM, who on their day can perform as well as anyone and do tend to like Gregson pieces.
4BR Prediction:
1. Scottish Co-op
2. Whitburn
3. Kirkintilloch
4. Hepworth (Persimmon Homes)
5. Tredegar
6. Aveley and Newham
Dark Horse: BTM