2004 British Open Solo & Quartet Championships - Retrospective
11-Nov-2004
British Open Solo & Quartet Championships
Supported by Tameside MBC
Hyde Town Hall, Sunday 7th November 2004


---
Audio interviews

Interview with Alex Thomas [WAV 1.25Mb]


Interview with Williebroek Quartet - Cozy Bones [WAV 497kb]
---
Alex Thomas, YBS Band's repiano player, had a look on his face of total disbelief on Sunday evening. The Salford University student had just been crowned British Open Solo Champion 2004 after a closely fought final that had three exceptional cornet players playing at the top of their game and had joined a list of players such as Philip McCann, Alan Morrison and James Shepherd to name but a few who have won the ultimate solo honour in the brass band movement.
Without question, Alex Thomas deserved to be crowned champion having given an excellent performance of 'Concerto No.1' by Brandt in the morning preliminaries before following it up in the final with a performance of enormous maturity and composure. The phrasing, dynamic range, and his overall understanding of the piece, along with the experience of competing in this competition in the past; the guidance of Professor David King at Salford and YBS, were all factors that played a part in him becoming champion. Apart from having the title, The Harry Mortimer Memorial Trophy, The Individual Solo Award for the best Soprano/Bb Cornet on show and £350, Alex will compete at the Ern Keller Championships in Sydney, Australia next February.
On another day, Kirsty Abbotts (Carlton Main) and Rob Westacott (Hepworth Persimmon Homes) could easily have taken the title, but for Alex's great performance. These three cornet players were an outstanding trio in the senior's competition, who shone above the other competitors. Kirsty performed Herbert Clarke's 'The Debutante' with clarity and purpose, whilst Rob, off the number draw in the final produced a lovely sound in Gregson's 'Prelude & Cappricio'. Judge David Read stated the reason the three had taken the prizes was that "the technique has to serve the music, the technique is there to help the musical picture and the prize-winners did give them that".
Thirty-three individuals commenced the preliminary round in the hope that they would be crowned Champion hours later (a fine turnout for the event and a indication that it is now restoring itself towards its former glory), but this was reduced to seven players for the Final, who from the words of judges Trevor Halliwell and David Horsfield 'had picked themselves'.
Joining the cornet contingent was Duncan Wilson on Trombone (Soham Comrades) Martyn Patterson on euphonium from Tongwynlais Silver (what a seven days for him following on from Pontins where he helped the band into the runners up spot); Toshiyuki Nizzuma (Bass player, Stalybridge Old) who drew number one in the preliminary's and Helen Varley, (Tenor Horn, BT Band), who retained her 2003 individual award. All of these four not only competed in the final, but also joined Alex as the individual winners in their respective instrument categories. The Final showed the amount of young talent on offer, as likes of Alex, Helen and Toshiyuki are students at Salford University.
All of these four played to a very high standard and can be immensely proud of their individual efforts. Helen Varley in particular can consider herself unlucky not to go have got in the top three with a great performance of 'Variations sur la Tyrolienne' (Arban).
The standard on offer in the prelims meant that some quality players missed out. Mark Bousie, Emma Farrow, Mark Glover, Richard Kidd, Brenden Wheeler (all Euphonium), Rosie Pearce, (Tenor Horn) a finalist from 2003 and Matthew Kay from the YBS cornet ranks, all of them putting in fine accounts and hoping for better luck next time.
At the end of the Senior Quartet Final, judge David Read spoke about the value of quartet playing benefiting a band, a reminder of there being no hiding place and praised the standard of cornet playing on offer, with plenty of warm, expressive sounds. With the experienced Dr Roy Newsome also in the box, the duo went for the Belgian quartet representing Brass Band Willebroek. Guy Godts, Kris Binon (Cornets) Dirk Reyniers (Tenor Horn) and Steff Pillaert (Euphonium) go under the name of 'Cosy Brass Quartet' and were certainly the deserved winners with a performance of 'Little Swiss Suite' by Goff Richards. The Quartet Championships was a competition they wanted to compete in and their commitment was such, that it was an early morning flight into Manchester and then home the same night.
The quality of performance from the European four was extremely high but Rothwell Temperance 'A' (comprising of Dave Roberts, Andy Riley, Les McCormack and Matthew Allsop) who came in second were also excellent, whilst the foursome of Claire Hudson, Dave Lawrence, Sarah Musgrave and Rob Westacott (Hepworth) who finished third performed with real class but can have no complaints about the winning quartet taking top honours. Of particular interest were Nick Walkley, Brian Taylor, Chris Pannell and Michael Howley from Fairey (FP) Music who gave a great account of themselves in 'Variations on a Theme of Paganini' by Joseph Horovitz, and could count themselves the one quartet to be have been unlucky not to be in the prizes. Great to see Fairey putting out a quartet as well - a great indication of spirit within their camp is now on display.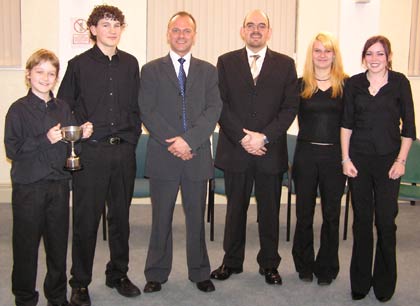 Chetham's Quartet: Matthew White (14) - Euph, Sam Kinrade (15) - Cornet, Vicki White (15) - Horn, Victoria Buddin (16) - Cornet with Adjudicators Paul Andrews [left centre] & Glyn Williams [right centre]
The Junior Sections continue to prosper with plenty of young playing talent on offer. Paul Andrews and Glyn Williams went for four players under the banner of 'Chetham's Brass Band' as the winners this year with Shirland Welfare Training, nudging one of three Dobcross Youth quartets into second place.
Paul and Glyn also picked out Jan Nowicki, the talented bass player from Dobcross Youth as the winner in the Junior Slow Melody Section, with Peter Moore, (baritone, Moston & Beswick) second, and Charlotte Heaven (Bb cornet) third from Oldham Band Lees. Within this section, it was a delight to see Jonas & Lode Violet from the Young Brass Band Willebroek, both of whom gave good accounts of themselves, whilst not challenging the prize winners.
The Intermediate Slow Melody Final was a clean sweep for members of the NYBBGB. Vicki Reynolds, the tenor horn player from Hathern Band took the title with Ian Beckett (cornet) from Shirland Welfare Training taking runners up spot with Ryan Gray (euphonium, CWA Brass) coming in third.
This event continues to grow in popularity, with numbers slightly up on last year, and hopefully more players will want to compete in the individual and quartet competitions. A huge vote of thanks goes to Frank Hodges, Derek Atkinson, Robert Kerwick and everybody else from the North West Counties Brass Band Association who run the event like clockwork. In addition, unsung heroes, Roderick Barrand and David Jones, the piano accompanists, and Louise Atkinson from Tameside MBC who support banding throughout the year (but please could you provide a microphone for the main hall especially in future, so that everybody can hear what is being said by those speaking!).
Congratulations go to everybody though for competing, and to the winners, it is a day you won't forget in a hurry.
Dave Tinker & Malcolm Wood
Copyright 4BR