2004 Pontins Brass Band Championships - Retrospective: Third Section
2-Nov-2004
A very difficult test for the Third Section, but two bands proved that they were a class above the rest in a contest that all the bands impressed the judges.
---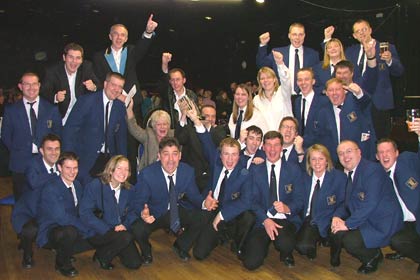 United Norwest 2000 Brass celebrate their win
Two outstanding performances were the highlight of the Third Section, where the eventual victors were United Norwest 2000 Brass, conducted by Jamie Meredith, who just pipped Christopher Wormald and his Hoover (Bolton) Band into second place with a tremendous performance of the very difficult "Prelude and Jubilate" by Darrol Barry that proved a most severe test for the competing bands here.
In fact, it would have taken some pretty good standard first section bands to overcome the exposed and rather treacherous opening "Prelude" which was openly scored in an exposed fashion for the soprano in particular and which required both strong nerves and a fine sense of balance and tuning to sound in control.
The top two certainly did that in spades though, with Hoover (Bolton) setting a superb maker off the number 1 slot (they were drawn number 3, but the two bands above them withdrew), and that left Christopher Wormald with a mad dash from the judges box of Section 4 to the back stage dressing rooms to get his band ready - that he did it proved that he is a man with nerves of steel and a running style of Steve Cram.
In fact the two judges Malcolm Brownbill and David Read remarked that they felt that these were the two outstanding performances on the day, although they made the point that the two themselves differed greatly from each other in terms of musical approach. It was however the more rhythmically driven and purposeful reading from United Norwest 2000 Brass that gave them the title ahead of the more restrained and controlled performance from Hoover (Bolton).
David Read told 4BR that, "The top two performances were excellent, but in different ways. One had a great amount of control and attention to detail, whilst the other had so much life and purpose. Both had so much good playing that it was a very difficult decision, but we felt that the winners just captured the essence of the joy of the "Jubilate" and that just gave them the edge."
Both adjudicators were also impressed by the overall standard of all the 18 bands on show and there was much to admire in all the performances, with brave soprano playing and some equally fine euph playing a feature. The solo cornet playing though wasn't a highlight and David Read (a no mean top man himself) was rather puzzled by the fact that so many players had problems maintaining the pitch of their longer notes and maintaining breath control.
Still the top two prizewinners were excellent in nearly every regard and Jamie Meredith, the winning MD was a very pleased Welshman (he hails from Abergavenny no less!) when he spoke to us before he had to speed off and play with the BT in rehearsal for the top section contest the next day. "This is a brilliant achievement for the band," he said. "We played the "Jubilate" at a concert just a week ago, so we knew we could produce a good second half to the test piece, but the players really have worked so hard on the difficult "Prelude" and it all came off on stage. The solo players, especially Richard Laycock on soprano were fantastic and the rest of the band responded to what I wanted from them so well. They are a great bunch and I'm really enjoying conducting them."
There was also much to admire about the performances from the other top six bands as well, with Trinity Girls under Stuart Barton giving a wonderful account of themselves with a very persuasive rendition, whilst fourth placed Shirland Welfare Training once more impressing under the motherly guidance of Marie Smith. What a tremendously talented bunch of youngsters she is developing, although we understand that a number may be leaving for college this year. Lets hope they retain the brass banding bug and that wherever they go they pick up with a local band in the area - they would be a great loss to the movement if they didn't.
Behind them came Porthaethwy Menai Bridge in fifth place after giving a neat and controlled performance whilst sixth spot went to Whitworth Vale and Healey under John Binns who also gave a performance of merit.
We couldn't really disagree about the results to any extent really, although we felt Boarshurst were a little unlucky to come 13th. All the bands that filled the placings out of the top six had real moments of quality playing about them - although it must be said that mainly took place in the "Jubilate" rather than the "Prelude" which proved a real handful.
One band that had a horrendous start, though through no fault of their own was Wem Jubilee conducted by Roger Thorne, who started with a lovely first entry and were literally blown off stage when the microphone of the compere Denis Wilby shut off with such a bang that it was as if a gun shot had been fired in the Lunars Hall. Roger calmly stopped his band (as both players and audience were stunned) and requested of the judges that they be allowed to start again. This was properly granted by Malcolm Brownbill and Wem set off once more, although they couldn't overcome some obvious nerves and ended up 17th overall.
No such problems for the winners though and the Welshman who has been doing a bit of missionary music work up in the dark and cold area of Crewe where he has set up home and a music business since graduating from Salford University. A talented and personable young man with a big future ahead of him, and a band who were absolutely delighted with their MD of less than a year who had won them a major prize on his debut at the contest. What a start.
Iwan Fox