2004 Pontins Brass Band Championships - Retrospective: First Section
2-Nov-2004
The First Section proved a difficult test for the bands who had to overcome Philip Sparke's set work. In the end though it was Wrexham Brass who do it in some style.
---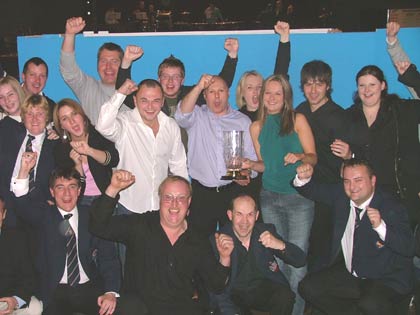 Wrexham Brass and Wayne Ruston celebrate
20 years after it was written and Philip Sparke's "A London Overture" is still a formidable test piece - especially at First Section level. So much so that not one band in the large 24 band field here came through it totally unscathed, although a good majority gave some quality performances nonetheless.
The winners and runners up in particular were fine renditions in anyone's book and fully deserved to take away with them the top prizes of £1750 and £900 respectively. Wrexham Brass took the top honours under the baton of Wayne Ruston and he was a happy bunny when we caught up with him after the announcement of the results.
"Obviously I'm delighted," he said. "We have been playing really well in rehearsal and I knew if we played to that form we would be in with a good chance here. On stage though I couldn't have asked for more - the players excelled, with the soloists in particular playing brilliantly and the rest of the band taking confidence from the great start they gave us."
It was a performance that both Colin Hardy and his fellow adjudicator Raymond Tennant felt had the hallmarks of clarity and rhythmic precision allied to a fine sense of musicality. In addition, Wrexham also had an excellent quartet of soloists who played the demanding cadenzas at the beginning of the work with a composure that was sadly lacking in many others on a day when the test piece claimed many individual and ensemble scalps.
Those four corner players of Graham Taylor on principal cornet, Chris Aubrey on solo euphonium, Alison Edwards on solo horn and Aled Davies on trombone more than earned their beer money with some cracking playing in the very difficult opening cadenza section, and they certainly set the tone and lifted the confidence level for the rest of the band to follow. They were worthy winners.
The same could also be said of second placed Towcester Studio under the commanding direction of Adele Sellers who produced a commanding account that had a fine rhythmic feel throughout and maintained the interest of the listener right through to the end. They left the stage to prolonged applause and many plaudits in the large audience, whilst their bank balance was boosted by £900.
In third place came Ammanford Town under the direction of Colin Hogg who produced another powerful account that benefited from some fine cadenza work and a neat and clearly defined rhythmic structure, whilst fourth place went to Unity Brass off the number 11 draw with a performance that started a little hesitantly but grew in confidence as it went along.
Fifth place was claimed by a delighted Swindon Pegasus Brass off the late number 21 slot who delivered a spacious account that played to their strengths of a compact sound and neat ensemble, whilst the final top six place went to one of the pre contest favourites, Hatfield Coal Power under the baton of Graham O'Connor who we felt were more than a little unlucky to come 6th overall with a performance that for us had most to offer the listener, but which was a little too bold in places.
Adjudicator Raymond Tennant highlighted the problems that beset too many bands. "This is still a very difficult work to overcome, especially at this level," he said. "We weren't too concerned with the little errors that occurred in the difficult cadenzas, but we were concerned that too many bands played at a tempo in the quicker sections that meant they lacked clarity in the detailed ensemble playing."
Colin Hardy also agreed. "We had less to criticise with the top two performances - they were very good. However as we went down the prize list, the bands fell foul to ensemble problems due mainly to too many MD's choosing tempos that possibly stretched their bands too far."
That was an accurate reflection of much of went on throughout the contest - bands started well, perhaps had a few clips in the cadenzas, but then seemingly went hell for leather after that - with the subsequent problems with untidiness and individual errors due to the speed.
Thus, the likes of Mossley, Ibstock, Pemberton Old B (in particular), Jackfield and the others that filled the placings between 7 and 13 or 14 could only have themselves to blame that they didn't quite either play to form or didn't quite capture the lightness that the music demanded in the quicker passages to make more of a mark with the judges. All had their moments of real top notch playing - especially the solo cornets of just about every band on the day who were quite excellent, but that quality wasn't consistently spread throughout the piece and the nasty moments were certainly painful on the ear in terms of some of the middle of the band tuning.
The bands that filled the placings below 14th either had poor days at the office or couldn't quite get to grips with the technical aspects of the set work and so their challenges faded away, after many had given very good starts. It was difficult to really separate the likes of Brackley, Chalford, Enderby, Old Silkstone, Bedworth and Riddings from each other, and although they were not too far behind the bands that came between 7th and 14th, in a large field it is sometimes difficult to make a lasting impression if the error count in a performance is quite high - and many of these shows had a number of nasty little errors. That said though, they were still performances of merit and with a bit more luck and a little better judgement in terms of tempo perhaps, many of these may have challenged for a top six place.
Not so those who filled the bottom third of the prize list - these performances just didn't meet the challenges that the test piece threw at them, and although once more there were genuine moments when there was quality on view (especially the principal players) it was the ensemble balance and brashness of the tonal quality that marked them down for us and the judges. Still better luck next time as bands such as Moston and Beswick who came 21st, Llanrug who came 22nd, Wakefield who were 23rd and Tyldesley who were last are bands who we have heard play to a much better level than this.
However, the bands who really played to form on the day really showed that they could well make a mark in the top section given the chance, with the top two in particular a good as we have heard for a while. Congratulations to both Wrexham and Towcester and to the other prize winners on what was a difficult test piece to overcome.
Iwan Fox