2004 Pontins Brass Band Championships - Fourth Section
29-Oct-2004
Saturday 30th October
Venue: Lunars Hall
Test Piece: Attleborough Suite - Malcolm Arnold
Adjudicators: Roy Sparkes and Christopher Wormald
Commence: 9.00am

---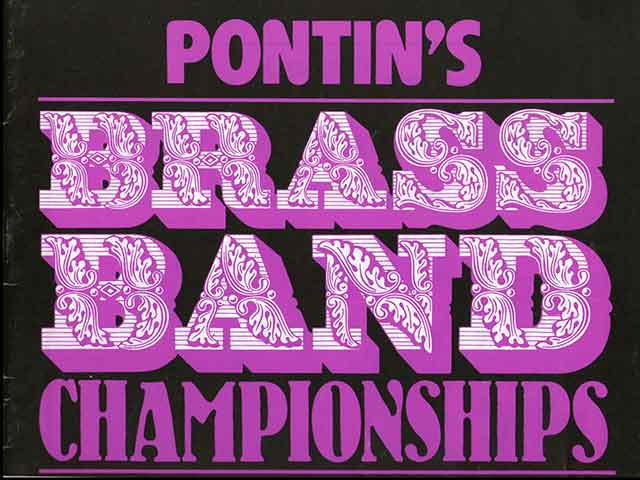 Draw: Pre-draw
First Prize: £1,750
Second Prize: £900
Third Prize: £650
Fourth Prize: £450
1. Besses Boys Band (TBA)
2. Cresswell Colliery (Adrian Wood)
3. Dobcross Youth (Ted Griffiths)
4. Eatons Farnworth and Walkden (Peter Ashley)
5. Glyneath and District Silver (W. Cross)
6. Grange Moor Brass (Malcolm Dibb)
7. Greenfield (D. Chapman)
8. Holywell (David G Davies)
9. Llwydcoed (Alan Davies)
10. Pemberton Old "B" Band (Peter Ashley)
11. Rivington and Adlington (Harry Bentham)
12. Sale Brass (Steve Shawcross)
13. Satndish (John Roberts)
14. Uppermill (TBA)
15. Valley Brass (Haydock) (David Chadwick)
16. Wellington (Telford) (Steve Curtis)
Just the 16 bands on view in the Fourth Section this year, which is two down from a twelve month ago, and a bit of a disappointment to the organisers who really do make an effort to try and make the contest as attractive as possible for those bands with one foot on the bottom rung of the contesting ladder. There is excellent prize money up for grabs and a tremendous test piece in the shape of Malcolm Arnold's, "Attleborough Suite", which we last heard at the National Finals a few years back when it revealed itself as an absolute little cracker of a set work.
Arnold certainly knew how to compose brass suites to a tee, and this one (named after one of the places where he lived for a period) is no exception. It is full of the dry wit, character and playfulness that so marked him out as both a composer and person, whilst there is also a rather disturbing undercurrent throughout as well - also a reflection of the composers more troubled moments. There is a superb opening "Overture" - a masterclass in the art of the "brass miniature", followed by a lyrical "Ballade" that reveals all the beauty of Arnold in microcosm. The final "Dance" has a superbly dislocated feel that takes its lead from the soprano cornet and heads for a fine robust end. Everyone should enjoy it.
As with the rest of the lower sections, it is the North West that provides the bulk of the competitors, with no fewer than 10 from the region making the trip along the North Wales coast road to the windy outreach that is Prestatyn.
There are some very strong competitors too in that double handful as well, with Uppermill, who came 9th at the National Finals in Harrogate and who have also won at Tameside and Buxton this year one of the strongest in the field. Also joining them are Pemberton Old "B" Band, who won the North West Regional title and went on to come 12th in Harrogate, but who also won top honours at Brass at the Guild Hall earlier in the year.
The band that came 3rd at Blackpool will also be there as well, with Standish returning once more, after coming 15th here last year and 7th at Preston., whilst Eatons Farnworth and Walkden who were 5th at Blackpool also make the trip looking for some silverware. The famous Besses Boys Band make a return trip also, after coming runners up here last year and 9th at the Regional Championships, whilst another famous youth ensemble, Dobcross Youth who were 6th at Blackpool make an appearance under the superb leadership of Ted Griffiths.
Greenfield were 11th here twelve months ago, and came 13th at the Regional Championships in Balckpool, so they will be hoping for a better return this time around, whilst Rivington and Adlington who were 10th at Blackpool and then came 3rd at Preston will be keen to improve on last years effort of 8th place here.
Finally, Sale Brass who wee 12th here last year return once more to try for better honours, as do Valley Brass (Haydock) who with placed 8th at Blackpool.
Yorkshire meanwhile sends just the one representative in the form of their Regional Champions, Grange Moor Brass, who went on from Bradford to claim 3rd prize at the National Finals itself and also 2nd polace at the Buxton contest. They will be confident of doing very well indeed.
Wales sends three representatives; Glyneath and District Silver, who came 8th in Swansea, Llwydcoed who came 12th but went on to win at the Ebbw Vale contest a month or so later. and Holywell who came 5th at the Regional Championships.
Last but not least, the Midlands have two bands making the trip, with Wellington (Telford) who were placed 3rd here last year and who came 9th at the Midlands Regional Championships and Cresswell Colliery (a very famous old banding name indeed) who came 14th at Burton on Trent.
Some great names, and plenty of ambition and talent on show as always, but who will be the bands who will impress the judges, Roy Sparkes and Christopher Wormald for us.
The two that do stand out are Uppermill, who have had a very good year so far, and Grange Moor, who were impressive at Harrogate. A fight between the red and the white rose them for us to see who takes the top prize. Behind them there could also be a great battle for the prizes between the likes of Besses Boys, Pemberton Old B, Rivington and Adlington and Dobcross Youth, with our dark horse being Wellington (Telford).
We'll see how close we are with our predictions come results time.
4BR Prediction:
1. Grange Moor
2. Uppermill
3. Besses Boys
4. Rivington and Adlington
5. Dobcross Youth
6. Pemberton Old B
Dark Horse: Wellington (Telford)