2004 Pontins Brass Band Championships - Third Section
28-Oct-2004
Saturday 30th October
Venue: Lunars Hall
Test Piece: Prelude and Jubilate - Darrol Barry
Adjudicators: Malcolm Brownbill & David Read
Commence: 2.00pm approx

---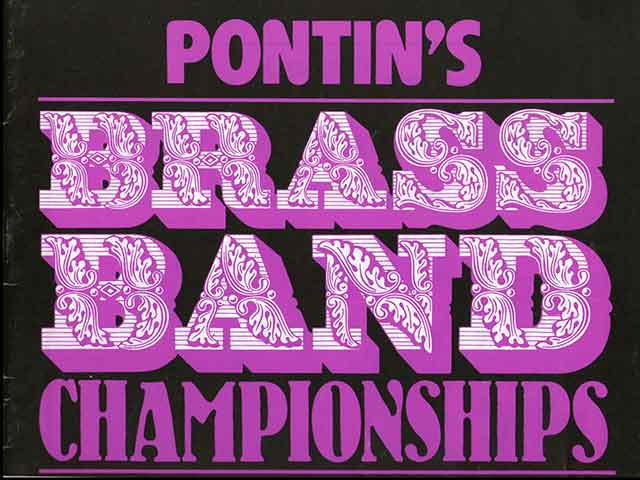 Draw: Pre-draw
First Prize: £1,750
Second Prize: £900
Third Prize: £650
Fourth Prize: £450
1. Boarshurst Silver (Jonathon Webster)
2. Bream Silver (Huw Cole)
3. Dinnington Colliery (Toby Bannan)
4. Hoover (Bolton) (Chris Wormald)
5. Leics Co-op Snibston Charnwood (Graham Jacklin)
6. Lockwood Brass (Nigel Barnes)
7. Long Eaton Silver Prize (Mrs Sharon Stansfield)
8. Lostock Hall Memorial (K. Rollins)
9. Phoenix West Midlands Brass (David Bishop Rowe)
10. Pilling Jubilee Silver (Brian Harper)
11. Porthaethwy Menai Bridge (TBA)
12. Rainford Silver (Neil Samuel)
13. Royal Buckley Town (Gareth Westwood)
14. Shirland Welfare Training (Marie Smith)
15. Timperly (Carl Whiteaok)
16. Trinity Girls Silver (Stuart Barton)
17. United Norwest 2000 Brass (Jamie Meredith)
18. Wardle and District Anderson Brass (Duncan Beckley)
19. Wem Jubilee (Roger Thorne)
20. Whitworth Vale and Healy (John Binns)
Another interesting line up of bands, the majority of whom have tasted success of some sort during the past twelve months, and with some tasting the ultimate success at the National Finals in Harrogate.
Six of those bands who competed there a few months ago will be making the trip along the North Wales coast to Prestatyn in the hope of adding a bit more silverware and quite a few extra pounds to the hard pressed bank balances. They may also be the bands to look out for here, as all six of Boarshurst, Hoover Bolton, Lockwood, Royal Buckley, Shirland and United Norwest 2000 Brass should be considered as strong contenders.
All though will have to try and overcome a strong test piece in the form of the enjoyable Prelude and Jubilate by Darrol Barry which is one of his most recent works and was written to celebrate the 10th anniversary of the Ensemble de Cuivre d'Ajoie of Switzerland. The opening Prelude is a slow and quiet preamble to what is to follow, which is a joyous rhythmic celebration in the Jubilate. It should prove a good test and enjoyable listen for those in the hall.
As with the Second Section, the majority of the bands here come from the North West, with 10 contenders. It should be something of a local battle royal then. In fact the bands that occupied the top six places at Blackpool lock horns again here, and given that the North West Region is considered one of the strongest at this level, it should be a mouth-watering prospect.
Boarshurst have certainly had a good year so far in 2004, what with 3rd place at the Regional Championships, which led to 6th place at Harrogate off a number 1 draw. They also won at Buxton and Brass at the Guild Hall as well as coming 4th here last year, so they will be one of the favourites for sure. Hoover (Bolton) are also a band who will be one of the favourites to do well here also. The National Champions were excellent value for that victory in Harrogate, and to add to that they also won the North West title as well. They should be up amongst the top prizes if they play to form for sure.
Lostock Hall Memorial came 11th here last year and also had decent returns at both Buxton where they were 4th and Brass at the Guild Hall where they came 7th. They may have to improve on the 15th place at the Regionals though to make a mark here. Pilling will also be hoping for a better return than the 11th place they got at Blackpool, whilst Rainford who came 6th there will be looking for a return to form. Timperly were 5th in Blackpool but came second at the Guild Hall, whilst Trinity Girls may be looking to add to the prizes they have already won this year after coming 5th at the Regionals, 3rd at the Guild Hall and 2nd at Buxton.
The final three representatives from the North West are Whitworth Vale and Healy who were 13th at Blackpool but who were runners up here last year, Wardle and District Anderson Brass who were 4th at the Regional Contest and who have a fine contesting record over the years for such a young band, and United Norwest 2000 Brass, who came 2nd at the Regionals, and 4th with a fine performance at Harrogate.
The next biggest contingent comes from the Midlands, with Shirland Welfare Training under the superb Marie Smith sure to be a strong contender. They won the Midlands Regional Championships in style and went on to come 8th in Harrogate. Wem Jubilee should also be a band travelling in fine style with the popular Roger Thorne at the helm. They could well make an impression here.
Phoenix West Midlands Brass have already won a big prize this week (well their conductor has by winning the 4BR Nationals Competition), and they will be looking to improve on their 5th pace from the Regionals by adding a bit more silverware to their bandroom. Long Eaton came 4th at the Midlands Regional Championships and will be hoping to bring that form here, whilst Leics Co-op Snibston Charnwood will be looking to improve on their 6th place at the same contest.
Yorkshire's only representative is Dinnington Colliery under the baton of Tobias Bannan, the bass trom player of fine repute, who will be keen to make an impression here, whilst the only band from the West of England is Bream Silver, who came 15th at the Regional Championships in Torquay, but who came 3rd here last year.
Wales send two representatives in the form of Royal Buckley who qualified for Harrogate after coming second in Swansea and who went on to come 11th at the Finals, and Porthaethwy Silver who were 5th in Swansea, and who have been regular prize winners all over the country over the years. That just leaves Lockwood Brass who have really played to form this year in qualifying for Harrogate after winning the North of England Regional Championships and then coming 3rd at the Finals itself.
With that line up of prize winning talent on show, who do we think will come out of it all on top?
Well, if they play to the form that they showed in Harrogate, then we can't really see further than Hoover (Bolton), whilst some of the others who made it there should also feature if they reproduce the form that got them there. Therefore we think Boarshurst Silver, Lockwood, United Norwest 2000 Brass, Trinity Girls and Shirland Welfare Training should do well and challenge for the top honours. Our dark horse could well be Wem Jubilee.
4BR prediction:
1. Hoover (Bolton)
2. Boarshurst Silver
3. United Norwest 2000 Brass
4. Lockwood
5. Trinity Girls
6. Shirland Welfare Training
Dark Horse: Wem Jubilee