2004 Pontins Brass Band Championships - First Section
28-Oct-2004
Saturday 30th October
Venue: Fun Factory Ballroom
Test Piece: A London Overture - Philip Sparke
Adjudicators: Colin Hardy and Raymond Tennant
Commence: 10.00am

---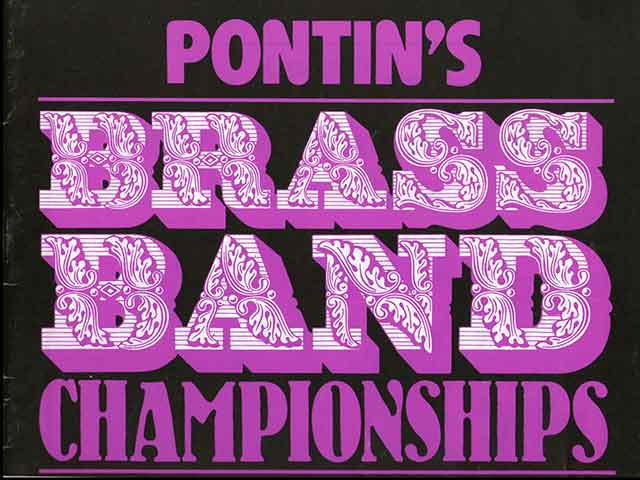 Draw: Pre-draw
First Prize: £1,750
Second Prize: £900
Third Prize: £650
Fourth Prize: £450

Competing Bands:
1. Ammanford Town Silver (Colin Hogg)
2. Bedworth Brass (TBA.)
3. Blackburn and Darwen (TBA)
4. Brackley and District(Jason Glynn)
5. Chalford(Steve Tubb)
6. Enderby(Derek Broadbent)
7. Hatfield Coal Power(Graham O'Connor)
8. Ibstock Brick Products(David Jones)
9. Jackfield (Elcock Reisen)(TBA)
10. Llanrug (TBA)
11. Mossley (Martyn Evans)
12. Mosten and Beswick (Martin Obermuller)
13. Old Silkstone (Norman Law)
14. Pemberton Old Wigan JJB (Mark Peacock)
15. Riddings (John Davis)
16. Swindon Pegasus Brass (John Winterflood)
17. Towcester Studio (Adele Sellers)
18. Maxilead Metals Tyldesley (Robert Taylor)
19. United Co-op Milnrow (Andrew White)
20. Unity Brass (Paul Northey)
21. Vernon Building Society Poynton (Alan Lawton)
22. Wakefield Metropolitan (Brian Dyson)
23. Wantage (Michael J. Pegram)
24. Wrexham Brass (Wayne Ruston)
The First Section should prove to be a great fight between all 24 bands this year, especially as there is a fine test piece to test them to the full, and one which will make its mark on the principal players for certain.
"A London Overture" was written quite a while ago now in 1984 for the Dutch National Championships, and was used as the set work for the European Championships in Rotterdam in 1991, when the set of cadenzas for trombone, horn, cornet and euph took its fair share of causalities. It has remained a popular piece ever since, mainly due to the fine mix of broad spacious tunes allied to taut rhythmic passages which are the hallmark of that fine composer for brass, Philip Sparke.
It may therefore be easy to suggest that the prizes will go to the bands who are able to overcome that first difficult exposed section, but that would be wrong, as there is so much more that the piece has to offer for both players, audience and crucially, the judges.
There are plenty of quality bands on show as well, what with Regional winners in the shape of Hatfield Coal Power (Yorkshire), Pemberton Old Wigan (North West) and Llanrug (Wales) - although that was in the 2nd Section, as well as runners up in the shape of Riddings (Midlands), Wrexham Brass (Wales) and Vernon Building Society Poynton (North West). The National Champions (as well as Brass at the Guild Hall) are here as well, as Pemberton went on to top the First Section National Finals in Harrogate. In fact the North West are out in force with the bands that filled the top six places at Blackpool all here to do battle against each other once more.
Bands come here with decent form from throughout the year, with the likes of Blackburn and Darwen (runners up at Whitehaven), the top three from Tameside - Mossley, United Co-op Milnrow, Moston and Beswick and Buxton - Wrexham Brass who came 3rd. Riddings won at the North East Midlands BBA Contest in February, whilst Towcester came runners up at Milton Keynes earlier in the year.
Other North West bands took part in the Brass in the Guild Hall contest in February as well, such as Blackburn and Darwen and Jackfield. Llanrug are also here after coming second there. Last years champions return once more to defend their title in the shape of Wrexham Brass, as do the runners up United Norwest Co-op Milnrow, 3rd placed Ibstock Brick Brass and a few more as well.
It should therefore make for a top notch contest - but who do we think will win then?
Some names do pop out at us, and perhaps the one to beat could well be Pemberton Old Wigan JJB under the baton of Mark Peacock. They were excellent value for their victory in Harrogate and if they bring that form here they should top the tree once more and take the silverware plus the prize money back with them. Hatfield Coal Power are also a band in a fine vein of form, and with Graham O'Connor at the helm they will surely be strong contenders. The North West could very well make it a clean sweep here, what with the likes of Old Silkstone and Norman Law and United Co-op Milnrow and Andrew White more than capable of producing a performance to beat the opposition. Don't forget that wily old campaigner Alan Lawton who will head the challenge of Poynton - whenever he is in front of a band you know you will get a performance of merit.
The Welsh may have high hopes of doing well here also, with Llanrug a quality outfit indeed, Wrexham keen and more than capable of retaining their title and Ammanford more than capable of pulling off a victory under the baton of Colin Hogg. The Midlands send Towcester Studio and Unity Brass to back up Riddings, Ibstock and Brackley so there will be decent performances from them as well. The bands possibly making the longest trips this year will be those from the West in the shape of Swindon Pegusus Brass and Chalford, so they will not want to make the long trip back home empty handed, whilst London and the Southern Counties send Wantage to see if they can take something back with them to the South East.
Predictions:
With that all in mind then - we'll opt for a top six of:
1. Pemberton Old Wigan JJB
2. Hatfield Coal Power
3. Mossley
4. VBS Poynton
5. Riddings
6. United Co-op Milnrow
Dark Horse: Ammanford Town