2004 National Championships of Great Britain - Contest Retrospective
20-Oct-2004
4BR looks back at the thrills and spills of the 2004 Nationals and the 20th victory for Black Dyke - just in time for their 150th birthday celebrations.
---
Audio interviews

Interview with the adjudicator - Malcom Brownbill [WAV 727kb]


Interview with the adjudicator - David Read [WAV 1.24Mb]


Interview with the adjudicator - Dr. Michael Ball [WAV 1.65Mb]


Interview with Best Instrumentalist - Peter Roberts - YBS [WAV 956kb]


Interview with Alex Kerwin - Soprano, Black Dyke [WAV 691kb]
---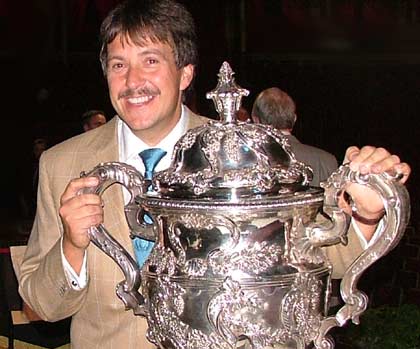 Nick Childs celebrates with the Nationals Trophy
Beware an injured giant indeed. Black Dyke may have made the journey south to Kensington nursing a little bit of a sense of injustice after the British Open, but instead of letting it fester and destroy their chances of winning their 20th National title, they surely used it as a spur of immense motivation to galvanise their challenge and take the famous trophy back to Queensbury in time for their 150th anniversary celebrations.
It also highlighted perhaps the difference between those bands that can truly lay claim to describe themselves as a "great", from those who merely believe they are. This was a win of character; a victory of self-belief and a triumph of collective team spirit. Dyke has been under the critical hammer of late (and by late we do mean the last few years since their last major victory in 2001) - contests had come and gone, but the partnership of Nicholas Childs and the most famous band in the world had not added to their victory CV anything more than one Yorkshire Regional title in 2002. Those with long memories were starting to make possible comparisons with the tenure of Colonel "Jigs" Jaeger - a brilliantly popular musician with both the band and the audience who nonetheless never captured a major title with the Dyke under his tenure.
That would be an unfair comparison, but the parallels were starting to be made. Black Dyke are still the most popular concert and recording band in the world, but their reputation has always been sustained by contest success, and one victory in nine attempts at either the Open or Nationals under Dr Childs was a record that needed to be changed. Bad draws, bad luck and inspired opposition possibly accounted for them not adding to that "Albion" victory, but the pressure was certainly on this year like no other; and at the Royal Albert Hall on Saturday, with that pressure at its greatest intensity, Black Dyke and Nicholas Childs drew deep into the well of their self belief and character and were rewarded with a victory that could well be the defining point of their long term association.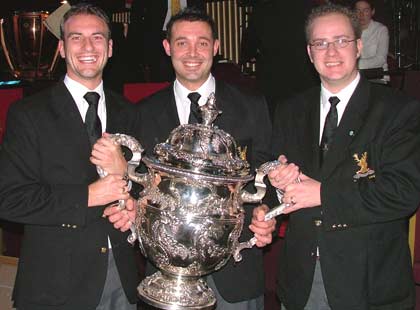 Dyke's percussion section get to grips with the trophy
The omens, although not necessarily in their favour, were certainly not stacked against them this time. A decent draw (number 11 had produced 16 top six places, including two winners since 1968), a much more "traditional" composition to the adjudicators box and a test piece that on paper certainly suited their strengths both player and conductor wise, meant that they would have been full of confidence - but that was on paper, and with a strong line up of rivals stacked against them, that confidence was to be tested to the full.
The day started with a draw that just about suited all the neutrals tastes. The fancied bands were all pleased with what their representatives had drawn out of the hat: YBS at 7, Brighouse at 8, Dyke at 11, Fairey at 19 and BAYV at 20, whilst the other top bands with good recent form or decent track records in London were also smiling: Tredegar at 10, Leyland at 13, Scottish Co-op at 14 and Reg Vardy (Ever Ready) at 18. The contest had a symmetry about it that meant that the title could be up for grabs realistically right through to band number 20.
However, the one band that was certainly not smiling was Alliance Brass. Drawn number 1 for the second successive year, it subsequently transpired that they had only been able to get three rehearsals together (due to the nature it must be said of the composition of the band - they are made up of nearly all professional or budding professional musicians). In the event the first time they had a full set of players available for John Clark was the time they took to the stage at 10.00am on the Saturday morning. Given that they came 15th with a creditable performance that just lacked for warmth and a sense of atmosphere, they should be wholeheartedly congratulated. Given that we subsequently found out from the MD himself (see our comments page) that it was a work that found little or no favour with either the players or him, then it was a minor miracle indeed. This was a premiere performance in the very literal sense of the word.
Whitburn followed. The early draw was certainly not what they wanted here but they started superbly, with solo cornet player Eleanor Ferguson on inspired form. The first third of the piece unfolded beautifully, but things turned against them in the section between rehearsal marks 8 - 16, where the main reflective solo sections were featured. Here things didn't quite go to plan and by the time they recovered to a superb finish (with Eleanor Ferguson once more outstanding) the chance to post a marker that would have been hard to beat was gone. 8th place from the judges was a reflection of the quality that was one show, but also of the number of errors that were expensively noticeable. It was about par for the course.

Redbridge, Wingates and Mount Charles made up the first quarter of the contest and each experienced different emotions come results time.
Redbridge gave a strongly defined performance, perhaps too strongly, and the sense of reflectiveness and feeling of a broad spacious flexibility as indicated by composer at the beginning of the score was never quite captured. It certainly had its moments, but those where when the dynamic levels were above mf or f. Below that level the tonal quality of the band wasn't the same and with some nasty individual errors they ended up in 12th place - just outside the top 10 once more, but a fair result on the day for their efforts.
Wingates also had moments, but there was a general untidiness about much of the ensemble work, as if the keenness of the players to make their individual mark on the performance robbed the band of a coherent sense of togetherness. It never quite captured the sense of tranquillity and there was a tension about much of the solo work, but after such a long time away from the Albert Hall this was a creditable show from players and MD alike, and they will gain a great deal of confidence from it.
Finally, Mount Charles under the baton of Bryan Hurdley with a performance that the players themselves felt was perhaps let down by too many individual errors. That was honest assessment, but there was also a sense that the MD fully understood the need to maintain a broad feel to the music with an ever present undercurrent of the triplet theme. In the end, we had them a little further down the prize list, but it was the first performance that certainly found favour with the three men in the box and they placed them 7th. The long journey back to deepest Cornwall would have been a happy one.
The audience reaction after the first five bands had played was interesting. The hall was certainly nowhere near full - perhaps it was the early start this year, but comments heard from a variety of sources was that the test piece was not to their liking at all. Where was the fire and brimstone, the technical challenges and the big finish? Why were solo cornet players and sopranos being pointlessly tested to the extreme at the end of the piece in such a manner?
Some of the next five bands though may have changed their minds.
Cwmaman Institute may not have been one of them on this occasion, although they started well and seemed to be producing a well crafted account under the baton of John Hudson. Tiredness though certainly crept in towards the final third of the piece and they fell away somewhat with a disappointing ending. 18th place was a touch harsh perhaps but at this level nasty errors were always going to be expensive, and so it proved.
Given what we've just written in our last sentence, it would be wrong of us not to mention the nasty errors that certainly befell Yorkshire Building Society - certainly at the beginning of their performance. That they didn't prove costly may be wrong (it was possibly the difference between them winning and losing), but the adjudicators certainly didn't seem to let them worry them at all. In fact, not one mention was made of them on all three remarks sheets.
The players were certainly aware of them after they had played, as there was a sense of real acute disappointment from the band deep in the bowels of the hall after they came off stage, but the error count never really outweighed the musical content of the reading by Professor King. This was spacious and flexible all right - close on three minutes more spacious than Black Dyke, but there was always that sense of subtle lilting and forward momentum even when some of the linking passages were being drawn out to the full.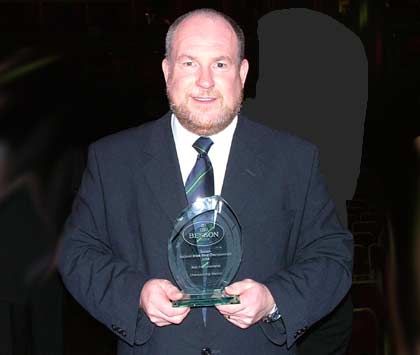 Peter Roberts of YBS - Best instrumentalist
Peter Roberts ended his tenure with the band by winning the "Best Instrumentalist" award, but even he would agree that it wasn't a vintage Roberts performance, or a vintage YBS one for that matter. The standards they set themselves are so high that when they do not meet them the feeling of failing is so forcible. Coming second with a performance of such musicality was a great achievement indeed, but not it would seem for YBS.
Brighouse and Rastrick though would certainly have been pleased if they had come second after a performance from them that never ever got going. At the Open they just didn't play to form, but here they just didn't play at all and there was an uncomfortable sense of lack of awareness between the MD and the players. Maybe they were under rehearsed, but there was a scruffiness to the ensemble work that was certainly not up to the usual Brighouse standard and the soloists sounded tentative and musically directionless - none of the cadenzas or complex linking passages had a sense of flow. The moments of quality were quality indeed, but they were rarities on the day when 14th was a more than fair return for their efforts.

Travelsphere Holidays were the next band to make their mark though, with a performance that contained some superb soprano cornet playing from Gary Fountain on his farewell appearance with the band, but just fell away when the promise of being a real contender for the title was in their grasp. David Stowell set out a controlled and balanced account of the set work and his charges responded with excellent ensemble and solo playing. Just after the main soprano solo was brilliantly executed after rehearsal figure 10 there was a sense that this was going to be special indeed, but then a sense of anti climax overcame them and instead of being brilliant it became a bit dull and "safety first" orientated. The ending was perhaps their weakest point and perhaps just robbed them of the chance of a higher placing. They are certainly moving back in the right direction though and they should be one of the favourites to reclaim their place back at the Open on this form.
That left Tredegar as the final band before the 20-minute comfort break for the judges (although by the looks of the empty seats in the hall, many of the punters had made their decision a good time before).
This was a fine performance from the Welsh band, and certainly one of character and purpose after the horror show of the British Open. Russell Gray gave an expansive reading to the score and although there were little annoying errors in some individual lines, the overall sense of reflection and repose was really captured with the rehearsal marking at 152, which was meant to portray shimmers of light of the waters of port, cleverly realised. By the time they came to an excellent ending they had both restored their own faith in themselves and had given the judges a second performance to go with YBS as contenders for the title. In the end they had to settle for fifth place, when we had them fourth, but it once showed that on their day, they are a band to look out for.
So, where did that leave the judges and the audience then?
For Messr's Ball, Read and Brownbill it was a top six of YBS, Tredegar, Travelsphere, Mount Charles, Whitburn and Redbridge, whilst for 4BR it was Tredegar, YBS, Travelsphere, Whitburn, Mount Charles and Redbridge. But look who was next up on stage.
Black Dyke played to a hall that was less than two thirds full. Why, we don't know, but there were plenty of empty red seats to be seen. This wasn't a vintage, never to be forgotten performance from the Queensbury outfit either - just like YBS, it contained a fair sprinkling of nasty individual errors, but just like YBS, the judges ignored them and instead found much to admire in the broad and spacious musical picture that unfolded before them.
Dyke also took the risk (certainly not the precaution, as Alex Kerwin was sat on sop and played superbly) of playing two sopranos, with Jamie Prophet from the BBC Philharmonic on second man down, but with sop in hand. The main solo cornet line was written highly for sure, but the need to use a second soprano was never justified as surely Mr Prophet was more than able to play the high part on Bb cornet, and when he was used to make the huge final declamatory statement with the solo horn after rehearsal figure 7 (to hit a whacking top C) he split it.
It didn't matter though as the music that flowed in such a persuasive manner from the start captured the essence of what Dr Ball in particular was looking for. The final quarter of the piece in fact may have been the trump card, as where others stretched the musical elastic band to try and create a sense of final repose, Dr Childs simple let the music flow in a natural fashion to its conclusion. Just as a walker doesn't slow down to a crawl at the end of a hike on a downward slope, neither did Black Dyke as they completed their journey from the Irish Mountain. It made sense, and more importantly it made complete sense to the men in the box. A few clips yes, but perhaps the most complete and satisfying musical picture of the day. It was the winner.
After Dyke came a handful of performances that never quite reached the same heights as those that had preceded them in the first half of the contest.
Staffordshire under Steve Bastable certainly didn't disgrace themselves, indeed it opened in fine fashion, but as it wore on the sense of what the conductor was trying to achieve and what his band were able to produce became more marked. Tiredness certainly played a part as the ending fell away disappointingly, but overall it was a performance of merit and to come 13th was an excellent achievement. Both MD and band will have left London with their reputations enhanced further.
Perhaps not so Leyland - although it would be totally unfair to even suggest Garry Cutt's reputation is nothing less than one of a brilliant brass band conductor - his record proves it. This however wasn't Leyland on the form that they have shown earlier in 2004 and that may well be due to the large number of new players who have recently come to the band - they didn't quite sound as if they were all used to each other on this outing as balance and ensemble clarity were not up to the usual standard we have come to expect. It was as we stated at the time, a bit of a roller coaster of a performance, but the lack of dynamic contrasts probably cost them a higher place than the 16th they eventually, and a little harshly achieved.
Scottish Co-op certainly left London with their reputation somewhat deflated after the excellent showing in Birmingham. Why they performed in such an uninspired way was a mystery, but they sounded nowhere near the band that just a few weeks before had come third at the Open. The tuning in particular was awful at times, and even though they started well, it fell away so badly that 17th place was about as good as they could have expected. They are a fine band - so perhaps this was a one off and one to forget about.
That left Beaumaris to finish off the third quarter of the contest with a very well drilled performance under the baton of Norwegian, Morten E Hansen that promised much and very nearly delivered in fine style. It was all going so well until for us the wheels somewhat fell off for about a period of 30 seconds or more before rehearsal mark 7. It sounded so odd that we put it down to individual interpretation, but it spoilt what was becoming a contending performance. After that it just lacked a touch of confidence and style, but 11th place was a fine return nonetheless and Welsh banding ha certainly got another strong outfit at National level on this evidence.
Five to go then, but for most people it was still a fight between Black Dyke, Tredegar , YBS and Travelsphere, with the others rather making up the numbers. Could anyone change this?
Not Camborne, although they did put up a very strongly built (and sounding) performance under the direction of Frank Renton that perhaps was just too forceful in places to capture that feeling of ease and delicacy that was needed. At the higher dynamic levels they were excellent - broad and balanced, but under mp things went awry somewhat with an over dominant bass line spoiling the balance in places. Technically there wasn't much wrong with it, but perhaps what robbed them of a place in the top six was that ability to reduce the dynamic level below what was evidently comfortable for them. 9th though was a fine return and meant that the West of England returned with two bands in the top 10 for the first time in goodness how many years.
The same would be true of East Yorkshire Motor Services who never quite got to grips with the piece and found themselves at the bottom of the prize pile come results time. This was a spacious reading from Gareth Pritchard at the helm, but his young band just couldn't conquer their nerves (as well as some awful luck with a tubular bell and a complete idiot with a moronic mobile phone ring tone) and it wasn't a day for them to remember with great fondness one suspects. Still, with the results going the way they did, there is more than a good chance they will return next year and return the stronger as well.
Just the last three then, and what a last three it proved to be. Reg Vardy (Ever Ready) and Ray Farr up first with an absolute corker of a show. This was wonderful stuff - full of nuance and subtlety, some classy ensemble work and the cleanest set of soloists all day (although the bass trom did get a bit of noticeable help). It never wavered from the intention of the MD to create the musical picture in detail and by the time it ended there was a real feeling from a great number of people in the hall that they may have produced the winning performance. We had them second - just, and we mean just, behind Dyke, but this really was wonderful top notch brass band playing from a team that has been playing with a sense of renewed confidence ever since Ray Farr has taken over the helm. First Birmingham and now London, Ever Ready (they will always be Ever Ready) are true contenders on this type of form for any major prize. Long may it continue.
That left Fairey FP (Music) to take to the stage as reigning double National Champions and with the opportunity to create a bit of banding history for themselves. They never quite did enough to suggest that history was in the making, although David Evans gave a most persuasive reading of the score - full of neat touches and time and space. Nick Walkely showed why he is held in such high regard with a beautifully crafted and delivered performance from the end chair and other shined, but the ensemble work was a times a little aggressive and untuneful and some of the younger soloists didn't have the best of days. Still, the evidence was there to see and hear that the band has possibly turned the corner after the troubles of the past 6 months and the seeds for a very successful future have been sown. Lets hope it continues. The history books may record that they came 10th on their defence of their title, but they won't record that we could be seeing the new generation of Fairey FP (Music) players at the start of what could prove to be a very exciting future.
And so to the last band on stage. The contest itself was still there to be won, and it would have been a brave man to have bet against Buy As You View doing it. Such are the fates when it comes to the draw though that BAYV had to endure a long wait to play here (something perhaps they wouldn't have minded in the Open) and this may have resulted in them not being at their very best. Sometimes being drawn last isn't a very good draw at all (only 1 band has won off the number 20 draw since 1968).
BAYV also decided to go with the two soprano option (Dyke and Alliance were the other two) and once more it didn't quite work out. Things were building well from a confident start, but sometimes the shrillness of that extra soprano voice caught the ear and the tuning suffered (especially after rehearsal mark 7). The slower sections were beautifully handled, as were the linking passages, but just when you thought they were puting together a winner, the performance fell away at the end in a rather over cautious manner. The final four cadenza statements didn't quite work and the last note suffered a missed entry which the player tried to rectify. It just took the gloss off what was nearly a tremendous performance, and even though Dr Childs held the final pause almost statue like even after the chord had ended, it gave a spooky rather than atmospheric feel to the finish. It was still a good one though, but for us it just missed the mark and we had them down for third place.
That just left us the chance to reflect on a wonderful piece of music, some very fine performances and our top six of Black Dyke, Reg Vardy (Ever Ready), BAYV, Tredegar, YBS and Travelsphere Holidays. And we weren't far out.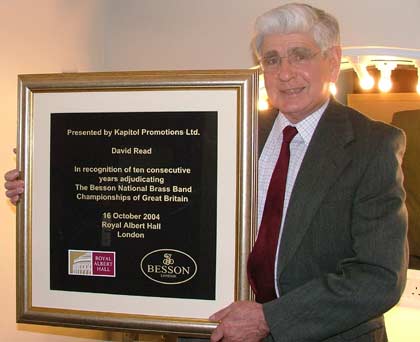 Adjudicator David Read - 10 consecutive years of adjudication
The pre results period was a bit of a hoot this year, what with the excellent Mnozil Brass giving a performance of playing and acrobatics that was both amusing and startlingly good, and there was a well merited presentation to David Read for notching up 10 consecutive appearances in the box at the contest (and his 15th in all). In addition David Childs took home with him the International Euphonium Player of the Year title for a second time and Peter Roberts the Best Instrumentalist award, before the usual mix of speeches and no comments from the judges! (That was a pity, although you get to hear what they thought on the 4BR site if you have a sound card and log in. )
In the end though the results were well received (no British Open booing here) with Travelsphere Holidays in a well deserved sixth, Tredegar back on form in fifth, and BAYV in fourth. That latter result was a bit of a surprise as most people had them down for third, but no one could complain when Reg Vardy (Ever Ready) were announced as third - it was so well deserved. That just left the top two and the announcement that YBS were runners up came as a little bit of a surprise (especially to them we think), before the final drama and the announcement that the 2004 National Champions of Great Britain were, Black Dyke.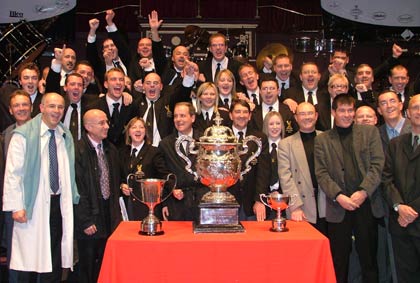 Members of Black Dyke celebrate with man in bizarre white coat
The usual pandemonium broke out as players and MD embraced and there was a wonderful feeling of elation on the stage for the band that had been put under the most intensive pressure imaginable. They had come out of it though as the winners, and for a band with such a weight of history on their shoulders wherever they go and perform, it was an historic achievement, especially as they will be able to proudly display the famous trophy the length and breadth of the UK and abroad for their 150th birthday celebrations in 2005. Black Dyke are back at the top of the pile - and what a way to do it.
Iwan Fox