2004 National Championships of Great Britain - Introduction
4-Oct-2004
Royal Albert Hall, London
16 October 2004
---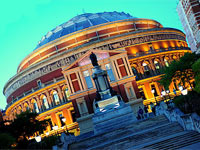 Preview articles:
» The competitors
» The conductors records
» The adjudicators
» Test piece review
» The hat trick club
» The 1,000 Guinea Trophy
» The 10 Greatest Winning Performances
» 104 Useless facts and figures
» The Luck of the Draw: 1968-2003
---
This is going to be interesting one eh? 20 of the best bands in the land, a massive newly refurbished Albert Hall, the composer himself in the box and a set work that has already raised more than a few eyebrows the length and breadth of the country. So what will the audience make of it all? Hopefully – enjoyment; and real, smile on face, one to remember enjoyment at that.
There are of course a few of the very best bands missing (just about par for the course with the Nationals – this time the newly crowned British Open Champions are not here), but the Hall should provide a bit more value for money in the pocket for the hard pressed supporter - although it will be interesting to hear whether the acoustic has improved. In addition the set work is a quite beautiful bit of brass writing to test the bands and their MD's, and to top it all, the composer, Dr. Michael Ball is in the box – so no one will be able to say that the judges decision wasn't right (4BR included?). And before you ask – Yes, the judges will have heard the piece in advance as well.
The only pre contest gripe that has come to light though, has been the very poor quality of the published score and parts in terms of the standard of "dry knackering". The BBC who commissioned the work will surely be more than a little disappointed to find out that it has been beset by a whole host of printing errors, which has necessitated bands wasting their time correcting. The question also arises if whether the study scores for the public (all of whom will have to pay money for them) are free of the errors, or will an errata sheet be provided for them as well on the day?
When will publishers learn that you cannot justify in any way shape or form, producing copy that is of such a poor standard – especially for such an important contest. There is just no excuse for it, and as has been said many a time before (Prague, Moor of Venice, Planets); Why should bands have to pay for a product that is not up to standard? You wouldn't buy a car or a washing machine, only to find out that the manufacturer sends you a crib sheet of notes for a bit of DIY to make it work properly. So why do they think printing music is so different?
And before they come back and say it costs money etc. So bleeding what. The European test piece "St. Magnus" was a fine example of a work that set out to meet the highest printing standards possible, and that didn't cost an arm or a leg did it? And if you think the publishers think we can continue to put up with it, just go and ask your local Trading Standards about your statutory rights of purchase, and you'll find that a refund may not be out of the question. It is a real shame, when it is such a wonderful work.
Now that our gripe is over though, lets get back to the serious business: Who will win?
Who indeed? The usual strong contenders will surely make their mark, but the historic permutations are intriguing to say the least. Can Fairey's become the newest members of a very select "Hat trick" Club; Can Yorkshire Building Society finally overcome their Albert Hall voodoo; Can Black Dyke put behind them the disappointment of the Open and return home to Queensbury and the eve of their 150th birthday as National Champions; Can 4BR actually get close with their predictions?
Before we put our necks on the block, it is important to mention that there is host of other events on the weekend that are well worth going to as well. The Gala Concert will feature the Royal Marines and Black Dyke and should be a musical spectacle all right (including some brilliant Gregson music), whilst on Thursday the London Brass Arts Festival takes place at Regents Hall with the Regent Hall Band and Singers.
On Friday, the Trinity College of Music Brass Band will perform in Regent Hall at 12.30pm, followed by London Brass at 2.30pm, and at 7.30pm, BAYV Band under Dr. Robert Childs will give a concert of English, Italian and Welsh music – all of which will be previewed by a talk by the composer of the test piece, Dr. Michael Ball at 5.00pm. Plenty of great stuff then.
So who will leave London as the 2004 National Champions?
For us at 4BR, we think (rather predictably it must be said) that class will tell, and the traditional heavyweights who have done well here over the years will once again make their mark. Therefore it may well be a fight between BAYV, Black Dyke, Brighouse and YBS for the ultimate prize, with Fairey FP (Music), Reg Vardy (Ever Ready), Scottish Co-op, Leyland, Travelsphere and a whole raft of others battling it out for the other top six places. It does sound predictable doesn't it, but just look at the prize list here over the past few years, and there hasn't too many upsets has there?
It may very well come down to interpretation (there will be plenty of blips and blobs, especially towards the end), but the bands who can make the beauty of the music shine through will surely deserve to come high up from the judges. We don't know though if any of the MD's have been swatting up on their horticultural knowledge either, so we will have to wait and find out that one as well.
Still, we are going to opt for Black Dyke, finally to cap 2004 with their first National win since 2001. Close behind we think it will be a fight between Doctor Robert Childs, Professor David King and James Gourlay for the other top three places with BAYV, YBS and Brighouse, with Ray Farr and Reg Vardy (Ever Ready) and Leyland and Garry Cutt close behind. Fairey's are our dark horses. Good luck to everyone.
4BR Prediction:
1. Black Dyke
2. Buy As You View
3. Yorkshire Building Society
4. Brighouse and Rastrick
5. Reg Vardy (Ever Ready)
6. Leyland
Dark Horse: Fairey (FP) Music