2004 British Open Championships - Foden's triumph of spirit over adversity
23-Sep-2004
4BR looks at the spirit of the Foden's Richardson Band which was the defining hallmark of their 10th British Open title.


---
40 years of waiting; 40 years of near misses; 40 years of close calls, unrewarded brilliance and memorable performances without the accolade of ultimate success. No more it isn't.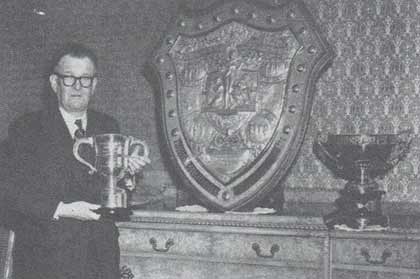 Rex Mortimer with the 1964 Open trophies
The last time the Foden's Richardson Band won the British Open Brass Band Championship, Lord Hulme was Prime Minister, President Kennedy had been dead less than a year, the US Civil Rights Act came into force, and Arnold Palmer won his last US Masters title. England were still two years away from winning the World Cup (and a lifetime away from winning their second), bands played on high pitched instruments and paid for their beer in Imperial money and Foden's Motor Works as they were then called, were conducted by Rex Mortimer. 1964 was one heck of a long time ago.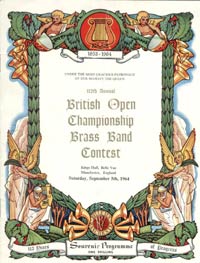 The intervening years have seen great changes for the band that will always be associated with the truck makers of Sandbach in Cheshire: Players have come and gone, conductors have come and gone, and even the name of the band itself has changed half a dozen times. The spirit though has never left, and nevermore was that spirit felt in all its glory when after the announcement of the results the players of the current Foden's Richardson Band took to the stage to be presented with the most famous trophy in the world of brass banding.
The band has had many ups and downs in recent years - none more so than this year when they failed to reach the National Championships Finals at the Albert Hall and parted with two conductors in at times almost farcical circumstances. However, even in those times when the world (and the press) may have seemed to be against them, they showed a quite remarkable bond between themselves, and responded in a fashion borne of a sheer bloody mindedness only the very best bands can call on.
4BR has had to report many times on Fodens during the past year or so, and to some it may have appeared that every time their name appeared on the web page of our publication, it was to report another piece of bad news for the band. That may be true to a point, but news is news, and Fodens at times in the past 12 months were making it for the wrong reasons. Now that has changed.
The combination of Garry Cutt and Foden's Richardson is one that if truth be told should have been made some considerable time ago. 4BR hasn't been privy to why one of the very best conductors in the business was not snatched up when his contract with Grimethorpe came to an end, but for most informed observers it just seemed like the ideal match - and now it has been proved to be a match made in heaven.
If only Fodens could have teamed up with him 12 months ago, then all of what happened in between would surely not have occurred. The failure to qualify for the Nationals was the unfortunate end result of a partnership with Thomas Wyss that never looked like it was going to gell long term, whilst the one off link with the orchestral horn player Steven Bell for the All England Masters was a disaster narrowly averted only by Simon Stonehouse taking over at the 11th hour to take them on stage. When Bram Tovey was therefore unable to get out of a major conducting appointment on the weekend of the Open, it seemed that the prophesy of Hamlet was to come true - "When sorrows come, they come not in single spies, But in Battalions".
Out of the greatest adversity though comes the greatest strength, and Fodens are a band with the greatest of individual strengths within their ranks. That strength lies with a core of long term players who have been with the band in many cases well over a decade or more. Mark Wilkinson, Pete Coulson, Colin Short, Glyn Williams, Janet Coulson, John Barber, Toby Hobson and Phil Green. These are Fodens through and through, and if you cut a couple of them in half then it would be written in their stomachs like the printing on a stick of rock: They are all wonderful players, and all have Foden's engraved on their hearts.
So when it came to a week or so to go, and with Garry Cutt at the helm, these were the players who would have provided the bedrock for the Open success that was to come. Stubborn, talented, immensely hard working and ever so determined to show that Foden's Richardson were to be real contenders come Saturday 18th September 2004.
And so it proved; and you can't help feeling absolutely delighted for them, for the Open in the last few years has seen these players perform wonderfully and not get the reward they have richly deserved. On "Freedom" in 1987 they were placed second with Howard Snell at the helm and then again in 1998 on "Diversions on a Bass Theme", when the adjudicators took 45 minutes to decide between them and the winners Williams Fairey. In 2002 with Bram Tovey, they were pipped by BAYV Cory, and of course there was that electric performance of "Les Preludes" which brought the house down but still couldn't persuade the judges to give them the title. All that doesn't matter now for they are the Champions at last.
Fodens are a tremendous band that have sometimes been their own worse enemy. They are also a band that has been starved of even the tiniest piece of luck at many of the major contests over the past 20 years. All those fantastic performances that went unrewarded, all those times when everyone but the adjudicators though they should have won. Now that can be forgotten, for they are the 2004 British Open Champions. If they can somehow hold on to him, then the partnership of Foden's Richardson and Garry Cutt will surely never have to wait another 40 years to gain the title again. Fodens are back - and how well they deserve it.
Iwan Fox

Photograph of Rex Mortimer by kind permission of Allan Littlemore from his book "Foden's Band - 100 Years of Musical Excellence"