National Championships 2004 - Harrogate - Fourth Section retrospective
22-Sep-2004
Iwan Fox looks back at the Fourth Section where the Londoners of Potters Bar took the honours in what was a very difficult and stressful days work for the vast majority of the competitors and their MDs.
---
Sometimes you would love to be able to report that banding at it's grass roots level is in such a healthy state that you would believe they were living on a diet of Special K cereal and liberal helpings of fruit and veg. After a disappointing Fourth Section Finals here though, it is more believable that the bands in the Fourth Section were suffering from a form of musical constipation - for this was a stodgy, bowel busting diet of uninspired gruel.
However, unlike our ever-fattening population, you couldn't fault the bands here at all, for this was test piece force feeding the like geese on a pate farm receive each day. The outcome was however, not a delicious Ardennes spread, but more like a lump of Trex lard. To put it very simply - the test piece was too hard for the vast majority of the bands, and that was the fault of the music panel that chose it. They thought bands could handle "The Four Noble Truths", but even the winners who gave as good as they ever could, found it the most severe of test pieces they would ever have tackled.
The adjudicators, Frank Renton and Alan Hope were very generous in their remarks at the end of the contest, but you sensed they were being diplomatically polite for politeness sake. Sometimes judges employ euphemisms to hide the real truths, and this was one such occasion. Frank Renton once won the Fourth Section National title back in the mid 1960's, and although he wouldn't like to be reminded of his mortality, he must have felt his age after a few hours in the box listening to the bands failing to come to grips with Philip Sparke's fine set work.
As we have said - this wasn't the bands fault, and more than a few came close to meeting both the musical and technical demands the piece set them, but none mastered the music - it was simply a piece that was too testing. The ones that did come close though were rewarded by the adjudicators with the prizes they deserved.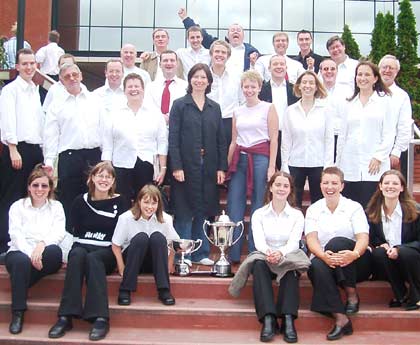 Potters Bar Band and Sarah Groarke celebrate outside the hall
Pottter's Bar under the excellent direction of Sarah Groarke were the deserved winners. Theirs was a performance full of character and style and even though they had their moments of unease in the second movement, they recovered so well that it hardly registered come the end. Sarah Groarke was by far the most accomplished MD on the day as well - possessing a clear and articulate baton style and able to manoeuvre her charges into the different styles the music required. We have underestimated London and Southern Counties bands in the pat at this level (and just about any level if truth be told), but this showed that on their day, that banding south of the Watford Gap is alive and kicking.
Behind them by a point came Pillowell who followed Potters Bar on stage and gave a controlled performance that featured some wonderful euphonium playing from Pete Sherwood who was a tad unlucky for us not be awarded the Best Soloist Prize. The MD, Clive Lewis was certainly pleased when he spoke to us after the band came off the stage, "I'm really pleased, I thought we had a shaky start but it soon settled", he said, and he was bang on the mark. That little nervousness was perhaps the difference between them and the winners on the day.
Making up the top three were Grange Moor from Yorkshire who conducted by the effervescent Duncan Beckley produced the early marker for the rest of the contenders to marked against. This was also a performance that benefited from some wonderful soprano cornet playing from Owen Wedgewood, that was hardly bettered all weekend and which also had the added benefit of the insight from the experienced Mr Beckley as a bonus. They sounded like a band that was full of confidence, and for us it was between them and Potters Bar for the top prize. Duncan Beckley told 4BR that "It was the best the band had played", and he wasn't far wrong, with just a tendency to overblow when in sight of the wining post perhaps the reason why they just fell short in the adjudicators opinion.
After the top three though and the standard started to fall away - below the top six, quite markedly for us.
The Goodwick Band from West Wales though won't complain and after giving a performance that followed the powerful Grange Moor on stage, coming fourth was an excellent achievement. The solo horn player was their star - as mellow as Cat Stevens, and whilst the MD told 4BR that, "Not as well as we normally do", it was still a result they can be very proud of.
Although the adjudicators placed the top six one point behind each other, in reality there was a fair gap between the top three and the rest. Matlock though were pleased as punch with their 5th place overall and they finished off the contest with a performance that had its moments, but just lacked the overall consistency that was required to make it into the top three. Roger Jepson their MD directed things with a steady calming influence, but it was a case of too many little moments of unease that cost them on this occasion.
The final top six place went to Gawthorpe Brass who were the penultimate band on stage. The contest was over at this time (unbeknown to the band of course) and it would have had to be a very fine performance to have displaced the top three. Gawthorpe certainly gave it a good go, but just like Goodwick they had too many unforced little errors throughout each of the four movements and some intonation problems as well. When they did play well, they sounded a fine band, and in Ian Clewes they had the best solo horn player of the day, but those errors proved too costly.
It was difficult for us after the top six to place the bands in order, as many performances were Curate's Eggs the size laid by a bleeding ostrich. From Rushden Windmill at seventh down to Bratton at fifteenth there was next to nothing to choose between them in terms of technical proficiency or musicality, and so it was a question we think of what tickled Renton and Hope's fancy.
Rushden started in a compact and tidy way and it looked like they were going to feature, but the last two movements may have just fallen away too much and having the eventual winners follow them on may have cost them a place or two. They wouldn't have been out of place if they came fifth or fourth on the day.
Ogmore and Uppermill had their moments, but just like AW Parker (Drybrook) and Newhall, Pemberton Old B, Standish, Dunfermline and Bratton, the piece made demands that proved just too much for them. All had one or two excellent movements, but also contained one, two or three movements when things didn't come up to the mark. Ogmore and Uppermill had a super third sections for example, whilst Drybrook's MD highlighted their fourth movement as their best. Newhall were going along nicely until the last movement cost them dear, whilst Pemberton Old B were a bit unlucky for us as theirs was perhaps the most consistent performance of this bunch and featured their solo cornet player, Nicola Banks who was nigh on indestructible. Standish also featured the excellent Gary Parr on euph whilst things around him sometimes went a bit AWOL, and Dunfermline sounded just a little too lightweight in places to punch a hole in the meatier sections of the piece. Bratton meanwhile had the misfortune to pick Kelly's Eye out of the onion bag, and although they gave a stress free performance off number 1 which featured some excellent tenor horn playing from Chris Hazell, they had to make do with 15th place come results time.
After that and it was "Take Your Pick" time. Again, each of the bands that filled 16th to 21st had their moments, but they were outweighed by the inability to meet the demands of the set work. No fault can really be placed on the MD's or the players - the technical obstacles were just too much, whilst as they strove to overcome them meant that some of the basics of tuning and balance also went missing.
Still, Billingham Silver recovered well and out in two last movements that certainly pleased their MD, whilst the lads and lasses of Durham Constabulary (although we were informed that only 1 person in the band actually worked for the Police) gave a good account of themselves in the outer movements but fell short in the middle two.
Radyr and Morganstown left all their best paying to the last movement, whilst Fulham who played before them started very poorly but recovered as the piece went on. Waterbeach Brass had a real Curates Egg of a show for us, but who did feature a fine euph player by the name of Sarah Smith who stood out like a beacon of classiness. Finally, Newlands Concert who put in a decent show that was marred by poor intonation from the start.
That was it then in a nutshell. Matthew Jenkins of Goodwick Brass picked up the Best Soloist Award and the 4BR team were quietly confident that out pre contest picks would do well. In the event, Grange Moor, our pick for the title came 3rd, Radyr fell to 18th, Pemberton Old B came 12th, Dunfermline ended up 14th, Uppermill came 9th, Pillowell came 2nd and our dark horse Rushden Windmill came 7th. Not bad, but not exactly the type of tipping that bankrupt Wiliam Hills either.
Still, well done to Potters Bar and Sarah Groarke and also to the rest of the prize winners. In fact well done to all the bands who were faced with a test that was for the majority just a tad too difficult. No pat on the head though for the people who chose this one - a fine work that was really a section too low. A little more thought may have to go into it for next year.
Iwan Fox.