National Championships 2004 - Harrogate - Third Section Retrospective
21-Sep-2004
John James looks back over the Third Section and two superb performances from bands that took the subject matter of Darrol Barry's test piece and made it an easy days work for the judges.
---
Audio file

Interview with Chris Wormold- MD - Hoover (Bolton) Band [WAV 1.69Mb]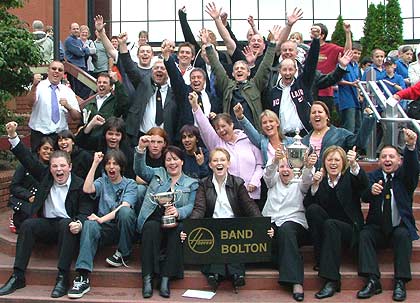 Members of the Hoover (Bolton) Band celebrating outside the
Harrogate Conference Centre
'Diamond Heritage' by Darrol Barry is a rather broader piece of music than many of the composer's other works, with each musical interlude timed to convey its commissioned allusions to mining in a graphic sombre timbre - the whole being built around the hymn 'Gresley'.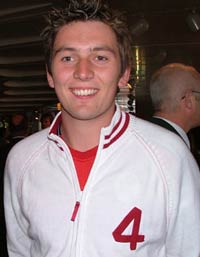 It is a powerful work that requires a powerful band to make it come off - mining isn't an industry for the faint hearted and this isn't faint hearted music. As a result it required a rich-toned ensemble, careful attention to phrasing and a thoughtfully crafted interpretation by the MD.
Although it did not influence the bands in their determined playing it was not the fullest hall we have ever seen at a National Finals Contest. Our pre match predictions were a top six of 1. Hoover (Bolton), who came 1st, 2. St. Dennis [2nd], 3. Boarshurst Silver [6th], 4. Sandhurst [7th], 5. Shirland Welfare Training [8th], 6. Stamford Brass [5th] and a Dark Horse: West Mercia Constabulary [9th].
Lockwood [3rd] & United Co-operative 2000 Brass [4th] stepped in to spoil our clean sweep at the bookies but we have to take our caps off to them as we acknowledge that they thoroughly deserved their placings and their rewards.
In our Regional retrospective we commented that the North West had sent a message to the rest of the country that they are a force to be reckoned with and we think we were vindicated in this view as all three bands from the Region figured in the frame.
Very characteristically, Chris Wormold took a spacious view in his performance that benefited from some lovely playing from around the stands. The Hoover (Bolton) Band interpretation had radiance and luminosity glowing like a miner's lamp that magnetically achieved its aim. This was the pick of the winning performances of the whole weekend.
At the piano opening he drew from his players that all-important phrasing and they concluded the piece with a majestic restatement of the hymn whilst through the rest of the score contrasts of rhythm, tension and dynamic had a true quality that unquestionably sealed the victory.
Runners-up place went to St. Dennis under Brian Minear and they too produced an interpretation of the set work that wonderfully captured the rich brass sonorities that epitomise the very best playing. Both Hoover (Bolton) and St. Dennis performances were truly admirable and it was probably the merest hint of nerves at the opening Largo in the latter performance that separated the two bands. Both were quite exceptional though and would have made the adjudicators job for John Maines and Derek Broadbent an easy days work.
The upwardly mobile Lockwood Brass captured third place. Over the last couple of years this band has been on a rising elevator and this time they were justifiably placed in the National frame in the 3rd Section (following last year's 5th in Dundee in the 4th section). On this occasion a few minor blemishes were more than compensated for by music that neatly conveyed the contrasting moods of the piece. Their MD would not be the first or the last to comment on the very dry acoustic on the stage, "I'm happy on the whole although the acoustic makes the band different from what we are used", he said.
From a listeners perspective the sound in the hall was amazingly clean, so no complaints whatsoever from the audience and this observer, but one can sympathise with the bands, many reporting the stage itself was less than acoustically satisfying.
The remaining top six places went to United Co-operative 2000 Brass playing with a rhythmic bite and zest with quite a pointed articulation, whilst fifth place went to Stamford Brass who put in an affectingly warm evocation that proved to be a committed show to catch the judges ears.
6th place went to an early drawn band Boarshurst Silver. Off the number 1 draw they put down a marker that the rest had to follow and the men in the box did not forget them, and it was a result that was so well deserved. A band to look out for next year we think.
Sandhurst [7th], Shirland Welfare [8th], and West Mercia Constabulary [9th], produced a quite similar standard to take the next places, achieving a consistently safe, steady and warm ensemble sounds benefiting from the musical intelligence and expertise one has come to expect from their MD's. Whilst they strove for musical continuity and rhythmic momentum in the end they did so perhaps at the cost of a certain grace.
Jedforest Instrument [10th] gave a performance that was fiery and impassioned but perhaps where one could suggest that some of the dynamic markings were perhaps a bit overdone given the acoustic.
Places 11th through 14th, Royal Buckley, Carlisle St. Stephens. Stanley Newmarket and Hayle each produced performances that had something to offer with both good and bad qualities. Intonation and slips here and there undermining a fair amount of intensity and energy realised in the score.
In our opinion Chinnor could well consider themselves a little unlucky not to finish higher than 15th. The ensemble playing came with a comparatively mellow tone but its effects were far from unpleasing or uninventive. Without being unkind St.David's [16th], Shrewton Silver [17th] and Slaithwaite [18th] unfortunately didn't produce performances that were quite persuasive enough on the day.
Finally, Newtown Silver [19th] played with a directness of statement that certainly would not appeal to all tastes and things turned out as we predicted, "This was certainly different, but very good in its way. If the judges like it, it could feature highly. If not........" For the band the latter intimation was to come true, which was more than a touch unfortunate as it deserved higher, even if the judges didn't like it.
Our overall view then was that it was a good contest, but whilst certainly challenging enough to give a very fair result top to bottom perhaps not the greatest test piece the Third Section has ever been allocated.
Generally it was a well-organised contest -control, registry and pre-stage facilities were excellent, but some more time for the organisers to re-evaluate their stance on percussion is needed. One that allows bands to adjust to a layout they have practised with and not force them to play 'where we tell you' perhaps would be fairer. It would be unfair of the organisers to insist that a 2nd row cornet sit beside the 2nd baritone on the day of a contest so what is so different about percussion?

And finally to those bands fortunate enough to qualify for next year's finals - seek out one of the MD's from 2004. Don't be backward in asking for their thoughts on managing the sound qualities of the Harrogate International Conference Centre. The advice may help to be prepared for the nature of the very dry acoustic.

John James