National Championships 2004 - Harrogate - Second Section retrospective
21-Sep-2004
Malcolm Wood looks back at the contest when Michael Ball's "Chaucer's Tunes" gave plenty of the bands problems to get to grips with - except the sexy bits of course!
---
Audio file

Interview with Dave Newman - MD - Hathern Band [WAV 980kb]

Jan Osman of Besson presents First Prize to Hathern Band
That well-known phrase 'Every Dog has its day' came to mind after the announcement of the results on Sunday. It's not always the favoured few that feature, but sometimes a band throws a performance in from outside the fancied contenders to take the title, (think back to Marple at The Open in 96) and that is exactly what happened on Sunday.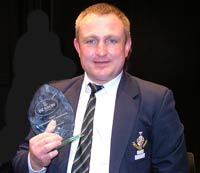 We will hold our hands up straight away. Hathern Band and Dave Newman were not in our fancied top six or even considered as the 'dark horse' but we did say after we had heard them play from number six, that 'it was a fine end to a show we may have mis-judged. Interesting'. We underestimated them big time, but sometimes it gives you great pleasure just to see a band such as Hathern enjoy their victory in such a fantastic way. We doubt if some of them have stopped the celebrations even now - one young lady in particular being an absolute beaming ray of ecstasy. We were wrong, but who cares? Sometimes you wish we could be proved wrong every time if this is what comes of it - this is what banding is all about.
The band's performance was such that it certainly had plenty of quality within it, but we felt come results time that Wire Brass, YBS Concert and Barrhead Burgh (ironically playing last) were better and in fact we had a sneaky suspicion (unfounded as it turned out) Barrhead would come up on the outside and win it right in the last furlong.
In summing up, adjudicator C. Brian Buckley gave it to the audience pretty plainly, following Colin Hardy's thank you session to all involved. 'Two bands were outstanding, four-to-five, close to it, some just didn't deliver and there were bands who were no where near technically'. Those who did well though had 'good discipline, plenty of musical attributes and the desired effect'. What left 4BR scratching our heads was the 'two stunning performances' statement; YBS we didn't have a problem with, but Hathern wasn't stunning for us, hence, not in our top three, but it wasn't our opinion that counted was it?
The realities of Michael Ball's 'Chaucer's Tunes' is that at times it was way too much for bands to handle. Hardly any band put a consistent performance throughout the six inter-linking sections. A number of bands played it safe in the opening 'Intrada' but it was the next three movements 'Fantasia; Wife of Bath and Carol' where for us, bands had their placing determined.
The 'Fantasia' had a number of nice principal cornet players who had quality in sound, backed up on soprano, and this was certainly the most intriguing section to hear how the bands coped with the solo and ensemble work. This was a section where bands that were going to do well, did well, and clearly a lot of thought had gone into it pre-contest in many a bandroom the length and breadth of the country.
Everybody loved (and in a lot of cases, put their eggs in one basket) in the 'Wife of Bath' section. Goodness knows what sort of comments MD's suggested to players in rehearsal to create the right ambience of the knight thinking more through naughty, mischievous thoughts than basic common sense. For just about every band, this was their best section of playing, although if Mary Whitehouse was still around she would have had a field day.
The 'Carol' section was a real let down for us more often than not. Bands just couldn't cope with the excitement of Wife of Bath and then have a completely different thought process when playing this section. Only a handful of bands (in our view) got it right, but many were too aggressive, possessed a hard sound - the wrong things completely as for most of it, the markings start off at 'pp' and gradually rise up in what is only a few bars of 'forte' and not too much 'ff'. It is a nice section, the sort you could take out and play on its own in the Yuletide season, but we couldn't help wondering how many played it as part of the contesting piece, as opposed to isolating it first, playing some hymns and carols to get the right quality of sound that was certainly needed, and then returning to the music in the score.
The 'Chase/Finale' was really a good opportunity for bands to have a good blow and again, the bands that did well and were placed, took this section very much in there stride without overcooking it. As with all the sections over the weekend, the acoustic caught a few out, and everybody knows now what to expect if they return in 12 months time. If you qualify for the finals at Harrogate then you need to rehearse in a similar acoustic, to get the feel and understanding of what it is like.
It was Hathern and Dave Newman though who took the honours on the day. The opening 'Intrada' was just a touch top heavy on the medieval for us, but fair play, it settled down and evolved. Mike Wood on principal cornet backed superbly by Ian Williams on soprano shone like beacons though in the 'Fantasia' and whilst 'Wife of Bath' was a touch reserved for us, the 'Carol' section will have struck home with the judges alright. The sound could have been brighter for us, but the style and tenderness was all in, and slips were so minuscule, they didn't matter. The ending was very much quality of sound as opposed to speed, where a good number fell down.
All that matters though regardless of what we or anyone else thinks, the record books will show that they are the 2004 National Champion Band of Great Britain', and that on the day, they did the business. Congratulations to them all.
YBS Concert and Michael Hannan were always going to be tough to shift from the leader board after a cracking performance off number three. In many ways, it had touches of the sort of playing you associate with the senior band, but above anything else, the discipline and quality of sound won the judges (and 4BR) over and they possessed the best Principal Cornet on the day and perhaps the weekend in Rob Gill. He was simply a different class, and when you have played as Principal Cornet of the ISB and second man down at YBS, you don't lose that class even when you drop down a section or two.
This really is a fine band and along with Barrhead and Wire Brass had so much more about them, that you'd have thought they were a first section bands for sure.
Barrhead Burgh and Brian Keachie was the last band to play and the contest was certainly there for them to win. It had everything about it in the performance that had us thinking they had just done enough to pinch it from Wire and YBS. The quality of sound, the discipline, contrasts in styles were all apparent, and even if there was the odd slip (but so were everyone else's) it was a great show, and on another day, they probably would have got lucky and taken the title back to Scotland with them.
Llanrug and Thomas Wyss should be delighted with their placing. Following on from YBS Concert, they were another band who went for it with plenty of quality throughout and real conviction. The principal cornet was a real star, and the Wife of Bath' section was for us the best of the day - it had the lot!
Becontree was a bit of a surprise for us to be in the frame. Overall, the numerous errors we felt were costly, and at times, nerves, and some rushed playing where detail wasn't apparent affected their chances for us of really making that mark, even from a late draw.
Wire Brass and Paul Andrews probably were a touch gutted on the journey home. The draw of ten suited them perfectly; a couple of decent shows had gone before them and the contest was just waiting for a defining performance. It had that real sense of authority and understanding of the musical score from the MD and players about it. It was definitely very well prepared and very water-tight, with the 'Chase' section for us where more than anywhere else spot on the mark. As we said earlier, this is a band with the quality that would do well in a higher section and that will no doubt be the number one priority to get there as soon as possible.
Barnsley Building Society, Felling, Ellington and Kilmarnock could have tossed a coin to decide in which order the four finished. All of them put on performances that were more than acceptable for the Section Two Final, but none of them had the ingredients that would put them in real contention for the honours.
Ellington and Felling had early draws (in fact Ellington got number one) and both worked hard, whilst Kilmarnock and Barnsley were drawn eight and nine respectively. Kilmarnock was the one band out of this batch of four that will consider themselves unlucky not too have finished higher. Ray Farr, the talented and knowledgeable MD, kept a tight rein in a confident, no fireworks performance that suffered in the final section from being a touch on the scrappy side.
Raunds Temperence, Old Hall Brass, Forest of Dean and Otterbourne just had days they will perhaps want to forget, but should take the on board the experience for another crack next time. Raunds for example, had moments where you thought they had belief and quality to make a mark, and then all of a sudden, it just didn't happen for them.
Old Hall Brass had Neil Parkinson in his last contest, and it was a well thought out approach that just didn't meet with the approval of the judges. We had them in the seventh-tenth slots, but they can be content in the fact they responded to what the MD had asked on the day, and just put it down to experience.
Forest of Dean's Julia Powell said the 'party was good' after the performance, but it didn't happen for them on stage at all. The acoustic caught them out big time, but they are confident they can return in 2005 having done some hard rehearsing in similar surroundings.
Otterbourne got the 4BR 'kiss of death' and were our pre-contest favourites - sorry guys! To be honest though, even from an early number two draw, it just was never going to happen for them and the 'Wife of Bath' segment was the only bit of real quality for them in a performance that didn't lie up to its potential.
St Albans and Markham finished above Stourport-On-Seven who took home the 'wooden spoon'. We expected a lot more from St Albans with the cornet and euphonium being the stars of the show. At times, it was frenetic and had the pulses racing, and at others, lifeless. This was a classic example of not putting a consistent performance together throughout - sadly for them.
So please put your hand up if you spotted Markham's principal cornet on the day, the talented Phillipe Schartwz, the Principal Trumpet of the National Orchestra of Wales. This man was the shining light in the band's performance by a long way, as it just didn't happen for them as a band on the stage.
Finally, Stourport who were our 'dark-horses' and of which a lot was expected from the experienced David Maplestone. To be honest, seventeenth was harsh, as it was a performance that wasn't as bad as the placing suggests. Our post contest comments were along the lines of 'giving the men in the box food for thought', as it was certainly a top ten finish. Moments of real quality, from Neil Fishbourne on top man, and considering they narrowly missed getting into the First Section this year, can feel justifiably frustrated to have come as low down the pecking order as they did.
The 4BR clairvoyant is having a long lie down after giving enormous thought to the four sections over the weekend, and when you consider that pre-contest we had Barrhead, Wire Brass and YBS Concert very much in the frame, we were not a million miles away.
It's Dave Newman and Hathern Band who will go forth into Section One in the Midlands to do battle thugh, and who knows? They reminded everyone on Sunday evening contesting can sometimes throw up the unexpected, and it is about 'doing it on the day'. This they certainly did, and in the process stuck two musical fingers up at 4BR (we do not take offence at all) and the rest who wrote off their chances.
As for our pre contest predictions?
Well, Otterbourne who we tipped for the title came 14th, Barrhead came 3rd, Old Hall came 12th, Wire came 6th, St. Albans came home 15th and YBS Concert came 2nd. Not bad, but not great - a bit like the contest itself really.
Malcolm Wood