In Crocodile Dundee Territory - Andrew Snell
17-Sep-2004
In the second of her series of "Brits Down Under", Amanda Casagrande catches up with Andrew Snell, ex Grimethorpe Bass Trombone, 3500km in the Outback.
---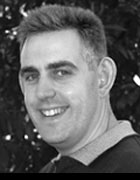 Having spent 11 years with Grimethorpe as its Bass Trombone player, Salford graduate Andrew Snell made the move to New Zealand in the later part of 2001 to take over the Musical Director position with Auckland band, Waitakere. Andrew stayed in Auckland for approximately 2 years before moving to Australia. During his time with Waitakere, Andrew had already begun his 'relationship' with Australia by winning the Australian A Grade Band Championship in 2003 as well as individually, the Australian Bass Trombone title the same year.
With the lure of the Australian climate (Darwin's average temperature is 30C), the offer of an exciting new job, and all the challenges that go hand and hand with such change, Andrew made the journey across the Tasman in early 2004 to take up the position of Lecturer in Brass and Musicianship at the Charles Darwin University. Part and parcel of Andrew's new position is Artistic Director of the Darwin Youth Orchestra and Artistic Co-ordinator (Resident Conductor) and brass principal of the Darwin Symphony Orchestra.
Darwin is an extremely isolated city - the next nearest capital city being Brisbane some 3500kms away!! Darwin is situated in, and is the capital of, the central northern area of Australia called the Northern Territory. With this in mind, Andrew gave himself no other option than to immerse himself completely (other than marrying Lindsay 2 weeks ago!) into his new roles. He has already had a huge influence on the cultural scene in Darwin. As well as some 15 concerts per year with the Orchestra including its infamous 'outback' tours, Andrew is MD for next week's production of Iolanthe, as part of the Darwin Festival. He is already booked as MD for a two week production of Guys and Dolls scheduled for next year. Andrew's first gig was a Viennese evening held in the local Amphitheatre which attracted over 2500 people. According to Andrew, the community support in Darwin for arts and cultural events rival many of the other State Capital cities. "We're a bit off the regular touring map up here, so we have to arrange things for ourselves". Andrew certainly seems to be heavily involved in doing just that!
So far, Andrew has no regrets about his move to Oz. He enjoys his new, busy life in Darwin which is obviously extremely different to Grimethorpe! To those considering a move and change to Australia he says, "Do it - you won't regret it. What have you got to lose?" Andrew certainly had 'the bottle' to do it.
Andrew hopes to become more involved with brass banding in Australia in the future. Initial impressions lead Andrew to think that "there are some interesting comparisons to be made with the UK. Australia does some things better, but some things worse - as you would expect. It appears to be very political here and that's not good!" He goes on to say, "My dream for the future is to establish Charles Darwin University as a place where band musicians can come and refine their art and be taught band music to degree level. Salford was not a particularly fashionable place when the course there was founded, but now is the hub of band studies in Europe - Darwin will be the same for Australia. We already have a community music degree stream here, which the proposed new band studies units will fit into to provide Australia with the next generation of highly skilled players, conductors, and administrators. This will hopefully enable brass bands in Australia to not just survive, but to grow and become an integral part of the Australian music mainstream." Here's hoping you achieve this, Andrew - good luck!
Amanda Casagrande
Coming soon….
The Success Story - Tom Paulin
Brisbane is Best??? - hear from Howard Taylor, Steve Ridler, Samantha McIntyre, the Kennedy brothers, and Paula Russell who have all made Brisbane their home.