Astley Youth Band - 10th Anniversary Tour
13-Aug-2004
Alpe d'Huez, France
18th - 26th July 2004
---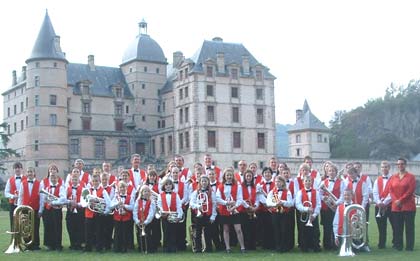 Astley Youth Band has just enjoyed a fantastic trip to France and to the tip of the mountain that is the biggest test for all those riders on the Tour de France. This is how they got on...
Day 1 - 18th July 2004

Everyone was at St Stephen's at 5:30 (am) - awake and smiling! There were 70 people in the party in total - 27 adults and 43 kids, but Moira and Tony Smith were following us there by car. The "bus" arrived soon after and the packing commenced. The trailer was big enough to hold all the instruments so we were soon all aboard and on our way. It was 6:25am so we were a little bit behind schedule but tempers were intact and Helen broke open the champagne! Stopped at Corley services at 8:35am for food, drinks and picked up the McKinnons. Back on the road at 9am Next stop Dover (hopefully). Helen and the crazier parents up on the top deck are enjoying themselves - the beer supply is not quite exhausted yet (Gordon brought extra rations!) Arrived safely at Dover at 12:15. It was pouring with rain but it was pretty quiet - presumably because it was Sunday. No problem getting on the 1pm ferry and it was only about 1/3 full so we could all do anything - food, games or on deck (it had stopped raining). Arrived in France and got straight onto the motorway (3pm French time). Most people slept until we stopped for a short break at 5pm near St. Quentin. Two items of scandal and gossip to report; Alan McGougan is wearing SLIPPERS (Steve has christened him "slipperman") and Claire McGougan and Simon Minshall appear to be an item! Trish is not happy about the slippers and the rumour is that she will not be pleased about the couple - watch this space! The sun is shining and we only have an hour's travelling left today.
Arrived at the Reims Novotel at 6.30pm Steve and Debbie sorted out the room allocation without problem and before long the young and the brave were swimming in the outdoor pool. The sun was hot but the water was freezing. Suddenly it happened - was it a boat? Was it a plane? No! It's Y FRONT MAN! Tony Berry had decided that he wanted a swim but he had no trunks. Unfortunately his white y fronts became transparent when he hit the water. Nobody was in danger though because SLIPPERMAN was watching from the poolside. We took 25 kids over the road (AAAARGH!!) to McDonald's. It was fun watching them all trying to order their food in French! We got them back in time for the rest of us to eat a lovely meal in the hotel. Everybody then went to bed (only joking - we sat in the bar drinking until midnight, although the beer was very expensive!).
Day 2 - Monday 19th July 2004

Everybody was up and eating breakfast by 7:30am Debbie had been ill in the night with "food poisoning" but was gradually coming back to life. Some people (Helen and the Mathers) had been for a swim. Everyone packed up and we were on the road by 8am. It was very hot and the roads were empty. Stopped once for fuel and provisions. Managed to get passed Dijon without any problem and when the Paris motorway joined we still kept rolling at 100kph then CALAMITY - Kirsty Peploe realised that she'd left her teddy bear (ours en peluche) at the Novotel! She's had it since she was 5 weeks old! We emailed the hotel and asked them to look for it but she is very, very, very upset (awwwww) Stopped for lunch at Chalon SS (12:30) much to the amazement of a French family who were eating at a table next to their car when we pulled up 2" away from them! They were not for moving until the side door opened and almost squashed them! It was really hot! We all ate, then we were back on the road by 1.15pm. More scandal and gossip - Ernest twisted his ankle last night and it has gone purple. The lengths some people go to trying to get out of standing up to play a solo! We are told that "Slipperman' translates as "Mr Pantoufle"
We stopped just after Lyon to empty the coach toilet. We had only just got back onto the road towards Grenoble when the engine overheating warning buzzer came on and we had to stop again. The driver checked the engine and phoned his base for advice. After about 30 minutes he decided that the problem was caused by a combination of the heat, the air con working hard, the weight of the coach and trailer plus the hills we were now climbing. We set off again but we now hit the 5 o'clock rush hour in Grenoble which cost us another hour. The original plan was to be at the hotel by 6pm in time for a meal at 7pm, but Philip Howells, our contact in Alpe d'Huez, changed the meal to 9pm. We picked up Philip just before we started the climb up the Tour de France 21 hairpin course to Alpe d'Huez. OH MY GOD! What a road! It is wide and well surfaced but talk about steep! Words cannot describe the scenery and the scene of thousands of people camped at the side of the road at every possible place, waiting for the Tour De France. We had to stop 3 times to let the engine cool but we made it although we had half a dozen very scared people on the coach who were shaking (and worse) by the top. Nobody complained and we soon had the coach unloaded. We had a lovely meal and then wound down in the bar before bed.

Day 3 - Tuesday - 20th July 2004

No major problems overnight, apart from a complaint from the Tour De France team about too much noise coming from room 516 after midnight! After breakfast we all did our own thing then Philip took us on a guided tour of the village which finished at the outdoor ice skating rink. There is so much to do in Alpe d'Huez - swimming (at the hotel or the outdoor/indoor pool), ice skating, luge, sports centre and lots more. It's great that most activities are free or much reduced with our Visalp passes. Met in hotel foyer at 2.30pm so we could all walk over to set up for our first concert near the hotel at 3pm. It was at this point that a very irate Steve Minshall realised that he had FORGOTTEN HIS MOUTHPIECE! He had left it in Helen's soft case in Astley! Fortunately Louise Harrison had a spare Euphonium mouthpiece, and Steve had to manage on that.
It was absolutely boiling hot (31C) and we spent a lot of time just making sure everyone had their sun cream, sun hats and water! The town was very busy - Philip said that an estimated 1.2 million people had arrived to watch the Tour de France and the road up the mountain was now closed until Thursday afternoon. There was a huge TV screen near to where the band was playing, and thousands of people were watching a stage of the race on it. Some people got a bit of a shock when we struck up with the 2 National Anthems! The concert was well received (especially when the Tour de France stage was over!) although some pieces were a bit dodgy, like "French Military March" - least said about that the better! There was quite a strong wind and the music kept blowing off the stands despite Auntie Trish's clothes pegs! Craig played "The Ploughboy" wearing a straw hat. "Bugler's Holiday" went well. "Hat Trick" went horribly wrong - the horns couldn't hear the basses. When we stopped to have a break, two men appeared and took the P.A. away - they thought we'd finished! As everyone was so hot and tired, we cut the programme short by about 10 minutes. Afterwards whilst packing up Steve managed to get a huge splinter in his finger, right under the nail, which cost him 28 Euros to have removed at the medical centre! It wasn't his day! After dinner everyone did their own thing, congregating in rooms or in the bar. The adults were entertained with an impromptu 'concert' by Tony Berry singing Houghton Weavers' songs!
Day 4 - Wednesday - 21st July 2004

Tour de France day! The village has been transformed into a seething hive of activity over the past few days. Every spare inch of space was taken over by camper vans and tents - cycling fans eager to see the race. On the mountain itself, every hairpin bend had an unbelievable number of campers whose tents were pitched very precariously next to a sheer drop. The tarmac was a mass of graffiti where fans had painted the names of their heroes - someone suggested we get some red paint and daub 'Astley Youth Band' on the road, but nobody had the bottle to actually do it! In the morning most people did activities that are free with the 'Visalp' pass; ice skating, swimming, 'luge' (a sort of dry bobsleigh run) etc. Some people went on the cable car up to the top of Pic Blanc (3300m) - also free with the Visalp pass - it was fantastic! People ski all year round from there and also do snowboarding and mountain biking. A group of parents went on a guided walk with Niki Howells along a narrow ledge at the edge of the mountain where you could see all the people gathering all the way down the hill. What a spectacular view!
The afternoon was taken up entirely with the bike race. Most people found various positions around the town where they could see the race. The riders set off at 5 minute intervals, and had to cycle up the mountain to Alpe d'Huez, which has 21 hairpin bends. It had taken our coach about 45 minutes and the cyclists were doing it in about 40 minutes! It was an individual time trial. Helen, Steve, Debbie, Chris and Sue took Philip and Niki Howells out for lunch to Le Passe-Montagne, to thank them for all their hard work. They were able to watch the race from the terrace of the restaurant. (Lunch was booked for 1pm but lasted until 5.40pm!) The cyclists whipped past us going very fast - it was hard to get photos which weren't blurred! Lance Armstrong won the stage by over a minute and looks set to win the event overall. The CSC team (from the US) who were based in our hotel did well. After dinner at the hotel we all went out for a 'picnic' as the hotel was being taken over by a party for one of the cycling team, and we had been "barred" from the "bar". One football was kicked over the edge of the mountain before we got there, but we had spares and everyone had a good time (don't worry, it was perfectly safe) Tony Berry and Trish McGougan brought a tablecloth and wine glasses. Niki Howells had some candles, so we looked very civilised. Some of the kids played football. We stayed there until it went dark with Tony Berry leading the 'campfire' songs and games. When we got back to the hotel the bar was shut and it was very quiet. The Tour de France teams obviously don't have as much fun at their parties as AYB people do!

Day 5 - Thursday - 22nd July 2004

Everyone had a free morning and made the most of the Visalp passes, doing oodles of activities. Helen and Philip Howells had to go to Grenoble to buy a new tuba mouthpiece for Steve - 70 euros - Helen put the mouthpiece on Steve's credit card! We had lunch instead of dinner at the hotel, then we went on our first trip down the mountain on the coach since we arrived! We went to Allemont (not far away - less than an hour's drive) where the Tourist Board had arranged a whole host of activities for us during the afternoon. The outdoor pool was very popular as it was, once again, baking hot. Several people went up to the lake to go on canoes and pedaloes - great fun! Others had the chance to do archery with an instructor. The Tourist Board also gave us a picnic tea (pizza, fresh fruit, biccies & coke - yum!) and we set up for our outdoor concert. Lovely spot with a lot of people sitting around listening. The concert went really well, with the drummers going down a storm. Kirsten played "Ne Partez pas Sans Moi", and it was very popular with the crowd, as was Suzanne's rendition of "The Acrobat". "Bugler's Holiday" and "Hat Trick" both went really well, and it was Lucy's turn to give us a cheerful rendition of "The Ploughboy" wearing the straw hat. In "Chorale and Rock Out", Patrick and Scott worked out a routine which involved walking round the audience getting people to play a drum. It went down a treat and got a lot of laughs! We headed back to Alpe d'Huez about 10pm. Everyone was on a high because the concert had gone so well! Some of the adults went to the local pizza place to stuff their faces. Children were chatting & in and out of rooms as usual! It was some time before we got them all to bed!
Day 6 - Friday - 23rd July 2004

Bright sunshine again and everyone had a free morning. Several people went to the market which was typically French, with bowls of olives and strings of garlic. Everyone bought their own lunch. We had a cornet sectional in the church at 3pm, to work on some of the trickier parts in "Chorale and Rock Out". We forgot to take music stands across to the church, so everyone had to prop their music up on their cases. The rest of the band made the 800 yard journey from the hotel to the church by coach. Unfortunately the coach driver didn't notice the large cross outside the church and CRASH he broke an upstairs window! Luckily the windows were double glazed so the outer skin could be removed and taped up. The full band rehearsal was hard work as it was very hot inside the church, but we managed to work on Jane and Simon's solos, and the Euphonium duet. Jean-Paul Imbert came to rehearse the organ pieces with us. The organ (shaped like a hand) looked and sounded great. The first time we ran through Gordon Langford's arrangement of "Dear Lord and Father of Mankind" with the organ, it was magical! It sent a real shiver down everyone's spine! We headed back to the hotel for tea at 6pm, then into formal dress and back to the church for the concert. The concert was one of the band's best ever, and Jane Smith's performance of "Feelings" sounded wonderful. She received a standing ovation, as did Simon with his performance of "Father Neptune". The grand finale was "Music", and Craig had written an organ part to enhance it. It sounded spectacular! They wanted an encore, and we played "Soul Bossa Nova" with improvised solos from Matthew Woodward, Tom Berry, Mark and Simon. We sold about 30 CD's. The audience loved us! Back at the hotel, some of us decided to go for a pizza, and others wanted to stay at the hotel. A group of adults and kids got to the pizza restaurant only to find the oven had been shut down for the night! Shame - they could have sold us about 30 pizzas! Instead we had to settle for drinks and crisps. We all headed back to the hotel eventually, exhausted.
Day 7 - Saturday - 24th July 2004

Free morning to do shopping and activities. It was overcast and trying to rain but it was still hot. It was the worst weather we have had since leaving England but it didn't stop people having a good time. At 1p.m. we had our last "proper" meal at the hotel (duck). The meal seemed to take forever to be served, and we were late leaving for Vizille. It took a little longer to get there than expected, and when we arrived, instead of having an hour to wander round at our leisure and get something to eat, we had to rush to get the concert started. Everyone helped to get the bandstand set up, then quickly got changed, and the concert started at 5.10pm.
The chateau and gardens were beautiful and we were very well received. The only problem was that it was extremely windy, and the stands kept blowing over. We had to tape the soloist stand to the floor! This time it was Samantha's turn to play "The Ploughboy", but she got away with not wearing the hat, as it would have blown straight off her head! Half way through "Bugler's Holiday" there was a huge gust of wind which blew Matthew Woodward's music straight off the stand, right at the most difficult section! Two parents jumped onto the stage to rescue the music and we managed to keep going! It was a very sad moment when Ernest and Louise played their duet "Softly as I leave you" for the last time, as it was Ernest's last concert with the band after 9 years! They played it beautifully! "The Floral Dance" had everyone clapping, and on "Soul Bossa Nova" Steve brought his tuba up to the front for Helen to play a solo. Trish McGougan got a tambourine out and tried to get some of the audience up to dance! After the concert we spent some time packing the coach with the instruments (because they won't come off now until we get home) and then went back to the hotel for the last night party.
We had a great time. Everyone got a personalised medal and the players received a wallet from Allemont. We gave the barman, Pierre, a medal and the driver a pennant. The organist, Jean-Paul Imbert had come to the party so we gave him an engraved, silver salva. We also presented Philip and Niki Howells with a decanter set, a bottle of liqueur and some chocolate. Scott was the DJ and we had loads of pizza delivered by a local restaurant. Some of the mums put together a dance routine to "Clog Dance" wearing tinsel hats. It was hilarious! The music had to be turned off at 1a.m. but the party continued (with help from Alistair McKinnon and Tony Berry who sang and entertained us, and the kids enjoyed Helen's version of "I am the Music Man" with all the actions. The hotel receptionist looked a little surprised to see a line of kids running past, wings out, pretending to be Lancaster bombers! Some of the parents didn't go to bed until 5:30am! Shocking!
Day 8 - Sunday - 25th July 2004

Everyone had to have their luggage in the foyer at 9.30am. Some people were walking round looking rather dazed! We had breakfast, then said our goodbyes to the Smith and Berry families who were staying in France for another week. We all got on the coach and left just before 10am. We had only reached bend 8 when Philip Howells rang to say they had found two bags. One was James McGougan's flugal but the other remains a mystery…… The Smiths said they would bring the 'spare' luggage back to England. Traffic was light, so we were on the motorway by 11.05am. Just as well as some of the kids (and some of the adults - self inflicted!!!!!) were feeling queasy. Thankfully nobody was sick and by 12 we were near Lyon airport. Stopped at some services near Macon about 1.15pm for lunch and fuel. The coach driver's card didn't work at the pumps so we couldn't get fuel. We filled up at the next stop near Dijon at 3pm. Stopped again at 5.30pm, then did the final 150km to Reims in an hour and a half so we arrived at the Novotel at 7.30pm. Some parents took the kids over to McDonalds, and at 8.30pm the adults and some of the older kids ate in the restaurant. It was a very quiet evening with everyone just eating, drinking (very little) and going to bed early. A few hardy people went in the outdoor pool even though it was a bit chilly. AYB also took over the pool table, which didn't go down too well with the locals!
Day 9 - Monday - 26th July 2004

Last day! We all got a good night's sleep but an alarm call at 6.30am was too early. We all had breakfast and were on the road by just after 7.30am We made sure Kirsty Peploe didn't forget her teddy bear this time. For a Monday morning traffic was ridiculously light and we stopped just after Arras for fuel (it's much cheaper in France) then for booze at Calais. There was a small "debate" as to whether we should stop or try for an earlier ferry, but we put it to the vote and the majority wanted to stop, so we did a trolley dash round "Pidou". Some of kids bought food and drinks from a kiosk outside. Got on the 12.30 ferry with no problem and, although the sea was slightly rough we were in Dover in an hour. No problems with immigration (the passports had been checked in Calais by a British immigration officer) so we went straight up the M20 onto the M25 and were at the M1 by 3pm. Stopped for an hour at Corley services (to drop off the McKinnons) then up the M6 toll, changed drivers at Sandbach, then arrived at Astley at 7.25pm, where the parents were waiting to meet us. We unloaded, said our goodbyes with lots of hugs, and set off home. This tour had been without a doubt the most enjoyable, successful and memorable of the band's 5 tours so far, and a great way to mark the band's 10th Anniversary!
Tour diary compiled by Chris Harrison and edited by Helen Minshall, 29/7/04