Advert: Time for an Oil Change? - by Roger Webster
26-Jul-2004
Roger Webster has brought out a brand new range of Eco-lube instrument lubricants.
---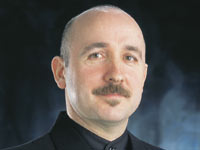 I started my 'musical life' over 35 years ago as a wannabe pianist, something I continued into my early teens and then (regrettably) stopped. Within a couple of years of starting on piano I 'progressed' onto my current all consuming passion…the cornet, having private lessons with Alec Garbett and joining the ranks of the junior band at Grimethorpe. From that time on I have tried every conceivable type of lubricant for my various valves and slides, with the obvious varying degrees of success.
About four years ago, (midway through my PhD research) I was looking at the area of confidence versus doubt (don't worry, I'll not start lecturing now), and one common element emerged with a large number of reportees, that of fear of the instrument failing, i.e. valve or slide sticking. It started me thinking about the quality and consistency of available lubricants and their safety (most carry toxic warning labels!).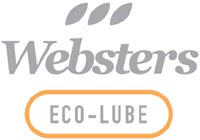 The confidence versus doubt area of research is one that most of us experience yet either consciously or subconsciously ignore. It deals with the many conflicts and struggles, the continual interplay, between doubt and confidence in the mind of the anxious performer. When allowed to run wild, these thoughts can shape the way that we actually perform, matching 'perceived' or cognitive scenarios with reality. Thoughts such as 'I don't think I can make it to the end ' or 'I'll never hit that high note now' are quite often turned into reality, not by musical or physical shortcomings, but by uncontrolled thought processes shaping and determining our performances…..anyway back to the 'lube'.
Having started my working life as a laboratory technician, I started calling on old colleagues asking for various analyses of the current leading brands.
Following on from that, I began working with chemists at four of the most prominent petrochemical companies in order to find lubricants that would meet the demands of today's musicians PLUS be as safe and ecologically sound as possible. (My son David uses valve oil on his trumpet like it's going out of fashion…I need it to be safe) This, I guess would be the starting point of Websters Eco-Lube Ltd.
I also took advice from a colleague that works in Switzerland making and repairing high quality watches.
Within the four years of research into various lubricants, literally dozens of variations were formulated and tested. (Having chemists from large companies used to dealing with racing cars or off shore drilling, formulate an oil to lubricate a trombone slide was…not without it's hiccups).
In all cases, samples of different instruments were taken to refineries and the areas in need of lubrication pointed out. The amount of interest this generated within these giants was astounding. I guess it was so far removed from their daily routines, the 'novelty' value and not the profits (small amounts of oil compared to their normal volume sales) made it worthwhile.
It was important to include within the range lubricants for all areas of brass instruments, those being, Pro-quality valve oil, Tuning slide oil, Tuning slide gel, Rotary valve oil, Bearing and Linkage oil and a Trombone slide lubricant (Supa-Lube).
Due in part to my wife's (Dawn) involvement with this venture, I have strayed into the realm of woodwind lubricants with a Cork grease and Key oil…this should keep her clarinet in working order….is that a good thing? Dawn was a school clarinettist, only ever playing for fun (hers not mine!….sorry) and used the standard products supplied by our local dealer, PJS music.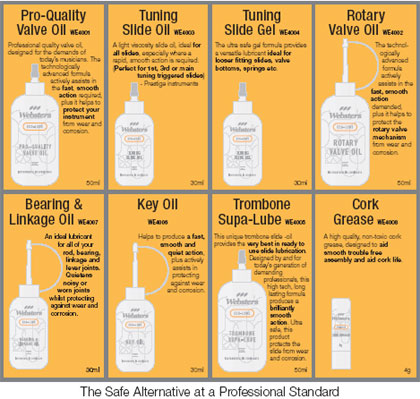 All products have been extensively road tested over the past year or so, ensuring that the actual results matched the laboratory ones. Thankfully they eventually did. I have been handing unlabeled samples out, oiling valves and slides, plus doing ad hoc repairs with the products since the start of things, and only when all feedback was positive did we decide to launch the range of lubricants onto the market.
The old days of spit on the valves, or washing up liquid have long gone. As we make technological advances in instrument design and manufacture, so must we make demands on the lubricants (just as modern cars do).
Reliability and safety are the key issues of this new range.
It would be much easier for me to create a range of lubricants that were not as safe for the user, or did a slightly inferior job or had a more detrimental effect on the environment….but that would not be in keeping with the ethos of Websters Eco-Lube Ltd, The Safe Alternative at a Professional Standard
They do exactly what they are designed to do:- lubricate and protect your instruments, helping to keep them up and running, whilst never compromising on safety. They are 'probably' the finest musical instrument lubricants available…no compromise on quality.
I've been using the stuff for well over one year, and it's been great. I am very fussy and demanding as a customer and wouldn't recommend it unless I could do so with total confidence…I can!
Roger Webster
More information available:
Eco-lube products are exclusively distributed by:
Besson Musical Instruments Ltd.
1 Blackmore Lane
Croxley Business Park
Watford
WD18 8GA

Tel: +44 (0)1923 659500
www.besson.com