My Australian Diary - Part 3 - by Katrina Marzella
20-Jul-2004
The Australian National Band Championships 2004 – Launceston, Tasmania. Katrina Marzella sends us the third part of her Aussie experience.

---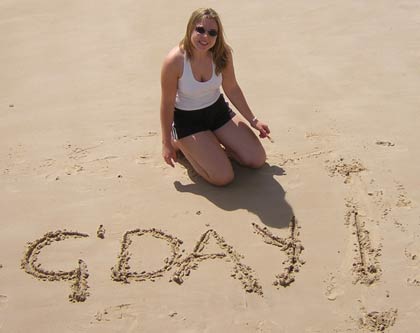 Take one Scottish baritone player, stir in hundreds of brass bands, add a sprinkle of band supporters, mix it all up with an English adjudicator and serve with a large glass of Tasmanian wine – what have you got? The Australian National Band Championships, this year held in the picturesque town of Launceston, in Tasmania.
The contest is a massive event in the Antipodes, and is undoubtedly the major focus of any Australian brass band's calendar. Unfortunately for the bands (but not for Qantas), contesting in Australia comes at great financial expense - I heard of a band from New South Wales that spent over $40,000 to take their junior and senior bands to the contest. Geography is the main culprit here, and it ultimately prevents Australian bands competing more frequently, as in small countries like the UK. One and a half thousand miles and a four hour flight to get to the contest town helps to put things into perspective, to say the least!
That being said, this in turn makes the hype and excitement that normally surrounds a National Championship all the more intense and electrifying! This occasion really is the one major contesting event in Aussie banding – I felt very lucky that I was able to be there at just the right time to participate in it! I also felt similarly lucky that, back home, I have the chance to participate in so many prestigious and well organised contests at various times throughout the year. (Well done SBBA, EBBA, NCC!)
My whole experience of the contest was fabulous – I felt really privileged to have been a part of another country's national championships, and to have experienced it all with a great bunch of people – the Brisbane XLCR band. I have compiled, in no particular order, what I think were my best memories of the contest. Enjoy!
'Come to Tasmania – we mean you!'
For all who haven't watched the Warner Bros. cartoon, just forget the title and move on. (Admittedly, I sang this song constantly for about a month before the contest.) Just to set the record straight, Tasmania is the small island below Australia's south coast – it is not, as my flat-mate insisted, a separate country somewhere in the Pacific - poor lass had big plans for me to visit the Bureau de Change to collect my Tasmanian Dollars! When flying over the Island, it immediately struck me how similar the landscape was to the Scotland and parts of the UK. 'Lovely', I thought to myself, 'Just like home'. As soon as I stepped off the plane this was, unfortunately, confirmed - it was freezing!!! Without realizing it, I had become accustomed to the warm Queensland weather, and couldn't handle 17 degrees without shivering! I was a disgrace to all things Scottish – I had truly transformed into a weather pap. I didn't even recognize the 'strange sensation' in my toes later that night (they were cold). However I battled on (with double layering) and looked forward to the weekend ahead. And what a weekend it was to be…….
'Let the battle commence!' – Set Test 'Chivalry' and Hymn Choice
Brass bands in every section, in both the Open and Junior class, were 'battling it out' at various times and locations throughout the weekend. Whilst I'm sure I would have thoroughly enjoyed listening to these bands, I obviously had commitments with XLCR rehearsals and was only able to be present for the A Grade performances. However they certainly did not disappoint! On Friday evening the A Grade Set Test of 'Chivalry' by Martin Ellerby was to be performed along with each bands choice of Hymn. The interpretations of the set piece were certainly varied, which was something that adjudicator Major Ian McElligott commented on in his remarks. I have to compliment XLCR conductor, Howard Taylor, on what I thought was a very musical reading of the score – something that composer, Martin Ellerby, obviously enjoyed too, as he had mentioned that XLCR's performance was amongst his choice of the top performances. Mr Ellerby also gave a very insightful masterclass earlier that day, talking about Chivalry itself, as well as many of his other major works. XLCR's performance came across very convincingly, despite the distraction of the stage squeaking during the moments of Howard's more animated direction (who ate all the … erm … shrimps?!). The beautiful Salvationist melody, 'I Know Thou Art Mine' was our hymn choice, which showed off the band's depth in sound, something that many listeners complimented the band on over the course of the weekend.
I managed to listen to several bands that evening, including visiting New Zealand band, NZ Community Trust Woolston Brass, who received great audience support from the Aussies (Ha! Well saying it wasn't the Rugby!). I enjoyed their performance and particularly the playing of their Bass section, who were on top form that evening. I also heard eventual winners of the Set Test, Melbourne-based Hawthorn, who gave a fine performance which was faithful to the composer's intentions, and in which their soprano cornet player shone. Overall it made a great evenings listening – the performances were further discussed and debated later in the pub over a quiet few 'VBs' or some local Tassie tipple! (I can definitely recommend some great Tasmanian wines after the Aussie National weekend!)
Death or Glory! – the Street March Contest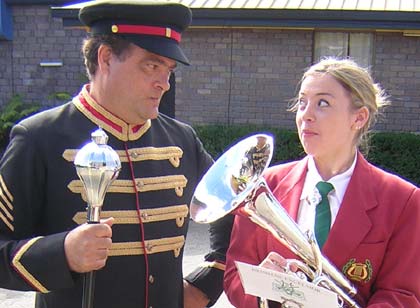 Of all the events that were to take place over the weekend, none of them terrified me on a level that the Street March contest managed to. It is every uncoordinated, high-heel-wearing baritone player's nightmare – and that's just the men! Anyone who has witnessed my attempt at marching at Whitburn Gala Day will understand why I was petrified – my only consolation was that, whilst the marching contest is a mandatory requirement of taking part, it has no impact on the overall results of the Championships. Nonetheless, XLCR had special 'marching' rehearsals, some even for the 'moves' alone – Band Sergeant, Rick Casagrande, was taking this very seriously … and let's just say I was not exactly his best pupil.
Early Saturday morning. Judgment day had arrived. The sun was shining weakly (it was still cold though) casting eerie shadows down the deserted streets of Launceston – you could almost here 'The Good, the Bad and the Ugly' theme as I arrived with baritone in hand.
The pre-contest nerves were unbearable, with the long wait heightening the anticipation even more. I sat at the side, walking through the paces in my head, over and over and over again. Then suddenly - the call of 'Attention!' from Rick – my heart skipped a beat. It was now or never - Death or Glory! (Great evocative motto … shame we were playing Army of the Nile!) We briskly marched onto the road and filed into ranks, 'smartly' dressed in our 'lovely' terracotta jackets and green ties. No offence guys, but, in the wise words of Steve Irwin - Crikey! 4BR needs to update their '10 worst uniforms of all time' article! We were then inspected - proper army style (no moving, itching, scratching etc. allowed) and then…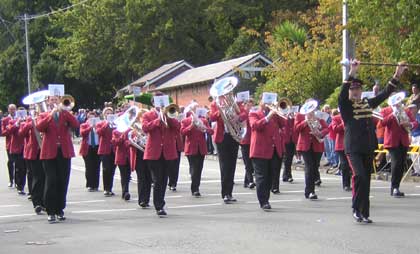 We were off!! It all seemed like a blur, with my head spinning and heart thumping (probably the lack of exercise and not nerves). It was probably the only point that I felt warm all weekend! The band was doing great – I admit I had to bluff a bar or two in order to, well, breathe, and of course concentrate on my paces! Brisbane XLCR certainly swaggered down the street, much to the delight of the Tasmanian crowd, who had admirably came out in their hundreds to encourage the bands (the public showed massive support for the entire contest all weekend actually – hats off to them). The band marched into the final stretch, knowing they had put on a great show. And, unusually, the adjudicator agreed! I can now proudly say that I was a member of the best Australian marching brass band of 2004 (ok, ok - Woolston won and we came second – but they are Kiwis, so technically I'm right!). So it was glory in the end - although I personally felt as if I had a near death experience!
The British Open? Albert Hall?? European Gala Concert??? Pah!! Not a patch on the Australian Band Marching Championships!
Full of 'Praise' for 'Montage' – Own Choice and Stage March
On Saturday afternoon, the second half of the A grade contest began. Potentially, this could turn the tables for bands that were in the lead and help the trailing bands shoot ahead. The bands were to play a test piece of their own choice and a stage march. The music selected was varied in style and genre, including ever-popular pieces like Blitz, Montage, and Between the Moon and Mexico.
Brisbane XLCR had selected to play Philip Sparke's tour de force for band, 'Cambridge Variations' and the Wilfred Heaton classic march, 'Praise'. With the band strategically positioned to avoid the 'squeaky' section of the stage, we commenced on our title challenge. 'Cambridge Variations' allowed for the XLCR's many talented soloists to express themselves in the middle section, and was also a terrific choice to show off the band's technical capabilities in the outer two 'movements' – I was almost as breathless at the end of the piece as I was at the end of the street march (almost I said). The appreciative audience were further entertained with a rousing rendition of 'Praise', which was full of character and energy. I personally was certainly full of 'praise' at the end, mainly because this time I was firmly sat on a chair for the entire march!
The own choice category also featured some superb playing from other bands, with Woolston's performance of 'Blitz' and Hawthorn's version of 'Tallis Variations' standing out. 'Montage' was the own choice selection for Waratah, a band based in Newcastle, New South Wales. Their performance of the Peter Graham favourite exhibited some great solo playing, particularly in the middle movement from the band's principal cornet player Conrad Curry. Incidentally, Conrad had played at the British Nationals and Open with Whitburn a few years previous to my move there. I guess it definitely is a small world when it comes to banding. However it unfortunately is not so small when you are travelling it – some of the Whitburn guys suggested that I 'pop down' to Waratah for a blow one night. Whilst it looks deceptively close to Brisbane on the map, I soon learned that actually 'it's NOT a small world after all'! Nonetheless, it was lovely to meet Conrad and his wife Therese (who also had played euphonium with Whitburn) at the Australian Nationals after hearing so much about them. Later that night, it was announced that Waratah's performance of Montage earned them first place in the Own Choice category for the contest.
The Fireman's Helmet
It has been well documented that the Awards Ceremony at the Nationals was alive with controversy surrounding the comments from adjudicator, Major Ian McElligott. If you want to savour the many arguments and opinions, there has been substantial coverage from various websites as well as on the homepage of the National Band Council of Australia. OK!! Moving swiftly on!…
It was Hawthorn Band, conducted by ex-Grimethorpe player, Tom Paulin, which was to be declared the Champion Brass Band of Australia for 2004. Thus the band was to take the 'Fireman's Helmet' – the famous trophy for the nationals – back to Melbourne for the fifteenth time since 1975. Waratah earned second place, and Brisbane XLCR gained third – in all honesty, this was slightly disappointing for many members, but was nonetheless an improvement on the previous year's placing. Furthermore it was the best result the band had ever had at the Nationals – so there was definite justification for the celebrations that night! That's what they told themselves on Sunday morning anyway! Kew band came fourth overall, whilst pre-contest favourites, Woolston could only manage seventh place, despite winning Best Stage March. Thus whilst everyone has their own opinion about the Awards Ceremony and the Results, I would simply like to say both 'Well Done' to Hawthorn, and also a big 'Cheers mate!' to all the Aussie banders, for allowing me the privilege of playing at your national contest, and for being such friendly hosts – not only on this occasion, but throughout my Australian banding experience. Most importantly, thank you for not disqualifying me for my obscene efforts in the Street March! Me – a member of the Champion Marching Band of Australia?? Irony and controversy at a brass band contest?! Some things just don't change, no matter if you are in Tasmania , Todmorden - or Troon!!!
A Pantomime and a half - Australian Solo Championships
On Sunday the Concert Band festival took place – unfortunately I couldn't attend as I had decided to take the rare opportunity to do a spot of sight seeing. I was determined to see a Tasmanian Devil in the wild – however I didn't even manage to catch a glimpse of a Bugs Bunny during my travels - typical! I was told the Concert Band Contest was a great success by the few banders that made it along – however it became apparent that Sunday was invaluable 'hangover recovery time' before the Solo Championships which took place in Launceston College on Monday.
In the Solo competition, every instrument (both brass and woodwind) had a junior and open category, and solo works were set to be performed by all participants. The entry numbers were astounding to me – I couldn't believe the level of interest from every player, of every instrument, in every age group. Congratulations to everyone who took the chance to get up on stage and perform as a soloist, after what was an undoubtedly tough weekend of banding.
The Open Baritone piece was called 'Anna Karenina' (I took great delight in amending my copy to Anna Katrina), written by Australian Helen Johnston. It is a piece full of the passion and gusto typically found in this 'gypsy' style of music. There was some superb playing in this section, particularly from Kristy Rowe, Baritone player with the Gunnedah Shire Band and previous recipient of the prize on several occasions. Therefore I was chuffed to bits when I was awarded the title of Open Baritone Champion for 2004. However the presentation of my award wasn't exactly as enjoyable as it could have been – I was in a right state, looking for my lost handbag (containing all the tourist essentials – passport, purse, camera, mobile, mouthpiece …). The members of XLCR looked bemused to see my reaction when they congratulated me on my win ('Strewth! The Pommies get really emotional at results! Wonder if it's like this at London …'). Incidentally, my bag turned up soon after- it transpired that a man had lifted it in the belief that it belonged to his wife, and then left to listen to the entire Bb Bass solo contest! Curiously enough, I thought, when I learned that this man was Kristy Rowe's father! Scare mongering tactics?? Emotional distress as revenge?? Well … both were extremely effective and the desired result was undoubtedly achieved! (Just kidding Mr Rowe! Couldn't resist slotting in the imputation, as it became the joke of the day in a very short space of time!)
There was undoubtedly some fantastic playing throughout the day – it was impossible to hear everything, as so much was happening at the same time, so listeners had to plan a circuit round the college to catch their favourite soloists. The standard was exceptionally high, with some impressive performances staying in the memory of the audience. One of these was the rendition of 'Pantomime' given by Brisbane XLCR's principal euphonium player, Ashley Gitten. Ashley was later announced the Open Euphonium Champion 2004, as he exhibited what Major McElligott thought was 'the best sound I have heard in a long time'. Unfortunately, the results of this contest were also surrounded by controversy, this time regarding the disqualification of a trombonist who had given two superb performances earlier in the day. However, I would like to congratulate the soprano player with Hawthorn band, Mark Fitzpatrick, who became the Champion of Champions for 2004, after his very musical performance of 'Variations on a Welsh Theme'.
'TRAVEL TO AUSTRALIA AT EASTER!'
This is the advice of no-one less than Geoffrey Brand in his book, The World of Brass Bands. I, for one, am very glad that I did! All in all, I had a tremendously memorable time at my first Australian Nationals – I just hope it won't be my last! Apart from a fantastic vacation away, it's a brilliant banding event that I would encourage everyone to experience at least once. From my own perspective, I would say how impressed I was by the Australian Contesting scene and by how seriously the Aussies take their banding. The players, conductors and committee members are dedicated and talented musicians and bands people. It was obvious that they had spent many hours preparing and rehearsing, in order to deliver well-crafted and musical performances. Every band, and I mean EVERY band, had something to commend or praise! Congratulations to everyone for their hard work and musicianship – and their love of banding!!
Next year the Championships are to be held in the South Australian capital, Adelaide. What's more, the 2006 contest is in Brisbane! A cosmopolitan city, fantastic night life, great weather, stunning architecture and a weekend absolutely packed with great banding - what more could anyone ask for!
Street march? What do you mean, street march??