My Australian Diary - Part 2 - by Katrina Marzella
20-Jul-2004
"Tie Me Kangaroo Down, Brett...":
Katrina Marzella sends us the second part of her Aussie experience.
---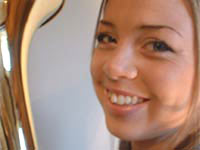 During March, Brett Baker, Principal Trombone with Black Dyke, was set to entertain audiences in the Antipodes as he engaged in a solo tour of Australia and New Zealand. I met up with Brett and his wife, Sarah, when they arrived in Brisbane on the 27th of March – his last gig of the tour was a concert with Brisbane XLCR the following day. Brett told me of his hectic itinerary, and how the tour did not get off to the best possible start.
"We were delayed in Heathrow for almost 24 hours – I ended up practising for an hour in the middle of a field at the airport!" Brett and Sarah eventually made it into Sydney, and immediately flew across to New Zealand. Brett proceeded to travel up and down between Christchurch and Dunedin, completing rehearsals, concerts and workshops with both Dunedin Band and the NZ Community Trust Woolston Brass Band. His concert took place in the Salvation Army Hall in Christchurch on Saturday, and he filled the Royal Theatre in Dunedin the following day.
On Monday, they both enjoyed a rare sight seeing opportunity at Queenstown (the famous bungee jump location) – however level-headed Brett decided against participating in the extreme sport. (He later confessed it was because he felt too old - so the poor old dear took the cable car instead!)
Brett and Sarah had only a short time to admire the stunning landscapes of New Zealand before flying back across to Australia. Chris Earl of Muso Media met them both in Melbourne early on Tuesday and they all travelled to Bendigo – a small town which was part of the Gold Rush of Australia - 'It reminded me of the town in Back to the Future III!' Brett performed on Wednesday evening in St Paul's Cathedral with Eaglehawk Brass then immediately left for Melbourne. He was accompanied by both the Australian Navy Band and Kew Band during this part of his tour, playing trombone favourites such as 'Dick Turpin's Ride to York', 'Bolivar' and an arrangement of 'Stardust' by Kew's conductor, Mark Ford.

On Friday, he had a concert with Hawthorn Band in the Ladies Methodist College ('a beautiful hall') before flying to Brisbane on Saturday, and once again going straight in for rehearsals with Brisbane XLCR. On Saturday evening, he also adjudicated at an informal solo recital at XLCR's bandhall. All who played there were incredibly grateful to Brett for his suggestions and advice, which would prove useful in their performances at the Solo Championships at the Nationals a few weeks later. Needless to say, the steak dinner he had later that night was thoroughly deserved – however I don't know where he got the energy to beat us all at 'table football'! Even the mighty girls' team (myself and Sarah c'mon!) were … erm…'pipped at the post' in the final (we suffered a 10-2 defeat!) I put it down to the fact that Brett teamed up with Aussie Brenden – an unfair advantage if you ask me - everyone knows the Aussies beat the Brits at everything sport-wise ( however don't EVER mention the Rugby World Cup - it's a sweary word here!!)
On Sunday 28th, Brett and XLCR performed at the brand spanking new Round House Theatre in the Kelvin Grove area of Brisbane. XCLR and Musical Director, Howard Taylor entertained the appreciative audience with numbers such as "Praise", "Sing, Sing, Sing" and "I Know Thou Art Mine" – however it was Goff Richard's classic arrangement of "Let's face the Music" that really got them dancing in the aisles!
Brett Baker immediately grabbed the audience's attention with his stunning technical ability in the classic solo "Hailstorm" – hearing the triple-tonguing section being played as effortlessly as Brett on Trombone left many players drooling at the mouth. In fact, he joked that he liked playing solos such as these 'because it really annoys cornet players!' However, for me, Brett's class shone through in his performances of "Ye Banks and Braes" and "Londonderry Air" – his smooth, rich sound and musical expression really sets him apart as one of Europe's leading trombone players. I was lucky enough to duet with Brett in the concert too – we played an arrangement of "Scarborough Fair", which worked really well and went down a treat with the audience. Indeed, we were both left "reminiscing" about the delightful beaches of North West England and East-coast Scotland! Bondi just doesn't come close at all does it?!
The most interesting piece that Brett played was "Homelands" by Robin Dewhurst which was written especially for this tour. It opened with percussion and band 'stomps' – including a soli stomp passage for the baritone section, which was, if I may say, performed beautifully!! This piece was another vehicle for Brett to show off some of the impressive aspects of his playing, including his sound, technique and range. By the end of the concert, the audience were thrilled not only by Brett's playing but by his overall stage etiquette – he was very informative when introducing his pieces and seemed to be loving every minute of his time on stage. Members of the band had the opportunity to ask Brett some questions and in his answers, he shared various interesting and funny stories from his career with everyone present.
That night Brett, Sarah, Howard, some of the XLCR lads and myself visited Mount Coot-tha, the lookout point over the city and suburbs, and then went for a barbie down by Brisbane River. Cheesy, yes, but it had to be done. Probably the most excited I saw Brett all weekend was when he spotted a possum on a bin! Tourists, eh?
Brett and Sarah finished off their flying visit with a few days of relaxation, and potential possum spotting, in tropical Port Douglas in North Queensland. It has been Brett's second tour of the Antipodes, and a very successful one at that. Brett said that he is hoping to return some time in the future – I can vouch that Australia has that effect on you when you see all it has to offer. To me it was great to see another band person from the UK coming over to Australia and appreciating and acknowledging the band scene here – it really is worth a look, everybody … and if all else fails, there's always possum spotting!